Agreement for non-gaming on new Macau land reclamations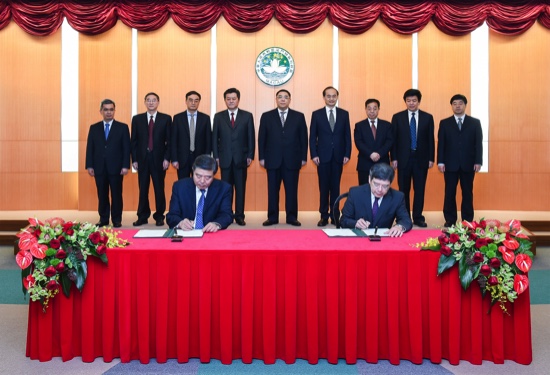 The local government joined mainland authorities in signing three agreements that aim to enhance cooperation in the areas of water affairs, maritime traffic and sea use. These measures are taken in order to strengthen the management of the coastal waters now controlled by the MSAR and also to develop the region's economic potential.
The three agreements were signed by several public departments along with China's Ministries of Transport and Water Resources and the State Oceanic Administration on Maritime Development.
The agreements signed on Tuesday respectively aim to achieve the following: "to foster mechanisms for dealing with emergencies and to develop information-sharing methods between Macau and the mainland; to ensure adequate capability of flood prevention systems for Macau and the land adjacent to the Pearl River estuary, and to protect the marine environment, local water ecology and sustainable development of those areas." The agreements also ensure that "any proposals for land reclamation are reported to the State Council, as well as that no commercial gaming will be permitted in new land reclamations."
The ceremony during which the agreements were signed was held at the government headquarters on Tuesday morning, and the territory was represented by the Chief Executive, Chui Sai On. Li Gang, the director of the Liaison Office of the Central People's Government in the Macau, also attended.
(macaunews/macaudailytimes)