HK tycoon Joseph Lau's absence delays graft trial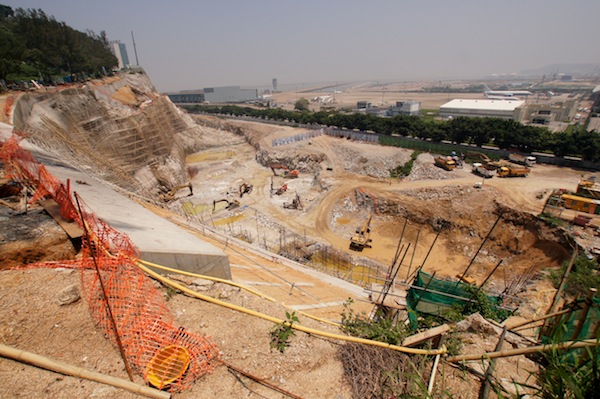 A trial involving eight defendants accused of bribing jailed former policy secretary Ao Man Long was delayed for the second time Monday after Hong Kong realty tycoon Joseph Lau Luen Hung's lawyer presented a medical certificate that says Lau suffers from diabetes and other conditions.
Presiding judge Mário Augusto Silvestre said during Monday's Court of First Instance (TJB) hearing at Macau Square that Lau's lawyer needed to provide a more detailed report on Lau's sickness within 10 days before the court could set another date for the hearing, which should be within three months.
Assistance Prosecutor Paulo Martins Chan however doubted Lau's health condition since it was being reported in the media that Lau had been eating out over the last few days. Chan accused Lau of "intentionally" delaying the start of the trial.
The trial is conducted by a three-judge panel.
According to The Macau Post Daily, just two defendants – Lau's business partner Steven Lo Kit-sing  and businessman Fong Chun Yau, both from Hong Kong, appeared at the hearing yesterday. Neither responded to reporters' questions when they left the court at about noon.
The trial is about Ao's alleged bribe-taking from six public and private construction and infrastructure projects including a water treatment plant.
Ao, who is serving a 29-year jail term after his three previous graft trials, was taken from his jail cell in Coloane yesterday in a high-security convoy of police and prison vehicles to stand by as a witness, but he did not make an appearance in court.
Lau's lawyer Leong Weng Pun told reporters outside the court that he would provide the court with medical certificates detailing Lau's health to explain his absence. Leong said he could not say if Lau would turn up at the next hearing.
The first hearing was initially scheduled for September last year when the trial's then presiding Judge Alice Costa was taken ill.
Lo's lawyer Jorge Neto Valente said he didn't expect any delay of the next hearing, which he reckoned to be take place in March or April. Neto Valente, who chairs the Macau Lawyers Association (AAM), said he was not sure if Lo would be able attend next time.
Lau and Lo's lawyers in court also demanded the court to give them access to Ao's infamous "friendship notebooks" as well as calendars which might contain information that is favourable to their clients.
In the notorious "friendship notebooks," Ao meticulously registered bribes that he received when he was still the government's secretary for transport and public works. The notebooks were seized by the authorities when Ao was arrested at his home in December 2006.
Rui Sousa, also Lo's lawyer, pointed out that he was only permitted to read four lines of two pages of the notebooks from 2005 and 2006, when there are some 5,000 pages from 2004 to 2006.
Silvestre said that only some of the notebooks' pages were made available to lawyers because others were still being investigated by the Commission Against Corruption (CCAC).
According to Ao's trial last May, Lau's company allegedly bribed Ao with HK$20 million in 2006 to get ownership rights to five plots of land located opposite the airport in Taipa. Lo allegedly assisted in the bribery.
The site measures 79,000 square metres in total and was sold by the government to Lau's Moon Ocean Development Company for HK$1.3 billion. Moon Ocean is a subsidiary fully owned by Hong Kong-listed Chinese Estate Holdings, headed by Lau.
The government has meanwhile invalidated the land deal.
Ao has been jailed for corruption, money laundering, abuse of power and a string of other crimes.
Macau's maximum prison term amounts to 30 years.
According to his previous trials, Ao amassed at least 800 million patacas in bribes and other ill-gotten gains.(macaunews)