Chief Executive Chui declines comment on HK property firm's compensation threat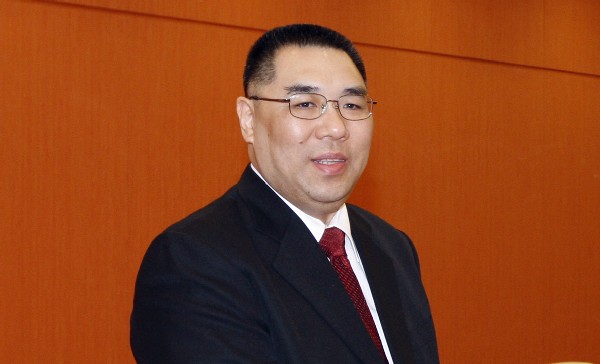 Chief Executive Fernando Chui Sai On declined Monday to comment on Hong Kong property developer Chinese Estates Holdings' announcement on Sunday night that it and/or its subsidiaries would consider demanding compensation for possible losses arising from any decision by the Macau government that would invalidate its huge land concession in Taipa.
Chui made the remarks to reporters on the sidelines of the 2012 University of Macau graduation ceremony at Macau Forum, according to The Macau Post Daily.
Chui said his government would comply with the law and was resolved to follow through on all matters regarding the five plots of land granted to the company in 2006 for a luxury residential development opposite the local airport.
"I have signed an order to start administrative procedures to declare the 2006 land transfer [to Moon Ocean – a fully-owned subsidiary of Chinese Estates Holdings] invalid," Chui said.
The chief executive added that last month's verdict in Ao's latest graft trial – his third – "clearly" stated that the five plots of land "were illegally obtained."
In the trial, the Public Prosecution Service (MP) alleged that Ao had been paid a HK$20 million bribe to push through the sale of the five sites.
In Sunday's statement to the Hong Kong Stock Exchange, Chinese Estates Holdings, headed by Hong Kong property mogul Joseph Lau Luen-hung, vowed to fight the Macau government's possible move to seize its five plots of land where it is developing its strongly promoted La Scala deluxe residential complex.
The company also said it had suspended construction and pre-sale of the development, pending the outcome its current row with the Macau government.
The company also said that the Lands, Public Works and Transport Bureau (DSSOPT) informed it in a "preliminary hearing notice" last Friday that the government was initiating procedures to declare the 2006 land concession invalid. The property developer was given 15 days to submit a written reply to the government.
Lau's company said that it "intends to make a submission strongly opposing the decision proposed to be made by the Macau government."
Lau and his business partner Steven Lo Kit-sing have steadfastly denied the Public Prosecution's allegation that they paid the HK$20 million bribe to Ao to acquire the land at a favourable price. Both are understood to regard the payment as a "consultancy fee".
Chinese Estates Holdings has said it has pre-sold 304 La Scala apartments, generating sales of HK$3.8 billion and deposits of HK$384 million.
The company said in Sunday's statement that so far it had invested HK$2.8 billion in the project, adding that it may refund unit purchasers "if the land transfers become invalid".
According to Reuters, Lau owns 70 percent of Chinese Estates Holdings.(macaunews)