Crimes drop 6.1 pct in Macau in 2010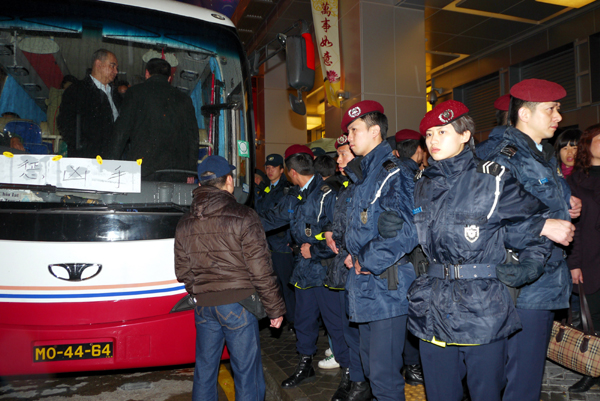 Macau, China, 16 Feb – The number of reported crimes dropped 6.1 percent to 11,648 last year on 2009, Secretary for Security Cheong Kuoc Va announced on Tuesday.
Cheong announced last year's crime statistics in a press conference.
Macau's top security official said that the decreasing number of crimes for the second consecutive year reflected an improvement in the city's public security situation, The Macau Post Daily reported on Wednesday.
In 2009, the number of reported crimes dropped 10.5 percent year on year. In 2008, the number of reported crimes rose 7.2 percent to 13,864.
The number of reported violent crimes fell 16.1 percent to 547 last year, including 19 rape cases (two more cases than in 2009), 23 sexual child abuse cases (one more than in the previous year), 178 robberies (down 33.6 percent), two homicides (six homicides were reported in 2009), 36 extortion cases (less four cases), and 113 drug trafficking cases (down by two cases). The number of reported drug consumption cases grew 15.4 percent to 247.
Last year, the police also recorded 427 fraud cases (+ 10.9 percent), 3,835 theft cases (down 10 percent), 412 burglaries (down 29.5 percent), 178 robberies (down 33.6 percent), 1,040 pick-pocketing cases (down 6.2 percent), and 181 loan-sharking cases.
While the number of cases of document forgery rose 36.3 percent to 278 last year, the number of fake currency cases fell 16.1 percent to 235.
Last year, 3,996 people were transferred by the Macau Security Forces to the Public Prosecution (MP) for follow-up investigation and possible arraignment on criminal charges, a year-on-year decrease of 4.8 percent.
The number of juvenile delinquency cases recorded by the police decreased by two to 102 last year. Just 48 of the cases were transferred to the Public Prosecution for follow-up investigation.
Last year's 102 juvenile delinquency cases comprised 119 boys and 78 girls.
In 2010, the Macau Security Forces caught 1,302 illegal immigrants from the mainland (down 14.6 percent) and 29,262 overstayers (down 77.9 percent), including 3,464 foreigners. Mainlanders made up the bulk of overstayers nabbed by the police in 2010.
(MacauNews)