Senior official of the Macau government starts official visit to Taiwan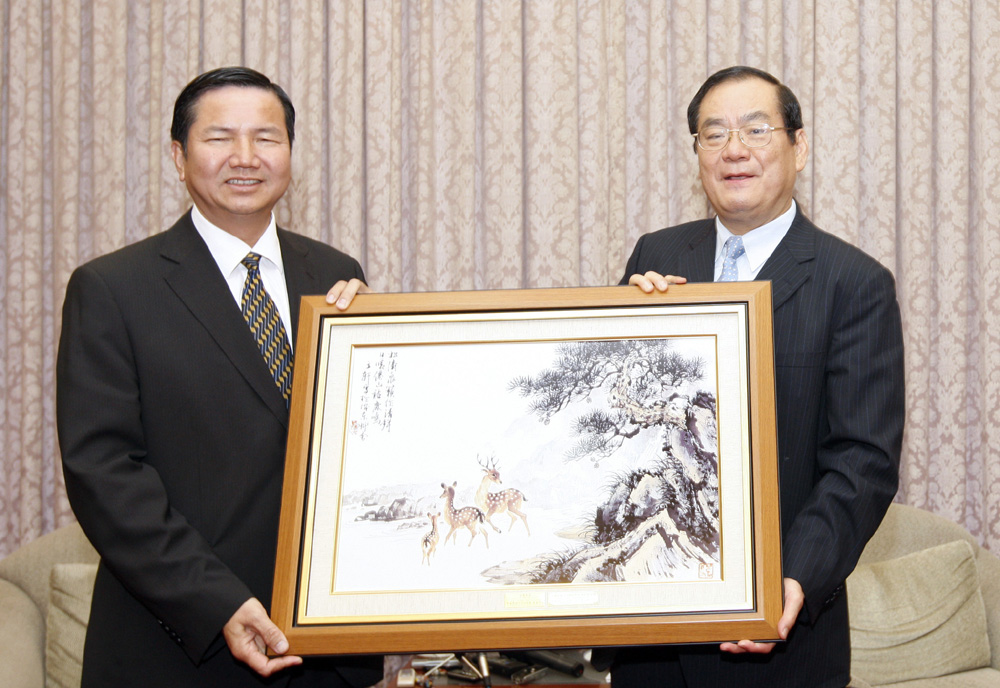 Macau, china, 3 Sept – Secretary for Social Affairs and Culture of Macau Cheong U arrived in Taiwan Thursday on a historic trip that includes meetings with one of the seven vice-presidents of the ruling Kuomintang (KMT).
Cheong is the first policy secretary of the government of the Macau Special Administrative Region (MSAR) to visit the island.
His 100-member delegation of community representatives, government officials and businesspeople also includes an official from the Liaison Office of the central government in Macau. Executive Council members Chan Meng Kam and Leong Heng Teng are also part of the mission.
After arrival in Taipei Cheng U had a meeting with the vice president of the Legislative Yuan (Parliament) of Taiwan Tseng Yung-Chuan. During the meeting he praised Macau for its role in improving the ties between mainland China and Taiwan and said that about 20,000 Macau people work in Taiwan.
There has been speculation that Cheong will meet MAC President Lai Shin-yuan during the five-day visit. Lai is a former member of the Legislative Yuan (parliament) for the pro-independence Solidarity Union. The MAC belongs to the Executive Yuan (government).
Aside the meeting, during the visit, which concludes on Monday, Cheong will also attend the opening of a Macau Week promotion event in 101 Building, a Taipei landmark. The Macau Week promotion event, running until September 10, would display the local culture and tourisms attractions, in order to "attract more tourists from Taiwan".
According to Cheong, the main goals of his trip are to strengthen mutual understanding and promote exchanges in the areas of culture, tourism and health.
Cheong U also said that the establishment of a Macau representative office in Taiwan, announced last year, is off the agenda. However, a week ago, during a visit to Taipei of the head of the Chief Executive Office Alexis Tam, the vice president of the Taiwanese Mainland Affairs Council, Kao Charng, and the chairman of the quasi-official Strait Exchange Foundation, Chiang Pin-kung, gave their support to the project.
Cheong explained that the new office would give assistance to Macau residents and students in Taiwan. Though, its creation timeframe remains unknown.
Meanwhile Cheng Jinzhong, who heads the Taiwan Affairs Department of the central government's Liaison Office in Macau, told reporters the trip marked a "new start" for relations between Taiwan and Macau political connotations.
On Wednesday, in an interview for the Macau Daily Times director-general of the Taipei Economic and Cultural Centre in Macau Lo Muh Kuen said that the visit is "just the beginning" of improved diplomatic relations between Macau and Taiwan.
However, Cheng Jinzhong stressed Thursday that the visit has no political goals. "It aims to deepen understanding and strengthen the cooperation. There are no political objectives. The main scope is related to culture and economy," he assured.
(MacauNews)