Macau Chief Executive 'freezes' plan for US$10 million light-rail exhibition complex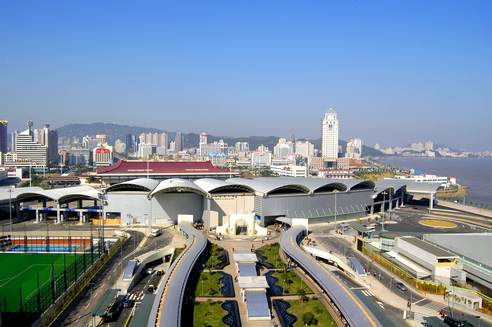 Macau, China, 12 Jul -Chief Executive Fernando Chui Sai On announced Sunday that his government will "freeze" plans to build an exhibition complex for the Macau Light Transit System (LRT) in Taipa.
Chui delivered the statement prior to his departure for a working visit to Sichuan province where he inspect the progress of the local government's post-quake redevelopment projects in the province.
The Infrastructure Development Office (GIT) said in early June that the government expected to put 53 million patacas( US$ 6.6 million) to 80 million patacas (US$ 10 million) into building a three-story exhibition complex for the LRT project. A total of 32 companies' bids had been accepted for the construction, according to a statement issued by the GIT last month.
According to Macau Post Daily many lawmakers complained in a plenary session for interpellations last Friday that it was "a waste of public money" to build an exhibition complex for the LRT prior to the completion of the system.
"Now that we have an (LRT project) exhibition at the Macau Science Centre, I don't see any reason why we still need to build an exhibition complex," directly-elected-legislator-cum-businessman Ung Choi Kun said during the plenary meeting.
Legislator Kwan Tsui Hang, who represents the Macau Trade Unions Federation (FAOM), said that similar project exhibition facilities had been set up near the Kun Iam Statue in Nape which had attracted few visitors.
"There are many other areas where the government can spend public money. Why should we spend our public money on this type of thing?" Kwan questioned.
"The plan to build an exhibition hall for the LRT will be frozen. The government totally agrees with Secretary for Transport and Public Works Lau Si Io's opinion," Chui said Sunday.
Chui added that the government had reached an agreement with the management team of the Macau Science Centre that the current exhibition about the LRT project at centre would continue.
The LRT exhibition complex was originally planned to include 3,724 square metres of exhibition space, and was to be located near the LRT's main depot next to Macau International Airport in Taipa. The government aimed to have the exhibition complex up and running as early as 2012.
(MacauNews)