Macau and Australia ink tax info exchange pact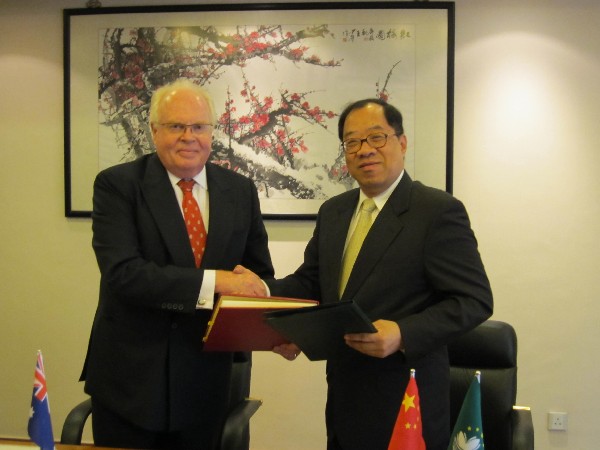 Macau, China, 13 Jul – Macau has become the latest partner to sign an agreement with Australia that will assist both governments in preventing offshore tax avoidance and evasion, the Australian Consulate-General in Hong Kong, which is concurrently accredited to Macau, announced in a statement.

Australian Consul-General Les Luck signed the Tax Information Exchange Agreement (TIEA) with Secretary for Economy and Finance Francis Tam Pak Yuen in Macau Tuesday.

According to the statement, Macau is the 29th jurisdiction to have inked a TIEA with Canberra .
The pact provides a legal basis for the two sides to exchange taxpayer information.
"The agreement seeks to enhance the current economic and trading relationship between Australia and Macau through co-operation on tax matters," statement quoted the consul-general as saying.

"The signing of this agreement demonstrates the commitment of Macau to international tax standards and is indicative of the progress that is being made worldwide to improve transparency in the financial system and prevent offshore tax avoidance and evasion," Canberra 's top diplomat accredited to Hong Kong and Macau is quoted as saying by The Macau Post Daily today.
Luck added that " Australia recognises Macau 's commitment to operating financial regulatory systems that meet the highest international standards in order to combat money laundering, terrorist financing and other financial crimes."
Luck stressed that " Australia values the strong bilateral relationship with Macau , and looks forward to developing this relationship through the signing of this agreement."

The statement pointed out that the pact "will enter into force when the relevant domestic requirements have been completed in both Australia and Macau ." (MacauNews/ Politics)