Macau Bar association chief slams judiciary's sluggishness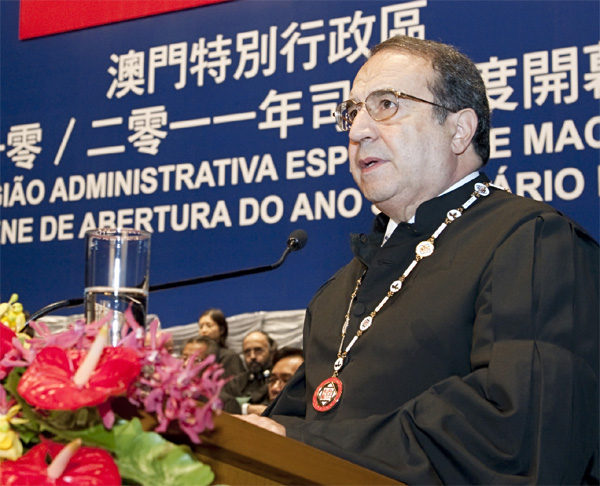 Macau, China, 21 Oct – The president of the Macau Lawyers Association (AAM), Jorge Neto Valente, Wednesday slammed the local judiciary for its sluggishness.
Addressing a ceremony marking the start of the 2010/2011 Judicial Year in Macau, Neto Valente also called for the hiring of more Portuguese-Chinese interpreters and translators from the mainland as well as judges from abroad.
Citing a string of examples of judicial sluggishness, Neto Valente singled out a criminal case dating back to 2003 that is only now on trial, a criminal complaint that was submitted in 2002 but is scheduled to go on trial only in May next year, and a company's winding-up request submitted to the Public Prosecution (MP) in January 2004 that is still awaiting an official reply.
Neto Valente, a naturalised Chinese born in Portugal, also said that the local judiciary continued to "hobble along," considering that its just about 30 judges had to cope with 16,696 newly submitted cases last year.
According to The Macau Post Daily the former legislator also criticised the government for hiring legal experts from Hong Kong to draft local laws and for contracting a Hong Kong company to launch a headhunt for the chief of Macau University's Faculty of Law.
According to Neto Valente, the Hong Kong firm's recruitment requires applicants to be proficient in English and Chinese but not to be familiar with the local legal system, nor to speak Portuguese.
Macau's legal system is based on the one in Portugal. The Portuguese language continues to play an important role in Macau's courts. Unlike Hong Kong's Anglo-Saxon Common Law, Macau continues to follow the Romano-Germanic Civil Law system, also known as Continental European law, which also has had a strong influence on the legal systems in mainland China and Taiwan.
Neto Valente urged Chief Executive Fernando Chui Sai On, who also attended the ceremony, to put an end to the recruitment process in its current form.
Meanwhile, Neto Valente also revealed that some 31 percent of the members of his association speak Chinese.
According to Neto Valente, his association currently comprises 189 lawyers, among them 59 of who speak Chinese, 44 of whom are native speakers. Over two thirds of Macau's lawyers have Portuguese as their mother tongue.
Macau's 60 law offices currently employ 125 trainee lawyers, 93 of them having Chinese as their mother tongue (nearly three quarters of the total). Portuguese is the native language of 32 trainees.
(MacauNews)