Macau protesters call for reforms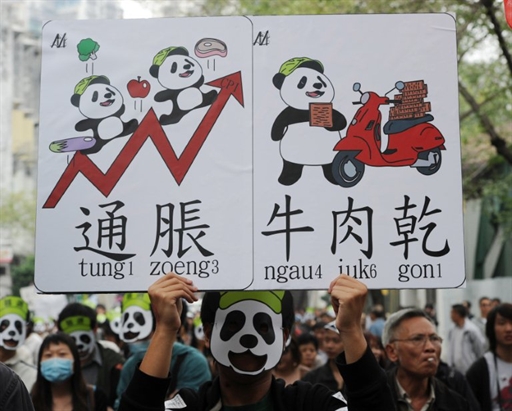 Macau, China, 21 Dec – About 1000 protesters marched through Macau Monday, marking the 11th anniversary of its handover to China by calling for affordable housing and universal suffrage.
Several hundred activists took aim at skyrocketing rents by wearing panda masks to protest against the "millions" spent on living quarters for two of the animals who arrived in Macau at the weekend — a gift from Beijing.
Others called for universal suffrage which, like nearby Hong Kong, has some elected legislators with others are picked by a Beijing-allied committee, including the top post of chief executive.
They accused Chief Executive Fernando Chui Sai On of ignoring their plight in the wake of high inflation and rocketing home prices.
Protesters also called for the 2019 chief executive to be chosen by universal suffrage and for quicker democratic reforms.
Some protesters mocked China's tendency to advocate order and "social harmony", which critics said was aimed at stifling dissent.
"Too much harmony only muffles the voices of different people in the community," one protester told reporters. "We need to hear differing opinions and views."
Macau was returned to China in 1999 following more than four centuries of Portuguese rule.
(MacauNews)