Top diplomat thanks Macau for Japan disaster donation, invites locals to travel again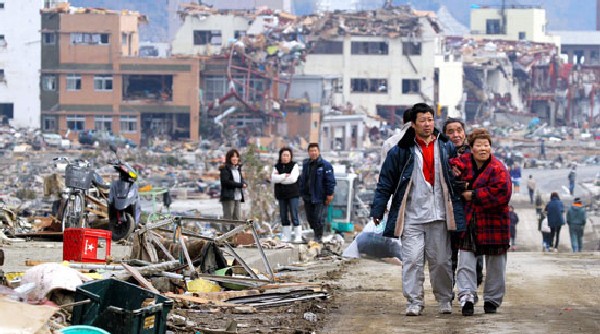 Consul-General to Hong Kong and Macau Yuji Kumamaru Wednesday thanked Macau personally for the donations raised by several local organisations, including the HK$4 million from the Macau Red Cross, for those affected by the  earthquake  and  deadly tsunami that also led to a nuclear crisis after the tidal waves hit the Fukushima Daiichi Nuclear Power Plant.
Reportedly, the double disaster on March 2011 has resulted in 15,850 deaths with 6,011 injured and 3,287 people missing.
"We shall not forget the outpouring of support from all parts of the world, including Macau," Kumamaru said in a press conference held in Macau  to announce details of a photo exhibition to be held in commemoration of the 1st anniversary of the disaster.
According to The Macau Post Daily today, the "Photographic Exhibition on the Recovery from the Great East Japan Earthquake" will be held in the lobby of Exchange Square, the building where the Consulate-General of Japan is located in Hong Kong, from today until Wednesday next week, showcasing photos of various areas affected by the earthquake and tsunami – "before the earthquake", "immediately after the disaster" and "on the road to recovery"..
"I encourage people in Macau and Hong Kong to start making trips to Japan again," Kumamaru underlined. "I'd like to stress that there's a large part of Japan that's not affected by these disasters and you can be sure that you can have a very safe and pleasant trip to Japan."
He added, " that confidence in Japanese food in Hong Kong and Macau has been restored after locals and those in Hong Kong were for months worried about whether Japanese food products had been contaminated with the radiation from the Fukushima nuclear crisis.
According to Kumamaru, for several months right after the disaster the number of locals visiting Japan dropped by 30 to 40 percent but the figure bounced back from October onwards.
While exports from Macau to Japan were not affected, imports from the Land of the Rising Sun also dropped, but "some have already been restored, such as food and industrial products", he pointed out.
He also said that "a large number" of Macau and Hong Kong people have started to travel to Japan again. However, he did not reveal any hard figures for both the number of local tourists visiting Japan as well as the trade between Macau and Japan before and after the disaster.
Kumamaru also revealed that most of the Macau donations, including  some from the Japan Alumni Society of Macau, Japan Society of Macau and several locally-registered Rotary Clubs, have been used for food and to build temporary housing for "almost half a million people" who were housed in emergency evacuation centres (schools, town halls and other places) after the disaster.(macaunews)