Chui says top officials share same values and commitment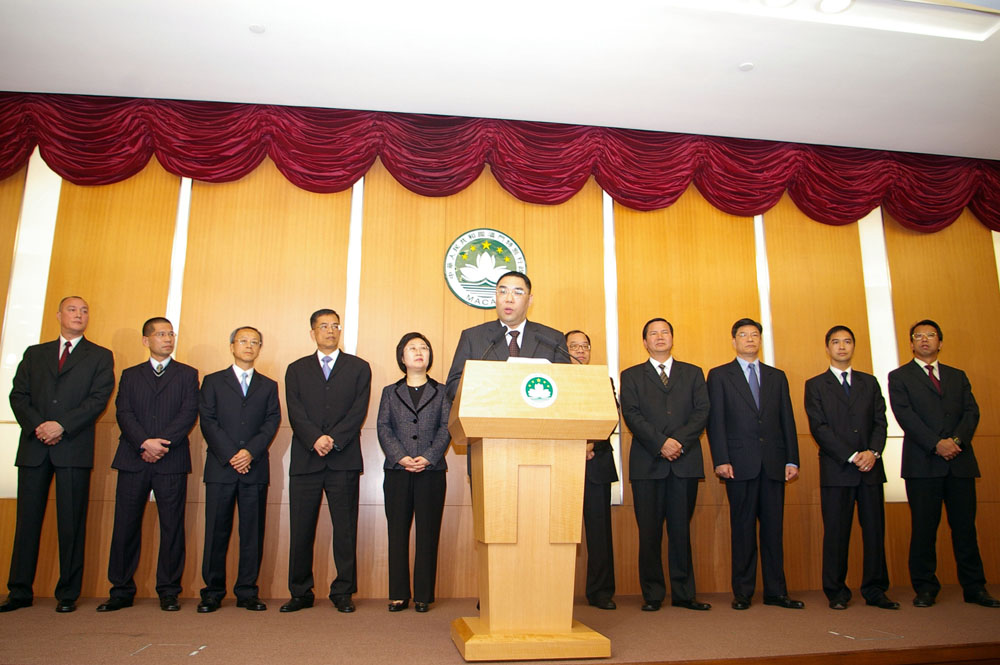 Macau, China, 25 Nov – The incoming government's new team of principal officials share the same values and commitment in governing and serving Macau, Chief Executive-designate Fernando Chui Sai On said Tuesday.
Chui met the press after the State Council announced the appointment of the principal officials and Public Prosecutor-General nominated by him.
Six principal officials and the Public Prosecutor-General of the current government will serve in their current posts in the incoming government, while the Commissioner Against Corruption, Cheong U, will become the next Secretary for Social Affairs and Culture.
MCheong's current post will be taken over by Fong Man Chong, a judge of the Court of Second Instance, while the current chief-of-cabinet of the office of the Chief Executive, Ho Veng On, will become the next Commissioner of Audit.
Chui said that the changes in officials would not affect the development of the related departments.
The government would continue to fight against corruption, support a more transparent administration and fully co-operate with the work of the Commission of Audit, said Chui.
As pledged in his campaign platform, the government would attach importance to the follow-up work of the reports published by the Commission of Audit.
The three new principal officials of the incoming government said they thanked the Central Government in Beijing and Chief Executive Edmund Ho Hau Wah for their trust and said they would try their best to serve the public.
Cheong, a civil servant for more than 20 years, said he would serve the public with modesty in his new post as the next Secretary for Social Affairs and Culture.
Fong said, based on the foundation created by the Commission Against Corruption, he would spare no efforts in the fight against corruption and would promote a sense of integrity among the public.
Ho Veng On said he had been working as a civil servant for more than 20 years. Helped by the achievements of the Commission of Audit in the past decade, he would try his best to fulfill his duties in the new role. Should any irregularities within the government be discovered, he would act in accordance with the law.
(MacauNews)