Vice President Xi urges Macau to "control" gaming industry's development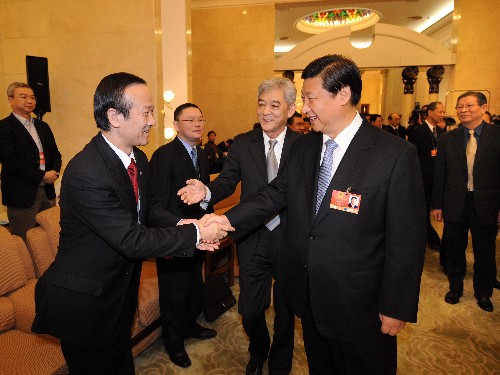 Beijing, China, 8 Mar – China's Vice President Xi Jinping said Sunday that Macau needed to adjust, control and monitor the gaming industry in order to ensure its orderly development, according to The Macau Post Daily today.
The paper said, quoting Ho Iat Seng, a Macau member of the Standing Committee of the National People's Congress (NPC), that Xi made the appeal during a panel discussion by Macau's 12 NCP deputies of the central government's work report at the Macau Room at the Great Hall of the People in Beijing.
Ho told reporters after the meeting that Xi had stressed Macau needed to adjust, control and monitor its gaming industry, while ensuring diversification in its rapidly developing economy, and pushing towards creating a strong leisure and tourism industry.
According to Ho, Xi stressed that since Macau was limited by its location and market, pushing for a diversified economy would be difficult.
China's Vice-President also said that the Macau government needed to increase support for local small and medium-sized enterprises (SMEs).
Xi pointed out that Macau's outlook was good, but there was a need to grasp hold of key opportunities and projects, particularly the opening-up of Hengqin Island, in order to create a climate of sustainable development in Macau.
During the meeting, NPC deputy Jose Chui Sai Peng proposed that the central government consider opening the 24-hour border-crossing facility at the Cross-Border Industrial Zone to residents after the Macau-Gongbei Barrier Gate closes at midnight.
The Cross-Border Industrial Zone checkpoint is currently only open to those transporting commercial goods across the border.
Hong Kong and Macau Affairs Office Director Liao Hui and NPC Vice Secretary General Qiao Xiaoyang attended the one and a half-hour closed-door meeting.
In addition, the director of the Liaison Office of the Central People's Government in Macau, Bai Zhijian, and Macau Basic Law Committee Vice Director Susana Chou were also in attendance.
(MacauNews)