Beijing okays 'split management' of Hengqin border checkpoints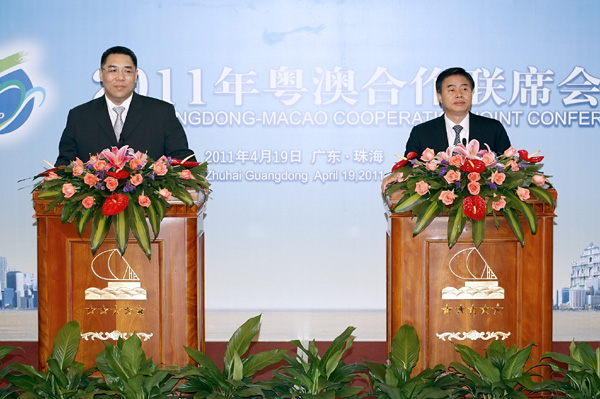 Macau, China, 20 Apr -The Chinese central government has approved "in essence" the "split management" of the border checkpoints on Hengqin Island , Guangdong Governor Huang Huahua said in Zhuhai Monday.
Huang also said that Beijing had "essentially" given the green light for a special tax incentive scheme for the Hengqin New Area that will be jointly developed by Macau and Guangdong, The Macau Post Daily reported today.
The term "split management" refers to a proposed arrangement under which Macau will manage the border checkpoint facilities between Macau and Hengqin while the mainland will manage the future border checkpoint facilities between Hengqin and the rest of Zhuhai.
Huang said that the two "innovative policies are giving life to Hengqin when it is opened up (to joint development by Macau and Guangdong )."
Huang also said that the joint development of the nearly 100 sq km island would further help Macau – whose land area amounts to just 29.5 sq km – to diversify its economy.
The governor added that once the new measures have been officially approved by the government, their implementation would attract enterprises to invest in Hengqin.
Huang made the comments during a press meeting with Chief Executive Fernando Chui Sai On after the 2011 Guangdong-Macau Co-operation Joint Conference held in Zhuhai Holiday l.
After the conference, the two governments signed a Work Arrangement for the Implementation of the Guangdong-Macau Co-Operation Framework Agreement that both sides had signed last month.
Both sides also signed a pact on the co-development by Macau and Zhuhai of the Traditional Chinese Medicine Science and Technology Park in Hengqin. The 0.5 sq km park was officially instituted yesterday.
Huang also said that both governments had agreed to speed up regional development co-operation.
Meanwhile, Chui said that Tuesday's joint launch of the Traditional Chinese Medicine (TCM) Science and Technology Industrial Park by Macau and Guangdong and the completion of the Zhuyin Water Source Project in Zhuhai Tuesday marked a new chapter for bilateral co-operation between the two sides.
Huang said he hoped the co-operation model for the park, where "Henqin provides land and Macau provides money" would create new investment opportunities for Hengqin.
The park is situated in Hengqin's New Technology Zone. The aim is that it will become an integrated base for the TCM industry worldwide, including research and development and the setting-up of an international trading hub for the herbal remedies and quality healthcare products.
Hengqin New Area is a special economic district similar to Binhai New Area in Tianjin and Pudong New Area in Shanghai .
The island adjacent to Taipa, Cotai and Coloane is part of Zhuhai. However, the future one square kilometre Macau University campus on the island will come under Macau 's jurisdiction after its completion scheduled for next year.
(MacauNews)