Chinese Premier Wen Jiabao gives backing to Macau's new Chief Executive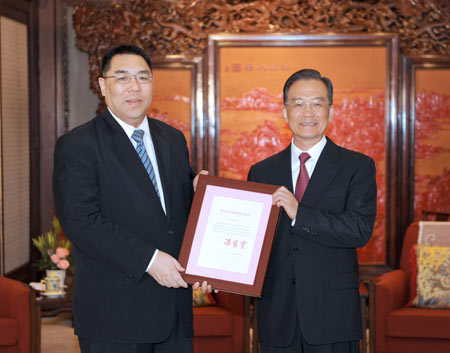 Beijing, China,11 Aug- Chinese Premier Wen Jiabao told today Fernando Chui Sai On, the new Chief Executive of the Macau Special Administrative Region (SAR), that he had the central government's full support, according to Xinhua News Agency.
At a meeting in the central leadership compound of Zhongnanhai, in Beijing, Wen handed Chui Sai On a decree from the State Council on his appointment.
Wen congratulated Chui on his election by a clear majority and his appointment by the central government.
He hoped Chui would advance the SAR's economy, stability and living standards based on the achievements made by the incumbent chief executive Edmond Ho Hau Wah whose second consecutive term will end on Dec. 19.
Wen said the central government would stick to the principles of "one country, two systems," "Macau people governing Macau" and a high degree of autonomy as well as the Basic Law of the SAR to "absolutely maintain Macau's prosperity and stability."
According to Xinhua, Fernando Chui Sai On expressed his gratitude for the central government's appointment and said he would carefully carry out his duties as Chief Executive and work with people from all walks of life to build a better Macau.
The State Council agreed Monday to appoint Chui as the Macau SAR's new Chief Executive.
Chui the only contender in the third chief executive election of the Macau SAR, was declared the winner on July 26.
Chui Sai On, 52, succeeds Edmund Ho, who led the Macau government since the former Portuguese territory returned to Chinese rule in 1999 and oversaw the liberalisation of the territory's gaming sector in 2002.
His five-year term runs from December 20, this year.
(MacauNews)