Syed Mubarak is Director of the Sands ECO360 Global Sustainability and MEP Plant Operations Department at Sands China Ltd. He is in charge of Engineering (MEP) and Sustainability, driving and implementing environmental responsibility and sustainability goals at Sands China Ltd.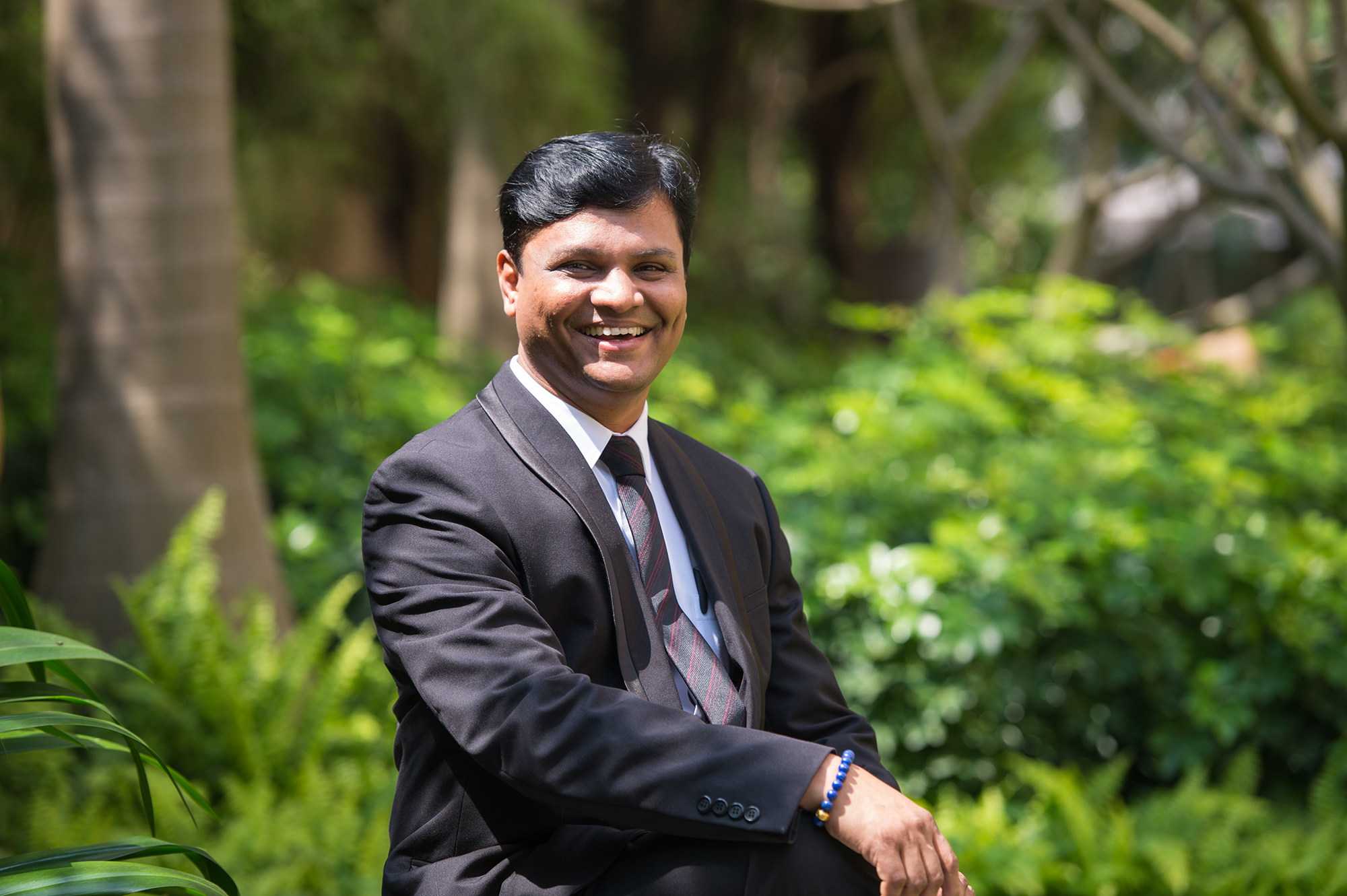 Syed Mubarak is Executive Director – MEP & Plant Operations at Sands China Ltd. He is in charge of Engineering (MEP) and Sustainability, driving and implementing environmental responsibility and sustainability goals at Sands China Ltd. He speaks fluent English and Tamil and is learning Mandarin from his seven-year-old daughter.
Born in Perambalur in the state of Tamil Nadu, India, Mubarak jokes that he has two birth dates: "One is 28 June 1972, which is the real date, and the other is 28 April 1972, which is the date my father gave the school so I could get enrolled in primary school that year (laughs). Even today, I celebrate twice with two cakes and twice the presents, and all my documents say 28 April 1972."
His family moved to Anaicut in the Vellore district in 1975, where he did all his schooling. In 1992, he got his undergraduate diploma in Engineering from Rajagopal Polytechnic at Gudiyattam. He had initially wanted to study astrophysics; "Unfortunately, the university with that course available was too far from my home, and I had to stay with my family, so I decided to study Engineering. In life, you don't always get what you want."
Proving his entrepreneurial spirit, Mubarak made a steady income while in school selling TVs that he built with friends. "In the mid-80s, television was not so prominent in India, and it was very expensive to buy well-known brands. I bought parts of televisions, assembled them and sold them unbranded at 80 per cent cheaper." He also made money teaching high-speed typing on the typewriter. Mubarak was a top student at university, earning a coveted gold medal. He was even offered a job in the government right out of school; instead, he accepted an engineering position at a manufacturing company at the age of 21.
From 1992 to 1996, Mubarak worked as an electrical engineer at Apollo Steel and Tubes Limited. He hadn't stop dreaming about a career in astrophysics, though. "The Indian Space Research Organisation had an opportunity, and I made it all the way to the finals, but at the last minute, the government cancelled the program. For me, that was the moment I decided that astrophysics wasn't destined to be a part of my life."
In 1998, Mubarak moved abroad for the first time to Singapore, where he was General Manager of Technical Development at Comfort Management Pte Ltd and contributed to a diverse range of energy efficiency and sustainable development projects in south east Asian market. For 16 years, Singapore was his second home. From 2009 to 2011, he was Business Development Director for Sodexo Singapore, and in 2011, he joined Jones Lang LaSalle as Regional Account Director in the Asia Pacific region.
With over 20 years of experience in integrated facilities management, energy management strategies, sustainability practices, technical engineering solutions and business development, Mubarak joined Sands China in 2013 to become Head of Sustainability and then Head of Engineering (MEP). "The Venetian is a huge portfolio and a great platform and an inspiration to my personal goal, so I made the move to Macao. After three years, I can definitely say it has been a rewarding experience."
Always thirsty for knowledge, Mubarak constantly pursues learning from a wide range of sources, including his daughter. "She taught me how to manage different situations at the same time!" An avid reader, his favourite writer is the English author P. G. Wodehouse, but he also enjoys motivational authors like Tony Robbins.
Mubarak attributes his parents, secondary school English teacher and his bosses in India and Singapore with sowing seeds of motivation within him. He also attributes his partner as being the force behind several of his achievements and says "her support and sacrifices has had a greater impact in my professional life."
Now, he finds constant inspiration in life and hopes to also inspire others through his work-based coaching sessions. "When I was in Singapore working for Comfort Management, my boss wanted to build a culture in which any team member meeting a client would be prepared to answer questions and not respond with, 'I don't know,' so he proposed that I take on a new role as Mindset Development Manager in addition to my operational management role," he recalls. As a result, he created a motivational programme bringing teams together within the company. For Mubarak, motivating others keeps him motivated. "Enough is never enough for me, and this also applies to the concept of sustainability. When you achieve one thing, you have to start with the next. I believe that if people were to think more like this, we would have a greener world and a bluer sky."
Ask him about his perspective on the consumer-drive world of today, and Mubarak responds without hesitation,
"Free money and modernisation changed us. We don't care anymore about the durability of things since so many things are available. Back in the 70s, I remember that there was no waste. I used to go to the grocery store carrying my own cloth bag and bottles to fill up."
Although modern society has changed the rules of the game, the sustainability expert firmly believes that, "Given the right tools and education, millennials can make a difference for the good. There is no need for us to be pointing fingers at others; we have to remember when pointing one finger, there are three more pointing at you."
For his dedication and hard work in his field, Mubarak has received several acknowledgements and commendations, including a 2014 China Hotelier Award for Corporate Social Responsibility. He is frequently invited to be key speaker at industry conferences and is actively involved with a number of organisations and associations, such as the American Society of Heating, Refrigerating and Air-Conditioning Engineers (ASHRAE), the International Facility Management Association, the Singapore Green Council, among others.
Mubarak ends each sentence with a smile, and he is ever ready with a laugh.