Sonia Chan Hoi Fan is Macao's Secretary for Administration and Justice and the only female member of the cabinet. She is fluent in Cantonese, Mandarin and Portuguese.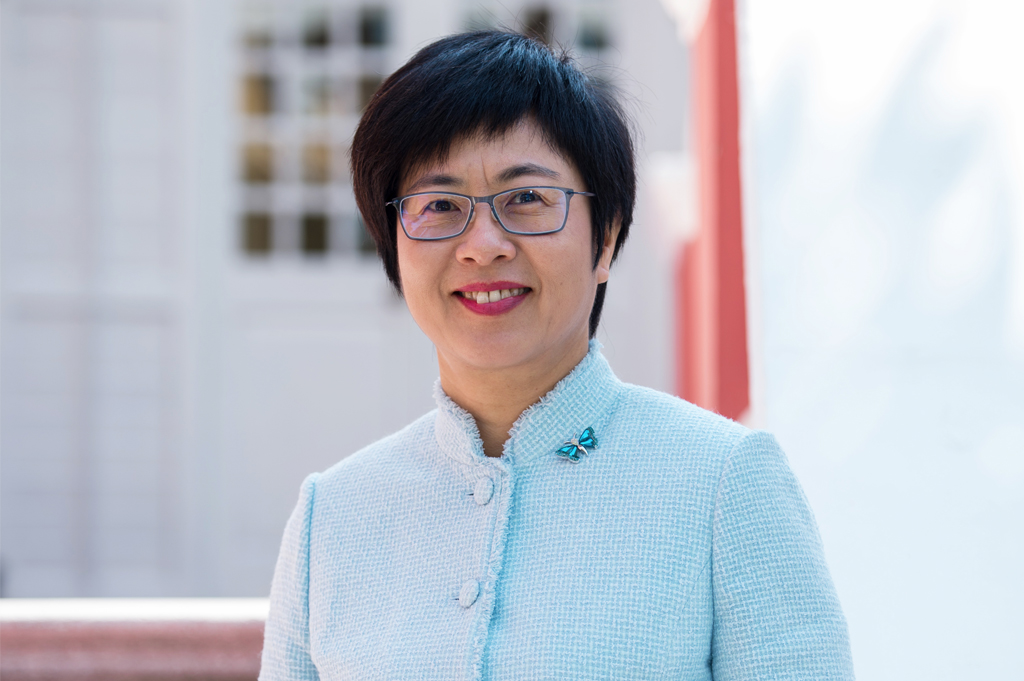 Sonia Chan Hoi Fan was Macao's former Secretary for Administration and Justice (the only female member of the cabinet at the time). She is fluent in Cantonese, Mandarin and Portuguese. She was succeeded by André Cheong Weng Chon in 2019 and she is now Director of the Macao Special Administrative Region Public Assets Supervision and Planning Office.
Born in December 1964, in Guangzhou, Guangdong province, Chan obtained her bachelor's degree in Law from Sun Yat-sen University in 1986. "I was not very good at science subjects such as physics, chemistry and biology. And majors like economics and business management were not popular back in the 80s. So when Sun Yat-sen University re-opened its law major, I decided to go for it."
After graduating from university, Chan moved to Macao with her family, and nearly three decades later, she has been here ever since. In 1988, she worked as a secretary for the Basic Law Consultative Committee. "The Consultative Committee worked very hard. Usually, they had meetings at night to discuss affairs such as statute drafting and public opinions." After working for the committee for a year, she received a two-year scholarship programme in Lisboa studying Portuguese language. Taking advantage of this great opportunity, she also sat in on some law courses before returning to Macao to work in government.
As the only female member of the current cabinet, Chan believes that significant barriers to female leadership have decreased in recent years and continue to improve.  She also believes that men and women possess different physical and mental strengths, which, together, make for more effective governance. "It's good to have complementary qualities of both genders at work."
Regardless, Chan believes that her colleagues are all working towards the same goal: to best support the Chief Executive's administration in an effort to construct a better Macao. "I hope we can work together and show the world Macao's uniqueness as well as provide a peaceful and harmonic society for our fellow citizens."
Chan's driving motivation is the amount of responsibility she holds. "It's very important to have one's mindset ready and clear for work every day. It affects your decisions as well as the vibe of the whole team." She also emphasises the importance of teamwork: "To be honest, what I can do alone is very limited. For the most part, it's about gathering intelligence by the whole team. What we do in public administration reform or law reform to improve citizens' livelihood and welfare, it's always the whole team's effort."
She also highlights the necessity of remaining objective and calm in all situations. "When I make a decision at work, I am always thinking on behalf of the welfare of Macao's citizens and government, not based on my personal interests. My motto is 'no matter what you do, always make sure you can face your conscience'." This means that it is often necessary to put aside personal preferences for the greater good of the public. "Even when there is something that I might not personally favour, if it's agreed upon by the majority and considered the best option, I gladly subordinate my opinions to that of the team."
With such a successful career and powerful position, Chan is sometimes referred to as an iron lady. "I don't think I am an iron lady, but there are many inspiring iron ladies that I do admire, such as our former Vice Premier of the People's Republic of China Wu Yi, former British Prime Minister Margaret Thatcher, former President of the Legislative Council of Hong Kong Rita Fan Hsu Lai-tai and so on. They are all very capable and successful women in society."
Chan acknowledges that she did not get to where she is without help and inspiration along the way from those who deserve recognition and thanks: "It was my primary school teacher who inspired and influenced me the most. She was like a loving mother to me. We still keep in touch regularly, decades after we first met. Actually, we just met up not long ago! I am very grateful to have this teacher who is also a motherly figure to me in my life."
In her free time, she enjoys gardening and always shares freshly grown tomatoes with her colleagues. She also enjoys relaxing with her friends or spending time with her husband and two sons.
Another hobby of hers, dancing, could have led her down a completely different life path. Chan remembers being very passionate about dance when she was little.  "But growing up in the 60s, it was very different. Life wasn't as exciting. There weren't as many opportunities as there are now. My family had to focus on working and making a living, so I didn't have the chance to pursue my dancing dream." However, Chan's passion and enthusiasm for dance is as deep as ever. "I still love watching performances such as ballet shows!"