Rev. Deacon Stephen Morgan
Rev. Deacon Stephen Morgan

Link copied
Rev. Deacon Stephen Morgan is the new rector of the USJ. He previously served in the Royal Navy and worked in the financial sector before dedicating himself to the Church and to teaching.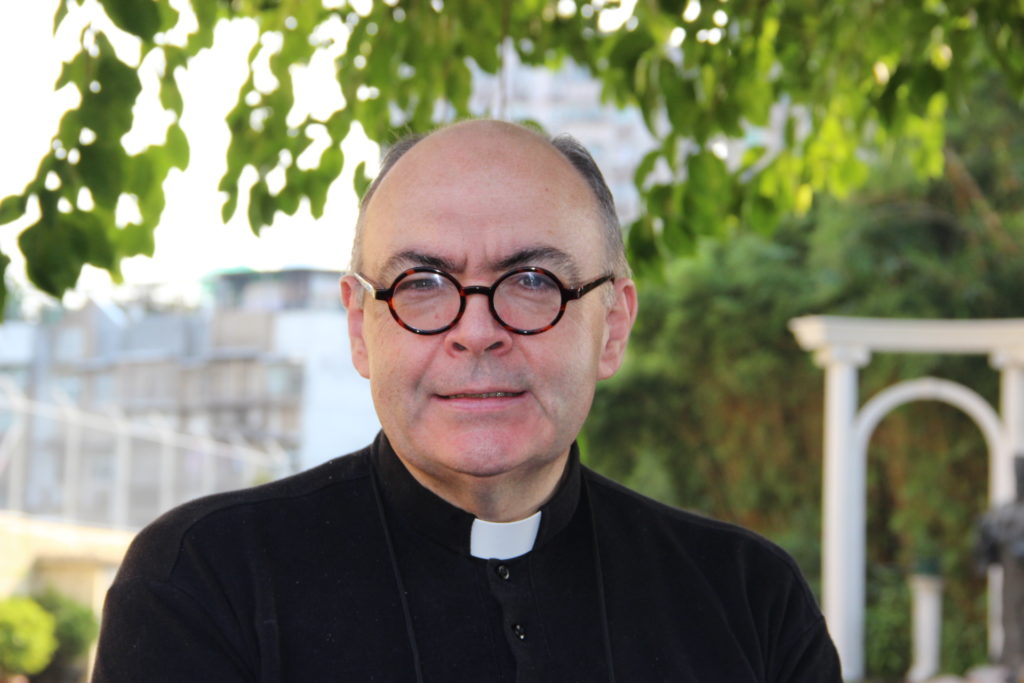 The Rev. Deacon Stephen Morgan is the new rector of the University of Saint Joseph (USJ), succeeding from the former USJ rector Father Peter Stilwell in 2020. He previously served in the Royal Navy and worked in the financial sector before dedicating himself to the Church and to teaching, which brought him to this part of the world.
He arrived, or rather, returned to Asia about two years ago. Having never lived in Macao, he still knew the city from the years he spent in Hong Kong in the 1990s, leaving shortly before the transfer of administration in 1997.
Macao again appeared on his horizon after he met a priest from the city's diocese, who became his friend and eventually introduced him to Bishop Lee Bun Sang and to Peter Stilwell, the rector since 2012. They invited him to become dean of the Faculty of Religious Studies, where he has also given classes since September 2018. His family remains in UK, where he spent most of his life; he returns often to see them.
Stephen Morgan was born in Wales on 4 August 1965, though part of his childhood was also spent in England, due to his father's work as an engineer. In 1982, when he was 18 years old, he joined the Royal Navy, thereby fulfilling a childhood dream (his grandfather served in the military). "I felt it was what I ought to do. I like sailing a lot, the sea; I was quite good at maths, so navigation was a natural choice," he says.
Although he doesn't regret serving, he admits that the choices one makes at such an age would be different if made later. The Cold War (1947–1991) was then in full swing, he explains, and the Royal Navy's main task was to locate Russian submarines in the North Atlantic, while at the same time the UK was also recovering from another conflict with Argentina over the Falkland Islands. "So there were some major issues in the Atlantic," he observes.
It was an incident in the Mediteranean, though, that especially marked Morgan. It was in 1984, when the UN sought to base troops in Lebanon to help keep peace in that country. "Witnessing the bombardments by US warships in Lebanon was a powerful image that made me realise what war was – it was no joke," he recalls sadly.
Duty
His memorable experience in the navy led him to the next stage. "I had a Catholic education; I grew up in a home where Christianity was important. The question of whether I should become a priest eventually arose. I ended up thinking probably not, though I did feel I was ready to be tested."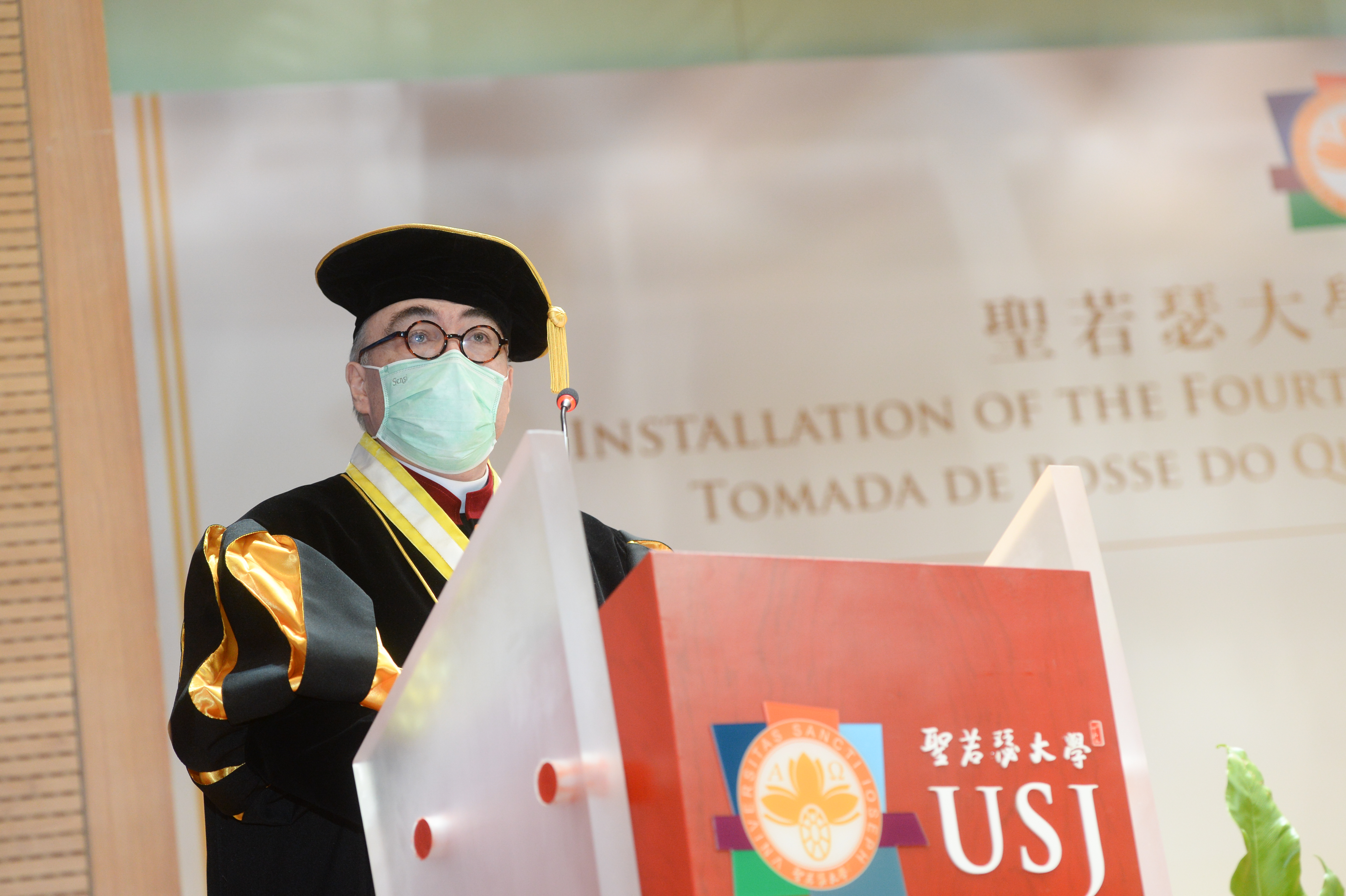 Morgan spent the years from 1987 to 1990 as a student for the priesthood for the Diocese of Clifton, at St. Mary's College, Oscott in Birmingham. "It gave me the opportunity to think seriously about what my aims were. The relevant question is not what we want to do, but rather what we can and should do with our talents: the sense of duty," he affirms.
He decided to leave the diocese for a year to reflect on things. He met his wife six days later, and two-and-a-half months after that they were engaged to be married. "In the last 25 years or so, that [sense of] duty has been to be a husband and father of three children."
That's why, despite his devotion to the Church, Morgan shifted course. In 1990 and 1991, he worked as a tax manager for Smith and Williamson, Chartered Accountants, in London and Salisbury. It was a challenge, though he says the decision was made for other reasons. "I needed to earn money. The economy wasn't going well. I had to go where there was work."
To the Far East
After London, Morgan accepted the post of senior international tax manager at Grant Thornton Hong Kong in 1991. He recalls the time spent in the former British colony as "a strange period", due to the upcoming transition. The eventful times, however, did not prevent him from being happy. Only a short time had passed since China's policy of openness and reform was advocated by Deng Xiaoping and Hong Kong was visibly growing.
"It was definitely the place to be," he says. But once again, more important matters intervened. "As our children grew up, there was the question of where we wanted them to study. We ended up deciding to return home."
Morgan wouldn't live overseas for another 22 years. From 1996 to 2004, he was a partner at Morison Stoneham, Chartered Accountants, in the City of London, as well as head of personal tax and corporate finance.
His shift back towards the Church began in 2004 with his appointment as Oeconomus of the Diocese of Portsmouth, a position that combined that of chief operating officer and responsibility for all financial management, legal compliance and administrative support for the institution's activities, encompassing 156 churches and 73 schools and academies.
The next year, he was named chairman of the National Conference of Diocesan Financial Secretaries, serving until 2009. He also became a member of the Insurance Committee of the Catholic Bishops' Conferences of England and Wales and Scotland, a position he still holds and in 2006, he was appointment non-executive director of Catholic National Mutual, the Church's insurer in Great Britain, which he still holds.
Meanwhile, he earned a bachelor's in divinity from Maryvale Institute in 2007, before continuing his studies at Oxford, where he completed a master's degree and then a doctorate at St. Benet's Hall in 2013.
"In my forties," Morgan reflects, "I realised that my schoolteachers had been right. My vocation was to be an academic." He was still studying himself when he began lecturing, first at Maryvale in Birmingham then Oxford. He continues to lecture on sacramental and liturgical theology at Maryvale and, since 2014, has been a member of the Academic Board of the Quarterdeck Series, an educational programme under the UK Defence Academy.
Even as Morgan juggled education and teaching, he was also attached to a number of parishes in the New Forest area of southern England: Lyndhurst from 2007 to 2013 and New Milton from 2013 to 2017, as well as Lymington and Brockenhurst for the entire period from 2007 to 2017. He was attached to Holy Family, Southampton from 2017 until he came to Macao.
"There was never a specific moment when I decided I didn't want to be a priest. A priest can't get married and have a family, and I realised I wanted to [have that]. Becoming a deacon was my way of bridging the two worlds," he explains. "If the Church changed its position, might I then want to be a priest? I don't know; it's a hypothetical question, so I don't waste time thinking about it."
Another area is writing. This year, he will publish a book on John Henry Newman's theology of development – though the exact publishing date is yet to be set due to the effect of COVID-19 – adding to the many chapters, articles and other publications he's already written.
He spends his free time listening to music and to "interesting people", a hobby he especially appreciates when accompanied by a tasty dish and good wine or beer. He also likes to hunt and fish, spending 1997 to 2000 as a trustee of the Wild Trout Society which then worked to improve trout habitats across the UK.
Morgan enjoys rugby and is a fan of his hometown Cardiff Blues and Bath Rugby, besides being a member of the Hampshire County Cricket Club and supporter of the Boston Red Sox baseball team. And if he tires of balls and bats, there's always his old childhood passion: sailing.