In an interview at Moon Chun Memorial College, which has been under his directorship since 2013, the professor discusses the challenges and triumphs throughout his journey as a musician and educato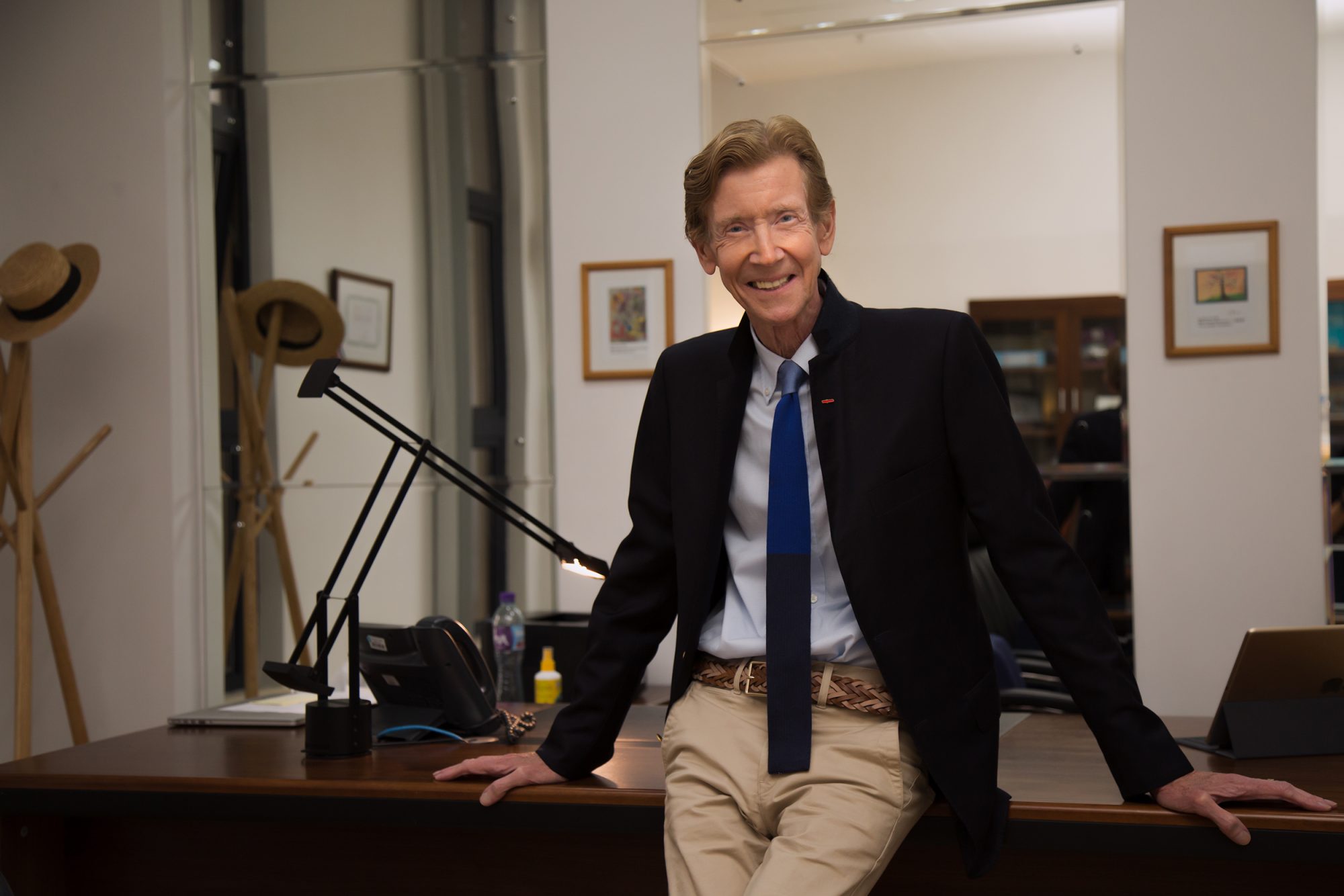 "When I first heard music, at the age of two or three, it was a revelation," says Prof. Kevin (Kit) Thompson, recalling the defining moment that led to a lifelong passion. "I discovered very quickly that I knew all the notes without even looking at the music scores – we called it absolute pitch."
Over the past four decades, Thompson has built a career as a musician, conductor, educator and avid promoter of arts and culture. His dedication to education and the arts has garnered Thompson a number of prestigious titles. Appointed an Officer of the Order of the British Empire in 2011 and made a Knight Officer of the Order of Arts and Letters in 2012, Thompson added an even more coveted title to his list in 2017 when French President Emmanuel Macron appointed him a Knight of the National Order of the Legion of Honour for his outstanding contribution to French music, arts and culture.
Thompson is broadly recognised as one of the most prominent university college and academy presidents, having run the Royal Birmingham Conservatoire, Dartington College of Arts and Hong Kong Academy for Performing Arts before coming to University of Macau (UM).
In an interview at Moon Chun Memorial College, which has been under his directorship since 2013, the professor discusses the challenges and triumphs throughout his journey as a musician and educator, as well as the inspirational people that offered him support and guidance along the way.
Nurturing young talent
Hailing from Stratford-on-Avon, England, birthplace of Shakespeare, Thompson remembers his childhood as a very rewarding one, suffused with kindness, supportive parents and generous teachers who steered him toward greater opportunities.
"I was aged about 11 when my teachers noticed that I had a special interest in Music. They encouraged me and helped me apply for a junior exhibition scholarship to receive specialist tuition in one of the Royal Colleges for Music Saturday junior schools," he recalls. "Such kindness is something you can't buy with money."
The guidance he received, coupled with his own natural talent and determination, carried Thompson further in his musical journey. Upon finishing secondary school, he was admitted to the Royal Northern College of Music where he studied trumpet and composition, and subsequently, conducting.
Having received scholarships for master classes with two highly regarded figures – renowned trumpeter Pierre Thibaud and composer Pierre Boulez – Thompson left England to continue his education abroad. He studied under Thibaud, known for his extensive career as an orchestral player and soloist, at Conservatoire de Paris, and under Boulez in masterclasses in the United States, a pioneering figure in in French contemporary music and conductor of the BBC symphony orchestra and New York Philharmonic.
In 1983, he completed his doctoral studies in music and education at University College London (UCL), and gained a Winston Churchill fellowship taking him to the Juilliard School New York.
The influence from his teachers inspired another passion in Thompson: education, hoping to nurture more young talents and next-generation consummate musicians through a combination of conducting and teaching.
Since earning his degree in music and education, Thompson has spent decades as a performer, conductor and dedicated educator. Recounting a long list of promising students that came under his wing, the professor mentions a surprise reunion with his former students at a reception held by the Hong Kong Philharmonic Orchestra. "I didn't recognise them at first, but then they looked at me and said, 'You taught us.'  And I asked, 'Really? What was it like for you?' And they said, 'We are here'," Thompson recounts. "They found their path in life as professional, international circuit orchestral players, so I hope I have had some influence." 
The endless pursuit of excellence
After beginning his professional career as a trumpet player with the City of Birmingham Symphony Orchestra in England, Thompson transitioned into the role of educator, becoming founding principal of the Royal Birmingham Conservatoire in 1988; he was only 36 years old. Five years later, he left the Midlands to become director of Dartington College of Arts, a specialist arts institution in southwest England, with its International Summer School, Music Festival and year-round arts programme.
Despite having a job he "absolutely worshiped and loved," Thompson made a big career change in 2004 that took him across the world. It all began with an unexpected phone call he received one day at two o'clock in the morning. "I thought it must be an emergency," Thompson vividly remembers.
To his surprise, it was a long-distance call from Anna Pao Sohmen, then chairperson of the Hong Kong Academy for Performing Arts (HKAPA), to discuss the possibility of a Directorship position at the academy. The two met in London with another board member to delve into further details. "Before I decided to accept the position as director of the academy, I revisited and renewed my acquaintance with its work and met board members, faculty, staff and students. That was the beginning of coming to Asia full-time."
Thompson was well aware of the challenges he would face in his new home. "Living in Europe or the US has a degree of relative familiarity, given certain exceptions, … but in Asia, you are dealing with a set of intercultural values which have both to be respected and celebrated, abundant multicultural richness, emergent and liminal art forms, diverse and multi-faceted musics, tuning systems, a range of arts and distinctive lifestyle choices in some ways quite discrete from those present in the West," he explains.
"But occasionally you want to stretch yourself, and see if you are brave enough to live outside of your comfort zone," he added. "It comes from within."
With elevating the school's academic standing as his primary objective, Thompson made a number of significant and lasting contributions to HKAPA during his eight-year directorship: facilitating masterclasses with the Juilliard School in New York City, as well as Central Conservatory Beijing, Shanghai Conservatory, and colleges on the mainland; introducing master's degrees in performing arts disciplines; and putting forward expansion plans for the academy's Wanchai campus. In addition to a new nine-storey building, Thompson's efforts resulted in the development of a strategic plan aimed at maturing the institution and cultivating 21st-century performing artists.
In 2013, eager to continue embracing new challenges, Thompson accepted an offer to become the founding master of Moon Chun Memorial College in the new Hengqin campus of UM.
His goal: to create the largest collegiate system in Asia through UM. "Which we have become," Thompson adds. "Attracting international calibre academics and students, be they local, mainland, Portuguese speaking or from the four corners of the globe. We started with just two colleges and now we have ten new colleges, each distinctive with a particularity of strengths."  A more personal accomplishment came when he was made the first chairman of the councillor master, a position he was recently re-elected to by his colleagues.
Coming to Asia may have felt daunting at the time, but more than a decade later, Thompson couldn't be more proud of his decision. "It's a challenge that I couldn't resist," he says, "and I am absolutely loving that because together we have risen to challenges, shown forbearance in the face of obstacles and overcome them. We started this journey together and will, I believe, complete it together."
Soul mates with shared passions  
For all the inspiration drawn from influential teachers and world-famous conductors such as Simon Rattle, William Christie and Carlo Maria Giulini, Thompson stresses the incredible importance of his wife, Dr. Patricia Anne Thompson. Not only has she been a great source of support throughout their many years together, she has reliably provided constructive criticism, helping him to grow as a leader, an artist and musician, and most of all, as a teacher.
The two met in their first year as undergraduates at Royal College of Music in London. Although they were studying different instruments – he played the trumpet, she was a pianist – a shared passion for all form of arts, fine art, theatre, music in particular, drew them together.
"To paraphrase Erich Segal, what can you say about a girl who loved Mozart, Bach, The Beatles and me," Thompson reflects fondly. The couple married young, just 23 years old, convinced that they had found soul mates in each other. The decades that followed tested that bond as the two lived apart from each other, pursuing career opportunities in different parts of the world.
The move to Macao in 2013 began a new chapter in their life together as the couple now work and live in the same place for the first time. Dr. Patricia, a highly accomplished educator in her own right, serves as the Artistic Advisor and Professor in Music at the UM. The couple collaborates on efforts to invigorate the campus environment through a range of wonderful arts activities, organising concerts, exhibition programme series, film productions, radio programmes and writing workshops.
As busy as they are, the Thompson's manage to find time for leisurely pursuits. They enjoy the simple delights available in Macao, ranging from dining in traditional restaurants to keeping fit in the gym and at the beach, to attending all manner of arts and cultural performances. When Thompson describes Macao, it's an adventure – a kaleidoscope of wonders and experiences, always offering up something new to do, see or taste.
Doing his part to contribute to the cultural vibrancy of the city, Thompson has taken on a number of roles outside the university. Most notably, he worked with the French diaspora to introduce and programme concerts and performance, part of the annual Le French May Arts Festival to Macao in 2013, after its many years of success in Hong Kong.
He also brought British arts, Cambridge Collegiate Choirs, UK business leaders and entrepreneurs to Macao. He has conducted the Macao Orchestra Brass in a celebration at Macau Tower for the last two years to mark the official birthday of Queen Elizabeth II, Her Majesty's 90th and 91st birthdays and was recently elected president of Macau European Chamber of Commerce, which aims to facilitate Sino-Western collaboration and continue Macao's cross-cultural heritage.
"Macao liminality enables space to cross cultures, cross-cultural boundaries and art-form borders, nationality and creed. That acceptance or willingness to come along is not always possible in other parts of the world," Thompson remarks. "This cultural, business and lifestyle richness, together with a warmth of welcome second to none, has been the most remarkable discovery."