Miguel de Senna Fernandes
Miguel de Senna Fernandes

Link copied
Born in Macao on 10 May 1961 – his mother is Chinese and his father is renowned Macanese writer Henrique de Senna Fernandes – Henrique Miguel Rodrigues de Senna Fernandes is a Macanese lawyer, playwright, and theatre director.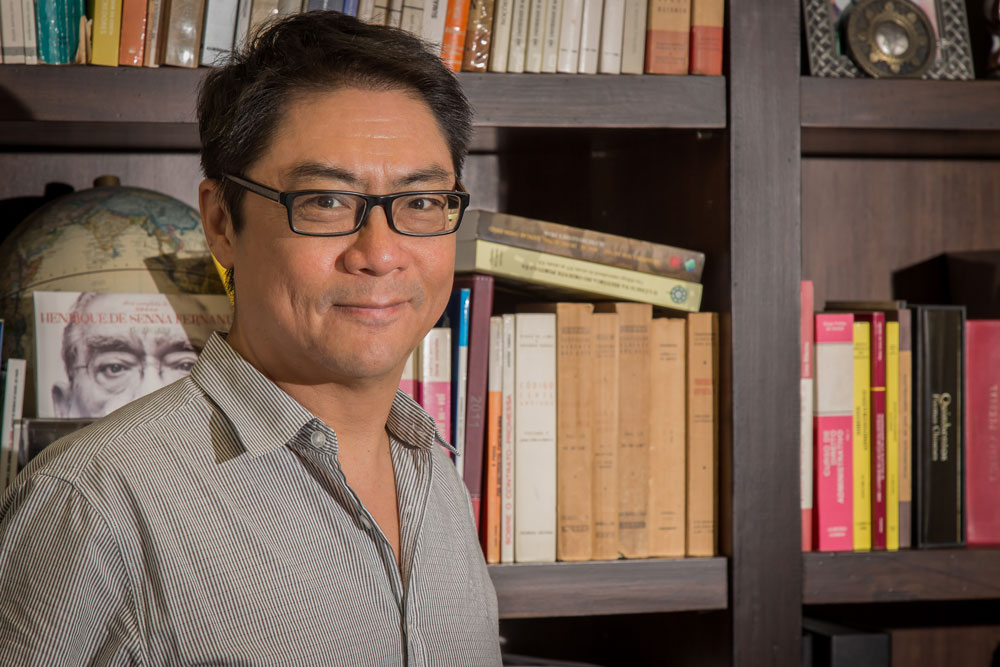 Henrique Miguel Rodrigues de Senna Fernandes is a Macanese lawyer, playwright, and theatre director. He was born in Macao on 10 May 1961: his mother is Chinese and his father is renowned Macanese writer Henrique de Senna Fernandes. He speaks fluent Portuguese, Cantonese and English but regrets not learning Latin.
Fernandes grew up in Macao and attended the former Infante D. Henrique High School. Spending his childhood in the region, he recalls, was "awesome" but "messy". At the time, Macao was dealing with gang violence that permeated the schools. "Some teenagers would invoke gang names and things got rough sometimes," Fernandes admits.
Upon graduating in 1988 with a degree in law from Universidade Católica Portuguesa in Lisbon, Fernandes contemplated staying in Portugal, but his father advised him to return to his motherland and join the family practice. "At that time, things were much simpler. One was not required to do an internship before practising [law]."
Thus the summer of 1989 marked the commencement of Fernandes's professional life as a practising lawyer, a career he's been dedicated to ever since. As a fledgling lawyer, Fernandes believed that getting to know the people with whom he worked and familiarising himself with previous case studies would greatly help him in his profession. "What I wanted, as a very shy lawyer, was to get to know people first. I seized the opportunity to start really early at the office and deliver requirements to the public notary, registry offices, courts and other places to get to know them." He also studied old case files, sifting through the court's archives. "I went there on Saturdays and sat down reading case files of older lawyers, some of them still practising." Originally specialising in criminal law, Fernandes quickly switched to civil. "I got bored of it because I felt the space given to a lawyer in [the field of criminal law] is not as substantial as in civil, where lawyers partake in finding evidence, etc."
In addition to practicing law, Fernandes has been a registered notary public since 1995. He ran for lawmaker of the Macao legislative assembly elections in 1992, but did not secure a chair in the hemicycle. He was later appointed legislative assembly lawmaker by Macao's former Governor Vasco Rocha Vieira from 1997 to 1999. Fernandes admits he did not enjoy his time in politics. "I did not like my experience as a lawmaker that much. I think I would never make a good politician; I would say too much." He is the longest-standing member of the Macao SAR Government Consumer Council still on active duty. The Macanese Association, a local organisation advocating Macanese identity, which he chairs, also plays a role in his life, as he believes "it is important to represent the Macanese cultural identity." In 2015, he took over the presidency of the Association for Macanese Education (APIM).
Fernandes is also quite active in the theatre and is playwright and director of Dóci Papiaçam di Macau, a local group, which performs its plays solely in Macanese Patuá, a Portuguese-based creole that has fallen into disuse. His journey into the theatre began in 1993, following the passing of José 'Adé' dos Santos Ferreira, the last poet of distinction to write in Patuá. "It all started with my father wanting to write a play for [Doci] to perform after [Adé's] passing, and he asked me to join him." Fernandes recalls the first time he ever heard Patuá: "I was about seven years old when I heard my [paternal] grandmother telling something in a language I couldn't understand to a group of [her] friends and seeing them laugh a lot. I got curious, later asking her about it, to which she replied, 'You should speak Portuguese at home'."
His first script—Olâ Pisidénte (See the President)—debúted in 1993, intentionally coinciding with three other local events: former Portuguese President Mário Soares's visit to Macao, the reopening of the Dom Pedro V Theatre, and the first gathering of the Macanese Association. Fernandes has been writing scripts for Dóci Papiaçam di Macau's/ Dom Pedro V Theatre's/the Macanese Association's annual show ever since.
Fernandes hopes to publish his scripts for Dóci in print one day. The self-taught playwright, who occasionally takes on acting roles, wishes he had an artistic education in theatre but instead devotes time and effort to studying the discipline. He describes Doci as "organised chaos", but believes the group also shoulders "a lot of responsibility", especially with the passing of Ferreira. "I started reading Adé's books when I was 12 years old, and although I did not understand them, I already had the notion of culture, that Patuá is truly ours."
As if his dedication to the law and theatre wasn't enough, Fernandes has a new source of delight: creating music on digital platforms. "My phone is my accessory with which I record sounds to later process on the computer." Photography is yet another passion: "I really enjoy shooting portraits. I believe everyone has a natural beauty," says the lawyer/artist. Unfortunately, he has not found the time to devote to this hobby. Writing, he underlines, will always be his life's artistic constant. Along with his scripts, Fernandes intends to publish some short stories.