Michelle Ho is Chief Executive Officer of Golden Burger (Macao) Food Co. Ltd. and is a Developmental Licensee of McDonald's for Macao, Zhuhai and Zhongshan, China. She speaks English, Cantonese and Mandarin.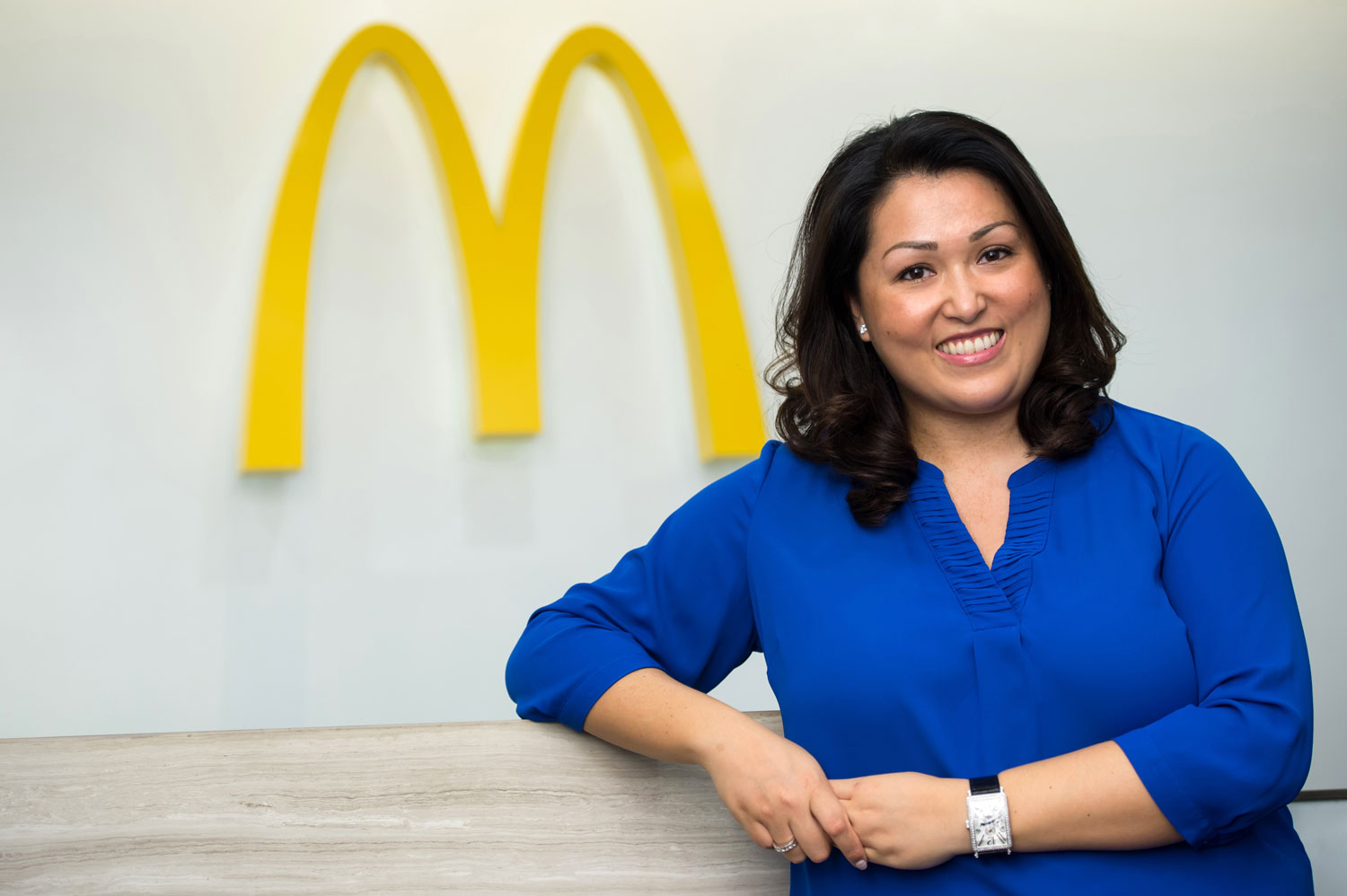 Michelle Ho is Chief Executive Officer of Golden Burger (Macao) Food Co. Ltd. and is a Developmental Licensee of McDonald's for Macao, Zhuhai and Zhongshan, China. She speaks English, Cantonese and Mandarin.
Ho is the second of four sisters and was born in Hong Kong on 25 March 1983. She grew up in Macao, attending the English section of Santa Rosa de Lima from Kindergarten to Primary 3. She then matriculated to the School of the Nations. At the age of 16, she moved to the United States for high school, studying at Blair Academy, a boarding school in New Jersey, from 1999 to 2001, in order to prepare for college in America.
When the time came to apply for universities, she applied to 10 of them; and the only one she didn't get accepted into was Cornell University, her top choice. She decided to go to Purdue University in Indiana in the mean time and one year later, she persevered and reapplied to Cornell University's School of Hotel Administration in Ithaca, New York. This time, she succeeded.
"I have always loved the service industry and as a child thought that travelling and hotels were neat. One of my favourite hotels growing up was the Four Seasons Jimbaran Bay in Bali [Indonesia]. The staff and property left a lasting impression on me," Ho recalls.
During summers while a student at Cornell, Ho worked at various hotels and hospitality companies to learn more about the industry and hone her skills. From working at the front desk and wedding department at The Venetian Las Vegas to the Golden Door destination spa in Escondido, CA and finally with Coyle Hospitality Group, a mystery shopping, quality assurance and marketing research company. "I ended up focusing on spa development at school because I was inspired by my mentor in college, a spa and wellness professor named Mary Tabacchi; she was so full of energy and took me under her wing."
Upon graduating from Cornell, Ho took on the role of Spa Analyst for the Mandarin Orient Hotel Group from April 2006 to October 2007, which brought her back to Asia, based in Hong Kong. In 2008, she became the Director, Market Planning and Consumer Relationship Management for Banyan Tree Hotels and Resorts in Singapore. "By that time, I was in my mid-20s and the youngest director in the company. My career was going really well and I enjoyed living in Singapore, but my father was already thinking about retirement and asking if I was interested in coming back to Macao," she recalls.
"For many years, I gave my father a hard 'no'." But Ho did feel that, given her experience and career path, it was natural for her to take over her father's role as CEO of Golden Burger, the master franchise company responsible for McDonald's in Macao, Zhuhai and, recently, Zhongshan. "I have ketchup in my veins, and I can't remember a time that McDonald's was not part of our family. My father was also very persistent and patient with me," she says. And so she began to seriously consider the prospect of becoming a business owner and female leader.
In 2012, Ho fast-tracked her McDonald's corporate training in Singapore. "The training I received was like getting another college degree. I spent nine months in the stores learning everything about the McDonald's system. From taking out the trash and cleaning the toilets, to cooking every product on the menu and working every station in the kitchen, to managing a team at the store and market level. The training system at McDonald's is unparalleled and I thoroughly enjoyed the many workshops, exams and training courses I was exposed to as well. I was armed and ready to hit the ground running upon my return to Macao."
When Ho started with the company in March 2013, the company had 39 stores in Macao and Zhuhai. Now there are 78 in three cities and the Macao business will celebrate its 30th Anniversary in April 2017. In her office, she still displays her father's beef patty spatula, which he gave to her as a gesture of passing on the baton as she carries on the family's legacy.
For Ho, being a young CEO is not "about bringing change but a natural progression. I didn't come here to change things but rather to enhance everyone's role. I will never have as much experience as some of my team members do," she openly acknowledges.
Ho also feels compelled to contribute and give back to her community. Her future plans include "using McDonald's as a platform on which to develop programs with local community centers."
The young businesswoman is a member of the Young Presidents Organization—a global platform for chief executives around the world—as well as a member of the Cornell Hotel Society. She is a member of the American Chamber of Commerce in Macao and an active board member of the Ronald McDonald House Charity in Hong Kong.
Ho draws her inspiration from the women in her family: from her mother to her sisters to her grandmothers—both in their 90s—who are full of "strength and longevity." If she could have dinner with anyone, dead or alive, she would also choose a strong, inspirational woman known all over the world: Oprah Winfrey.