Marjory Vendramini is President of the Cradle of Hope Association. A vivacious woman who laughs just as easily and readily as she cries, she possesses an enormous heart with room for so many children in need.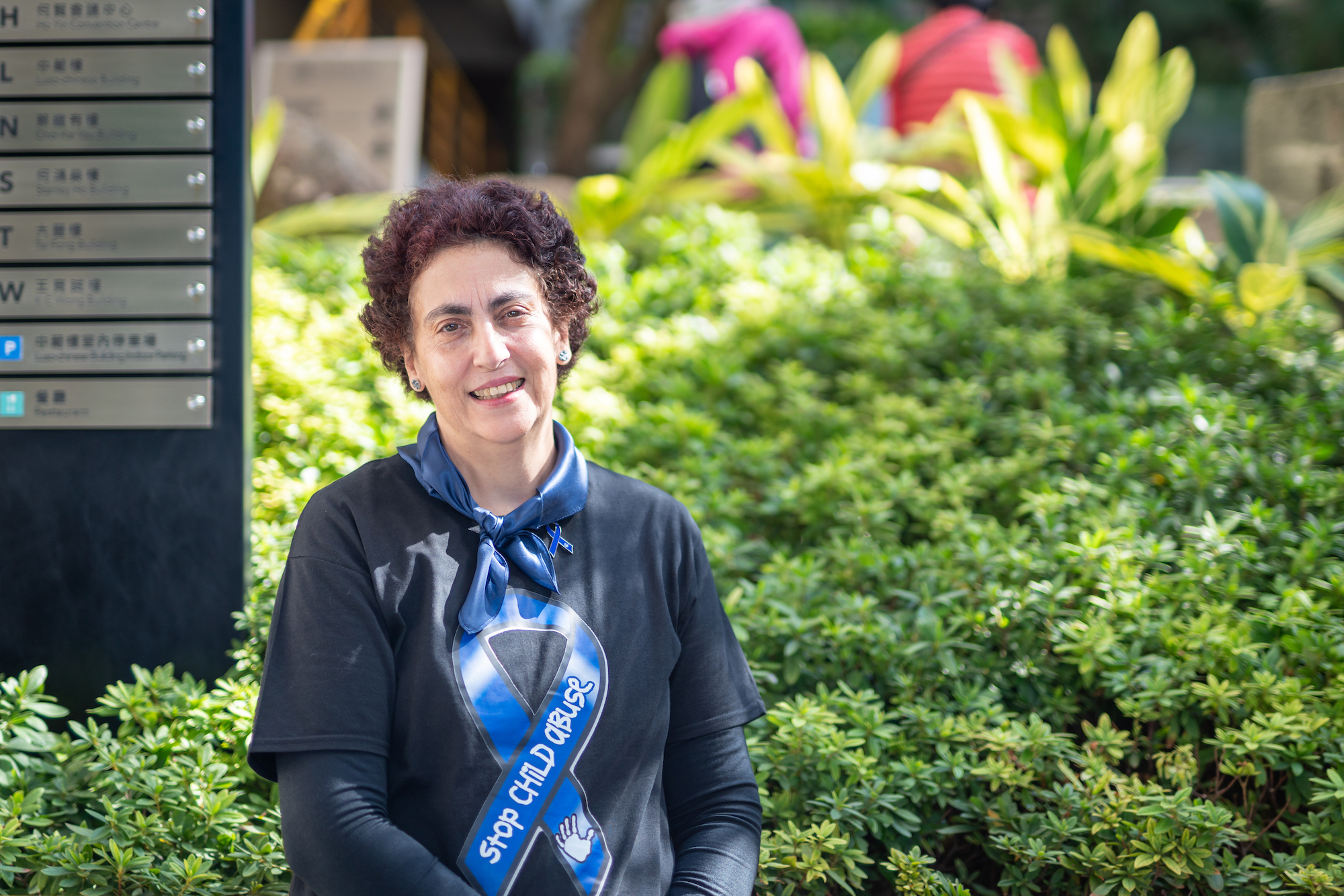 Marjory Vendramini is President of the Cradle of Hope Association. A vivacious woman who laughs just as easily and readily as she cries, she possesses an enormous heart with room for so many children in need. Since moving to Macao in the 90s, she has helped more than 300 children without homes. She speaks Portuguese, English and Cantonese.
Born 1 April 1967, in Minas Gerais, Brazil, Vendramini had a happy childhood surrounded by nature, riding horses, climbing trees and exposed to animals of all kinds, including hens and cows. An adventurous girl, she preferred playing with boys rather than girls, although the family moved often because of her father's work, so she never kept her friends for long.
When she was 7 years old, Vendramini attended an Evangelical church and heard a missionary speaking about missions in Africa helping children in need. This pivotal moment changed her life. "That day, I cried so much when I saw the suffering of those children," she recalls. "From then onwards, I grew up with the idea of becoming a missionary.
Vendramini confesses that in her teenage years, she briefly set aside this calling. At the age of 16, she started working in a bank and by 18, she had already been promoted to team manager—a job that could have been the start of a life-long corporate career. But even working in a bank, she was a people's person, always doing nice things for others, like giving roses to customers on special holidays. She was so popular and well-liked that customers would often wait for her if she was on her lunch break.
One day, Vendramini attended a seminar promoted by her church, and the missionary spirit in her was rekindled. "That day, my dream was awakened. I attended the seminar on a Sunday, and on Monday, I quit my job to become a missionary."
She joined "Youth with a Mission" (Jovens com uma Missão), an evangelical inter-denominational, non-profit Christian, missionary organisation founded in the United States. "I felt that administrative work was not what I really wanted, so I got involved preparing for a mission going to Africa. That's when I met my husband." As he was already planning on travelling to Macao on a mission, Vendramini changed her plans to join him.
When the couple arrived in 1990, they focused on helping drug addicts, but child welfare was always Vendramini's top priority. Although she was told that the Social Welfare Bureau had a handle on caring for children's cases, she still felt compelled to help and volunteered to work at the former Fellowship Orphanage.
One July morning in 1993 forever changed Vendramini's life in Macao. She read in a local newspaper that a day-old baby had been found in a trashcan. "It was a God-sent opportunity for us to give back to society and make a difference in this child's life. That moment I said to myself, finally I know what I'm here for," she recounts with tears in her eyes. "With the approval of the government, my husband and I kept the baby for six months until he was adopted."
The government's Social Welfare Bureau, upon seeing the heartwarming success of this child's rescue, started asking the Vendraminis to look after more of Macao's needy children. They gladly took up the calling, drawing inspiration from Mother Teresa as well as the founders of Mother's Choice, a charitable organisation in Hong Kong. "The couple became my really close friends and helped me a lot. They used to send one of their staff so that I could have one day off a week."
In 1994, when she opened Cradle of Hope, Vendramini knew that her mission in Macao was about to extend long past the four years she had already spent in the city. Today, she has 26 years-worth of stories.
The children's home has grown exponentially and now staffs 66 employees. "Nowadays, my main job is to make sure that all the staff members are doing right thing for the children. Having 66 employees requires a lot of administrative skills and I need to follow up lots of things which make spend a lot of time traing the staff", she explains.
Vendramini jokes that she is like a Santa Claus to the children. "I also come in to play with the children, give them presents on their birthdays and so on. The care taking and education is taken on by my staff. With time, i learned to let go. I can't be too protective". But she still works more than full-time, because it is not a 9-to-5 job: it requires a full heart around the clock—a message "I pass on to my staff," she asserts.
In 1998, Vendramini completed her bachelor's degree in Social Work at Macao Polytechnic Institute. She was then invited by University of Saint Joseph to pursue a one-year license's degree programme in Social Work. She also attained a diploma in Child Psychology at the same institution.
"At some point, I decided that I needed to know more about education, so I enrolled for a master's degree in Education. At the last minute, the university decided to cancel the course but told me they had an opening in their MBA programme. I had never thought about studying Administration, but I was convinced and got my MBA," she says, clearly proud of such an achievement.
Her administrative skills have come in handy, helping her navigate the logistics of running a charitable organisation. "Nowadays, Macao is more professional and has laws that didn't exist when I started the children's home. So now I spend more time with the administrative work than with the kids," she admits.
Nonetheless, Vendramini is happy with her work and encouraged by the help she receives from the community. "Every day I spend an hour a day going through all the donations people make. We always welcome food and vitamins for the children." She admits that while she has numerous dreams and "wants to do a lot more," for now, she "has a commitment for life" to the children's home of Macao and doesn't know when her mission in the territory will be over.