Lio Man Cheong is one of Macao's most renowned painters, having designed award-winning postage stamps and exhibited internationally. His works are owned by private collectors in mainland China and Japan.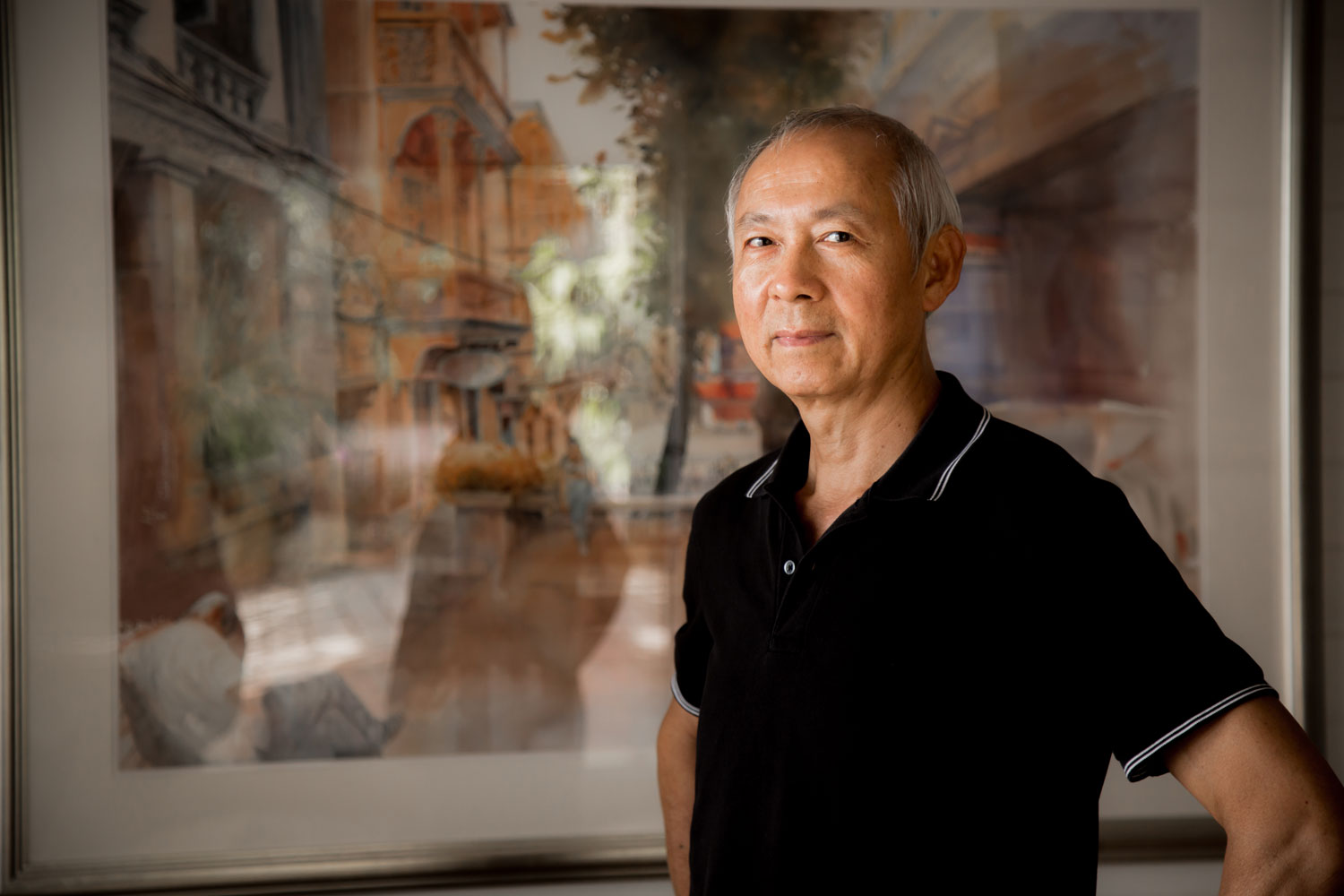 Lio Man Cheong is one of Macao's most renowned painters. He has designed award-winning postage stamps and exhibited internationally, and his works are owned by private collectors in mainland China and Japan. Lio is a member of the Macau Artist Society and speaks Cantonese and Mandarin.
Born on 21 October 1951, in Zhuhai, China, Lio comes from a modest family. In his youth, his father migrated to Peru in search of a better life, but his small business did not prosper, and after a decade, he returned to his native Zhuhai to marry and start a family.Lio is one of eight children.
In the 1960s, when he was about ten years old, the family moved to Macao. "The city was very backwards then, completely different [than what it is] today. My father did odd jobs, like a security guard. My mother was a farmer in Zhuhai. It was a hard life."
On his way to school, Lio would walk past the Yung Lok Cinema and was drawn to the movie posters advertising films. Encouraged by his primary school art teacher, he developed a great interest in painting advertisements. After graduation, he studied part-time at Seong Fan Evening Middle School. It was there that he serendipitously got his first opportunity to paint publicity posters.
Victoria Cinema on Avenida Almeida Ribeiro (now a branch of the Tai Fung Bank), commissioned Lio to create promotional posters for new films imported from America, Europe, mainland China and Hong Kong. The artist put all his energy into these movie posters, which featured a number of films starring the legendary Bruce Lee, whom he admires greatly. As cinemas closed one after another in the early 1990s, so too did the Victoria Cinema, bringing Lio's decade-long employment to an end.
Lio also designed marketing materials for commercial products and street advertisements and taught art in schools. In the mid-80s, he set up an advertisement company with close friends. By the 1990s, he had become head of his own private company, which has since afforded him the opportunity to devote himself full-time to composition in his studio in Sai Wan.
"For the last 10 years, I have made a living simply from my paintings. I have achieved the purpose of my life," he says. "When I was a child, there was no such person as a professional artist in Macao."

This new-found freedom has given him the chance to travel widely internationally to such places as Russia, Europe, Brazil, India, Cambodia, Taiwan and many regions of the mainland. Wherever he goes, he brings his paints and finds new images and inspiration.
In 1991, Lio began designing stamps for Macao Post: "Gods of Chinese Mythology" and "Temples of Macao" were two of his early limited editions. Since then, he has designed more than 30 issues. In August 2012, Macao Post issued his design of "the Cowherd and the Weaving Maid". It won ninth place in the 2012 Grand Prix de L'Exposition WIPA for "Most Beautiful Stamp" at the Vienna International Philatelic Exhibition.
Since the 1970s, Lio has regularly taken part in fine-art activities and collective exhibitions organised by the Cultural Affairs Bureau, the Civic and Municipal Affairs Bureau and the Macau Artist Society. He held his first solo exhibition in 1998 and has since continued to show his work. He has participated in the Watercolour Paintings Exhibitions of Guangdong, Hong Kong and Macao as well as in joint exhibitions in Japan, Canada, Portugal and Hong Kong.
In August and September 2015, the Pavilion of the Lou Lim Ieoc Garden hosted a retrospective of 32 of his works to celebrate his winning the Best Creation Special Prize at the 30th Collective Exhibition of Macao Artists.
Besides his passion for painting, Lio enjoys ping-pong and swimming.