Keith Buckley is Director of BCAM and Chairman of construction charity, Lighthouse Club Macau. He has overseen the construction of Sands China Ltd.'s projects in Macao, including Sands Macao, The Venetian, Four Seasons Hotel, Sands Cotai Central and, more recently, The Parisian.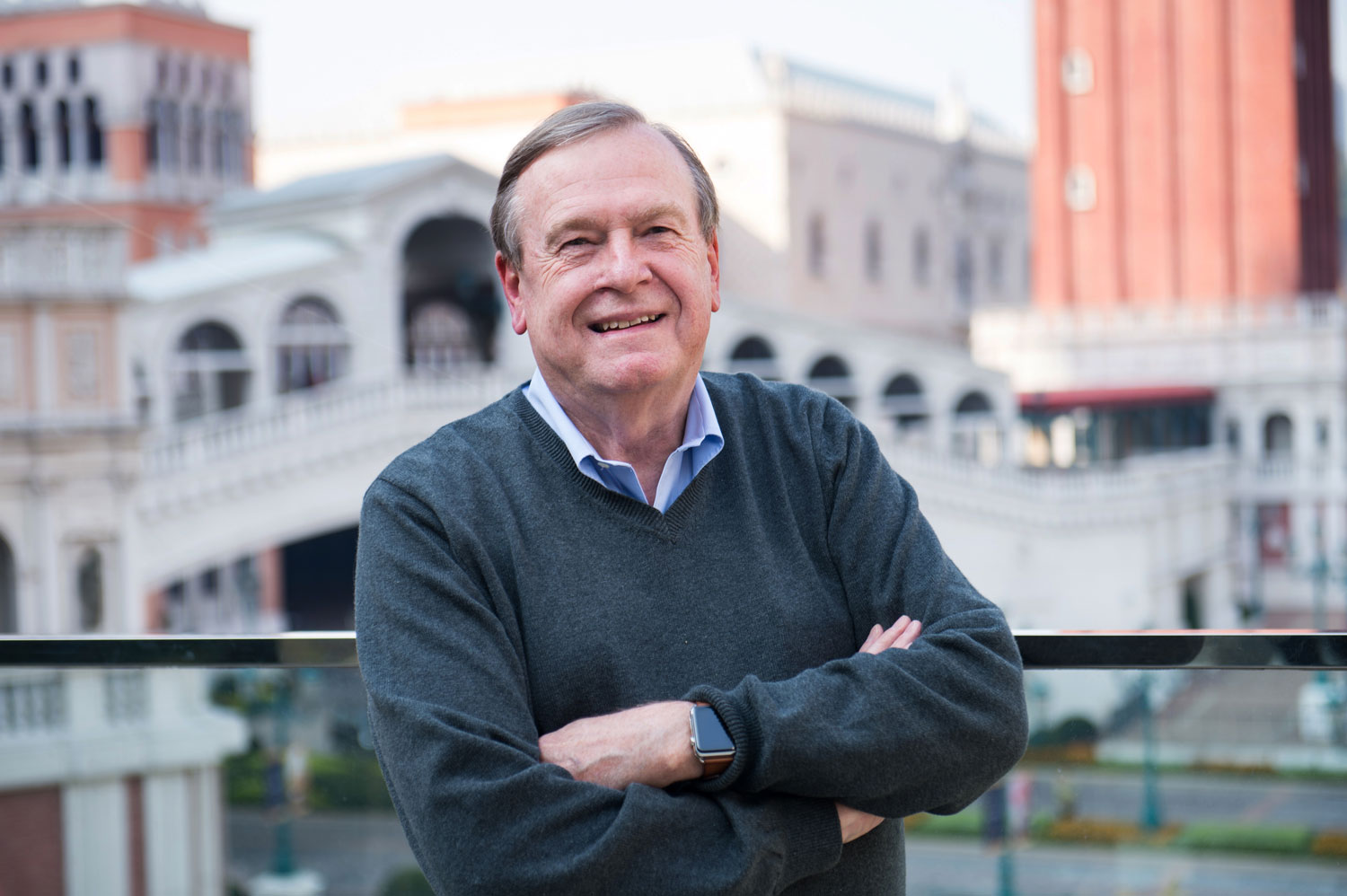 Keith Buckley is the current Director of BCAM, Chairman of construction charity, Lighthouse Club Macau and Chairman of the British Business Association of Macao (BBAM).
As the former Executive Project Director at Hsin Chong Construction Group Ltd, he has overseen the construction of Sands China Ltd.'s projects in Macao, including Sands Macao, The Venetian, Four Seasons Hotel, Sands Cotai Central and, more recently, The Parisian.
Born 9 November 1948, in Wuppertal, Germany, Buckley has travelled halfway around the world in pursuit of his career. He is fluent in English, German and Dutch.
An English boy in Germany
When Frank Haigh Buckley, Buckley's father, moved from England to Germany in 1946 at the end of the Second World War, he never thought that his family would settle down and grow roots. What began as a teaching position at the primary school on a British military base in Mulheim, later became the headmaster role as well as Director of Education for all British military forces primary schools in Germany.
Two years later, Buckley was born. The first 18 years of his life were spent exclusively among military families. "In those days, we didn't fly everywhere, so until I was 18, I'd only flown to England three times," he remembers.
At home, he conversed with his family in English but learned German from the housekeepers. He recalls daily life being quite advanced at the time, for example, the house was equipped with central heating whereas in England, in some cases washrooms were still outside the house.
Buckley moved around Germany a bit, first from Wuppertal to Dusseldorf and then to Hamm where he finished secondary school at a converted German army barracks transformed into a boarding school. "The school had about 700 students who all stayed there. As we lived nearby, I was a day pupil. When I was 15, I said to my parents that I wanted to live in the boarding school because I was missing out on all the fun," he jokes, and so became a boarding student.
The road to civil engineer
Buckley initially dreamed of becoming a fighter pilot in the Royal Air Force, but on top of opposition from his father who did not approve of the risks, Buckley didn't pass the preliminary tests. Upon consulting a career advisory officer, he was encouraged instead to pursue a career as an architect or engineer.
So Buckley attended Surrey University in Guildford, England, where he graduated with a degree in Civil Engineering in 1971. As part of his course requirements, Buckley worked for nine months in Switzerland building motorways. The university then placed him with a project in Rotterdam, Holland, where he incidentally met his future wife. He returned to England to finish his studies, and the two were married in 1973. Today, he still speaks to her in Dutch and English.
In 1971, Buckley got his first job with the John Laing Group. In the more than two decades spent at this firm, he contributed to a diverse range of projects, including working at a power station on the Isle of Grain in Kent, a steelworks at Redcar in northern England, and the construction of an airport in Edinburgh, Scotland. In 1976, the John Laing Group sent Buckley to Poland to work on a chemical plant producing PVC. When that commission ended, he returned to England to work for two years on the M25—the motorway around London.
The travelling man
In 1981, the family packed their bags and moved to Baghdad, Iraq, where Buckley worked on a motorway that crossed the Iraqi capital—a complicated project that involved roughly 76 bridges and 14 underpasses. "We lived with 10 other married families and 90 bachelors in a staff camp that we built from prefabricated materials," he recalls.
In 1983, the growing family, who had recently welcomed its second child, moved to Cairo, Egypt, where Buckley worked on the British-funded Cairo waste-water project for two years.
Then it was off to Turkey and based in Ankara. "There were a few projects in Turkey," Buckley recalls, "but the main one was a World Bank funded project to build four grain terminals, a facility to unload grain ships." There were two ports near Istanbul, one in Izmir, one next to the Turkey-Iraq border at Iskenderun, a 1,000 bed holiday village in Antalya and three Hilton Hotels in Ankara, Izmir and Iskenderun.
In 1990, Buckley arrived in Kuala Lumpur, where he was tasked with working on the construction of 12 British-funded hospitals across Malaysia as well an airport in Sibu, Sarawak. Malaysia won over Buckley's heart, and he still considers it his favourite country.
In 1995, he moved to Hong Kong where he worked on three major projects: construction management of the Hong Kong Convention and Exhibition Centre, the British Consulate, and the Olympic station of the Hong Kong MTR.
After working for John Laing for 25 years, Buckley joined Gammon Construction. There, he was responsible for construction works in South East Asia including the Sheraton Hotel and three office blocks in Hanoi, Vietnam; the Securities and Exchange Commission in Kuala Lumpur; the Chinatown metro station and the One Raffles Link office building in Singapore; as well as office buildings and metro stations in Bangkok, Thailand and a shopping mall in the Philippines. This demanding schedule necessitated a rigorous travel schedule of roughly 150 flights a year!
In 2000, Buckley joined UK based Anglian Water and lived in Beijing for three years while he worked on a joint-venture with the Japanese giant Mitsubishi constructing a water treatment plant for the 2008 Summer Olympics.
Arrival in Macao
When Buckley's time in Beijing came to a close in May 2003, he got a job in Hong Kong at Hsin Chong Construction Group Ltd., but with the SARS outbreak, the project was cancelled the same day he arrived in Hong Kong from London. With his next step quite uncertain, Buckley wondered if he should leave Hong Kong. But his new employers immediately offered him a job in Macao on a casino project that required an expat to interface with the US casino operator.
Upon the completion of Sands Macao, Buckley stepped into a major role with the construction of The Venetian. He has since been involved with every single new construction by Sands China Ltd., namely, Four Seasons, Sands Cotai Central, St Regis hotel and The Parisian.
Having worked on airports, seaports, motorways, hospitals and hotels, to name a few, Buckley considers The Venetian his favourite project, "because there was nothing like it at the time" as well as The Parisian, "because the projects are different from normal hotels and when considering the casinos, arenas, theatres, canals, even an Eiffel Tower!"
Extracurriculars
Buckley is also Chairman of the Lighthouse Club Macau, a charitable institution that provides financial assistance to the dependents of construction staff and workers involved in work-related injuries and fatal accidents.
In 2016, was also Chairman of the Asia Pacific Lighthouse Club and he is a committee member of the British Business Association of Macao.
Buckley enjoys cooking and once toyed with the idea of opening a delicatessen shop in England. He also scuba dives and can boast that he has bungee-jumped from the top of Macau Tower.
Given his extensive travel, Buckley is very pragmatic about the concept of "home": "I'm not one of those expats who sees where they are as a temporary place. My home is simply where I am."
*last updated on 21 September 2020*