Jorge Alberto Hagedorn Rangel
Jorge Alberto Hagedorn Rangel

Link copied
Jorge Rangel is President of the International Institute of Macau. Born on 12th July 1943 in Macao, Rangel belongs to one of the oldest Portuguese families.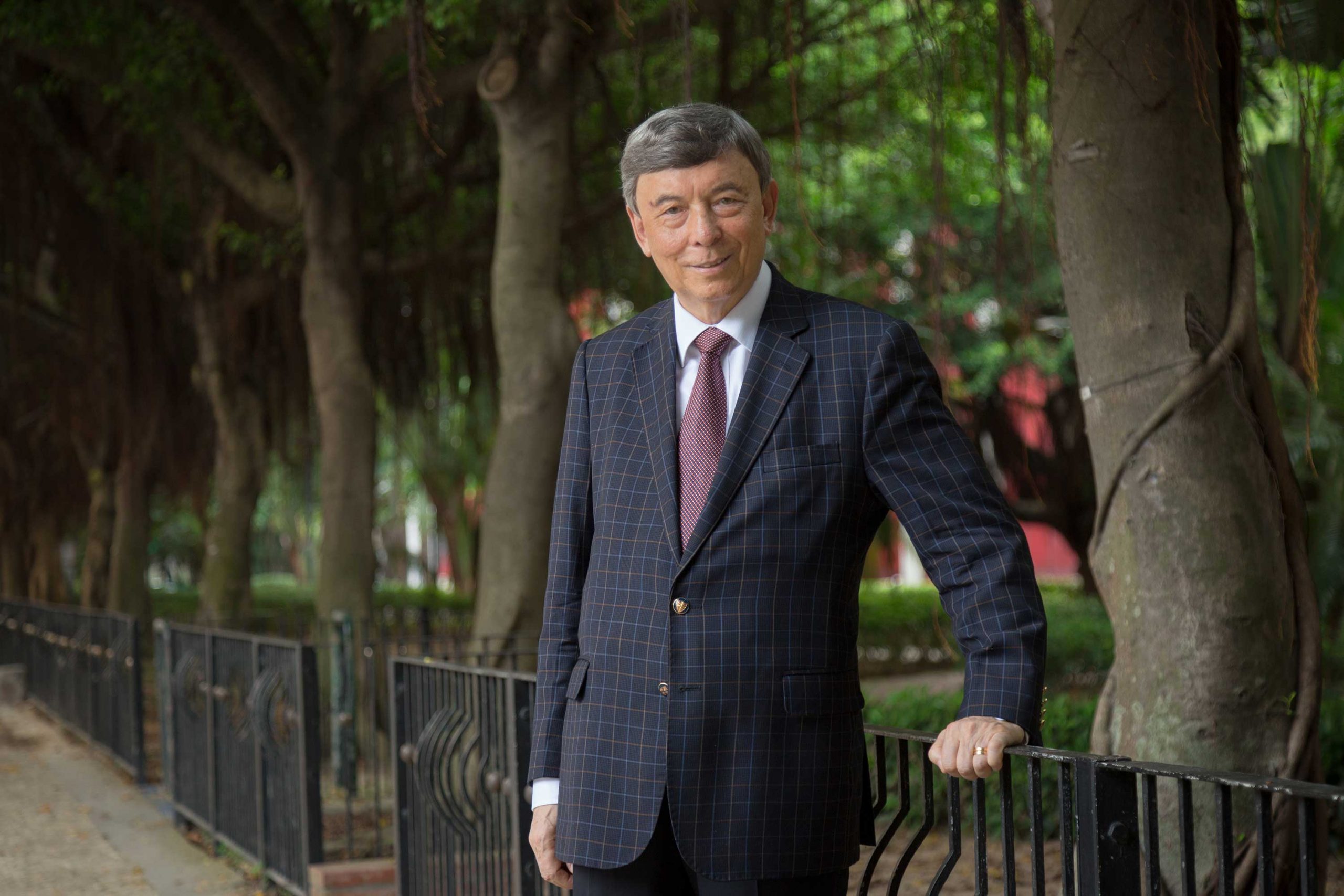 Jorge Rangel is President of the International Institute of Macau. Having held senior positions in the Portuguese Administration in Macao for almost 25 years, he was actively involved in the development of education, administrative reforms and in the transition work for the establishment of the Macao Special Administrative Region (MSAR). He speaks Portuguese, Cantonese, English and Spanish and also studied French and German.
Born on the 12th July 1943 in Macao, Rangel belongs to one of the oldest Portuguese families in Macao; his ancestors settled here in the early 1700s. He remembers his early days in Macao, living in a big house where the Macao Historical Archives are now located. "Tap Seac Square was my world. I used to spend my free time playing hockey and other sports in front of the house," he recalls.
After graduating from Liceu Infante D. Henrique, Rangel moved to Portugal in 1963 to study Culture and Literature, majoring in Anglo-American Studies, at the Faculty of Arts (Faculdade de Letras), University of Lisbon. He also undertook studies in Education, Modern English Culture, Germanic Studies and Social Communication in Lisbon, Cambridge (United Kingdom), Bonn (Germany) and Navarra (Spain), respectively.
Growing up in a Catholic family, Rangel considers himself a man of faith. "Faith is halfway to conquering what one desires," he says. Throughout his life, he has followed the example of the 14th-century Portuguese historical figure Nuno Álvares Pereira, a general, from whom he learnt "the meaning of fighting for his values and for his country, and that having conviction is as powerful as the weapons we hold in our hands."
He was in Germany when he was called to serve in the Portuguese Army Infantry School where he became an army officer. As a lieutenant, he was first based in Mafra, Portugal, travelling to Guinea-Bissau and then on to the Portuguese archipelago of Azores, where he trained a military company that he commanded from 1971 to 1973, as an Infantry Captain.
In 1973, he was called up to work for the Portuguese Governor and Commander-in-Chief, General António de Spínola, in Guinea-Bissau. Spínola played an important role in the Portuguese Revolution of April 1974, which opened the way for the country to later become a modern democracy. Spínola went on to become the first President of Portugal in the new regime.
In 1975, Rangel decided to visit his father in Macao. This was a trip that would change his life. During his visit, Governor Garcia Leandro made it possible for Rangel to come and work in Macao, where his future wife and their daughter was born. "I couldn't accept immediately, as I had other projects and plans for my life. I was part of a group of like-minded men with the idea of going to Angola and creating a new country; following the model of Brazil. But with the independence of the Portuguese colonies, that scenario changed," he explains.
And so Rangel decided to stay in Macao. "I started working for the Macao government, not because of my political ideologies, but due to the fact that I'm a son of Macao," he states.
For a few months, he taught Portuguese and History at Liceu Nacional Infante D. Henrique, before, in January 1976, taking on the role of Director of Tourism and Information, where he stayed until 1981.
Through this work, he became involved in several tourism associations, taking on the role of President of EATA – East Asia Travel Association, based in Tokyo, Life Member and Regional President of PATA – Pacific Asia Travel Association, based in San Francisco and now in Bangkok, and member of the Executive Committee of the World Tourism Organization, in Madrid. He has been a guest speaker in many international conferences, the most relevant of which was the United Nations World Conference on Dialogue of Civilizations, held in Tokyo and Kyoto, where he coordinated the session on Multiculturalism.
He was also very active in UNESCO and AULP – Association of Portuguese-speaking Universities and was twice elected Chairman of Elos Internacional, based in Brazil.
As an independent candidate, he was elected to the First Legislative Assembly of Macao (1976-80), where he chaired the Permanent Committee for Constitutional Affairs, Rights and Liberties and drafted several laws in the areas of Education and Culture. Rangel went on to hold the position of Secretary for Education, Culture and Tourism for Governor Almeida e Costa from 1981-86.
When Governor Rocha Vieira assumed this position in 1991, Rangel was appointed to become the Secretary for Administration, Education and Youth until 1999, where he was responsible for matters related to the administration's transition from the Portuguese to the Chinese government. In this capacity, he was also on many occasions and for short periods Acting Governor of Macao.
When asked about the most spontaneous decision he has made in his life so far, Rangel tells us: "In 1996, I was in hospital as I had to remove a cancerous tumour. I was then the Secretary for Administration and Education and was informed that the Governor of Macao would visit me a few days after the operation. Having exchanged opinions with my wife and knowing that it would be difficult for me to remain in office due to that illness, I was prepared to inform the Governor that I would resign and pass on my responsibilities to another senior official. All my arguments were solid, but, surprisingly, he offered me new challenges: the completion of the localization process, the liaison with the Macao Special Administrative Region preparatory committee, the transfer of administrative responsibilities within the civil service and the preparation of the handover ceremonies. I could have retired then with full benefits, but without hesitation, I accepted the challenge and remained until the last day of the Portuguese Administration and witnessed the establishment of the Macao SAR." He was also a member of the Macao SAR Basic Law Drafting Committee.
The importance of culture and education has always been a priority to Rangel. In addition to his work for the Macao government, Rangel has held the position of founding President of the Macao Polytechnic Institute. He also chaired the group responsible for the conversion of the University of East Asia (where he had received an honorary PhD in 1984), into a public higher education institution now renamed University of Macau. He was also the first President of the Macau Foundation.
He taught special programmes at the National Defense Institute in Lisbon, the Institute of Social and Political Sciences (University of Lisbon) and in the University of Aveiro (Macau Studies) and is also the Honorary Director of the Institute for Comparative Study of Cultures at the Soka University in Tokyo.
In Lisbon, he was the President of the Portuguese Historical Society and is a member of the Committee for Portuguese Language within the Community of Portuguese-speaking Countries, an international organization comprising 8 countries that have Portuguese as the official language.
Rangel has been the President of the International Institute of Macau since 1999 and is currently focused on Macau studies and on consolidating the memories of the Macanese community through the publication of studies, theses and books.
He also received high national and foreign decorations, including the title of Grand Officer and the Grand Cross of the Order of Prince Henry the Navigator (Infante D. Henrique), conferred to him by two Presidents of Portugal, in 1986 and 1998.
Unsurprisingly, given his career, Rangel lives his life surrounded by thousands of books; those published by the institution, but also good stories and publications on topics that pique his interest, from poetry to political and social studies. He refers to the book "Things Chinese", by J. Dyer Ball, first published in 1892 as the publication that drew his attention to the specific area of study – China and the Far East – that he has devoted the last two decades to. Today, the book has followed him everywhere and he still uses it as a reference on the topic.
"I'm a man of books and will continue to do my academic work," he says. The story of his life proves that, and if he were to ever write it down, it would surely make an engaging autobiography.