Joe Tang is a prize-winning author from Macao. He also works at the Macao Cultural Affairs Bureau.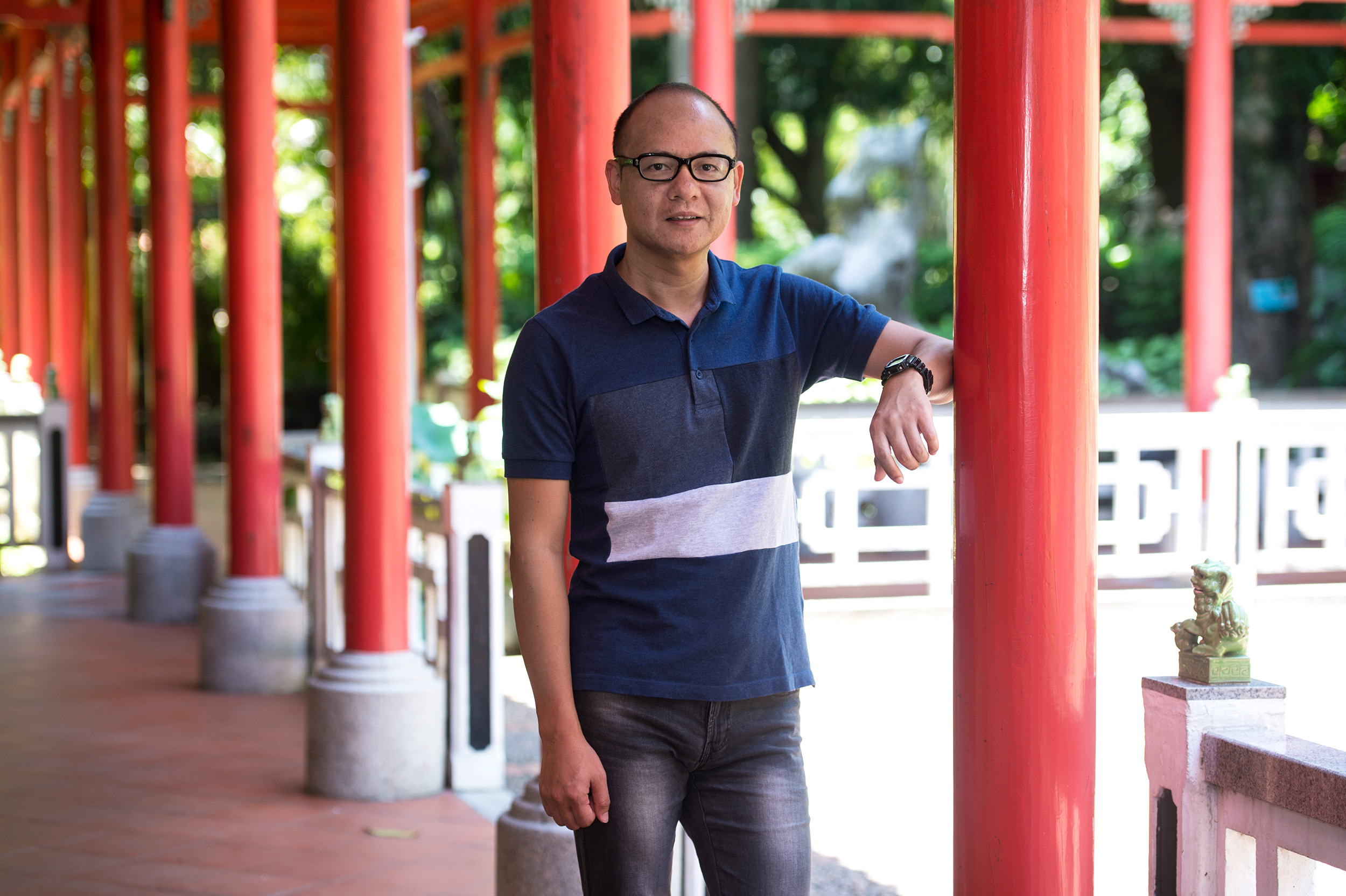 Joe Tang is a prize-winning author from Macao. He also works at the Macao Cultural Affairs Bureau. He speaks fluent Cantonese, Mandarin and English.
Born in Shanghai in 1973, Tang, who has an older sister, grew up surrounded by books. His summer holidays would be spent reading, which nurtured a dream of becoming a writer. As an adult, this dream became reality.
"When I was growing up, there were no televisions, no video games, no Facebook. Books were the only thing kids my age had access to. I remember, during the winter and summer holidays, going to a very small library in my middle school, checking out books and reading them quickly as they had to be returned. I would read dozens of them," he recalls.
During this time Tang became familiar with authors such as Ni Kuang (also known as Ngai Hong), Isaac Asimov and Lu Xun; writers that continue to inspire him today. But with little opportunity to buy books of his own, he constantly craved fresh reading material.
"Today everyone has access to so much, they don't have that thirst any more. At the time I wasn't able to buy books, but I was so eager to have them that there were times where I felt like stealing them," he confesses.
At the age of 22, Tang left mainland China and moved to Macao, the city his grandmother and mother's family called home. But before settling down here, Tang spent several years in the United Kingdom, studying for a bachelor's degree in business administration from South Bank University, London. After graduating, he returned to Macao, where he went on to gain a master's degree in Chinese literature at the University of Macau. At the same time, Tang also began working at the Cultural Affairs Bureau.
Tang enjoys this role immensely, and the writer in him loves the research involved in the job. His curiosity led him to continue his research work outside of the office, and simply for pleasure, he began to write about the things he discovered.
Today, Tang not only buys books but has also authored several works of fiction, plays and children's stories. The boy who called the library his second home has now published five fiction books and has given talks at literary festivals such as the one in Macao, as well as the famous Book Fair in Hong Kong. He has been awarded the Macau Literary Prize and Macau Novel Prize, and several of his novels have been translated into English and Portuguese.
The combination of the past and present in Tang's stories definitely sparked the public's interest. In 2008, when the first Chinese version of his novel Lost Spirit was published, it was unusual to find books with characters that travelled in time in Macao. But although most of his books are fiction, Tang's research is thorough. Before starting to write, he tries to understand fully what happened during the era he is writing about, and in the case of Macao, it was essential for him to understand both the Chinese and Portuguese sides of the story.
Tang has also authored several plays, including Words from Thoughts, Philosopher's Stone and the Legendary Heroes, and his children's drama Journey to the West was performed at the Shanghai Expo 2011. In addition, his work regularly appears in magazines, where he writes opinion pieces on culture and Macao's cultural scene in particular.
Tang is now fostering a love of books in his two young daughters. "If I'm reading a book, my daughters will want to copy me. The act of picking up a book and starting to read becomes natural," he says of the influence he hopes to have on his two girls.
He harbours no illusions of having his work read by millions, but if the opportunity arose Tang would still love to become a writer full-time. This way he could divide his days between coffee shops and his manuscripts. He describes himself as a man "in love with reading and writing," and wants to share his experiences with this world. He hopes this is a passion he'll never lose.
"Every time you meet a new person, every time you open a new book, it's a new adventure. That's why I say that, in this way, I am also an explorer and my writing is simply my curiosity about the world. I hope that, at the age of 80, I still have this spirit. That would be fantastic."