Beginning in Portugal, little did Joaquim Coelho Ramos know he would cut short his dreams of being in the military to take on an education in law. With a changing career path, it was Macao's charm that kept him happily around even though it was never in the plan.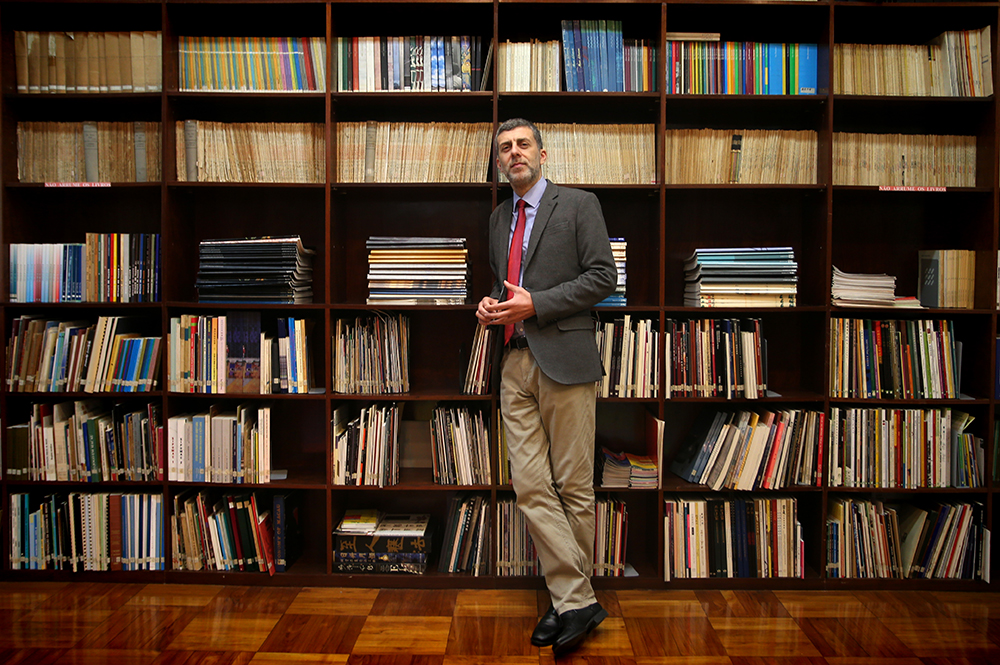 The director of the Portuguese Institute of the Orient (IPOR), Joaquim Coelho Ramos, looks forward to pleasant times in Macao. Indeed, he has felt good from the moment he set foot in the region, which is usually a good omen, he says.
Ramos's life has taken him in many directions. He almost joined the military, for example, but ended up working with the Portuguese language. "I'm like most people. Those who know right away what they want to be are rare, and I was no exception."
Joaquim Coelho Ramos was born in 1975 in Grijó do Garanhão in the Castro Daire district of Portugal and is single. At first, he set his prospects on the military. After finishing secondary school, he entered the Naval Academy, drawn by the incentives of a career in the armed forces and specifically the navy. But for personal reasons he cut short his training and switched to studying law at Coimbra.
He earned his degree in that Portuguese academic city in 2004, specialising in public law, then worked for seven years as a tax official at Portugal's Ministry of Finance and Public Administration before being invited in 2005 to give classes in the Czech Republic, as external teacher at the universities of Palacký in Olomouc and Masaryk in Brno. "That's when I came into closer contact with linguistics as a science – an area I immediately fell in love with." And so far, he has never looked back. He subsequently applied for a position as a lecturer at the Camões Institute in that country. He was accepted and eventually directed in September 2006 the Portuguese Language Centre in Prague. "From then on, my career in the area of Portuguese language took off."
He competed a master's in Portuguese as a foreign language at the University of Porto, a post-graduate degree in contemporary Portuguese culture at the Open University and later a doctorate in Portuguese philology with a focus on linguistics at the Faculty of Philosophy of Charles University of Prague. "And throughout that period, I concentrated on an area that still interests me a great deal, which is research into Portuguese legal language."
Ramos is a researcher for the University of Porto, although due to the demands of his new IPOR position the respective research has been put on the back burner. He also works with various national and international institutions such as the Czech Society of the Portuguese Language, the International Association of Lusitanists and the Linguistics Centre of the University of Porto, where he is a member of the Scientific Council.
Along the way, he served as coordinator of the diplomacy and foreign relations section of the European Union National Institutes for Culture (EUNIC) in Prague and head of the EUNIC cluster in the Czech Republic from 2011 to 2013.
He also spent time in Cabo Verde, where he conducted research in linguistics in 2016 and 2017. He then returned to Prague, where he lectured until his appointment as IPOR director in September 2018.
Macao is "sweet"
Like his career path, Macao did not figure in the plans of Joaquim Coelho Ramos. "It wasn't unknown, above all because in my linguistic work and contacts with other colleagues I had always felt a certain attraction for specific phenomena of Macao such as Patuá", he explains, referring to the Portuguese-based creole or patois spoken by some residents. From the cultural standpoint, it was never far away. The opportunity to come here one day "would have been no major surprise," he says. And that eventually happened. In September 2018 he took office as director of IPOR for the following three years.
The relationship looks to be very smooth and has so from the start. "I'm a person of first impressions. If I land somewhere and feel like I belong, then I know that personally things are going to go well. And that has happened in Macao."
When he arrived six months ago, he began by walking streets and alleyways that aren't in the tourist guides, eating street food and observing people. "I'm establishing a relationship of complicity with the city. It doesn't happen easily, but when it does, it lasts forever," he says
Some culture shock, of course, was inevitable. Although he has yet to experience any truly unsettling situation, he does note that "there are challenges every day." "I don't drive much because I really like walking and also because I'm a bit scared of the motorcyclists. They seem to appear on all sides. We think there's no way they can come out of some street and there they are."
Novelty and the unknown attract him, a highlight being the local cuisine, so he has no regrets. "I try not to be a traditionalist. I like to try new things and one thing I've noticed in Macao is that everything has a sweet flavour: the meat, the fish, the sauce. There's a sweetness associated to the territory."