When Ip Tat claims that he has dedicated his whole life to the Na Tcha Temple, it's not an exaggeration: he was just six years old when he joined the Feast of Na Tcha for the first time.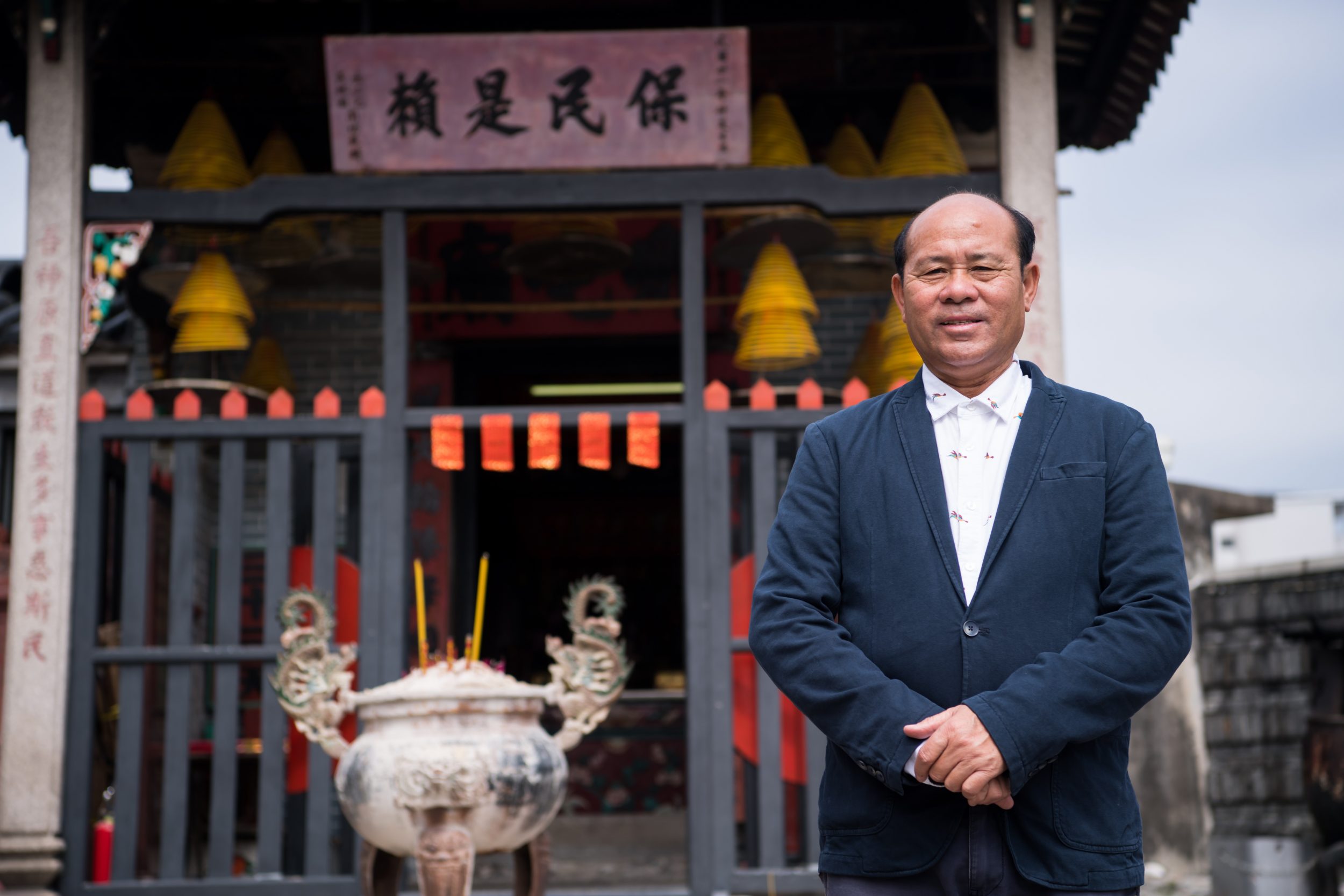 When Ip Tat claims that he has dedicated his whole life to the Na Tcha Temple, it's not an exaggeration: he was just six years old when he joined the Feast of Na Tcha for the first time. The floating parades, lion dancing, and opera performances left the young child in awe. His admiration of this festive splendour gradually transformed into a religious devotion as he matured. Sitting beneath the shade of an old fig tree near the temple, Ip shares a life story of hard work and success, religious devotion and finding the purpose of life.
Growing up with Na Tcha
Born in Macao on 9 February 1948, Ip holds a number of important titles and social responsibilities: he is chairman of the Na Tcha Temple Association, vice chairman of Macao Taoist Association, Guigang Committee of the Chinese People's Politics Consultative Conference, and the honorary president of various art groups covering areas such as Cantonese opera and Chinese painting. In 2017, he was appointed as government consultant for Macao's Cultural Heritage Council. He speaks fluent Cantonese.
The trust so many organisations place in him reflects his network, experience and most importantly, his readiness to help. "It's hard to say no to people," he smiles. For Ip, it is a way to give back to society and to honour the spirit of the Taoist deity Na Tcha, who centres on loyalty and righteousness.
According to legends, Na Tcha, the benevolent child god riding on a pair of flaming wheels, has made several supernatural appearances in Macao, including once in the mid-19th century, when Macao was ravaged by epidemics. To save the suffering, Na Tcha appeared in a man's dream and told him that everyone should mix water from a mountain stream with Chinese medicine to cure their illness.
Spurred by this miraculous intervention, the Na Tcha Temple was built in homage to the child god at the Pátio do Espinho, next to the Ruins of St. Paul, in the late 19th century. Decades later, a young Ip, along with his four siblings, would spend much of his childhood in the same pátio.
At that time, the Pátio do Espinho was a village occupied by low-income people who did masonry work and wood crafting, including Ip's parents. Though living in poverty, the community was strong; people were honest and supportive of one another. "We never had to worry about thievery even if we opened the door of our home every day. One family cooked something and would share the food with other families," he recalls. "We were like one big family."
The Na Tcha tradition formed a large part of the villagers' simple lifestyle, with the Feast of Na Tcha, also known as the birthday of Na Tcha, being the major annual celebration. Starting on the 18th day of the fifth month in the Chinese lunar calendar and continuing on for the next four days, it drew people of all ages – including Ip and his siblings, who marched with the parade to sprinkle holy water.
"It was such a spectacular event, with children dressing as Na Tcha, firecrackers-grabbing race, and opera performers with elaborate make-up and costumes. For a six-year-old kid, it was quite something to see."
Surviving Cultural Revolution
The Na Tcha Temple became a regular place for Ip to hang around with other children after school. They did homework there, and listened to stories told by elderly people in the community. It was a time when children had few entertainment options, and for Ip, the temple was a home away from home.
The celebration of Na Tcha carried on throughout Ip's childhood. However, when the storm of the Cultural Revolution swept through the country between 1966 and 1976, even a festivity as deeply rooted in Macao as the Feast of Na Tcha was not spared.
"Red guards were everywhere in the city; they sang red songs, called out slogans, and performed revolutionary opera. All religious activities were prohibited because they were regarded as superstitious," Ip explains.
The belief of Na Tcha stayed alive quietly among the neighbours, who continued to worship Na Tcha at the temple and have small-scale dinner celebrations on the child god's birthday. Meanwhile, Ip quit school after finishing Form 2, a typical choice made by teenagers living in that era. Amid the chaos and economic damage wrought by the Cultural Revolution, he worked a variety of jobs in the hope of advancing: concrete worker, vehicle repairer, factotum, and many more.
He met his wife through the introduction of a friend; at that time, he was a mechanic apprentice, and she worked in a garment factory. The two got married after dating for two years. "It was not easy for a man like me to find a wife. I was too poor at that time," he laughs, admitting that his family was the poorest in the entire pátio. "I dated several girls before meeting my wife, but when they saw where I lived, they got scared."
In 1985, following the launch of economic reforms in mainland China which opened the country to foreign investment, Ip used his savings to establish a logistics company called Tong Fat. It worked in cooperation with two mainland companies to provide logistic support to factories that moved from Macao to mainland China.
Even as life improved for Ip and his family, the spirit of Na Tcha remained a major influence on him.
"It was all about fun joining the religious events as a kid, but as I grew older, I realized that it really had an impact on me, especially on how I do business" Ip emphasises. "That is, to uphold the principle of honesty and integrity; don't cheat."
Reviving the tradition
In 1991, Ip and the elderly people living in the pátio contemplated the possibility of resuming the Feast of Na Tcha. Nearly three decades had passed since the Cultural Revolution halted the tradition, and in the intervening years, the temple had fallen into disrepair. Once central to the community, lack of proper maintenance had led to water leakage and a partial collapse of the patio.
The Na Tcha Temple Association was established the same year to ensure better management, and they elected Ip as the chairman. Together, the neighbours raised 150,000 patacas to repair the temple.
But Ip and his fellow members remained cautious about resuming the festive activities on Na Tcha's birthday. "Although the Cultural Revolution was over, the status of religious revival in mainland China was still uncertain," he explains. "We decided to slowly reintroduce the festive activities, by organising only the celebration feasts and Chinese opera in the first year."
Thanks to Ip's connection, the former Culture secretary, António M. Salavessa da Costa, was invited to attend the celebration; his presence created quite a stir in the community. Such public support gave Ip and his association greater confidence in reviving the festivity.
Gradually, the Feast of Na Tcha made a full return, complete with colourful folk activities such as parades, firecracker-grabbing race, the distribution of 'peaceful' rice, and Chinese opera performed for the gods and goddesses. The duration, however, was cut from five days to three due to environmental concerns.
In 2003, following Macao's application to UNESCO for inscription on the World Heritage List, the Cultural Affairs Bureau approached Ip about nominating Na Tcha Temple as a site. Although the temple has a relatively short history, Ip believes it has a huge cultural significance. "We submitted a lot of data, documents and photos, showing what has been done over the century to promote the tradition," he says.
Ip remembers being asked during an interview with then UNESCO Director-General Koïchiro Matsuura: 100 million dollars or the title of UNESCO Heritage Site, which would you prefer? His answer was perhaps what you would expect from someone with a strong attachment to traditions: "The money is useless to me, but the title being granted to the temple will honour our ancestors, and promote Macao's cultural status."
Multiple roles  
The application proved a success: in 2005, the Historic Centre of Macao, encompassing Na Tcha Temple and 21 other historical sites, was inscribed on the UNESCO World Heritage List. As the home of such culturally and historically significant sites, Macao itself became a World Heritage City, one of around 300 worldwide to receive the honour.
Ip continued to contemplate different ideas for promoting the Na Tcha tradition. The recognition of Na Tcha Customs and Beliefs as a non-tangible asset of Macao came in June 2012, followed a month later by the opening of the Na Tcha Exhibition Room. Established in cooperation with the Cultural Affairs Bureau, the exhibition room sits at the original site of the association, and provides an important space to share their history and customs. It features a variety of religious objects, including the Sedan-Chair of Na Tcha and the ceremonial umbrella. Two years later, in 2014, the Na Tcha Customs and Beliefs of Macao were inscribed on the National Intangible Cultural Heritage List.
Ip's deep engagement in temple management and promotion continues to lead him to places all over the world. As a participant on government trips, he's visited areas such as Malaysia, Taiwan and Anhui province, to learn about their heritage preservation practices. He gives talks at various universities and, in his role as chairman of the Macao Temple Civilization Promotion Committee, leads devotees to visit temples in Southeast Asian countries.
In May 2017, he was appointed as one of government consultants for Macao's Cultural Heritage Council, a new role that he describes as intimidating. "The committee is formed by experts and scholars such as Carlos Marreiros. They are like superstars to me," he says humbly. "But I am honoured to be a part of this committee. I will do my best and learn from the experienced."
Meanwhile, Ip's business continues to thrive amid the changing industrial trends of the past decades. Following the decline of manufacturing industries, Ip opened two more companies to expand his business to construction-related projects such as elevator and air-conditioning installation. His companies took part in major construction projects in town, including the building of the Venetian and the on-going light rail project.
It's a success he attributes not just to his business sense and flexibility, but to an important person in his life, someone who has supported him through everything: his wife. "I am a very busy man; my wife has not only helped me take care of my business, but she also raised our son and three daughters well. I am really thankful to her."
With his youngest daughter recently completing a law degree in Portugal, Ip is content with how his children have created their own paths. "I don't expect them to earn a lot of money; I only hope that they can live an honest life and make contributions to society. That's what every father wants for their children."