Harald Christian Brüning

Link copied
Harald Christian Brüning is the Director of The Macau Post Daily newspaper. Brüning has worked for some of the world's biggest news agencies.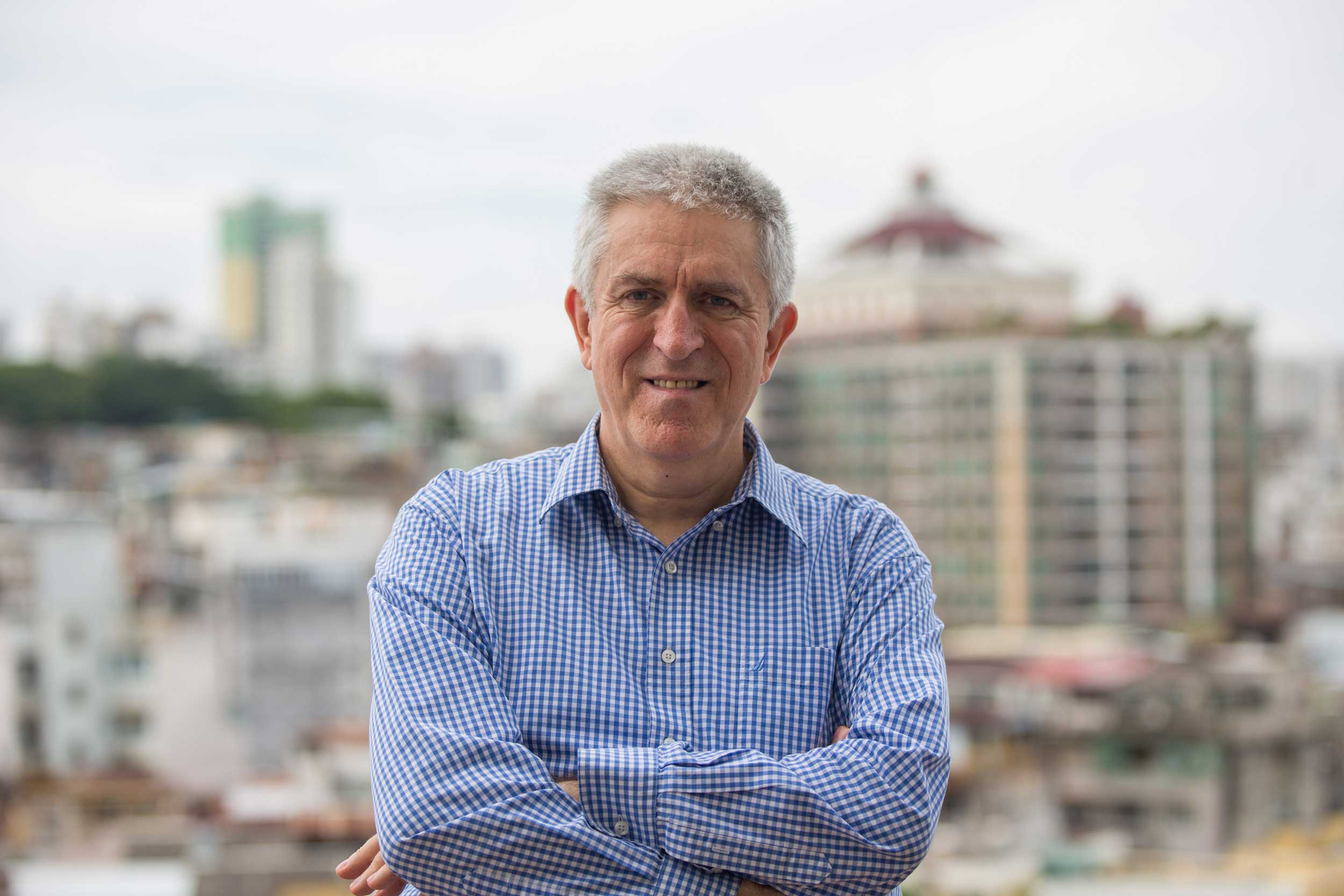 Harald Christian Brüning is the Director of The Macau Post Daily newspaper. He speaks German, Spanish, Portuguese and English. During the course of an eventful career spanning nearly four decades, Brüning has worked for some of the world's biggest news agencies, eventually setting up his own English-language newspaper focusing on local news in Macao.
Born 10 June 1953, in Rieden, Germany, Brüning grew up with three older boys and a menagerie of animals including two horses in Helmstedt, a small town in Lower Saxony surrounded by lush green trees and fields. His father was a cavalry officer and a horse-riding instructor, while his mother was a nursery school teacher.
Like many children who dream of crime-fighting superheroes, as a boy Brüning wanted to one day become a homicide detective. This interest in crime investigation carried on into his adult life, as today he is still an avid fan of crime novels and movies.
But instead of solving crimes, Brüning's career headed in the direction of reporting on them. He gained his first journalistic experience by the age of 16, writing for his high school's magazine club.
In 1971, Brüning moved to Munich where he studied political science and economics as well as Spanish and Portuguese. In 1975, he passed the Court Translator's State Examination for Spanish in Germany. Brüning then began taking freelance translation work, which earned him enough money to visit Hong Kong with a classmate in 1980. Being encouraged by a lecturer who taught him Portuguese at the university, he took this opportunity to also visit Macao for the first time.
In 1981 he graduated with a master's degree in political science from the Ludwig Maximilian University (LMU), after which Brüning moved to Hong Kong to work for the German-Japanese joint venture Carl Zeiss Pentax, which helped set up Televisão de Macau (TDM) in the early 1980s.
"Since I spoke Portuguese they wanted me to be responsible for TDM's project tender. I spent a lot of time in Macao and decided it was a great place to make my home."
Brüning made his official entry into journalism in 1984. He started working for Jornal Va Kio, editing book translations and writing the occasional news story. In the same year, he was invited to become the Macao correspondent for United Press International (UPI), which he describes as leading him into "real journalism".
"UPI's Macao correspondent had resigned just as negotiations between the Chinese and the Portuguese were starting to bloom. They needed someone to cover this, and so I ended up being offered a job at one of the world's biggest news agencies," he recalls. "If this hadn't happened I think I may have ended up back in Germany, as I had the opportunity to start a PhD at the University of Munich."
A few years later Brüning became the Macao correspondent for the Hong Kong Standard and also worked a short time for Bloomberg. Later he moved to the Eastern Express, returning to the Standard in the early 1990s, before moving to Reuters and then the South China Morning Post in the mid-1990s.
"Throughout my time as Macao correspondent, I believe I published around 20,000 English language articles about the region," he highlights.
During these years Brüning interviewed world-famous political leaders such as Mário Soares, Portugal's former president and prime minister, and reported on numerous major events including the Joint Declaration between China and Portugal and the Macao Basic Law. However, he felt that human interest stories were the most powerful. For example, he vividly remembers the days, some 25 years ago, when he relentlessly followed the recovery of a baby boy found abandoned in a pile of rubbish.
"The boy had been attacked by rats, leaving bite wounds on his arms and shoulders. I visited him at hospital several times and talked to the doctors and nurses," he recalls. "The story made the front page of Hong Kong Standard several times. It was the only English media that covered the incident." Much to his relief, the baby was later adopted by a Swedish couple, who named him Nicholas.
Being a Macao correspondent for overseas media made Brüning realise there was a growing need for a local English-language publication. Resigning from his position in 2002, he launched The Macau Post Daily with three like-minded friends.
"In the past, people were dependent on the South China Morning Post, but news from Macao was just one of the many areas it covered, and not its focus," he explains. "The principle of our newspaper was to always have Macao news on the front page."
Brüning believes that the introduction of an English-language newspaper in Macao has brought important changes to the landscape of Macao's media industry. And although newspapers have rising competition from digital rivals, he remains hopeful for the future of print.
"There is a big difference between print and online news," he highlights. "News on the Internet can be changed with a click of a mouse, but in print it is permanent."
"We can see who is reporting the stories and they are accountable for what they publish," he explains. Therefore I believe newspapers are hugely important and will always have a place."