From a very early age, Francisco Leandro made up his mind that he wanted to be a soldier, a teacher and a diplomat – and he achieved that aim, almost. Only the last escaped him.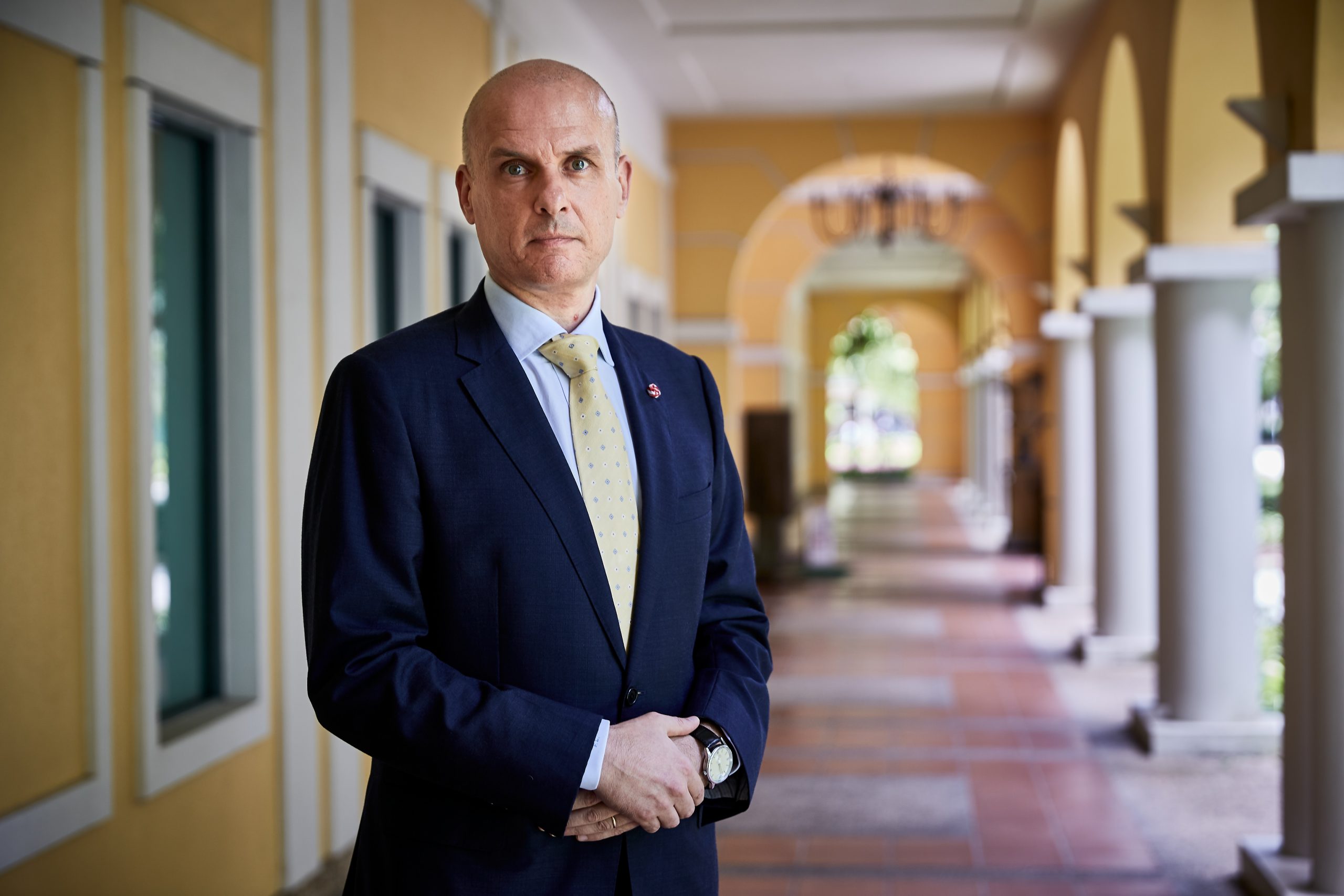 Born in the Portuguese city of Caldas da Rainha in 1965, Francisco Leandro spent his childhood years there with his mother, a primary school teacher, and an aunt. His father was away on military service most of the time. From a very early age, he made up his mind that he wanted to be a soldier, a teacher and a diplomat – and he achieved that aim, almost. Only the last escaped him.
After completing his primary education, he chose to enter the Portuguese Army's Military Academy in Lisbon. "The experience marked me deeply," he reflects. "I owe the academy a great deal because it gave me moral training, which is very important, along with a very well-rounded education."
Leandro earned his licenciatura degree in military science in 1989, and began a law course at the Universidade Autónoma de Lisboa two years later. But in 1995, he broke off his studies to serve abroad as a UN Military Observer during the Balkans conflict.
"The summer of 1995 was terrible. I was very idealistic back then and working for the United Nations seemed the right thing to do. I spent a year in Yugoslavia [now Croatia, Bosnia and Herzegovina, Serbia, Slovenia and Montenegro]; it was so decisive that when I came back in 1996, I stopped studying," he recalls. "I no longer believed in the law as a science that made sense. It was a very tough year for me, trying to get back to normal."
In 1997, he returned to university and completed his law degree along with a general staff course at IAEM (Instituto de Alto Estudos Militares) in Lisbon. In 1999, Leandro started war college at the same IAEM and a similar course at the NATO School in Germany. He ended up teaching at IAEM for six years, specifically in the area of international law and research methodology.
In the years that followed, he served as legal advisor for the Portuguese Army General Staff, Portuguese representative at the Council of Europe (Committee of Experts for the Development of Human Rights' Group on Human Rights of Members of the Armed Forces), Chief of Staff to the NATO Deputy Commander (Oeiras, Portugal), Head of the EUROFOR Public Relations Office and spokesperson for the EU Battlegroup in Italy.
While in Italy, Leandro earned advanced degrees at the Institute for International Political Studies and International Institute of Humanitarian Law, taught classes, and fell in love with Italian culture. Italian, along with French, is a language which he boasts a fair command of; Leandro is fluent in English, as well as his native Portuguese.
His focus centred on humanitarian law, the theme of his master's and the subsequent doctorate in political science and international relations awarded by the Catholic University of Portugal (UCP). Having attended UCP from 2001 to 2010, Leandro completed much of his work while holding the various positions listed above.
Move to the Orient
Soon after returning from Italy, however, Leandro decided to leave his country once again. "We began to think Portugal wasn't right for us; moving elsewhere became a very strong idea," he explains.
The new destination would have to meet three conditions: Asia, family, and no time limits. "Most options, some better from the monetary standpoint, were not long term. I wanted to start a new project, but it had to accommodate a family project and Macao gave that to me with no time limits."
So Leandro and his wife, Carla Flores, made the move to Macao. It wasn't easy at first.
"When we came to Asia, I realised there wasn't a lot of interest in [humanitarian law], so I had to adjust," he explains. Leandro hasn't practised in that area in years, although he maintains a strong passion for it.
He spent the first two years in Macao working on a part-time basis. While he admits that he thought the institutional integration would be quicker, he remained undeterred; Macao was always meant to be a long-term affair.
Leandro began giving classes at the University of Saint Joseph in 2012 and held a number of positions, including programme coordinator of the Centre for Social and Legal Studies, before leaving in 2018. He was then invited to head the Institute for Research on Portuguese-speaking countries at the City University of Macau, where he now lectures, coordinates doctoral projects, and serves as Assistant Dean.
In his nearly 18 years of academic life, Francisco Leandro has given classes at around a dozen educational institutions, such as the University of Coimbra (Portugal), James Madison University (Italy), the International Institute of Humanitarian Law (Italy), the European Security and Defence College (the Netherlands) and the NATO School (Germany), in addition to lecturing in Spain, Angola, and Hungary. He has also written numerous articles and essays and published eight books.
His most recent titles – The Challenges, Development, and Promise of Timor-Leste, Steps of Greatness: The Geopolitics of OBOR, and MSAR and the European Union – reflect the shift in his academic focus toward Macao and its place in the world. "I like what I do and I like being in Asia. I feel that what I do here makes sense."
For his service as a Portuguese Army officer, Leandro received the D. Afonso Henriques, Distinguished Service and Military Valour medals, among others. He also received service medals from the UN and EU, as well as 11 national and international commendations. He was awarded an academic research grant by Macao's Institute of European Studies, a major component of the Asia-Europe Comparative Studies Research Project, in 2014 and again in 2017.
The academic world occupies his time and much of his life, but not all. Travelling is among his favourite activities, which also include reading, sports (he runs the Macao half-marathon every year) and caring for his two cats. It's not by chance that he headed the ethics committee of the ANIMA animal protection association from 2017 to 2019.
When he speaks of the future, there's no hesitation: "Macao is my home. My life is here."