Fortes Pakeong Sequeira

Link copied
Fortes Pakeong Sequeira is a musician, graphic designer, illustrator and founder of Sparrow Music Culture Ltd.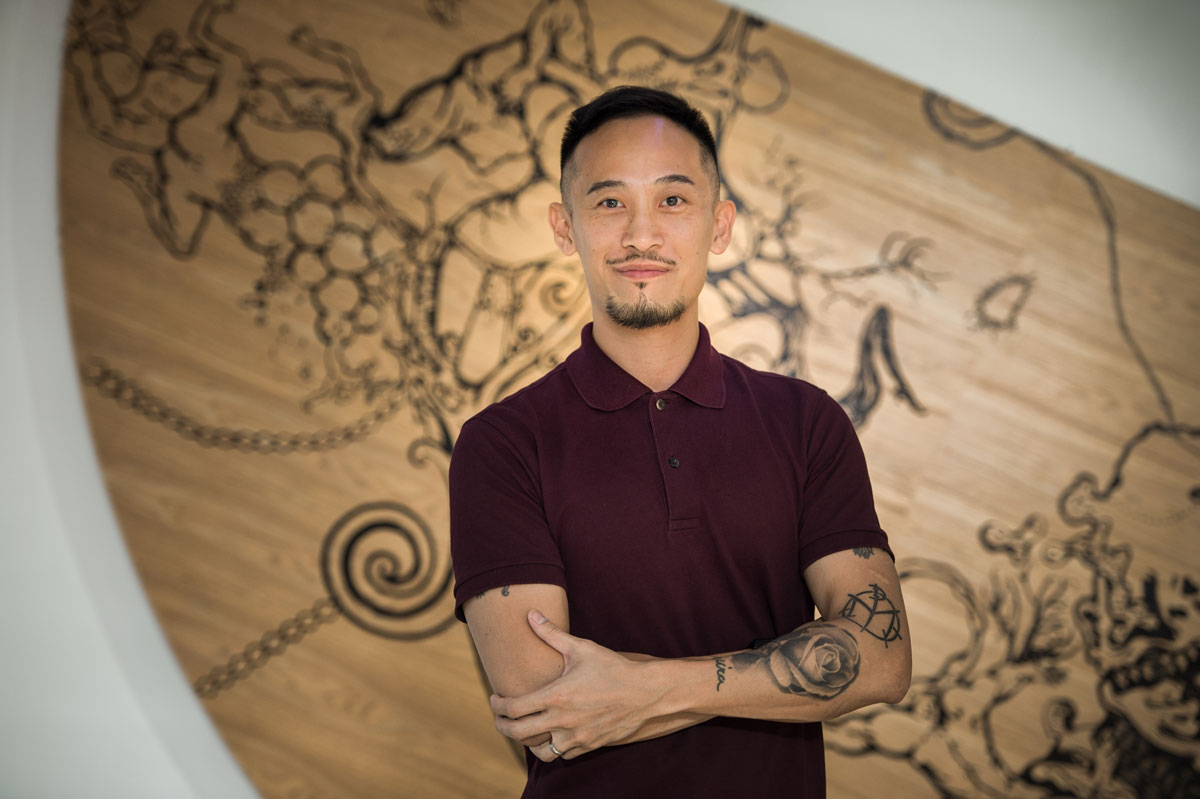 Fortes Pakeong Sequeira is a musician, graphic designer, illustrator and founder of Sparrow Music Culture Ltd. He is fluent in Cantonese, Mandarin and English and also understands Portuguese.
Fortes is his adopted Portuguese name, given to him by one of his teachers: "He asked me what my Chinese name [Pakeong] means, and I told him it had to do with strength." (Hence, "Fortes", which is Portuguese for "strength".) The name "Pakeong" was inspired by Danny Chan Pak Keong, his mother's favourite Hong Kong singer. His last name, too, has an interesting background: "My mother's godfather was Father Luís Sequeira, and she decided to pass his surname on to me."
Born 5 August 1978, Sequeira grew up in Macao where his parents owned a barbershop popular with the locals. However, following their divorce, the shop closed down, and Sequeira went to live with his father. He claims that his childhood experiences, including his father's strict education, greatly influenced his development.
Sequeira's youth was rather troubled: he quit school at the age of 13 and after arguing with his father, Sequeira moved out. He left Macao for the darker underbelly of Hong Kong, spending homeless nights in public gardens. At first, he worked as a chef's apprentice in a local food establishment. When he later became jobless, some triad members invited him to join the gang. "I slept in gardens and was a bit of a gangster."
Sequeira joined the triad's chapter and remained in Hong Kong for almost five years, getting involved with drug trafficking and other illegal activities. He was even jailed at one point for three weeks. "I faced court eight times, but finally, my mother picked me up and brought me back to Macao." He was nearly 18 years old at the time.
Realising that he had to change his ways, Sequeira went back to finish his education in Macao. After completing school at Sino-Portuguese Sir Robert Ho Tung School, Sino-Portuguese Técnico-Profissional School and Luis Gonzaga Gomes Sino-Portuguese Secondary School, he went on to major in Graphic Design at Macao Polytechnic Institute's School of Arts.
Despite numerous obstacles in his youth, the artist was always keen to express himself through images and showed talent at a young age. "When I was little, I used to draw to express my feelings and release my mind. I would draw more than I would speak," he admits. At the age of eight, Sequeira's primary school teacher Miss Yip submitted a drawing of his to a competition in Japan. He won a silver medal and he realised he "could draw for a cause".
Sequeira held his first showcase and public solo debút "Mad! Mad! Mad! Fortes Sketches Solo" in 2005, at the Ox Warehouse. His art achieved international recognition in 2009, when local businessman James Chu invited him to showcase his work at Art Beijing. "I was drawing live inside a booth, and everybody could watch me draw with only paper and a permanent ink pen for four consecutive days," he explains. The experience led him to exhibit in Tokyo, New York, Lisbon and Singapore. Chu also introduced him to the organisation Art For All (AFA) as well as renowned Macao-based artist Konstantin Bessmertny. Sequeira's participation in Macao's Fringe Festival was also a milestone in his artistic path: from 2010 to 2012, he caught people's attention, once again, drawing live at the festival. The artist's résumé includes more than 15 solo shows and 51-shared exhibitions all over the world.
From 2004 to 2010, Sequeira worked for a number of companies and organisations, including Baleno Holdings Limited, Attitude, Bambini and Cherry Twist. He was Illustrator and Head of Graphic Design at Kentex in 2004; Illustrator and Enterprise Image and Design Director at Chessman in 2005; Chief Designer for Macau Coca-Cola Beverage Co. Ltd. in 2005; Graffiti Instructor at Nikiland in 2006 and Photography Instructor at the Institute for Tourism Studies from 2005–2010.
Sequeira left his last corporate job at Emperor Palace Casino in 2008 to pursue a career as a full-time artist. "If I really wanted to keep on living as an empty body, I would keep working for other people and not for myself." He also filled his plate as a part-time photographer, graphic designer and painter.
Although several opportunities to live abroad have presented themselves over the years, Sequeira is committed to Macao: "We have to create something meaningful here by ourselves," he advocates. Besides his passion for drawing and music, he is also fond of tattoos. "I still want to do more and more [tattoos], because I believe they express one's feelings." In addition to having a tattoo of his mother's portrait, he has also engraved some of his own drawings.
In addition to founding Sparrow Music Culture Ltd. in 2016, Sequeira is lead singer and composer for Blademark, a local rock band. The artist started the band with some friends in 2005, although he playfully depicts its origins as a laidback karaoke session in 9th grade. For Blademark's 10th anniversary in 2015, the group wanted to celebrate in a meaningful way, and so Blademark Festival was born.
Sequeira days now overflow with a wide variety of artistic expression in many mediums, but he believes there is still a real need to foster people's awareness of Macao-based artists and their work. For Sequeira, every aspect of life is connected: "I can turn my drawings into illustrations, which in turn can be used as product design to advertise my band," he explains. All these different dimensions fit in one big box. "Whether we are talking about design, illustration or music, the purpose is always the same: to express ourselves."