No matter where you stand with religion Father Luís Sequeira is open to helping all individuals find happiness and strength. As a Jesuit of the Society of Jesus in Macao, he has dedicated his life to helping individuals through the love of God and shaping the growth within the inner self.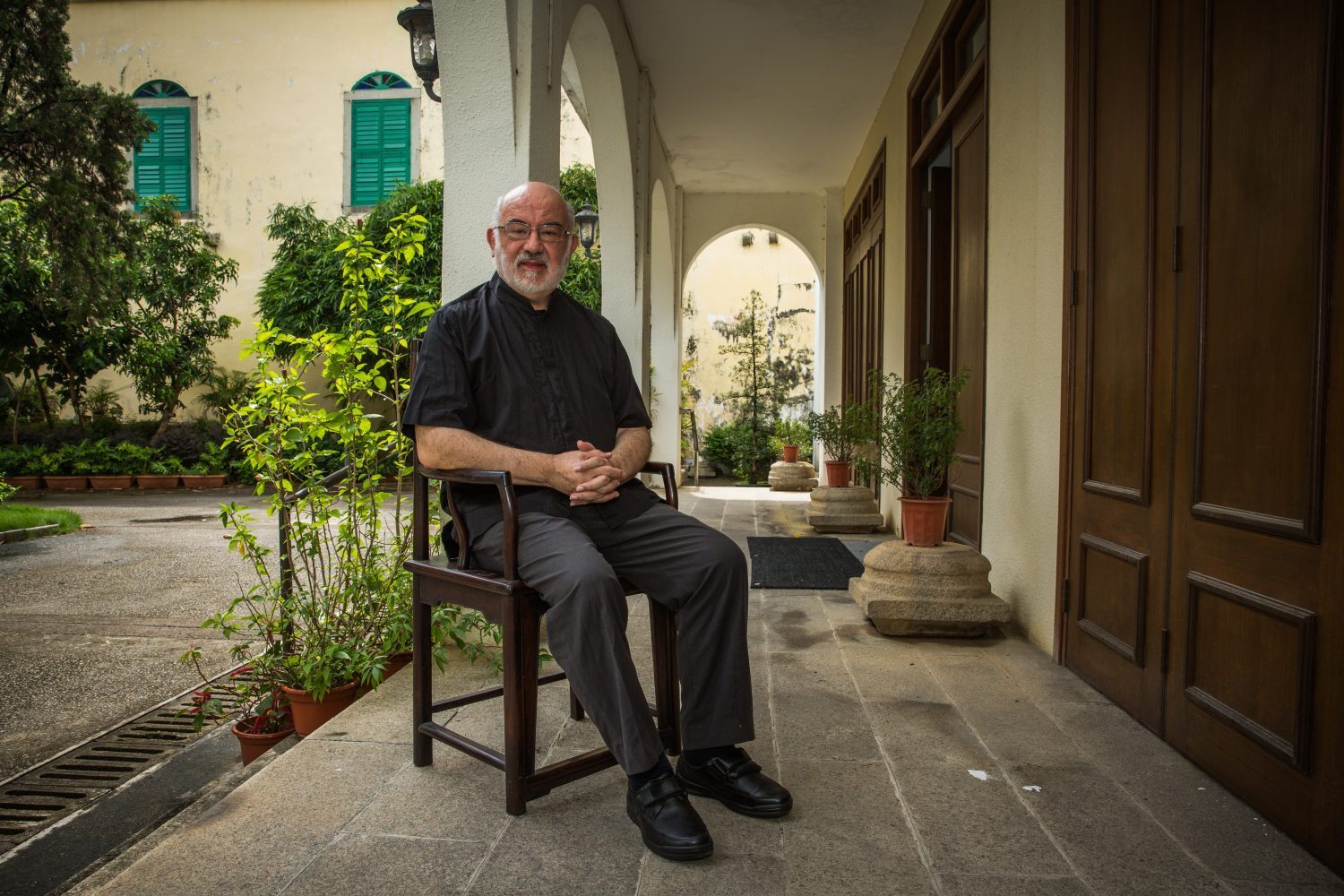 Born in Lisbon, Portugal, on 20 April 1949, Father Luís Sequeira is the eldest in a family of eight children. He has dedicated his life to helping individuals through the love of God.
Since the beginning of his priestly ministry, the friendship and kindness of Mother Teresa has also always been discretely present throughout his journey.
At three years old, Luís Sequeira was enrolled in the kindergarten run by the Sisters Franciscan Missionaries of Mary. He was introduced, as a little altar boy, to the Liturgical Ceremonies, concretely to Mass and Adoration of the Blessed Sacrament, at the Church of the Immaculate Conception, under the care and devoted responsibility of the same Sisters. Today, it is the Socialist Party headquarters.
At half-past six one rainy morning, Luís slipped on his little cloak on the way to weekday mass with his parents. A caring nudge from them to keep going is the most touching moment he remembers from his childhood; to have both mother and father send him to church.
Little did his parents know that that special morning would represent the first steps taken towards a lifetime of consecration by the young Luís Sequeira.
He began his secondary education in the centre of Lisbon at the public school, Liceu Pedro Nunes (now known as Escola Secundária Pedro Nunes). At that time, the Portuguese President of the Republic Marcelo Rebelo de Sousa also attended.
 An unexpected turn
Luís Sequeira never expected to become a priest. Filled with a passion for knowledge, school never failed to excite him. When an uncle, himself a Jesuit priest, and a pious but very disciplinarian aunt offered to send him to the Jesuit school nearby Coimbra, he embraced the opportunity to learn.
The boarding schools were considered, in general, places of excellent integral or holistic education, especially if oriented by Jesuits.
"My father never, never, never accepted that I enter a Jesuit school and he never accepted I would become a Jesuit priest," Luis Sequeira explained, noting that while his father didn't welcome it, he not once actively showed opposition towards his son studying there and later entering priesthood.
His interest in joining the Jesuit order developed gradually, the desire growing stronger each year. Meanwhile aside from his studies, Luís Sequeira was also an excellent sportsman on the field – an impressive track athlete and star footballer. Winning a track championship with a national record to take home the gold, as well as being invited to play for Benfica, are only a couple of the many highlights from his cherished sports days. Later, already studying law at the Classic University of Lisbon, he was also a member of the soccer team representing Lisbon's University students.
One summer, his natural footwork ability even caught the attention of famed Portuguese football player and manager Fernando Caiado, assisted by the well-known coach Fernando Cabrita. He offered an appealing athletic contract, but Luís Sequeira kindly turned it down to remain focused on his education.
He continued onward to study one year of law at the Classic University in Lisbon before indefinitely switching his orientation in life by entering the Novitiate of Society of Jesus to become a Jesuit at 'Solar da Torre', Soutelo.
Two years later, his educational formation focused on Humanities and Philosophy at the Universidade Católica Portuguesa, in the so-called 'City of the Archbishops', Braga.
Fast-forward to the year 1976, the 27-year-old Luís Sequeira was sent to Macao by his superiors to further his practice as a Jesuit. Already a talented polyglot – speaking Portuguese, French, Spanish, Italian, and English – he soon added a sixth language: Cantonese. Having learned Cantonese at the Chinese University of Hong Kong, he remained in the city while completing his preparations for priesthood, specifically the first cycle of Theology.
On 24 June 1982, Luís Sequeira was ordained a priest by the Jesuit Bishop Domingos Tang, assisted by both the Bishop Arquimínio Rodrigues da Costa, who at that time was Bishop of Macao (1976-1988), and Fr. Domingos Lam, who shortly after became the first Chinese Bishop of Macao (1988-2003).
Thereafter, Father Luís Sequeira travelled abroad to Rome for his second cycle of Theology and to obtain a degree. To his surprise, he had "the most beautiful experience there…living in a community of more than 100 Jesuits, from 35 different nationalities, and sometimes speaking to them in six different languages throughout a single day."
It was during this magical time in Rome that Luís Sequeira was exposed to a deep psychotherapeutic experience conducive towards understanding his inner sense of self and humanity.
Three years later, in Québec, Canada, another more spiritual experience took place at the so-called 'Long Retreat', lasting one month. This is typical of the Jesuit formation path after becoming a priest; all are obliged to go through this spiritual journey, at the end of Studies and Formation and before his Solemn Vows as a professed Jesuit.
The combination of these two moments constituted an extraordinary personal experience. It produced such a deep and touching transformation that shaped him into the wise man he is today.
Miracle moment
Returning to Macao in 1985, Luís Sequeira began making his mark, shaping the religious, civic, and educational facets of the city through leadership and personal example. Most notably, he served as the Superior of the Society of Jesus in Macao, and later, as the Delegate of the Superior Provincial in Macao, and finally, as the Legal Representative of the Society of Jesus (1986–2006). He was also the Principal of Colégio Mateus Ricci (1989–2015), founder and first Director of Macau Ricci Institute (1999–2007), the pro-rector at the University of Saint Joseph (2004–2008), in addition to numerous declarations and recognitions from the government.
Even so, the impact Luís Sequeira continues to make in Macao represents only a fraction of his good works. For two decades, 1987–2007, he went on guiding regular retreats around the world to the Sisters Missionaries of Charity, a religious Congregation founded by Mother Teresa of Calcutta. He humbly forewent the comforts, companionship, and love of family and friends at home, in exchange for service around the world – Asia, Oceania, Europe, Africa, and America.
In 2007, during a Macau Ricci Institute Symposium, just after the Opening Ceremony of the 'Cultural Night', a sudden sense of unease served as a prelude for disaster: at 58-years-old, Luís Sequeira suffered a brain stem stroke.
His doctors made it clear that for most – 80 per cent – this type of stroke is ultimately fatal, while the remaining 20 per cent are left paralysed or bedridden. With the haemorrhage in his brain nearing a point of no return, Sequeira vehemently shouted in his heart for his dear friend, the late Mother Teresa, asking her to bless him with a gift: life itself.
She answered his prayers that day.
The bleeding stabilised enough for him to eventually be moved to a different hospital and the scan taken upon his arrival showed no bleeding at all. In his darkest hour, the devoted Jesuit made his first intimate connection directly with the Blessed Teresa of Calcutta.
Their connection lived on, buoying him through the long, difficult months of mental and physical recovery. Her blessing enabled him to continue his work,
A half-century of devotion
Luís Sequeira, having weathered such difficulty, eagerly re-committed himself to guiding those around him. Each person he accompanies on their journey leaves a lasting impact, motivating him to continue his work. Once an individual reveals the drama and violence from within, he thinks to himself, 'Who I am to accompany this person?'
By acknowledging the sense of self through layers of spirituality and humanity, Luís Sequeira is there to accompany individuals through the anguish. The changes occur in their own time, varying from person to person, but evolve into the same relationship with God. The intimacy he shares with those in need reminds him of the richness that lies at the core of our souls.
Next year, Father Luís Sequeira will celebrate his 50th anniversary as a faithful Jesuit. He moves forward with stronger fervour each passing day.
His fellow followers have encouraged him to write a book exploring his experiences, beliefs, and the path to God. He intends to do so given time, foreseeing the title to be 'The Inner Journey: From the Fire of Anguish to the Fire of Divine Love.'
"I continue to be convinced that the inner journey is necessary for any human being; but also, deep self-knowledge is a tremendous demand of our Society and our world to face their present challenges. Independently, this I believe, whether you are open to God or not. The deeper sense of humanity is inside of ourselves," he asserts.
"If all the excess such as money, power, glory, and desire of influence over the others commands you, we don't give true happiness to mankind. We must find real happiness of a person, first, within our own self. Then we can share it with the others with the proper attitudes."