The Flying Winemaker and driving force behind Macao-based Eddie McDougall Wines talks about his journey to becoming one of Asia-Pacific's leading boutique winemakers.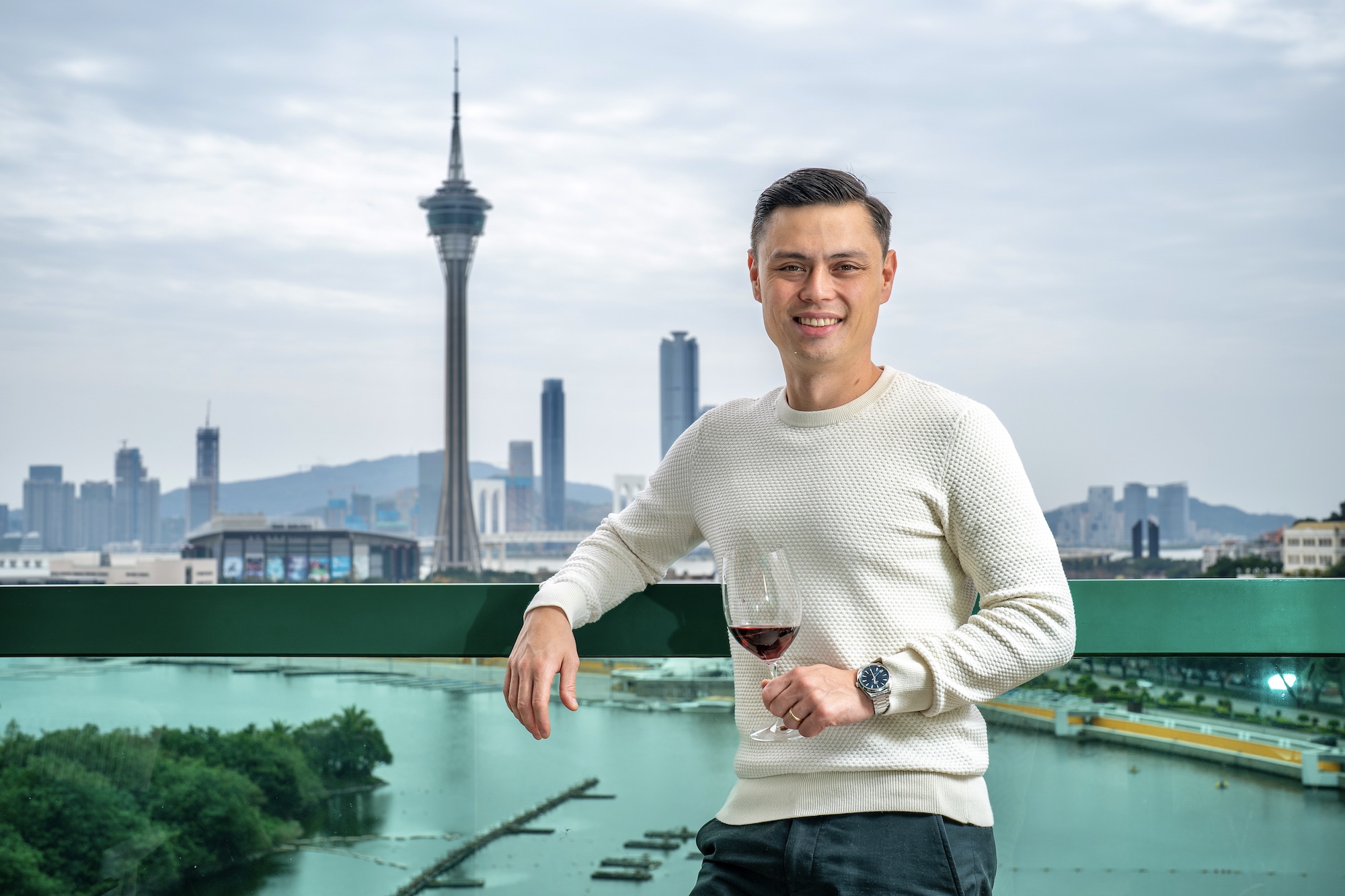 As the founder of one of Asia-Pacific's most dynamic wine brands, it would be easy to assume that Eddie McDougall was born into the wine world. But the award-winning winemaker, TV presenter, columnist, wine judge, and CEO and founder of The Flying Winemaker is quick to point out that this is not the case. "I didn't grow up on a vineyard," he says. "My father wasn't a winemaker, and my mother was not an heiress of a famous chateau."
McDougall, who has lived in Macao since 2013, was born in Hong Kong in 1983. His mother, a receptionist from Hong Kong, and father, a third-generation dairy farmer from Brisbane, Australia, raised him in Hong Kong until he was 11. 
A keen rugby union player, a young McDougall moved to Australia to attend boarding school at Brisbane's elite rugby school, St Joseph's Nudgee College. "I really wanted to pursue a career in rugby," he says. "Nudgee is the nursery for rugby players in Australia, so it was the perfect school for me." 
McDougall eventually had to let go of his rugby dreams because he couldn't gain enough weight. "I couldn't get past 75 kilos – it didn't matter how many protein shakes I had," he laughs. 
After graduating from secondary school in 1999, McDougall enrolled in a Bachelor of International Business at Griffith University in South East Queensland and worked odd jobs throughout his degree. 
With graduation looming, McDougall wondered what to do next. It was at McDougall's job at the now-defunct fine-dining restaurant Isis Brasserie in Brisbane's Fortitude Valley, that gave him a clue. At this VIP hotspot, he learned about fine dining and fell in love with the whole experience. 
"The restaurant had a really fantastic wine list, which when I read it, meant nothing to me," he recalls. "It was gibberish – French, Italian and Spanish words I could barely pronounce and places I'd never heard of."
It piqued his curiosity and, soon enough, he was spending his spare time reading up on wines at bookshops. "I began spending what little money I had on wine just to develop some knowledge but never thought that there was a job or a career down that path," he adds.
On a quiet Tuesday night at the restaurant, McDougall's destiny as a vintner unfolded. "We had a bunch of politicians come in for dinner after a big meeting," he says. "Everything that could go wrong in a restaurant was going wrong: wine was being poured in the wrong glass, food was going to the wrong people, meat that was supposed to be well-done was undercooked – it was a disaster." 
The experience was so bad, the group paid the bill and hurried out, leaving food and wine on the table.
"As you can imagine, there were not too many tips that night, so the owner told us to drink the wine instead," McDougall laughs. "We didn't understand the concept of tasting wine or what people were talking about when they would swirl and sniff the glass – it was so foreign to me. I picked up the glass, and literally by the time I had put the wine in my mouth and it hit my tongue, it was as if this sensory halo just exploded."
For McDougall, it was a moment of clarity, an unforgettable sensory experience, "I turned to the guy next to me and I literally said, 'Holy shit, this is amazing. I need to learn how to make this.'" 
That single sip of wine – a pinot blanc from Domaine Paul Blanck in Alsace, France – set the wheels in motion. McDougall began mapping out his new path and enrolled in the University of Melbourne's Wine Technology and Viticulture postgraduate programme – a move that would put him just a stone's throw from a few of Australia's major wine-growing regions. To complement his studies, McDougall landed an entry-level position at boutique winery, Shadowfax Wines, in Geelong, a city southwest of Melbourne.
"From sweeping the floors in the front driveway to picking grapes, working in the tasting room, sticking labels on bottles – I just put my hand up and said yes to everything," says McDougall.
The odd jobs exposed McDougall to the entire process of winemaking. "I had the opportunity to see everything: where the wine comes from, the hard work that goes into it, realising that each label has been stuck on by someone's hand, [how the] bottle ends up on a table, and then being the one serving it and talking to customers about it," he says. "It cemented the fact that if I can stick labels on bottles for hours and weeks on end, then I have enough motivation to stick it out and go through that process."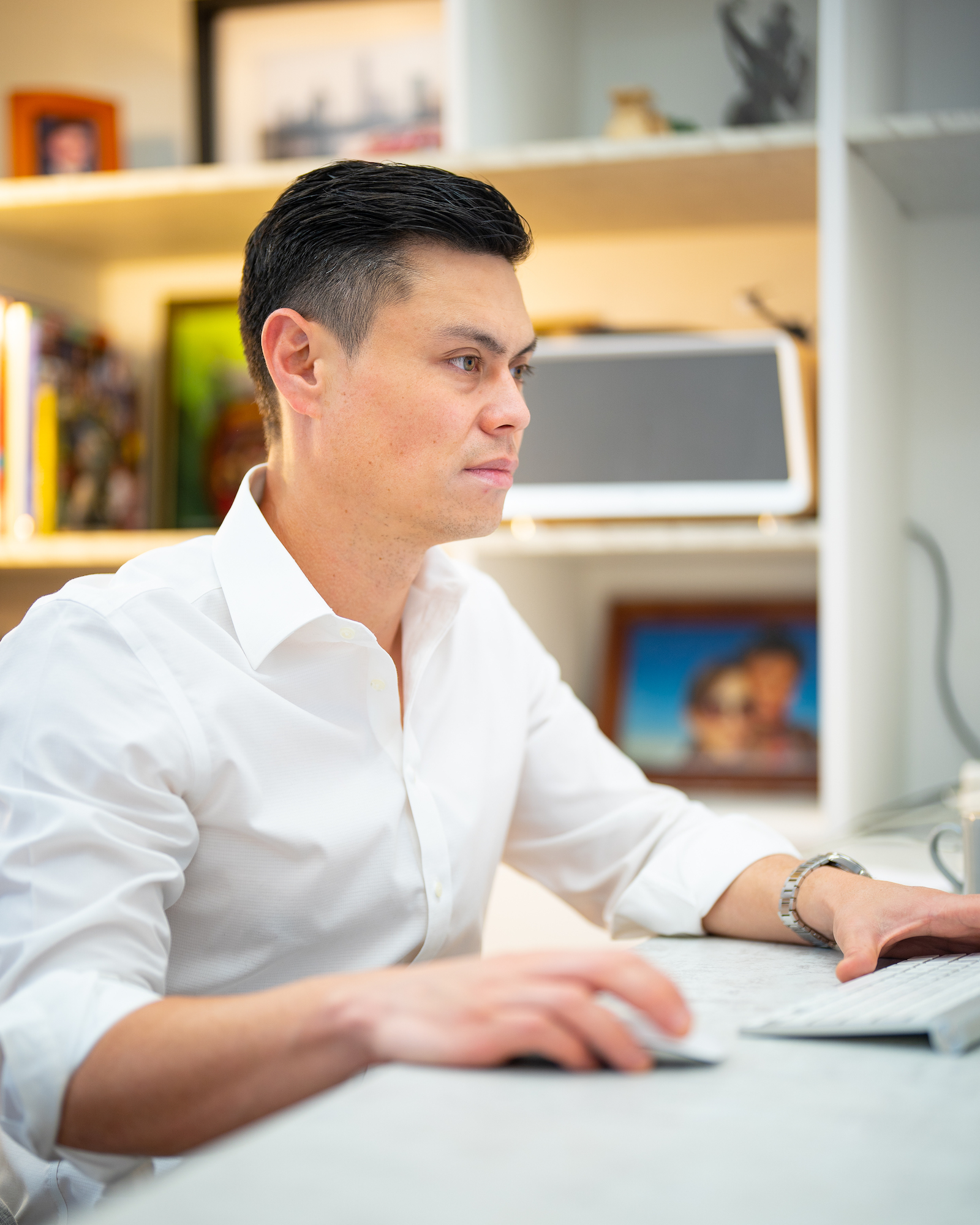 After four years at Shadowfax, McDougall relocated to the Clare Valley in South Australia to O'Leary Walker Wines, before returning to Victoria in 2007 to work at Clyde Park in the Bannockburn region. "This was a real inflection point where I was starting to have some say in terms of the wine-making process," he says.
McDougall also started thinking about starting his own wine label but first wanted to accumulate more experience and resources. McDougall moved to the Yarra Valley, a wine-growing region northeast of Melbourne, at the end of 2007 to work with Giant Steps as a Vintage Winemaker. 
A few months later, using a small space in the winery, he produced and bottled 100 cases of pinot noir under his own label, Umami Wines. "Giant Steps gave me the time and facilities to do my own thing on the side," he says. "I bought grapes from a local grower, but the wine-making techniques and the processing was all my own craft."
The success of the wine – a light-bodied red with a fruit-forward flavour and spice on the nose – spurred McDougall to expand his small production by moving production to a shed on a friend's vineyard which allowed him more freedom. "At that point, I'd worked with some of the best people in Australia," he says. "But I wanted [to be able to say] that I'd done the same with people in the Old World." 
In 2008 he packed up and moved to Italy, where he worked with Italian winery Vietti – universally recognised as one of the finest Italian vintners – in the Barolo wine region of Piedmont. The role also enabled him to spend time travelling and discovering more wine regions in Europe.
At the end of his four-month Italian stint, McDougall returned to Hong Kong at the beginning of 2009 for a friend's wedding, and to his surprise, got a job offer while in the city. "It was a really interesting time in the wine world, because Hong Kong had just abolished its wine tax so the market was really opening up," he explains. 
A wine consulting company hired McDougall, who is fluent in both Cantonese and English, to conduct wine education workshops, host events and share his knowledge with clients and customers."
Six months later, a Canadian woman approached McDougall with another opportunity to produce a "Hong Kong" wine using imported grapes. "She needed a winemaker to do it, so she approached me knowing I was the only wine producer currently in Hong Kong," he recalls. "Of course, I said yes."
For the next three years, McDougall helped develop Hong Kong's first urban winery, The 8th Estate. As part of his role, he travelled to wine regions near and far to select grapes to import. From shiraz to grenache, riesling, cabernet sauvignon, merlot and chardonnay, he tested different varietals to see which responded best to transit and production methods. 
"The wines we ended up producing were excellent, surprising and really drinkable," he recalls.  
Though the winery received many accolades, it dialled down production in 2012 as competition increased locally. It was a blessing in disguise, enabling McDougall to focus on the wines he was still producing in Australia.  
A lot had changed in a few short years. He had outgrown the shed, moved to a large facility and rebranded everything to Eddie McDougall Wines. He also expanded into Asia, with Hong Kong as the first city on the wine distribution list.
"While working for The 8th Estate, I was literally flying around to different regions and bringing in grapes from different places," says McDougall. "That kind of formulated the concept [of The Flying Winemaker], which then became a brand and [opened] lots of new avenues for me."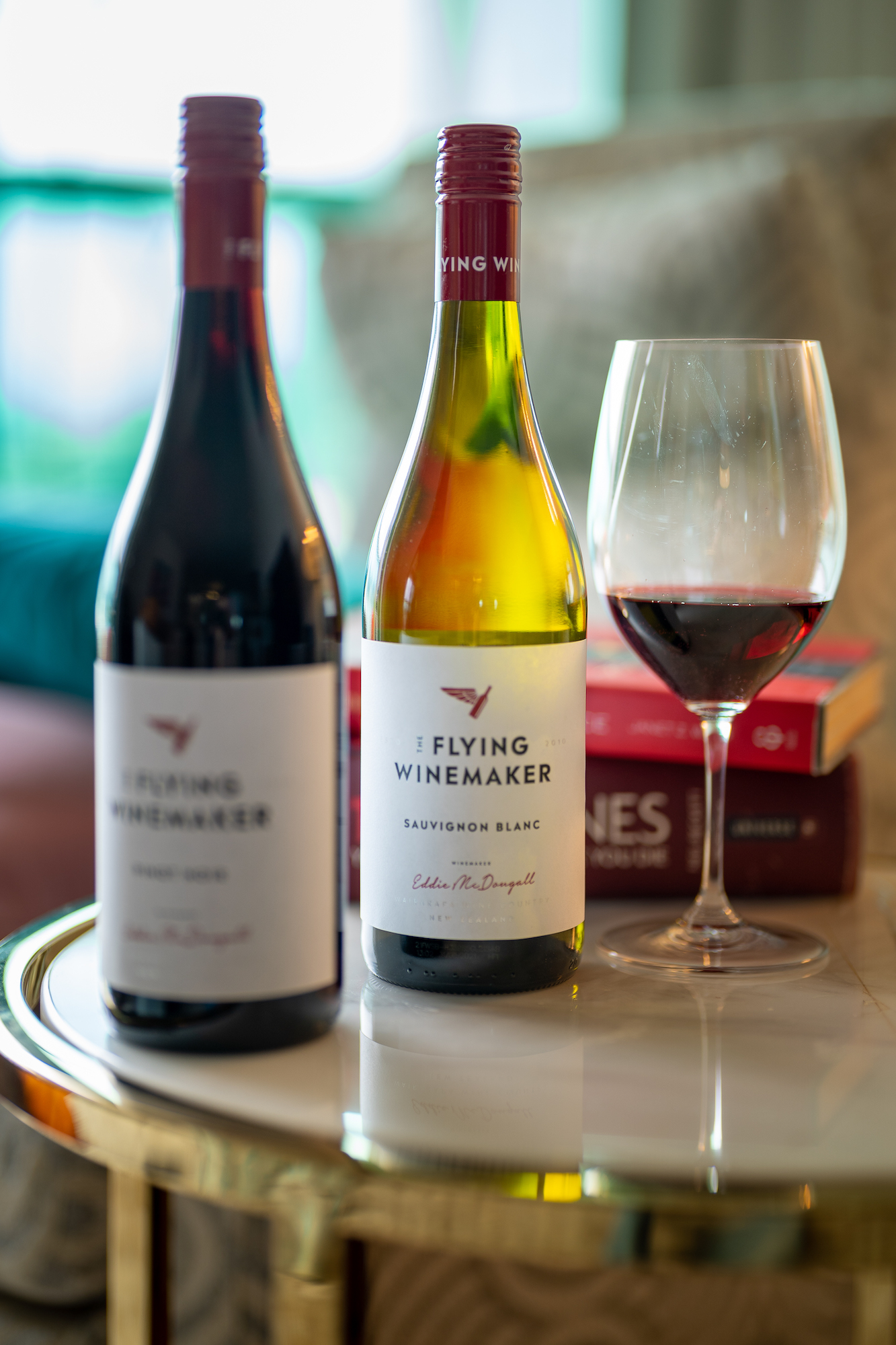 Under the new brand, he focused on making Italian varietals. "I like wines that are honest and reflect the varietal, place and maker," he says. "They should be considered as postcards of the location they are grown from."
In November 2011, he opened The Flying Winemaker's first retail outlet. Located in Lan Kwai Fong, a popular nightlife area in Hong Kong, the shop hosted events and doubled as a wine bar at night, which quickly helped McDougall raise his profile across Asia-Pacific as a credible winemaker.
"That was the point when I decided that I was all-in, no more working for people on the side," he recalls. "I put a team together, so I could increase the production."
In Australia, where "everyone drinks shiraz, cabernet, chardonnay, riesling and sauvignon blanc", the winemaker focused on less-common varietals, such as pinot, prosecco, rosé, pinot grigio and san gervase. "We had something that was a little bit different. As we got bigger, we started to feed in some of the more mainstream varietals, like cabernet sauvignon and shiraz."
With momentum building, McDougall and his partners pitched The Flying Winemaker television show, and ABC Australia signed a deal to premiere the show on the Discovery Channel in 2014. Over the next two years, McDougall and his team produced 13 episodes. "The premise was food and wine pairing with some adventure thrown in," he says. "We focused on unexplored wine regions throughout Asia, and how their locally grown wines paired with the local food." 
Eventually, the show aired on Netflix and several airlines. As a result, McDougall's wine business boomed, enabling the winemaker to expand his "diverse" and "approachable" wine portfolio.
In 2016, the winemaker and his team began producing wines in Margaret River in Western Australia. Two years later, they bought an estate, Gladstone Vineyard, on New Zealand's North Island. "[These] locations are great for the varietals [like pinot noir or rosé] I'm inspired by and like to drink," he says. "New Zealand was our first choice for a vineyard as it is a sustainable, high-quality focused grape producing country – clean, green and premium." 
It's a giant leap forward for the young man, who first bottled 100 cases of wine and now produces over 10,000 cases each year across five regions in three countries with more in the pipeline.
Looking ahead, McDougall will continue to manage his own vineyards or buy grapes from local growers and use contract winemaking facilities. "We like to keep a balance," he says. "For big volume stuff, we use growers. For our more premium products, particularly in New Zealand, we try to have full meticulous control over our sites." 
Working away from his wineries has been the new normal for McDougall ever since the Covid-19 pandemic began in early 2020. "The past two years have been a bit leaner in terms of our operating scale," he says. "We took the time to tighten things up, work on the customer service side of things and regenerate our content, logos and branding." 
McDougall has also taken advantage of being stuck in Macao – where he has lived for nearly a decade with his wife and two young boys – to spend more time cultivating relationships with his Chinese distribution market. "I've been spending more time in China these past two years," he says. "I go to trade expos and host events and tastings. None of my competitors can currently get in, so people are really receptive to getting to know our brands more." 
Last month, The Flying Winemaker's Margaret River cabernet sauvignon won the tender for Qantas' business class red wine, which will be available from June 2022 – a promising start to the year for McDougall and his company. "Australia has just opened its borders, and international and interstate travel is back into play," he says. "We're really proud to have our wine in the skies."
And with that, The Flying Winemaker will literally be taking off around the world, once again.