Lao is currently the AirAsia Hong Kong & Macao Chief Executive Officer, with over 20 years of experience in aviation. She helped establish AirAsia in its first few months in Macao and through her connections, was able to gain access into the Mainland Chinese market for their airline.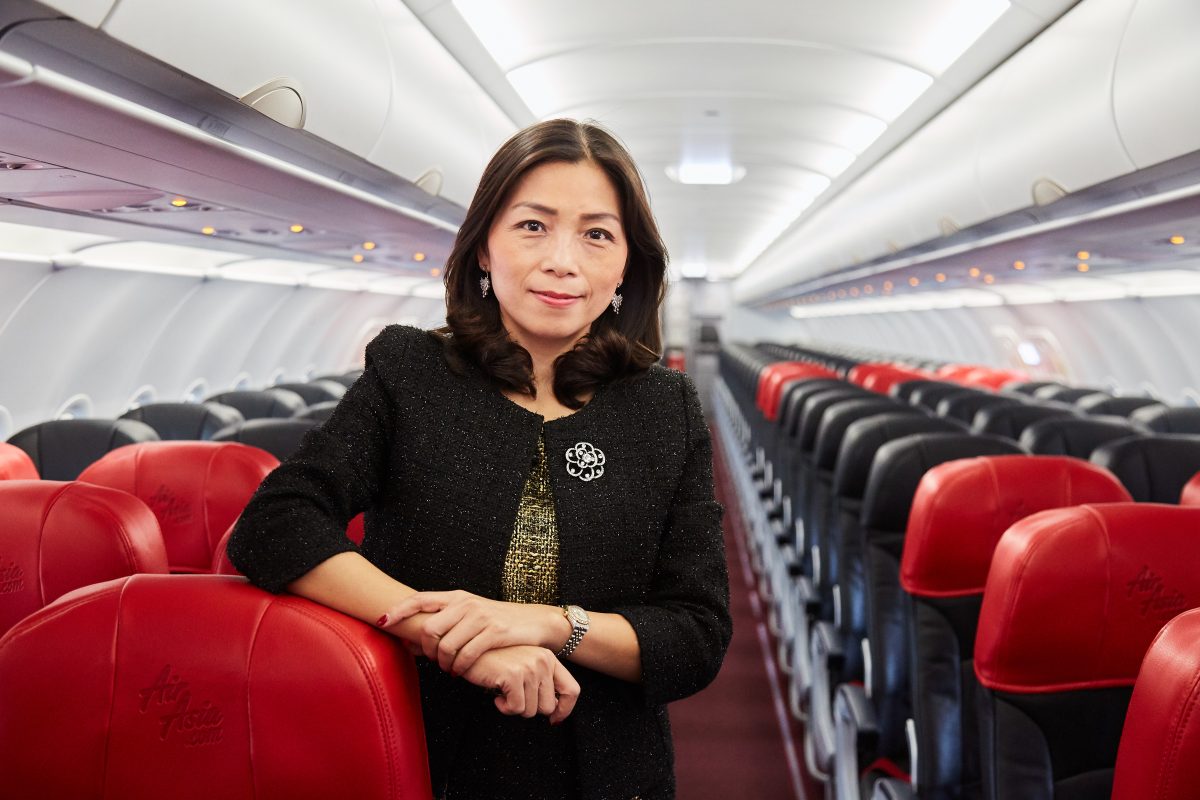 Celia Lao excels in most things she takes on, having been a model student with good grades her whole academic life. Throughout her life, she has faced down challenges with perseverance and determination: "My life motto is to 'be the best version of yourself every day.'"
A traditional family
Born in Zhongshan in 1973, Lao and her family moved to Macao when she was five years old. Long before she was born, while still in China, her father had joined the military through selective compulsory military service. There he learned to fix machines and electronic parts, eventually being reassigned to manage the electricity department for the city. Since her grandparents were getting older — grandfather from Hong Kong and grandmother from Macao — her father soon decided to move to Macao to be with them. Lao, her mother, and her two younger sisters followed soon after.
Lao always did well in school, placing among the top three students in classes, despite never having been pressured by her parents to excel. The quiet, studious girl simply enjoyed doing well. "I don't want to waste my time," she explains. "When I do something, I just want to be the best."
When she graduated in 1991, her place as one of the top three students from the Chinese section of Hou Kong Middle School netted Lao a unique opportunity: a fully paid scholarship from the Macao government to study law in Portugal or China. The government, keen to retain talent, saw such an expenditure as an investment in the runup to the handover in 1999.
Lao declined the offer, however, convinced that she needed to work on her communication skills first to overcome her quiet nature. She told her parents, "I want to study English, I want to make a change, I want to learn how to communicate with more people."
She turned her sights toward marketing, which required extensive public speaking and group work, and earned her bachelor's degree from the University of Macau (previously University of East Asia) in 1995. Despite finding the English coursework challenging, after four years there, she still came out on top of all the graduates from the faculty. This result surprised her given the stiff competition at the university. "I learned that if you focus, make use of the resources around you and don't waste your time, you can actually do it."
Starting a life in aviation
After reading a book on diplomacy, Lao developed a fascination with relationships between countries, how connections are made and developed across cultural and national boundaries. She began to search for job opportunities that would allow her to forge these kinds of connections. Fortunately for her, the year she graduated also saw the opening of Macau International Airport.
She submitted her CV to Air Macau and to CAM (Macau International Airport Company Limited). Lao was called in for an interview with the company behind the new airport, along with thousands of other candidates, and was one of the few hired. She received other job offers as well, including from Air Macau, but opted for CAM since it was related with what she wanted to do.
CAM hired around 50 aviation experts from around the world and Lao, being the youngest in the company at that time, felt very fortunate to learn from them. Part of her job in marketing involved working with other departments — from Engineering to Strategic Planning to the Accounting Department — which allowed her to deepen her knowledge in all things aviation.
As pioneers in Macao's first airport, the team learned everything from scratch. She distinctly remembers their Marketing Manager Anita Lee, a local with extensive marketing background, and Marketing Director Roger Stephenson, an Australian with over 20 years' experience in Qantas. He used his own time to teach the locals in CAM, including Lao herself, gathering them for aviation classes an hour ahead of work. "We got really good opportunities to learn. He taught me a lot about aviation."
Her seven years at CAM also afforded Lao the opportunity to attend airport and aviation conferences and seminars all over the world. She eagerly took advantage of this, meeting with experienced professionals and making connections with other "young faces" in attendance year after year.
At the time, there were five airports in the area — Macao, Hong Kong, Guangzhou, Shenzhen and Zhuhai — only Macao had a marketing department. Hong Kong, she points out didn't need to market themselves because traffic came naturally – they had millions of people and a history in commercial air travel dating back decades. Macao, on the other hand, "needed to market" to entice airlines to take a chance on the smaller SAR.
AirAsia
In March 2002, AirAsia Group CEO Tony Fernandes spoke at an airport conference in Hong Kong. Lao approached him after his talk and presented Macao as an option for his airline. Macao had just ended the local gaming monopoly that year and granted concessionaires access to the industry, making it the perfect time to expand the airport to include international carriers.
He wasn't aware where Macao was, making assumptions based on its Portuguese name. Lao was quick to inform him that Macao was "just next door" to Hong Kong and that she could arrange a visit for him, if he had the time.
Fernandes, busy rebuilding his newly purchased airline at the time, declined the offer, but the two exchanged name cards and began emailing back and forth. "I was really impressed that he was the only one who replied and communicated with me," Lao remarks. "He was very involved."
After a year and a half of emailing each other, Fernandes led a team to visit Macao. The Greater Bay Area concept still hadn't been established at the time, but Lao sold him a similar idea as the Pearl River Delta was already a catchment of sorts. "It was only two hours by car from Zhuhai all the way to Guangzhou. But now, it's even shorter."
In January 2004, he invited Lao to join his team, telling the CAM Chairman that this was one of his conditions in setting up AirAsia in Macao. She joined on 8 March and by July 2004, AirAsia had its first flight from Macao.
A high-pressure introduction
When she started her job as Country Manager at AirAsia, Lao was the only one on her team. With less than four months to set up before the target date AirAsia set to launch their first flight from Macao, she was working 24/7.
In her first month, she was posted at their Malaysian headquarter to gain a better understanding of their business model, since most people were still not very familiar with what low-cost carriers (LCC) were in 2004. "All the airlines that came to Macao then were still full-service carriers," she says. "I needed to learn what the differences are between low-cost and full-service carriers as well."
She returned to Macao and got right to work. "At the time, I worked from home and in my car." She was given two additional people for her team only after their first flight.
"That was only the beginning actually, and it's not the most painful stage." Because after they set up their operations in Macao, the team started preparing for their launch in Mainland China, which required Lao and her EVP from Malaysia to visit each airport one by one. Her time at CAM proved useful, though, as she drew on contacts all over China.
Early on, she recognised that there was a market mismatch: the LCC model relies on internet bookings and online payments, and at the time, people in China had a general distrust of online transactions. Their workaround – a call centre in Xiamen for Chinese passengers to call in and make a booking – proved to be a really slow process. "We give them a PNR [passenger name record] number and the amount, we hold the booking, they bank in the money to us, and then fax us. We confirm the money was received, then we confirm the booking."
The high cost of the call centre coupled with low demand made the Xiamen model unsustainable, though, closing after just three years.
The team turned their attention toward other airports, including Shenzhen Bao'an International Airport and the new Guangzhou Baiyun International Airport, opened in 2004 with increased capacity. "When they get huge, they need airlines to join." They tried very hard to convince both the airport and the Civil Aviation Administration of China (CAAC) to allow AirAsia into both airports, as well as Beijing, Shanghai and many other airports later on.
The team was able to show that their LCC model, rather than creating disruption, would open up a completely different demographic: the untapped middle to lower class. "At that time, travel was a luxury and not all the people could afford it. But with the LCC model, everyone can fly. You can stimulate new markets and let Chinese travel overseas."
Outside the office
When she was still single, Lao loved travelling and dancing, having joined many performance dance groups: ballet, Chinese folk dance, and even ballroom dancing. Now with work and a family, she doesn't have much time for dance anymore but still meets up with her old dance friends as often as they can.
Lao used to travel a lot when her children were much younger, for both work and leisure. She often found it difficult to explain to them where she went when they asked her. "It's very abstract." So, she started showing them the map and pointing out where Macao was in relation to where she was heading. "I also showed them pictures on the internet, where our office is and our hotel." During school holidays, she would take them to all these places, exposing her children early on to travel.
Her work travel has dialled back in recent years ⁠— she used to travel to Mainland China every week to build their network there from the ground up to their present 500 or so weekly flights. While she still attends their management meetings in either Kuala Lumpur or Bangkok once a month, her main responsibility is for the Hong Kong and Macao markets. "I try to finish all the meetings and move them a bit earlier so I can come back the same day."
With three children — two girls and one boy, aged 12, 10, and 8 — she showed them the office to expose them to what she does for a living. "It's good to show them what a workplace is like."
And when they complain about homework, she simply tells them that she has it too, because it is part of life. "Knowledge needs to accumulate; doing homework helps you to strengthen what you have learnt at school." She tells them that what you learned at school now may not apply exactly with what you do in future, but it will definitely bring benefits with some basic knowledge and skills learnt, like PowerPoint presentations.
They have a custom of practising their presentations at home with one another, including Lao herself. When she presents, she encourages them to ask questions to develop their critical thinking.
"People say having kids is a burden," Lao remarks. "If you enjoy it, it's a different story." There certainly are tough times, but she generally enjoys having children. They teach her things like patience and give straightforward commentary on her mistakes that a colleague might never voice. They also act like a mirror: "This may not be immediate, but one day, they will do exactly what you've done to them."
Lao's own parents were passionate in everything they tackled, which greatly influences how she manages her career and her family life. She and her sisters saw how hardworking they were, never voicing any complaints.
Her dad always cared and supported them with whatever they chose to do, while her housewife mother helped foster a close relationship with her sisters. Lao credits her own parenting style to her mom and is quite glad that her children also share a close bond.
Her children have expressed a wish to study overseas. She and her husband plan to spend as much time with their eldest daughter before she moves away for university, but she still isn't certain if the family will settle down elsewhere as she still finds great enjoyment in her job. "We'll continue on this path for a while", with her husband supporting and respecting her decision.
An avid reader, Lao offers two book recommendations in relation to leadership: Michelle Obama's memoir "Becoming" and AirAsia Group CEO Tony Fernandes' own autobiography, "Flying High: My Story: From AirAsia to QPR." She finds the lessons in both books inspiring, especially on how people's dreams can be realised with persistence and resilience.
"If you want to get something done, you really need to work hard. There are no shortcuts in life. You need to devote a lot of work. It's painful, but the results when looking back is good. And life is short, right?" she reflects. "If you don't try something, you'll never know."