Augusto Nogueira's work in drug rehabilitation is not only saving families, it's changing the way society views addiction.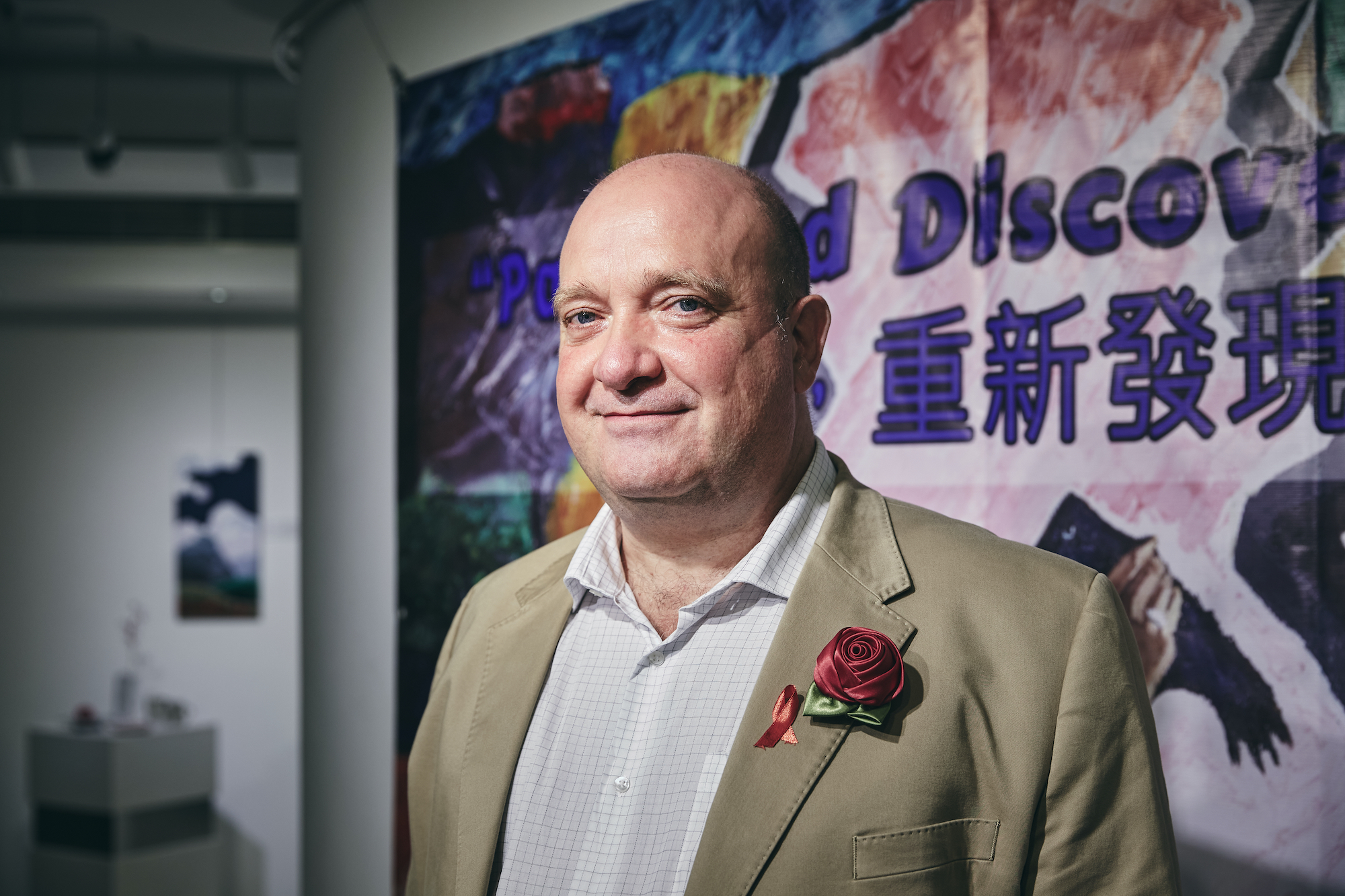 After more than two decades at the forefront of helping people with addictions in Macao, Augusto Nogueira remains driven by a simple, yet powerful, value: compassion.
Born in Lisbon, Portugal, in 1968, Nogueira recalls a happy childhood and a tendency to be "kind of naughty in school". His father worked as an office clerk at a car company, while his mother took care of the house and three children.
During secondary school, Nogueira worked nights as an electrician at a tractor company, then later at Konica Minolta, a Japanese technology company, before being drafted into the Portuguese military in 1989, at the age of 21.
"It was kind of boring, but mandatory," he recalls of the experience, which lasted exactly "13 months and nine days". Nogueira began his military training t in Setubal, greater Lisbon, before moving to a Military Hospital in Lisbon, where he worked as an electrician. "You learn about ways to survive in a war, but also things about how to survive by yourself."
After military service, Nogueira returned to his work as an electrician at Konica Minolta while simultaneously selling timeshare arrangements for properties around the country – a side gig he had started in the military.
Around this time, Nogueira lost his way. The young man, then 24, started using drugs, during a challenging period that "lasted long enough to change the course of my life."
Though Nogueira prefers not to recount the details, he says the experience from that time in his life shaped his worldview and established values of empathy and understanding that he brings to the work he does today.
"I think it's not important to know what kind of drugs I used, but more important that drugs can can lead to addiction and we fall into a spiral of self-destruction that will change our way of living, our future, our dreams, our families, our stigma, our self love and the course of our life," he reflects.
Drugs can can lead to addiction and we fall into a spiral of self-destruction that will change our way of living.
That same year, he entered the SER Association drug rehabilitation centre, after his parents gave him an ultimatum: If he wanted to continue living with them, he had to get clean.
Nogueira spent eight months in the SER Association's in-patient programme. "It was a good experience – we were living in a community where everyone helped each other with duties, such as washing our clothes, taking care of the farm, [in addition to attending] all the meetings, counselling sessions… it was a very natural way of life."
However, rehabilitation was not easy. "We had to be very strong and overcome [tough] situations," he recalls. But. the experience gave him the confidence "to adapt to any circumstances in life."
The presence of a childhood friend at the centre, who was also undergoing treatment, gave Nogueira the motivation to push through the darkest times. "He was my anchor. I thought, 'If he can manage, I can manage.' He gave me the strength not to quit."
Nogueira was eight months into his treatment when SER announced that it was looking for volunteers to help open new centres in Macao and Hong Kong. Nogueira didn't hesitate. "I was struggling a bit and needed extra motivation, an extra challenge. At that time, I didn't want to live, and I thought 'I'm not ready to go back to society'.'"
Starting Fresh in Asia
In 1994 Nogueira landed in Hong Kong, where he joined the SER Oriente centre on Lantau Island. The obstacles came fast. First, there were language barriers, since he spoke little English and zero Chinese. The organisation also had to drum up its own funding.
"We had no funding from the government, or from anyone, so we had to go out and ask for donations," he recalls.
In those early days, the volunteers constructed the centre, integrated newcomers, cooked and gardened – creating their own community. At the end of the year, SER Oriente opened a sister centre in Macao, where Nogueira helped with fundraising and educational events to raise awareness about drug addiction, prevention and rehabilitation. "We organised activities, including concerts and prevention campaigns in schools," he says.
After the 1999 Macao handover of administration back to mainland China in the association changed its name from "Ser Oriente" to ARTM – Association of Rehabilitation of Drug Abusers of Macau (Associação de Reabilitação de Toxicodependentes de Macau) and moved to a larger premises in Coloane. ARTM would remain there until 2016, at which point the organisation relocated to their current address in Ka Ho, also in Coloane.
A Changing Landscape
Since 2000, ARTM has seen many shifts when it comes to drug use in Macao. Overall, the total number of people treated for drug abuse in Macao has decreased from 345 in 2006 to 296 in 2019, according to Macao's Social Welfare Bureau.
The drug variety has also shifted. When Nogueira started working in the city back in 1994, the organisation focused its efforts on variants of opioids, such as heroin. Today, opioids account for 62 per cent of cases, down from 84 per cent in 2006.
Nogueira says that's partly because younger drug users tend to choose methamphetamine, cannabis, cocaine and new psychoactive substances (NPS). Though they are less addictive, NPS can be very destructive to the central nervous system and cause kidney damage, amongst other concerns.
To date, approximately 600 people have been through ARTM's centre in Macao, which offers a mix of short- and long-term detoxification and rehabilitation programmes to combat all types of addictions, from drugs to gambling to alcohol.
Taking a people-first approach, ARTM complement its treatments with community-oriented activities, as well as self-development tools and family support – all aimed to help individuals reintegrate into society. The association also provides rapid HIV testing, workshops, counselling, medical support, and more.
Nogueira says a non-judgemental, open and welcoming space is key to creating safer conditions for everyone. "We don't force people to have counselling, or to stop using drugs. But we are there if they need [us]," he says. "My colleagues are very gentle with people – they don't want to scare them off. We want people to feel comfortable, like there is a safe space for them."
Of the various initiatives, a particular point of pride for Nogueira is ARTM's needle exchange programme. "In 2004 there was a big increase in HIV numbers among people taking drugs in Macao. There were around 14 to 16 people infected that year with HIV," he recalls. The government created an AIDS commission and, after many years of research and development, the needle exchange programme began in 2008.
"Don't share needles, that's the most important thing," he says of their approach. "This year [2020] marks the fifth consecutive year with zero new HIV infections among people who inject drugs," he proudly shares.
Celebrating 20 Years
This year, 2020, marks the 20th anniversary of ARTM, and has several new initiatives in the pipeline. For example, ARTM is in the process of launching a cafe and an art gallery in Ka Ho, not far from its treatment centre at the former leprosarium.
Designed to employ people in the programme, the cafe and gallery will teach useful skills such as cooking, maintenance, setting up and dismantling art exhibits, and gallery management. The hope, says Nogueira, is to help people ease back into society and make it easier to find jobs. "We hope to cooperate with local industries," he adds.
Taking place in December, the first exhibition will be a cooperation with the National Narcotics Commission of China, where ARMT will showcase more than 50 pieces of art made in treatment centres in mainland China.
"We also hope to have an exhibition with artwork donated by local artists," he says, of future plans. "We are open to local young artists – we know that local galleries are full, or are only working with established artists, so we want to make this available to new artists."
After many years dedicated to tackling drug addiction and recovery in Macao, Nogueria says he has learned a lot about himself, and humanity, in the process. And throughout it all – from his own days battling a drug addiction to working on the front lines to help others – he has been guided by a strong conviction that we must have "compassion for others", offering love and support, rather than judgement.
"Most of the time [people who use drugs] are judged – they are stigmatised," he continues. "If we all could have a better respect for each other and understand that we are human beings, not perfect machines, then the world will be a better place to live, society will be more understanding, people will have more opportunities and less relapses will happen."