Hailing from a small farming community in Washington, a state in the US Pacific Northwest, Alyson Lundstrom was raised in a tight-knit community that revolved around the environment. People focused on the seasons, rainfalls, harvests, natural resources and only the freshest produce – it was an environmentally conscious atmosphere that she eventually managed to emulate at The Blissful Carrot, her plant based cafe and community space in Taipa. 
Born in 1979, Lundstrom's mother wore several hats as a homemaker, baker, bail bond agent and nursing home manager, among other roles. Lundstrom, who finds it easy to switch gears in life, attributes her flexible and curious spirit to her mother.
Her father was an entrepreneur and, as the owners of a dry-cleaning business, the family was at the centre of the community. "Everybody would bring their school, mascot, police uniforms; there were always wedding dresses around, so it was actually a kind of magical place," Lundstrom recalls.
A shy and introverted child, Lundstrom always felt a strong connection to animals and nature. It was only in 1998 when she went to university in Bellingham in Washington state that she met other people who were "nerdly passionate" about the environment. At Huxley College of the Environment at Western Washington University, one of the earliest environmental colleges in the US, Lundstrom majored in biology, spending a year in England, studying marine biology at the University of Plymouth in 2000.
When she returned to Western Washington University in the US, she brought with her a newfound confidence and enthusiasm for international experiences and the scope of marine biology. She then stumbled upon a campus flyer advertising an internship to study sea turtles in Hawai'i Volcanoes National Park, in 2002 which would mark the first of several opportunities to research and protect the marine animals. 
In Hawai'i, Lundstrom worked with the US National Park Service service on a biotech programme for six months. As part of the programme, the then-23-year-old flew via helicopter to far-flung beaches and conducted sea turtle nesting surveys. 
"It was just the best – I got to see these baby sea turtles, and it just felt wild," she recalls. "A group of us would set up a camp, go out every night on these black sand beaches, and sometimes wear infrared red glasses and watch for hatchlings. It was super exciting." 
Lundstrom graduated with a degree in Environmental Science and a minor in Marine Ecology in 2003, then moved to Texas for her first full-time job. As a biological technician with the National Parks Service, she worked on sea turtle hatcheries and volunteered to rescue and rehabilitate stranded wildlife on Padre Island National Seashore, along the Gulf of Mexico.
After two years on the job, Lundstrom set her eyes on Florida where she would have a chance to study loggerhead sea turtles. While working with the Conservancy of SouthWest Florida for a year in 2004, she helped master's students research loggerheads in the mangroves before deciding it was time for a desk job. 
But office life didn't last long – just a year, in fact. She worked as a stranding coordinator (rescuing and rehabilitating wildlife) at the Florida Fish and Wildlife Conservation Commission. Half the job was data entry, and the other half involved picking up stranded dead animals including whales, sharks and sea turtles. She would bring them to the lab to research the cause of death and conditions in the sea, evidenced by plastic bags, fishing gear and even disposable cameras found inside the animals' bodies. 
"I had to drive for hours with whole truck-beds loaded with frozen animals that were thawing out quickly in the Florida sun," she says. "When I stopped at gas stations, people would look around because of the smell. But I didn't smell it anymore; I was used to it."
Ready to get back into the field, Lundstrom packed up and moved to St Croix in the US Virgin Islands in 2005 to work for The Nature Conservancy on the conservation of two endangered species, hawksbill and leatherback sea turtles. 
It was on a scuba diving break in the islands that she met her future husband, Chris Lundstrom, the dive shop manager, who she married in 2009. After getting married, Lundstrom continued her work with The Nature Conservancy and also started a sailing company with her husband. 
The couple then settled on St Thomas Island, where Lundstrom began working with sea lions. For the next two years, she learned about animal husbandry and medical care, eventually becoming certified as a veterinary technician. 
Then came a call in 2011. Lundstrom was on duty at the hospital when Chris rang with some news: A show in China was looking for underwater technicians like him. Would she be willing to move there? 
"At the time I had just been bitten by a big iguana and was holding a puppy who had diarrhea and it was running all over me. I said OK, and hung up." Two weeks later they moved to Macao when Chris accepted a position as a diver technician on The House of Dancing Water.
Soon after arriving in the city, Lundstrom met a kindred spirit in fellow American Marisa Randles. Passionate about the environment, Randles was also married to a House of Dancing Water staff member, so the two women had plenty in common. They quickly became inseparable, taking trips to Hong Kong to buy organic vegetables and dine at plant-based restaurants. These trips sparked a new business idea that would eventually take shape, but not for a few years yet.  
During those first three years in Macao, Lundstrom immersed herself in the local community by teaching English and Culture at Emile Montessori Education. "Right off the bat, I was in a school where not a single other person spoke English – not a parent, a teacher, or a kid," she recalls. "So it really threw me into [local] culture, and I think it was really important to approach Macao that way."
It also shifted Lundstrom's view of food, waste, and the environment. "I spent a giant portion of my life studying animals and endangered species, but it really took coming here to make that connection between my diet, consumer choices and all the other things I cared about," she says. 
That's when she realised that The House of Dancing Water was the perfect opportunity to offer sustainable dining options to the show's 300 health-conscious staff – half of whom need to maintain their physique and fitness for performances. They came to an agreement with management, then started delivering stacks of Tupperware with plant-based food to the stage door every day.
The informal arrangement lasted a year, during which Lundstrom continued to teach. In 2014, Lundstrom welcomed a son, and that same year Randles signed the lease on a space in Taipa to establish plant-based eatery The Blissful Carrot. Though she stopped short of taking on a formal role, since she still had an infant to care for, Lundstrom helped Randles open the business, source supplies and set up the cafe.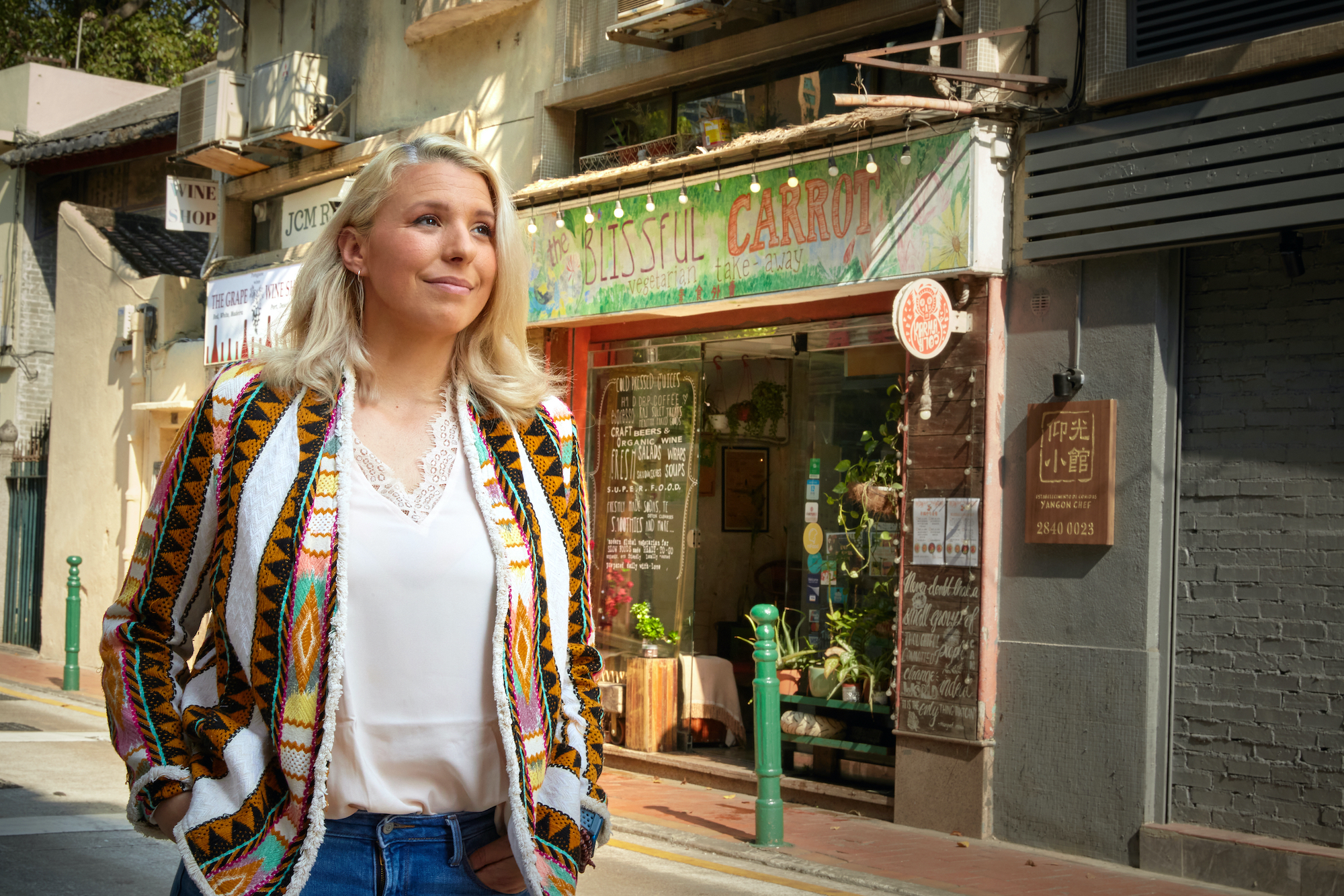 Meanwhile, Randles and her husband Aaron took care of the everyday management, hiring and design – upcycling discarded pieces of wood to create an inviting, eco-friendly space. Come opening day, on 27 April 2014, hundreds of performers, crew members and other staff from The House of Dancing Water showed up to support them. "Looking back, it melts my heart," says Lundstrom. 
When the cafe's plant-based chef resigned unexpectedly, Lundstrom stepped into the role of baker, making raw vegan desserts. And after two years helping part-time, she officially came on board as a business partner in 2016. 
The following year, The Blissful Carrot launched a range of fermented foods, including vegan cheeses, vegan yoghurt, sauerkraut, kimchi and a particularly successful kombucha brand that other stores began carrying. 
In 2018, Randles moved to Mexico and Lundstrom took up the reins as sole  owner. Today, she incorporates her scientific background into the menu, exploring microbes (tiny living organisms) and creating new styles of plant-based foods. 
"We're making carrot bacon right now," she cites as an example. "We're not trying to make vegetarians out of everybody, but we are trying to give people really tasty solutions so maybe they can avoid meat one day a week, one meal a day, whatever it is."  She also hopes to raise awareness about environmental issues and sustainable business models in Macao. Growing up in Washington State, Lundstrom understood concepts like environmentalism and sustainability from a young age. And here in Macao, she feels there is room for improvement, particularly when it comes to early education.  
"We're not trying to make vegetarians out of everybody, we are trying to give people tasty solutions so maybe they can avoid meat one day a week, one meal a day, whatever it is."
Alyson Lundstrom
"We're raising these kids and sending them out into the world – if they don't have a deep respect for their food resources, local community, and natural resources here in Macao, why would we expect them to have it anywhere else?" she says.
"I'd love to see support for startups that are trying to bring innovative solutions for sustainability and food security to Macao. Scholarships, university programs, grants, subsidies – they would all help to encourage the youth coming up through the education system to pursue solutions in these areas. I'd also love to see it be compulsory that every school has a food lab and access to a garden."
Lundstrom also plans to continue running programmes on composting and worm farms with The International School of Macao, create TEDx style talks, and organise panels to discuss timely topics, such as the pathway to carbon neutrality and how to reduce Macao's dependence on imported food. At the same time, The Blissful Carrot will continue to support local entrepreneurs and show people how to operate a sustainable business, she says. 
"The most impactful way I feel I can participate is by continuing to offer plant-based choices at our shop, and spending time in schools, weekend workshops and summer programmes," says Lundstrom. "[These efforts will help] raise the next generation of earth- and food-literacy advocates, alongside other like-minded socially conscious businesses."