Alice Tsang's nursing career has taken her around the world and to the heights of her profession.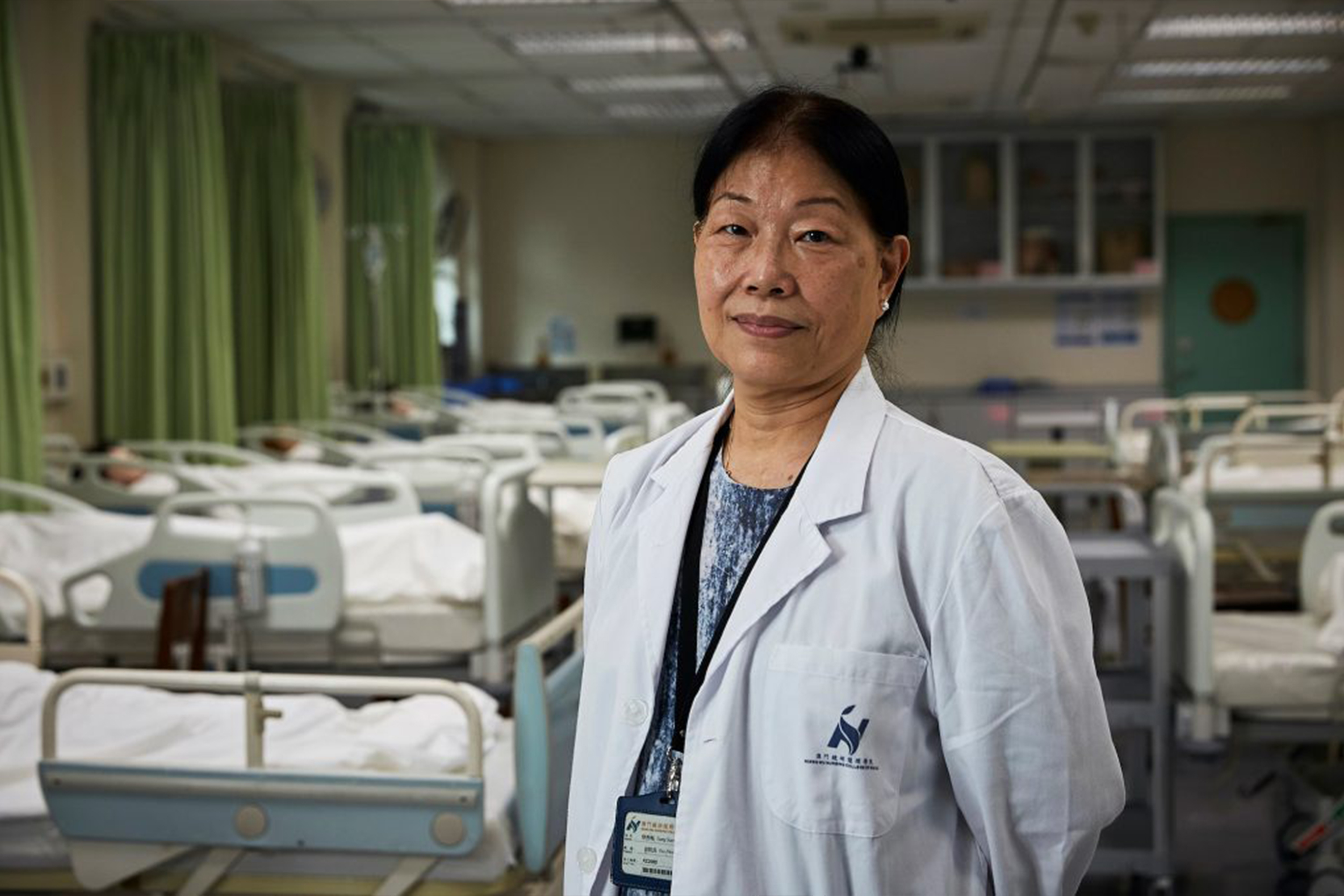 "All the opportunities in my life came because I was in the right place at the right time," says Alice Tsang Sau Mui. As the Vice-President (Academic) and Associate Professor of the Kiang Wu Nursing College of Macau, Tsang has led a wide-ranging nursing career that took her around the world, from Hong Kong to the UK, Australia, mainland China and Macao. 
Born on 11 January 1954, Tsang grew up in a middle-class family in Hong Kong with two brothers and a sister. Both of her parents worked full-time: her father as an administrator at a department store; her mother, a shopkeeper. 
Beginning in 1968, she attended secondary education at the New Method College on Hong Kong Island (which eventually closed in 2012). When it came to choosing a career, Tsang says she didn't pursue nursing for "any particular reason". 
It was a fundamentally practical choice, she says. In the 1960s and early '70s, there weren't many professional options for women in Hong Kong. The list was short, she recalls, rattling off four choices: office worker, clerk, teacher or nurse. 
"In the '50s, women worked in factories, and the importance of women's education only came in the '60s," she explains. "I was fortunate to grow up just as education in Hong Kong started to even out between men and women."
"From the limited choices, I took up nursing because the government had started to increase hospital capacity around the time I finished high school, so they were recruiting more students to train." 
"I was fortunate to grow up just as education in Hong Kong started to even out between men and women."
In 1974, when Tsang began her nursing studies at Queen Mary Hospital. "I was not particularly keen at the start," she admits, "but the training changed me quite a bit – I learned to be more active and independent." 
When Tsang became a registered nurse in 1977 and completed her nursing training in 1978, "the road was set", she says. And just like that, she became the first and only person in her family to pursue healthcare.  
Tsang immediately started working as a staff nurse at Queen Mary Hospital while continuing her studies — the young nurse was keen to learn as much as possible within the medical field. She hoped to become a midwife. Due to the limited slots available in the government's training programme, however, she had to look outside of Hong Kong for the experience. 
As a state-registered nurse trained in English, Tsang could work in the UK as well. So she quit her job at Queen Mary in 1978 and moved to the UK to work and train as a midwife at Marston Green Maternity Hospital in Birmingham. 
Always open to new experiences, she joined a friend – a nurse stationed at a Vietnamese refugee camp in Staffordshire – to volunteer in late 1979. She ended up staying on for three months to work as the camp's nurse. 
"The camp was quite big, with around 150 or more people," Tsang says. "My role was to attend to any emergencies, conduct medical follow-ups, and help with translation since most of the refugees were Chinese-Vietnamese, and I could speak Cantonese."
After taking a specialty course in cardiothoracic nursing at the East Birmingham Hospital  in 1980, Tsang returned to Hong Kong and focused on cardiothoracic intensive care at Grantham Hospital in Aberdeen, Hong Kong. She worked there for eight years, from 1980 to 1988, then moved to Australia. She worked as a nurse specialist in the coronary care unit and pursued her academic studies, graduating with a Bachelor in Applied Sciences (Nursing) in 1990.
While working at the Royal North Shore Hospital in Sydney, Tsang simultaneously completed the bachelor programme at the Sydney University in 1990. She then pursued a part-time master's degree in Health Administration at the New South Wales University, while still working at the hospital. 
Having studied in western countries, Tsang observed how nursing differs from one culture to another, especially when it comes to bedside manner and nurses' relationships with patients. "It depends on the situation. There are definitely differences in practices, cultures, expectations and nurse-patient relationships," she says. "For instance, nurses in Hong Kong are comparatively more respected than in Macao and mainland China. As for the UK and Australia, they are similar [to Hong Kong] and more respected." 
She moved back to Hong Kong in 1992 to be with her sister, who had been diagnosed with cancer. Around this same time, The Hong Kong Polytechnic University (PolyU) offered her an Assistant Professor position, where she instructed various courses in the school's nursing programmes for both undergraduate and master's students. 
Tsang's sister died of cancer four years later, in 1996. Tsang remained at her full-time teaching position at PolyU and also served as President of the College of Nursing Hong Kong. At the same time, she pursued a PhD in Nursing online from the Queensland University of Technology, which she completed in 2002. Tsang continued at PolyU but shifted her focus toward training nurses for leadership and management positions. With the college being a member of the International Council of Nurses, she also got involved with the international nursing community, which opened more doors for her.   
She remained in her position at PolyU until 2010 when she moved to mainland China for a job at the Beijing New Century International Children's Hospital. As the nursing director for the private pediatric centre, Tsang was responsible for training nursing staff. When it comes to nursing education, she believes nursing students best learn through experience in the field. By shadowing doctors and working directly with patients, they absorb practical skills and cultivate a profound sense of responsibility – something books and university laboratories alone cannot provide. 
"It was a very different environment, and there were expectations that I could not comply with, so I left in 2012," she says.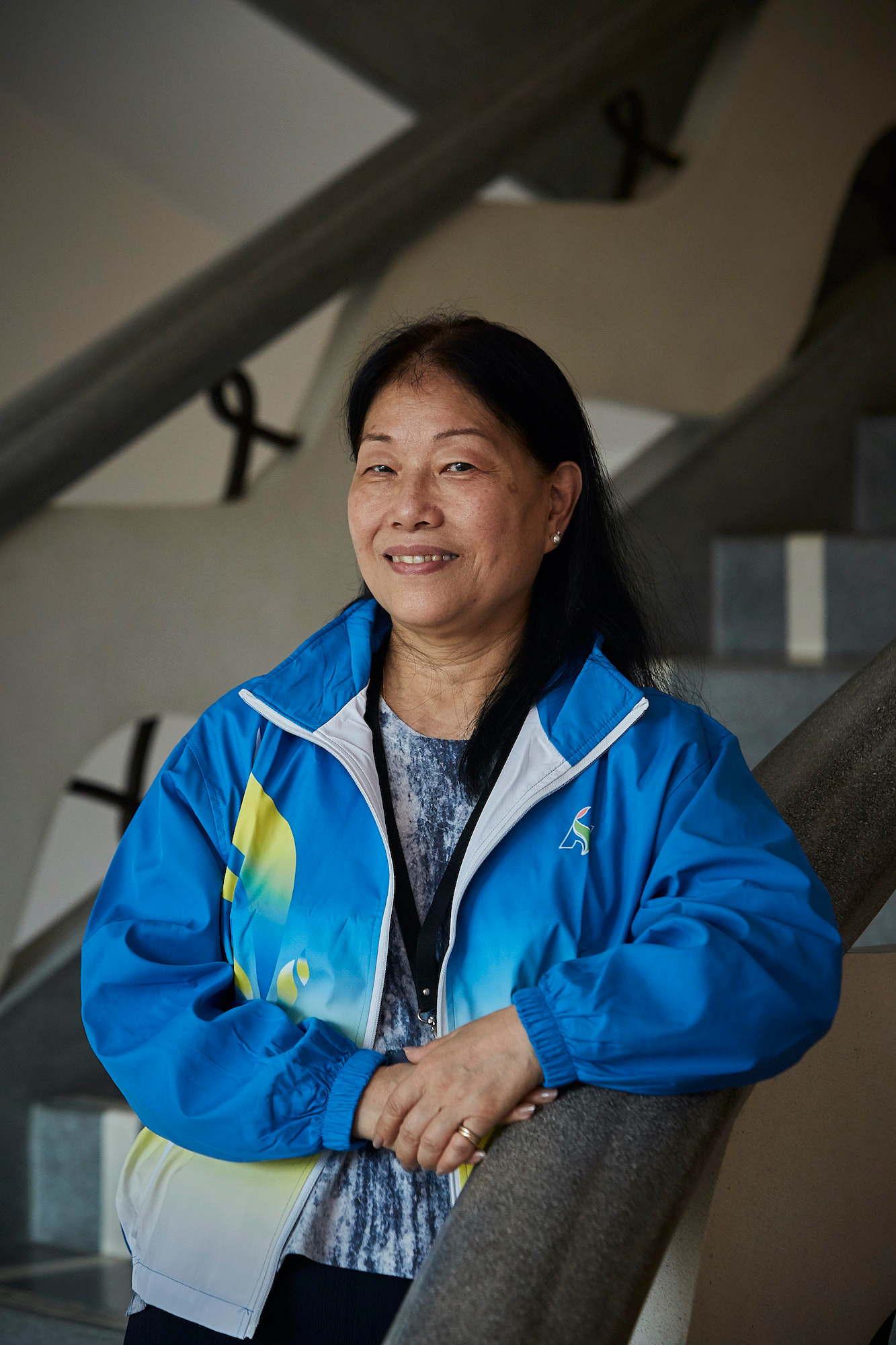 Tsang returned to Hong Kong at the age of 58, intending to retire. But after just a few months, she grew restless and bored. Tsang reached out to the Kiang Wu Nursing College of Macau about a part-time role as a nursing teacher, splitting her time between Macao and Hong Kong. She joined the college in 2012, then moved to Macao and started working full-time in 2016 as the Vice-President of Academics and an associate professor. 
These days, Tsang no longer works directly with students but instead focuses on course planning, curriculum design and research. In her research, Tsang tackles all aspects of healthcare, from government policies to medical leadership, job satisfaction among nurses, and career development pathways. 
With a front-row seat to an ever-changing industry, Tsang says she's watching the nursing industry evolve, not just in Macao but all over the world. Today, nurses are needed in hospitals, she says, as well as casinos, hotels, schools, airports and various other industries. 
"Nursing manpower is in shortage globally, no matter where you are," says Tsang, noting the global pandemic has only exacerbated the issue. In Macao, like other countries, she says the next big challenge after Covid-19 will be caring for the city's rapidly ageing population. Currently, there is roughly one nurse to every 250 patients in Macao, which is significantly lower than Hong Kong's average of one nurse to every 10 patients.
"We need more hands-on deck to care for our ageing population, so we're hoping to start more programmes for nurses and other healthcare professionals," she says. "Not only more students, but also experienced nursing professionals who can help train and educate the next generation. Overall, there is a nursing shortage worldwide."