Alice Kok has been president of the Macao Art for All society since 2014 and this year was named executive director of the Script Road Literary Festival.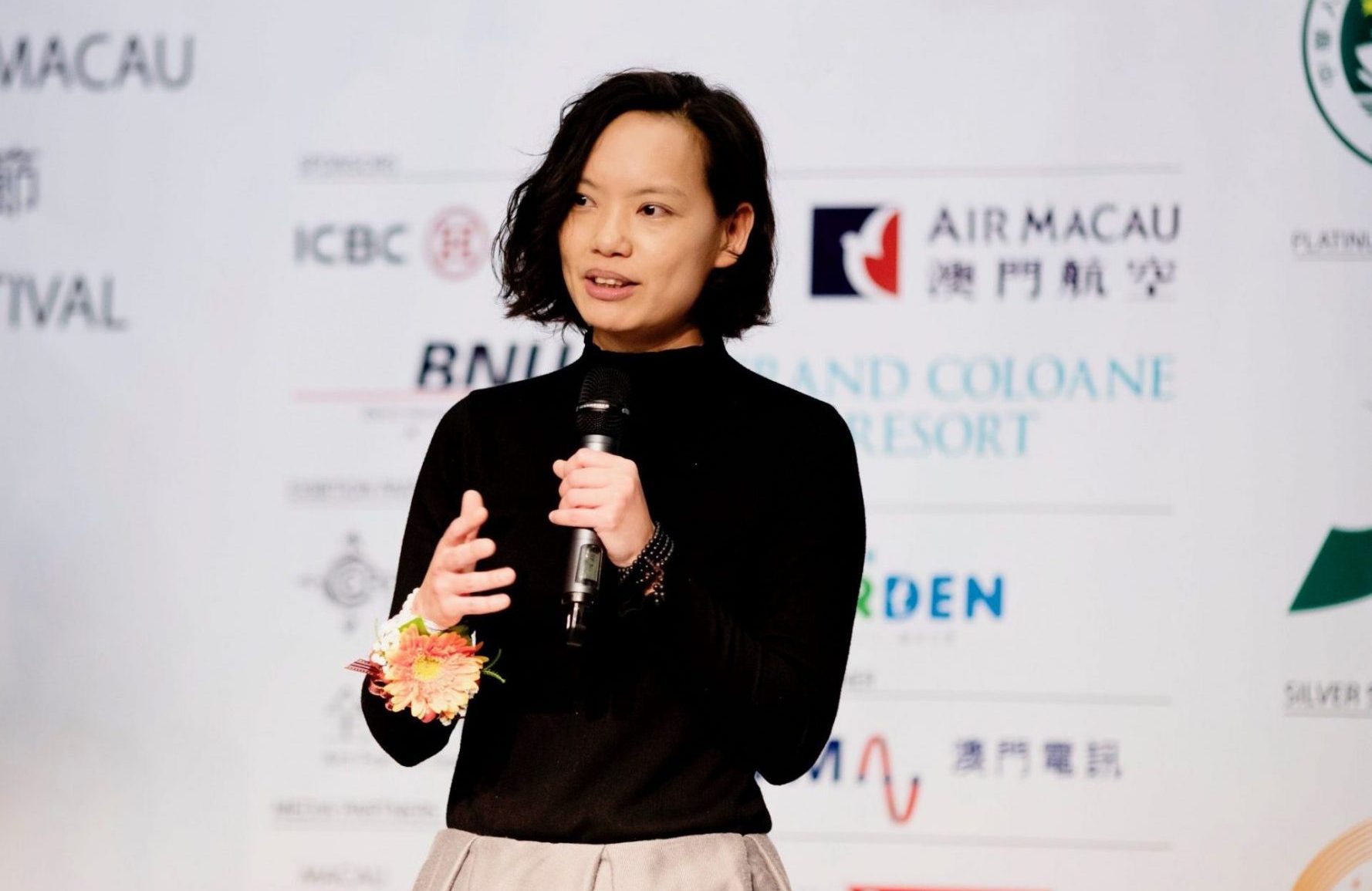 "I always wanted to be an artist, despite my mother warning me that this career wouldn't make me rich." Alice Kok, now a leading figure in the local art scene, admits that her mother's words were right. She is nevertheless happy about the course her life has taken.
Born in 1978 in Macao, Kok always had a strong affinity to art. It was always part of her life, though she originally viewed it as just a hobby. When she was young, it wasn't considered a 'serious' profession. Art was put on a back burner until she finished secondary school, even though drawing and photography were daily practices from an early age.
Her skills in drawing and mathematics led her to ponder a career in architecture, before love inspired her to re-focus her ambitions. A French boyfriend convinced her to follow her dream, and she did. Rather than going to England as originally planned, she decided to study in France.
Before leaving, she spent a year learning about visual communication at the Macao Polytechnic Institute. She moved to France in 1998 at the age of twenty, and pursued a bachelor's degree from 1999 to 2002 and a master's degree from the Toulouse School of Fine Arts in 2004.
Along the way, she spent a year at the New Academy of Fine Arts in Milan, Italy, under the Erasmus programme. "I didn't want to go back to Macao. After finishing the master's, I decided to head to Paris to see if I could make it as a professional artist. I stayed there for two years, working, and never considered returning to Macao," she recalls.
In the French capital, she was awarded an individual creative grant by DRAC Île-de-France, using it to produce the visual work "Karabic OK" (2006), whose theme was multiculturalism in the post-colonial period. She was especially interested in the subject because it reflected her own experience: having been born in Macao when it was still under Portuguese administration.
She decided to continue her research in that area and became interested in Tibet, leaving Paris in late 2006 to travel to that territory and to India. The project "Yet in Exile – Family Script" was completed after that trip.
The film was selected as one of the ten Asian award finalists at the Hong Kong Independent Film and Video Awards in 2009 and was screened at the Hong Kong Cultural Centre; it was also selected for the Gwangju Biennale in Korea in 2010. One year later, her project "Passing-Green Island" was chosen to represent Macao at the Venice Art Biennale in Italy.
It was only after travelling to India and Tibet that she decided to return to Macao. Besides wanting to be closer to her Buddhism teacher in Tibet, she felt it was time to make her mark as an artist.
"I realised that the artistic sector in France was very consolidated; it would be much harder for me to stake a claim there than in a system that was still being created," she explains, referring to Macao.
"And I have no regrets."
She began working as a curator in the territory in 2007, at the invitation of the local artist James Chu. Around the same time, she met Ricardo Pinto, director of Macao Closer magazine, who offered her work at the publication and she eventually became its editor.
Over the last ten years, she has taught at the University of Science and Technology, St Joseph's University, the University of Macao and the Macao Tourism Institute. She also regularly contributes to the newspaper Tai Chun Pou by writing and translating (she is fluent in English, French, Mandarin and Cantonese).
And, of course, she has continued her artistic work, which includes videos, photography, drawing, writing and installations. She has been president of the Macao Art for All society since 2014 and this year was named executive director of the Script Road Literary Festival.
In Macao, Alice Kok has had five solo exhibitions. The last one, "Emptiness is Form", was in 2018. Her visual work has also been screened three times, with the documentary "Ten for Perfection" shown at the Cinemateca in 2017.
"I didn't pursue the dream of being only an artist. But I consider myself lucky because even though I was never very aggressive about building a career, in the last ten years I've followed a diversified professional course. I do what I like".
And where she likes, as she continues to divide her personal and professional life between Macao and Tibet.