Agnes Lam is Assistant Dean of the Faculty of Social Sciences at the University of Macau. She is also a writer and a journalism scholar.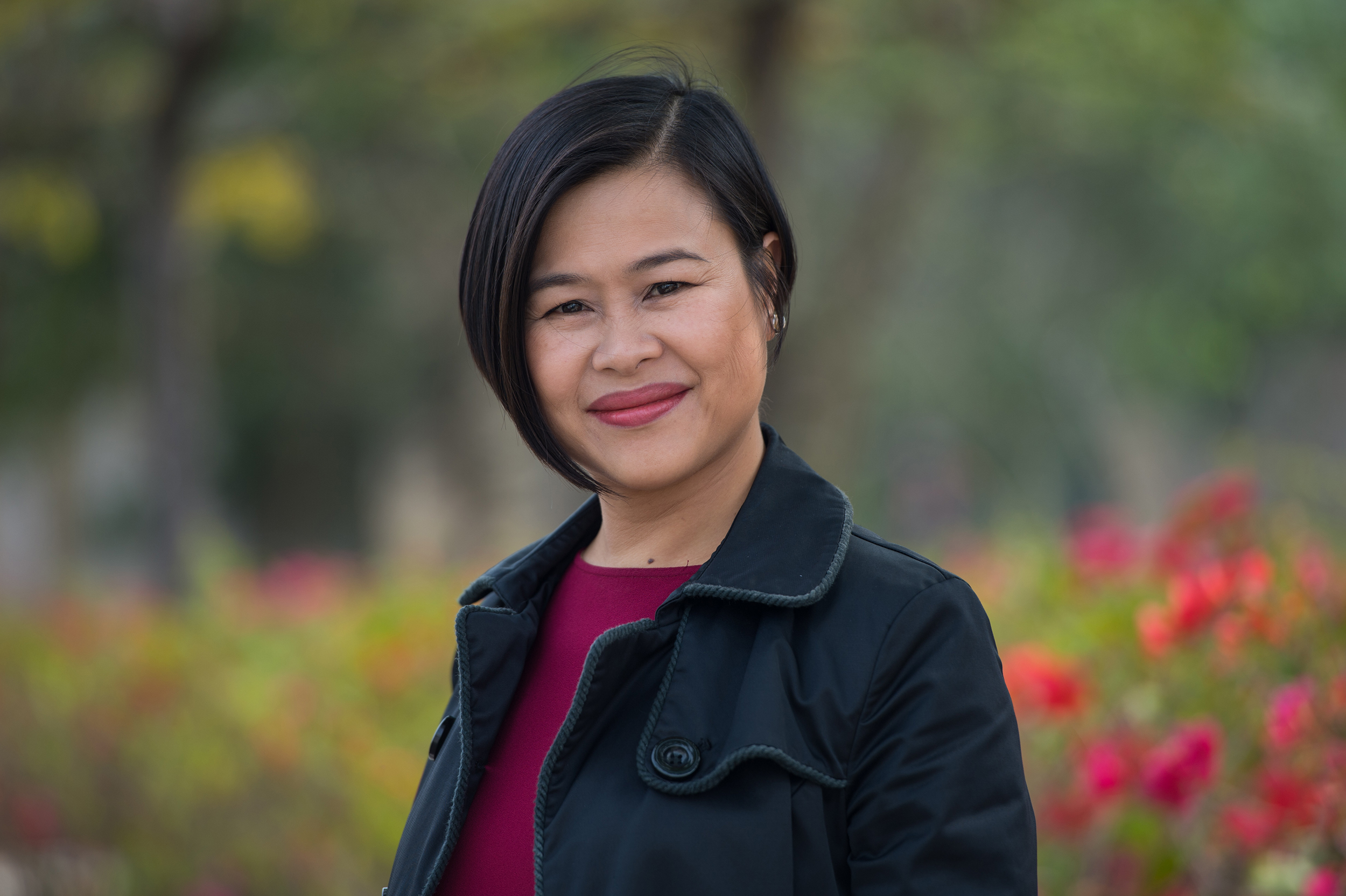 Agnes Lam is Assistant Dean of the Faculty of Social Sciences at the University of Macau. She is also a writer and a journalism scholar. The former straight-A student admits that she is "obsessively determined" when it comes to achieving her goals, which have always been rooted in her passion for education and research.
Born in Macao on 7 March 1972, Lam grew up with nine brothers and sisters. Her family endured a number of early hardships that remain vivid in her memory and shaped her life. "My grandpa was a victim of the Great Famine in China, and my parents fled to Macao in search of a better life. My father worked two jobs—construction by day and server at the Macau Labourers Club House by night. It took my parents two years to save enough money to buy a piece of farmland in Areia Preta."
To help out at home, Lam started working when she was just ten years old. "There was a factory on my way home from school that manufactured plastic flowers. I learned how to assemble them from the factory workers and took a big box of materials home. My sisters and I completed the task quickly, and the factory paid us MOP 72. I was so proud of contributing this source of income and earning my first barrels of gold!" Lam recalls with a laugh.
The year 1989 was a fateful one for China and Lam alike. At the height of China's democracy movement, Lam was among the thousands of people from Macao who took to the streets in support of students protesting in Tiananmen Square. The June Fourth Incident that followed gave her a new perspective. "I wanted to know the truth about these sorts of earth-shattering events, and I realised that being a journalist would allow me to obtain the information first-hand."
Lam's parents worked tirelessly to support their children through secondary school, but funding university education was beyond their means. However, she was determined to further her studies, and after much discussion, she convinced them to cover her tuition on the condition that she would pay for her siblings' education in the future. She thus matriculated to the University of Macau in 1991, where she got her undergraduate degree in Journalism.
Lam then joined local broadcaster Teledifusão de Macau (TDM) as an intern reporter in 1992, which turned into a full-time position in 1994. At TDM, she provided real-time coverage of various major events around town, including the opening of Macau Airport and the 1995 visit of Portugal's former president Mário Soares.
"I am grateful that I became a journalist in the decade before Macao's return to China. I believe it was one of the best eras for Macao's journalistic industry: we were nearing the turn of the century, people wanted to move forward, and there was so much societal freedom to explore all sorts of interesting issues."
TDM also provided a diverse work environment, exposing Lam to different cultures and ideas. This inspired her to further her education and broaden her horizons.
Lam completed both her master's degree as well as her PhD at Renmin University of China in Beijing, where she began a decade-long investigation into the history of journalism in China. Her master's thesis explored the development of Macao's newspaper industry following the launch of Portuguese newspaper Abelha da China in 1822, long regarded by scholars and historians as the first newspaper published in Macao and even China. Her advisor later encouraged her to expand upon her findings and probe deeper. "He asked me why the newspaper industry in Macao started with the publication of Abelha da China in 1822 and not earlier when the Portuguese actually first set foot in Macao during the 16th century," she recalls. "This question continued to reverberate in my head, and I became determined to answer it with my doctoral dissertation."
In 1997, Lam made a major career change, joining the faculty of the University of Macau's Department of Communication. "During my years as a journalist, I came to realise that it requires more than one generation's endeavours to make a difference in society. With the knowledge and experience I had gained, I believed I was ready to contribute to the next generation as a teacher." In addition to journalism and journalistic writing, Lam teaches courses on communication, public speaking and the history of the press.
She has also devoted herself to promoting a democratic society, running twice for a seat on the legislative assembly (in 1999 and 2003), and founding the Macau Civic Power in 2008, an organisation dedicated to maintaining democracy and the rule of law within society. In 2017, Lam ran for a seat in the legislative assembly for the third time and was successful.
On top of all this, Lam continues her abiding passion for historical research. Her most recent project, The Beginning of Modern Chinese Press History: Macao Press History 1557–1840, published in 2016, is an expansion of her doctoral dissertation and the culmination of a decade-long expedition that took her abroad on numerous research trips.
She attributes her emotional and intellectual love for Macao with fueling her determination to restore this part of the city's history. "I was born and raised in Macao, but I didn't know much about our past even after I had completed my bachelor's degree. It's a great pity that our history is so rich but not well preserved."
After a decade of combing through a veritable mountain of historical facts and documents, Lam was able to verify that Abelha da China was actually preceded by many other publications, including a Chinese newspaper published in Macao by Robert Morrison, one of the earliest Protestant missionaries in China. Her findings have redefined the origins of China's modern newspaper industry.
A celebrated writer in Macao's literary circle, Lam holds a record for penning seven separate news columns simultaneously. She draws upon her favourite literary work, The Name of the Rose, Umberto Eco's 1980 debut novel, which has greatly inspired her in the art of composing compelling prose around a historical narrative.
Looking ahead, Lam plans on forging on as a teacher and researcher for good. "The research is a personal commitment to myself, but teaching is really about helping people find hope in life. I feel especially fulfilled when I see my students moving towards their goals and thriving."