These Macao creatives are changing the way the city views toys
These Macao creatives are changing the way the city views toys

Link copied
Toys aren't just for children anymore. In Macao, designer toy brands Nativo and 50% Toy have set out to redefine toys with homegrown products and one-of-a-kind keepsakes.
No place inspires wonder like a toy store. Step inside Agong Toys, for example, a shop set in the basement of the nondescript Fabrica Va Nam building in Taipa, and you're transported to a new world.
Colourful action figures and dolls stand on shelves like soldiers frozen in time. They hold court over games, puzzles and electronic gadgets – a small population waiting to be switched on. Some of these items might remind you of your childhood. But increasingly toys are making many shoppers think of future value, too. 
Especially shoppers in the world's second-largest toy market, China, where a growing market of adults are looking for designer toys. Also called art toys, these collectible pieces – high-value objects created by small, independent companies and artists, often in limited editions – have become investments rather than playthings. They have grown so popular that the chaowan ("trendy toys") market in China was expected to be worth more than MOP 38 billion (US$5.9 billion) in 2021, the last year data was available.
Mainland China's art toy boom has also given Macao brands like Nativo and 50% Toy new opportunities to flex their creative muscles and produce items you won't find anywhere else.
"[Shoppers in China] love the fact that it's not mainstream. They can show it off to their friends, like, 'Look, I got this, and it doesn't look like anything else in stores,'" says Felipe Wong, co-founder of Nativo. "They're crazy about [art toys]."
The rise of Macao toys
While designer toys are having a moment, the demand for them dates back decades.
In the 1990s, artists and would-be toy designers like Brian Donnelly – the American better known as Kaws – started collaborating on commercial toys. In fact, Kaws' first toy, a product made in partnership with the Japanese clothing brand Bounty Hunter, came out in 1999.
By the early 2000s, designer toys began appearing widely across Asia. Those include Bearbrick, the red-hot pot-bellied bear figure made by the Japanese company MediCom, some of which can command as much as MOP 1.2 million (US$150,000) on the resale market.  
In Hong Kong, meanwhile, the man known as "the godfather of art toys", Michael Lau, released his influential Gardener vinyl toy series in 1999. Since then, his influence has spread across Greater China more than any other toy designer.
"We wanted to be like [Michael Lau]," says Siomeng Chan, co-founder of 50% Toy. "Because of him, art toys started to become famous in Asia."
In 2016, Chan started sketching prototypes for what would become the brand's first character: Dino, a slouching, hulking figure donning a yellow hooded jumpsuit. 
Four years later, he and business partner Kay Tung – good friends who met while studying graphic design at Macao Polytechnic University – finally followed Lau's footsteps. In 2020, they left their careers in graphic design and launched their brand.
For inspiration, Chan and Tung looked to their childhood, when they fell for cartoons and action figures like One Piece and Gundam. After some trial and error in the production process ("The most difficult thing is when you transform a face from a 2D sketch to a 3D product," Chan says), they finalised their Dino design and didn't look back.
Today, they sell 20-centimetre-tall, vinyl versions of the signature yellow Dino for MOP 800 (US$99) and unique, cardboard pop-up versions of it for MOP 110 (US$14). And they are working on a second character, Joyboy. The character is Tung's design, but it is also a byproduct of both designers' inner childs. 
As for the name, 50% Toy represents 50 per cent fun and 50 per cent professionalism. Despite keeping "a children's mindset", the pair have attracted a wide range of customers, ranging in age from between teens to late 40s. "We think [this mindset] is very important to making toys. We need to make it fun and joyful. But on the other side of this, we also put our professionalism into our toys – our graphic design and illustration skills," says Chan.  
Designing a toy is harder than just expressing your imagination, though. Chan says the process can be time-consuming. He starts with a sketch, either on paper or an iPad, and then revises and refines the design until the product is perfect. Then, it goes on to resellers in mainland China, Taiwan and beyond.
"Our biggest shop is called Monster Taipei, but also we have promos on our website, and we go to lots of toy expos in cities like Shenzhen, Guangzhou and Shanghai," says Chan. 50% Toy products are available in convenient places for travellers, like the Macao International Airport.
In the months ahead, they will be attending one major expo in Taiwan and another in Bangkok. These overseas shows give them a chance to highlight not just their work but also the potential of Macao's creative set.
"One of our ultimate goals is to collaborate someday with some world-famous brands, like Nike, Adidas or a luxury brand like Chanel," says Chan of their aspirations.
Redefining Macao souvenirs
While 50% Toy raises Macao's creative profile overseas, Nativo has tried to share stories and products that paint the city in a new, and increasingly colourful, light.
Since 2020, co-founders and husband-and-wife duo Felipe Wong and Anny Chong have tapped into their work as street artists and in marketing, for commercial toy brands to share a different narrative of the city, Chong's hometown.
"We don't want to use gimmicks like a picture of the Ruins of St Paul's on our toys. That's not art, but a souvenir," says Chong.
Their range of designer toys instead speaks to their own style, with references to Chinese traditions like calligraphy and feng shui. For example, the MJ Espectro, a chrome-plated resin version of MoeJoe – a colourful canine inspired by their own dog, Macho – is described as "the portrait of that natural flow of things that brings us peace and balance". But the bulk of their unconventional toys reflect street culture. 
Characters like G-Blaster EIA – a Bearbrick-meets-hip-hop vinyl toy donning Nike Air Force 1s, which retails for MOP 1,333 (US$165) – and soft vinyl MoeJoe figures (MOP 80; US$10) evoke the imagery of graffiti art with edgy colour schemes and cartoonishly round shapes. These reveal a different side of the city – one Chong and Wong are proud to represent. 
"We are very influenced by hip-hop culture," explains Wong, a Costa Rican who has been based in Asia since 2009. "The b-boys [breakdancers], the DJs, the rappers all have their own way to create art, their way to create style, their way to compete. When we paint, we call it a jam, just like musicians." 
But it took time to turn their jam sessions into collectible toys. The two have regularly worked together on wall murals under their alias AAFK over the past 10 years, including taking part in festivals like HK Walls. They have also worked together in a formal setting, in the marketing and advertising department for Dracco, a Hong Kong-based Danish toy company. In time, they developed a network and expertise in toy production.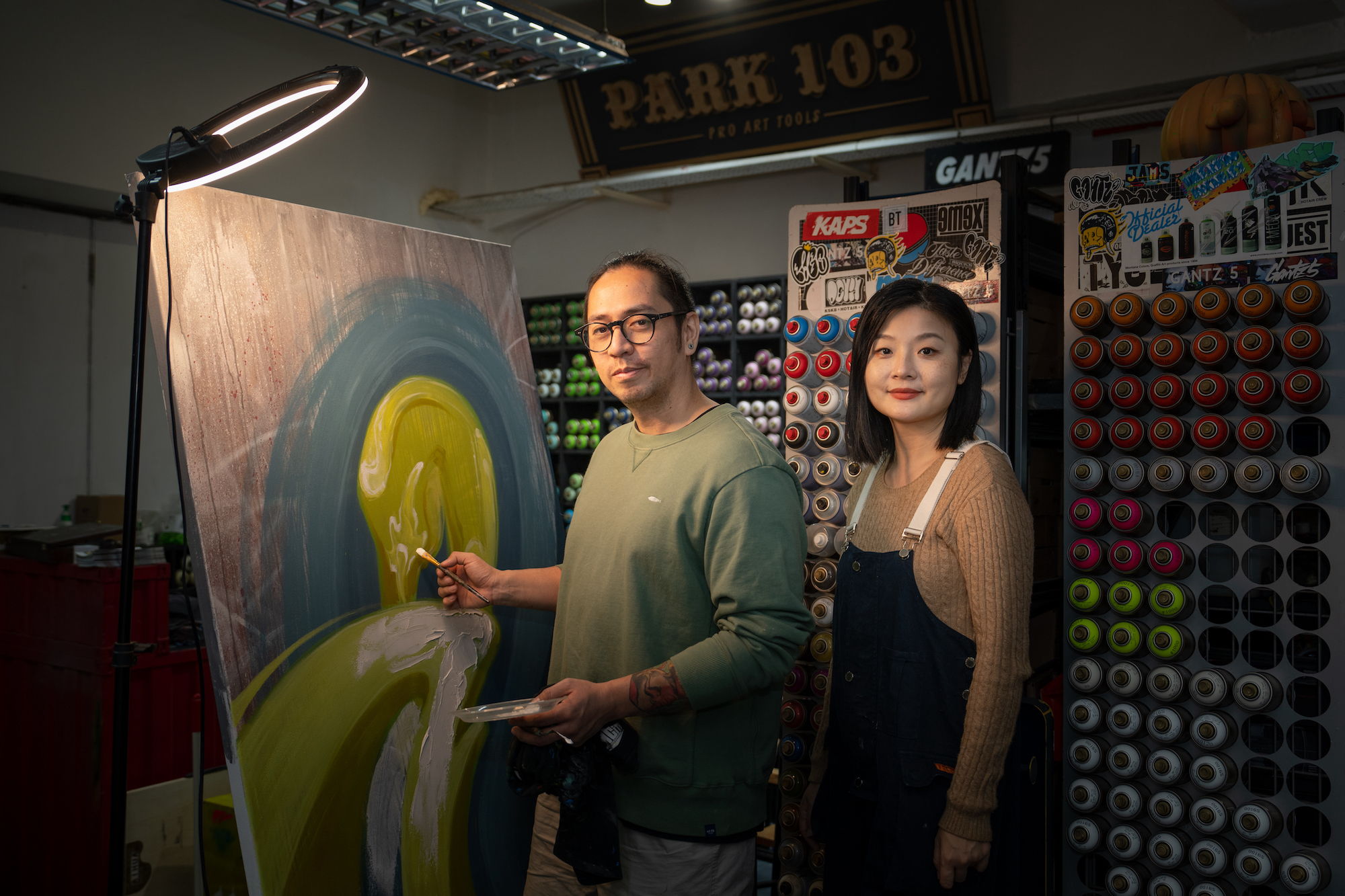 Finally, in 2020, they launched Nativo (which directly translates to "native" in Portuguese and Spanish), with a mission to connect people by representing their roots and telling stories through toys. Since then, their brand has pushed the Macao creative scene further into the city's collective consciousness. 
Chong and Wong developed the first Macao-made "blind boxes", or mystery packages with a surprise toy inside – a booming trend in mainland China – which are sold locally and internationally. They have also collaborated with artists across their global network on special designs, sending them a toy to customise and return, back and forth, like a long-distance, artistic tag team. 
"We believe that [the art toy scene] only grows if there's an exchange of creative ideas," says Chong. "You have these figures and then everybody composes their story on top of it. That interaction is what is the most interesting. How are you going to tell your story with this canvas?"
They have expanded on that mission by bringing other designers to Macao, too. In 2021, through their spinoff brand Toy Academy – a venture they are developing to support creators, exchange culture and knowledge and educate people about designer toys – they organised the city's first international art toy exhibition. Due to Macao's Covid-19 travel restrictions, art toy designers from as far away as Costa Rica, Argentina, Colombia and Scotland were not able to enter the city, so they shipped their toys instead.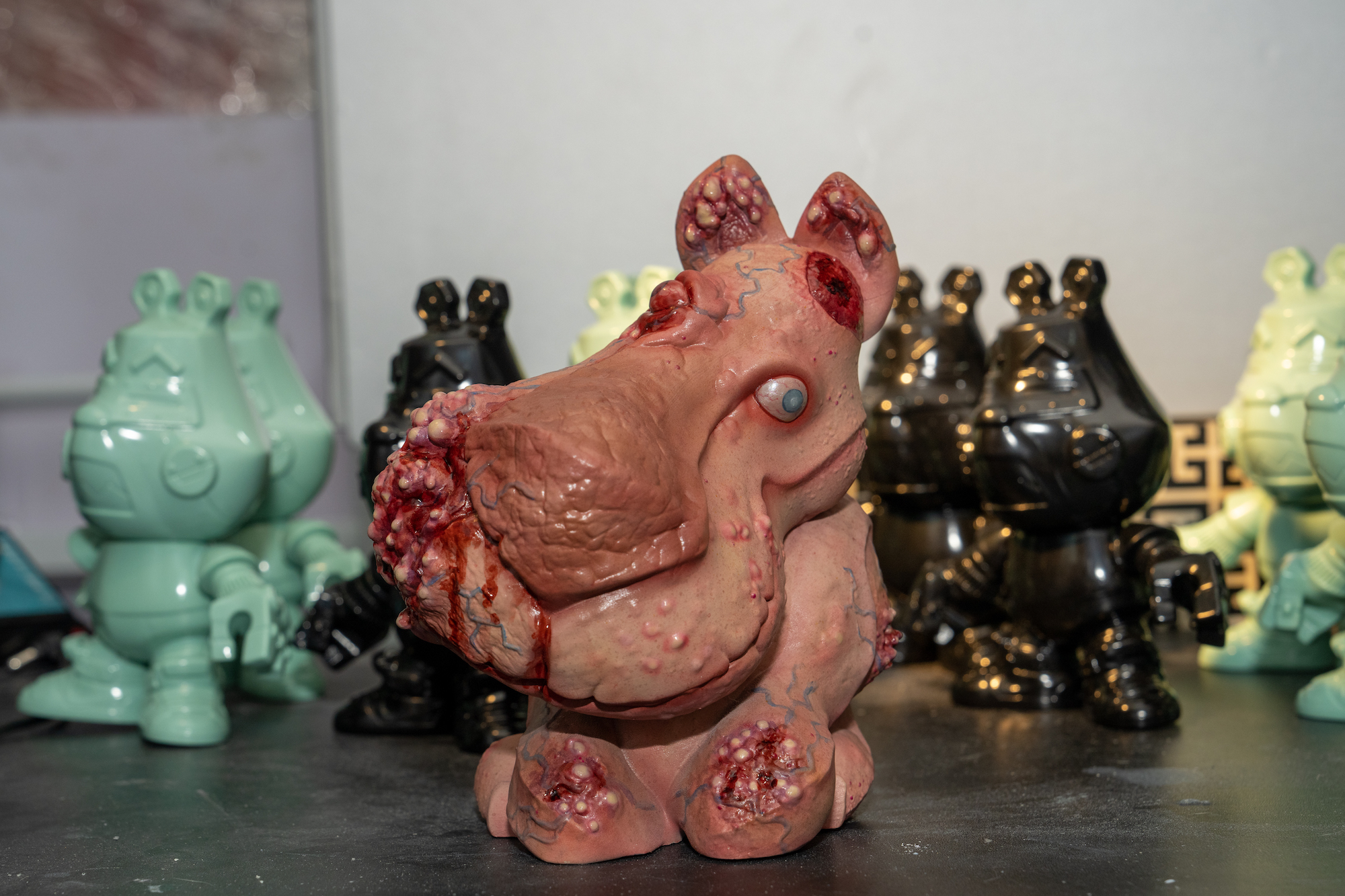 The more industry projects and events Chong and Wong organise, the more they hope to position Macao as a hub for art toys – both as a shopping destination and a creative centre.
"We do these things to educate our customers, to plant some seeds," says Wong. "We want to see if we can kick start something here and make people feel like, 'Wow, if these guys can do it, we can do it, too.' And if there's someone who can do it better than us, that's even better."
---
Want to get your hands on a designer toy from Macao? Visit Agong Toys (Fabrica Va Nam, 562-568 Av. Olimpica, 6334 5666), Collectore Macau (15B Rua São Roque, 6677 7527), or visit 50toy.com and nativoworkshop.com to order online.