Stroll through history: Explore Macao's architectural heritage and unique 'pátios' courtyards
Stroll through history: Explore Macao's architectural heritage and unique 'pátios' courtyards

Link copied
You can learn a lot about a destination through its architecture and back alleys. We travel back in time to discover the best of Macao's east-meets-west architecture and communal courtyards with local architect Christine Choi.
Since the mid-16th century, the Historic Centre of Macao has held great importance as a Portuguese trading hub, serving as the main entry point for sailors, merchants, and emerging tycoons alike. Along the cobbled streets and public squares, local vendors sold everything from street food to handicrafts, while Portuguese traders imported spices from India and gold from Africa. 
Today, the historic area, a UNESCO Heritage Site, still offers a peek into Macao's east-meets-west heritage, mainly through its architectural features. Many buildings, such as the Leal Senado Building, feature unmistakable Portuguese elements, while decidedly Chinese-style houses flank Rua de Felicidade.
Other areas, like the neighbourhood around the Ruins of St Paul's, showcase a fusion between the two. Most notably, the Lou Kau Mansion (the home of a successful Chinese merchant) borrows from both hemispheres, as do the iconic Ruins of St Paul's. 
Further setting the city apart from other cities in Asia are the historic pátios (圍). Hidden away from the busy commercial areas down narrow alleyways, these enclosed public courtyards serve as shared communal space for those who live around the square.
Christine Choi, the president of the Architects Association of Macao and a pátios expert, says the quiet, peaceful public spaces feel worlds apart from modern Macao's fast-paced lifestyle and "curtain walls" of glass. Together, Macao's east-meets-west architectural legacy and pátios offer a glimpse into its multicultural heritage and community-oriented roots. 
A stroll through time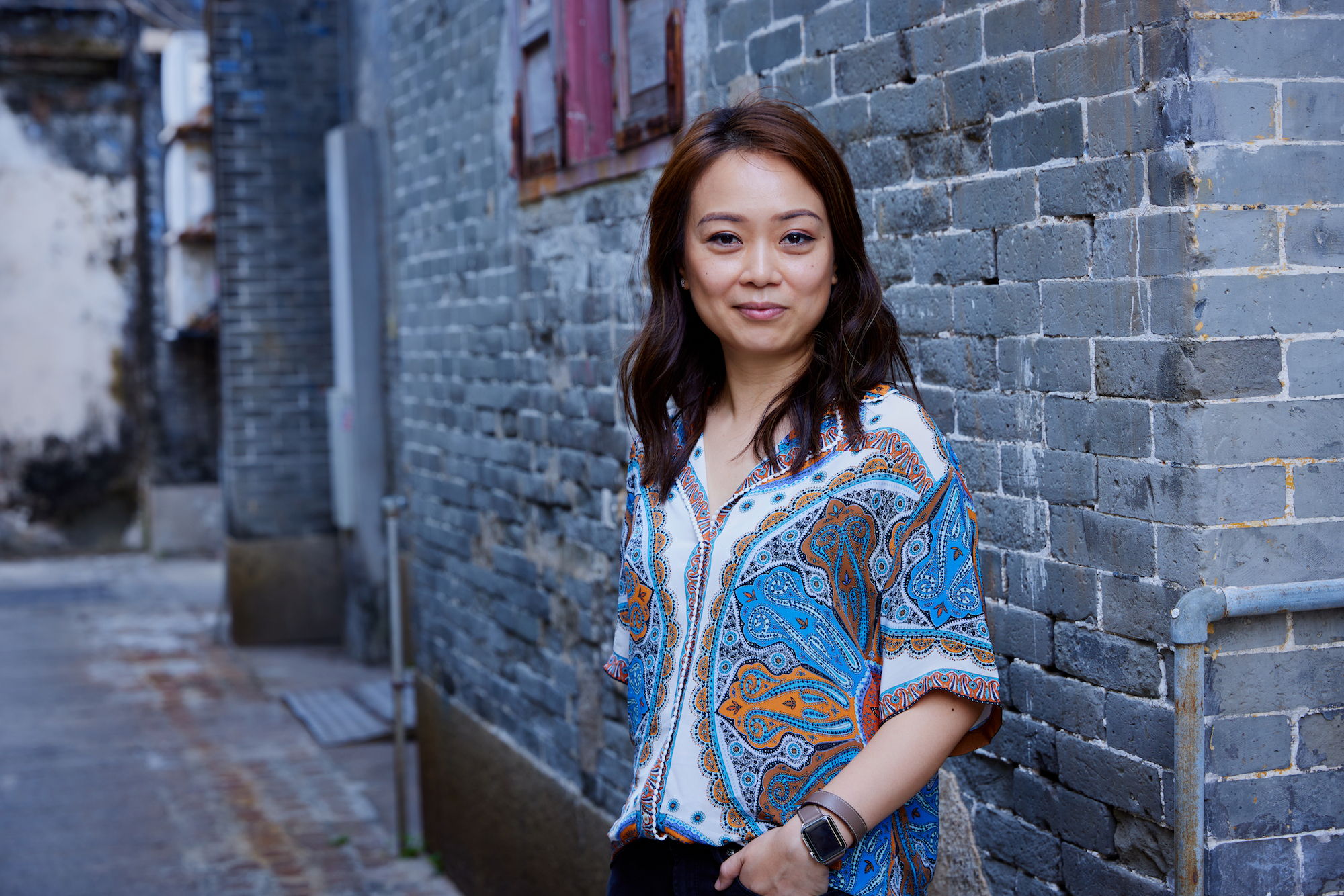 Having grown up in Macao's historical centre in the 1980s, Choi has seen many changes over the years but says the area has remained largely untouched by development. Especially compared with Macao's modern areas, which seem to undergo dramatic changes every five to 10 years.  
As the co-founder and Principal Architect of JWCC Architecture, which she established in 2010 with fellow architect and husband Jimmy Wardhana, Choi recalls the neighbourhood feeling like a "little town" during her childhood and teenage years. 
Street vendors would hit a bell to announce their lolly or snack stall was open for business, low-rise residential buildings lined the streets, and everyone knew their neighbours, she recalls. "I lived near the Ruins of St Paul's, and I [went] to school at the end [of the street]," she says, pointing at Rua de Dom Belchior Carneiro on a map. "Though most of the sweet hawkers are gone now, the street I lived on has the same feeling it had many years ago."
Choi says the area's atmosphere can be attributed in part to the beautifully preserved architecture, with the Ruins of St Paul's as the city's pièce de résistance. Surrounded by Chinese temples, the Baroque-style structure showcases detailed religious carvings that nod to Portuguese and local cultures. 
For example, several dragons and Asian motifs grace the facade, as does a depiction of the Virgin Mary stepping on a seven-headed hydra – also called the 'heads of the dragon' – accompanied by Chinese characters. 
The neighbourhood's stone pavement alongside the Ruins' stone facade give the area a "natural texture that contrasts Macao's 'smoothness' in other areas," says Choi. "It's not like a 'concrete jungle' where it's all just cement."
The nearby Fortaleza do Monte – the city's historical military centre where the Macao Museum is now located and was built to fortify Macao against invasions such as the Dutch armadas in 1622 – enhances this "small town" feel and adds to a sense of "sturdiness." Built by the Portuguese between 1617 and 1626, the fort is an excellent example of Portuguese military architecture, featuring a trapezoid form, battlements facing the sea, parapets built to accommodate 32 cannons. 
The fort also promises a visual "journey through Macao's" architecture. On one side, you can see the city's new developments and glitzy glass-tower hotels; on the other, a sea of tin and metal roof structures tell another story. "This is [the fort's] key feature that has been interesting to me since I was young – I remember looking out, and the view is different, ever-changing," adds Choi. "The stone and timber structures, especially, are 'very Macao.'"
Elsewhere around the neighbourhood, Choi says the types of shops and restaurants have changed over time, but the "urban scale" remains small, intimate and communal. "That atmosphere is still there," she says, adding that's the low-rise buildings, winding lanes and organically shaped public squares – "often triangles or trapezoids" – feels like a refreshing contrast to other parts of the city, "where everything's in grids."
Exploring the pátios
While Choi grew up in Macao and studied architecture at the University of New South Wales in Australia, she didn't discover one of the city's most unique urban features – the pátios – until later in life. After Wardhana stumbled upon one of these hidden residential squares tucked down an alleyway in 2017, Choi and Wardhana began studying them extensively. 
Inspired by 11th-century BCE sei hap jyun (四合院), which are residences with courtyards connected via wu tung (衚衕) alleyways, found across China – especially in Beijing – pátios feel like tiny pockets of history peppered around the city. There are an estimated 200 in total, though Choi and her husband have only studied and documented 20 so far.  
A refuge from the urban grind, the shared spaces reflected Macao's deep-rooted communal culture. In the past, residents preferred to build houses around the central courtyard, so they could easily share resources, work and social support. 
"In any developed city, we start moving upward, living vertically. So our distance to the street and public spaces increases, limiting human interactions," says Choi. "We are only one door away from our neighbours in apartment buildings, yet we hardly talk to each other. That's a big shift from the past when Macao saw really close-knit communities." 
While pátios tend to be hidden across the city, there is an easy way to spot them: "When you walk down a street, you'll see a little arch," notes Choi. Sometimes, there will be a small wooden window with shutters alongside a large door under the arch, which residents used to lock for safety and seclusion in the past. Today, many of the doors have disappeared and only the hinges on either side of the arch remain. 
Wander under the arch and continue down the alleyways. Eventually, you will stumble into the wide-open pátios, where you might find older Macao residents sitting leisurely on sandstone stools, hanging up laundry or drying fish in the sun.
"Inside, the community feels very different from outside. It's like two worlds," she says, adding that residents often chat with visitors and make them feel welcome. 
While serene and beautiful, Choi expresses concern about the pátios longevity since many have fallen into disrepair and may no longer be inhabitable. Others lack plumbing or have suffered severe water damage – to restore the homes around the pátios would be a significant investment.  
Besides, revitalisation might disturb the residents' way of life. "You need to understand the history of that area, the culture and the people," she says. "You need to talk to the people and see how to adapt and update the pátios somehow. But to what extent? It's not about just preserving [buildings] but preserving the actual cultural elements, the memories and the history."
Some careful renovation projects are already underway, including ongoing updates of Pátio da Eterna Felicidade by the Cultural Affairs Bureau, which has already ushered in new seating, tiled flooring and a new exhibition room inside one of the newly renovated houses, one of 13 in the area donated by the Kiang Wu Hospital Charitable Association to the government in 2019.
In February, the bureau held an exhibit in said house with an aim to raise awareness about the cultural value of Macao's pátios and the lives of their occupants. An ongoing project, the bureau hopes to finish the restorations and transform the courtyard into a culture and leisure space. 
From untouched older courtyards to renovated spaces, Choi says Macao's pátios are a must-see for visitors who want to immerse themselves in the city's heritage. As one example, she points to Pátio do Espinho (茨林圍, Chi Lam Wai), a large open-air space that's located right behind the Ruins of St Paul's. "When you enter the residential space, there's this feeling of safety," says Choi. "It feels like a town inside the city, where everyone knows each other." 
Visiting pátios is one of the best ways to get a feel for old Macao, says Choi, since they showcase another side of the city – one that's often overlooked in favour of luxury hotels, casinos, shows and adventure parks. 
"If I was a visitor, I would want to stay in a boutique hotel in the old town one day, then take my kids to a megaresort the next to experience the extremes of Macao," says Choi. 
"We don't need only to pay attention to the past. But we need to keep the important physical elements and the memories alive. Otherwise, Macao will lose its character – and it would be like any other place in the world."
---
Pátios of interest
Pátios come in all shapes and sizes, each with its own unique features. Here, we've shortlisted six with interesting names and characteristics.
Pátio da Adivinhação: You can find the historic 'Pátio of Divinations' (卜圍, pronounced Bok Wai) down an alleyway off Rua dos Ervanários in old town. After visiting this peaceful and beautiful pátio, head around the corner to explore artistic lifestyle shop A Porta Da Arte and trendy Pace Coffee for a taste of old and new. 
Pátio de Espinho: Hidden away right behind the Ruins of St Paul's, the 'Pátio of Thorns' (茨林圍, pronounced Chi Lam Wai) is tucked down a little lane off Rua de Dom Belchior Carneiro in the historic city centre. Once inside the pátio, you'll find a few benches for lounging outdoors, as well as great views of the back of the ruins for a unique photo-op.
Pátio da Eterna Felicidade: Accessible via either Rua de Santo Antônio or Rua da Tercena, the relatively spacious 'Pátio of Eternal Happiness' (永福圍, pronounced Wing Fok Wai) will transport you back in time with its exposed brick walls and traditional buildings. The courtyard has seen a few recent updates, including a new wooden seating area, pretty tiled flooring and a wooden wall showcasing the pátio's Chinese name. 
Pátio do Poeta: Located near the Cathedral of the Nativity of Our Lady in Macao's old town, the aptly named 'Pátio of Poets' (or 大堂新圍, pronounced Dai Tong San Wai) has an air of intrigue about it, promising a quiet respite from busy Travessa de São Domingos. After visiting the area's many enjoying a leisurely lunch at popular BOA Mesa Comida Portuguesa or a quick snack at one of the many fishball and milk tea stalls nearby, head down the alleyway to relax in the courtyard and soak up the bygone atmosphere.
Pátio do Socorro: The 'Pátio of Help', as it's known in English, can be accessed down a side street off Rua dos Colonos near St Anthony's Church, right behind the Ruins of St Paul's. In Chinese (工匠圍・居安里, pronounced Gong Cheong Wai/Goi On Lei), the name roughly translates to 'Pátio of Artisans and Secure Home'. Inside the pátio, a red-roofed Chinese street shrine adds to the traditional scene, while older residents chat and relax in the stone-clad square. 
Pátio das Verdades: Meaning 'Pátio of the Truths' (哪吒圍, pronounced Na Tcha Wai), this courtyard sits at the end of an alleyway, right by the 17th-century Monte do Forte. You can access it via Travessa do Penedo and Rua do Sol – and don't miss the many local restaurants and bakeries nearby.