Plan a holiday feast at Sheraton Grand Macao and The St. Regis Macao
Plan a holiday feast at Sheraton Grand Macao and The St. Regis Macao

Link copied
Celebrate the most wonderful time of the year with decadent lunches, dinners and soirees at two of the most festive hotels on the Cotai Strip.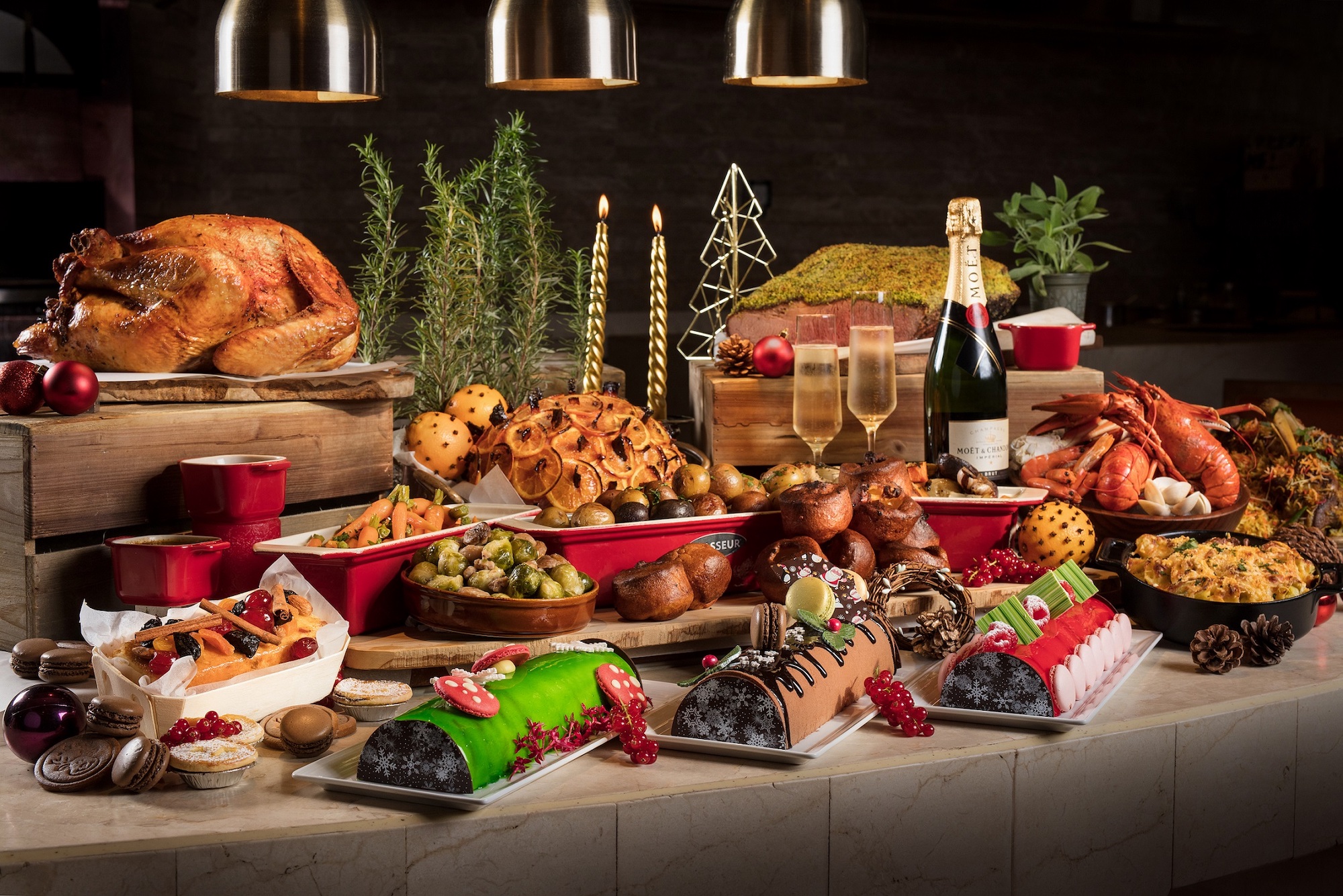 Note: Due to the current Covid-19 outbreak none of the listed offerings apply
The holiday season is for gathering with friends and family, bonding over memories and making plans for the year ahead.
Delicious food and drinks, of course, are essential to any celebration. For those who love to host unforgettable holiday meals – especially if a professional chef is taking care of the menu so you don't have to – the Sheraton Grand Macao and The St. Regis Macao have just the thing. 
Both hotels will be serving an array of festive dining options for all styles and tastes, from classic English plates to inventive takes on Italian, premium Japanese seafood, vibrant Caribbean-inspired dishes, hand-picked wine pairings and exclusive festive cocktails. To ensure the experience is extra special, Sheraton Grand Macao and The St. Regis Macao have decked the halls to shower you in holiday magic for a meal you'll remember for years to come. 
Sheraton Grand Macao
Christmas at Feast
True to its name, Feast is the place to go if you're craving a world of possibilities this holiday season. As you'd expect of the city's beloved buffet, Feast will be brimming with live cooking stations during its dedicated Christmas buffet, as well as freshly baked bread, seasonal sides and succulent seafood (rest assured freshly shucked oysters and Boston lobsters will be making an appearance). 
In terms of festive dishes, look forward to traditional roast turkey with stuffing carved in front of your eyes and beautiful holiday desserts, like Christmas puddings, Valrhona chocolates and more. 
When: 24 & 25 December
Price: Buffet from MOP 528+ per adult or MOP 200+ per child (aged 7 to 12) 
For bookings please call (853) 8113 1200 or e-mail: diningreservations.macao@sheraton.com.
The St. Regis Macao
Christmas Day Lunch at The Manor 
'Abundant' is the best way to describe Executive Chef Michele D'el Aquila's six-course Christmas Day Lunch menu at The Manor. The meal sets the tone with a decadent salmon and caviar starter, followed by a capon (rooster) soup with Parmesan cheese and freshly shaved Alba black truffle. 
But the star of the show has to be the Christmas trolley, which rolls towards your table just in time for the main course. Savour Christmas beef Wellington served with truffle mash potatoes and Périgeaux sauce (beef jus with fragrant black truffle); Norfolk roast turkey with all the trimmings; and baked York ham infused with honey and ginger wine. You can enjoy as many servings as you like – each carved or sliced tableside to your liking – alongside delicious accompaniments like honey-glazed carrots and caramelised parsnips. 
Just be sure to leave room for the bountiful spread of festive desserts, including the classic Christmas pudding, Italian panettone and gingerbread cookies. 
When: 25 December
Price: From MOP 688+ per person
Christmas Dinner at The Manor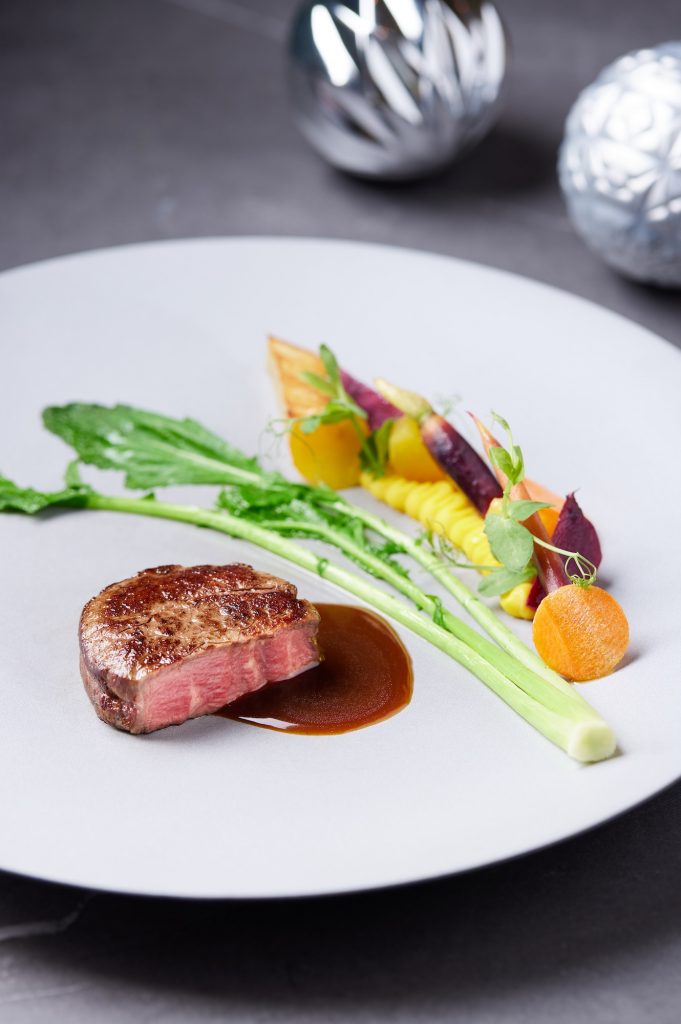 For Christmas Eve and Christmas Day dinners, Dell'Aquila and Sommelier David Duan have teamed up to design an epicurean journey with wine pairings at The Manor that will impress even the most discerning palates. 
The six-course meal begins with a Sicilian red prawn with caviar followed by Jerusalem artichoke and a handcrafted "pinched agnolotti" pasta. Then comes a delicate Dover Sole, followed by a premium Akaushi Wagyu beef tenderloin in a hearty Bordelaise sauce. But not to be outdone are the desserts: the chef's Chestnut Garden – Domori milk chocolate, candied chestnut and a silky-smooth chestnut ice cream – is an ode to one of the season's most sublime nuts. And thanks to Duan, you can look forward to an ideal wine pairing with each course, ranging from Riesling to Burgundy, Madeira and more.  
When: 24 & 25 December
Price: Six-course dinner, MOP 1,288+ per person; Dinner with wine pairing, MOP 1,788+ per person 
New Year's Eve dinner at The Manor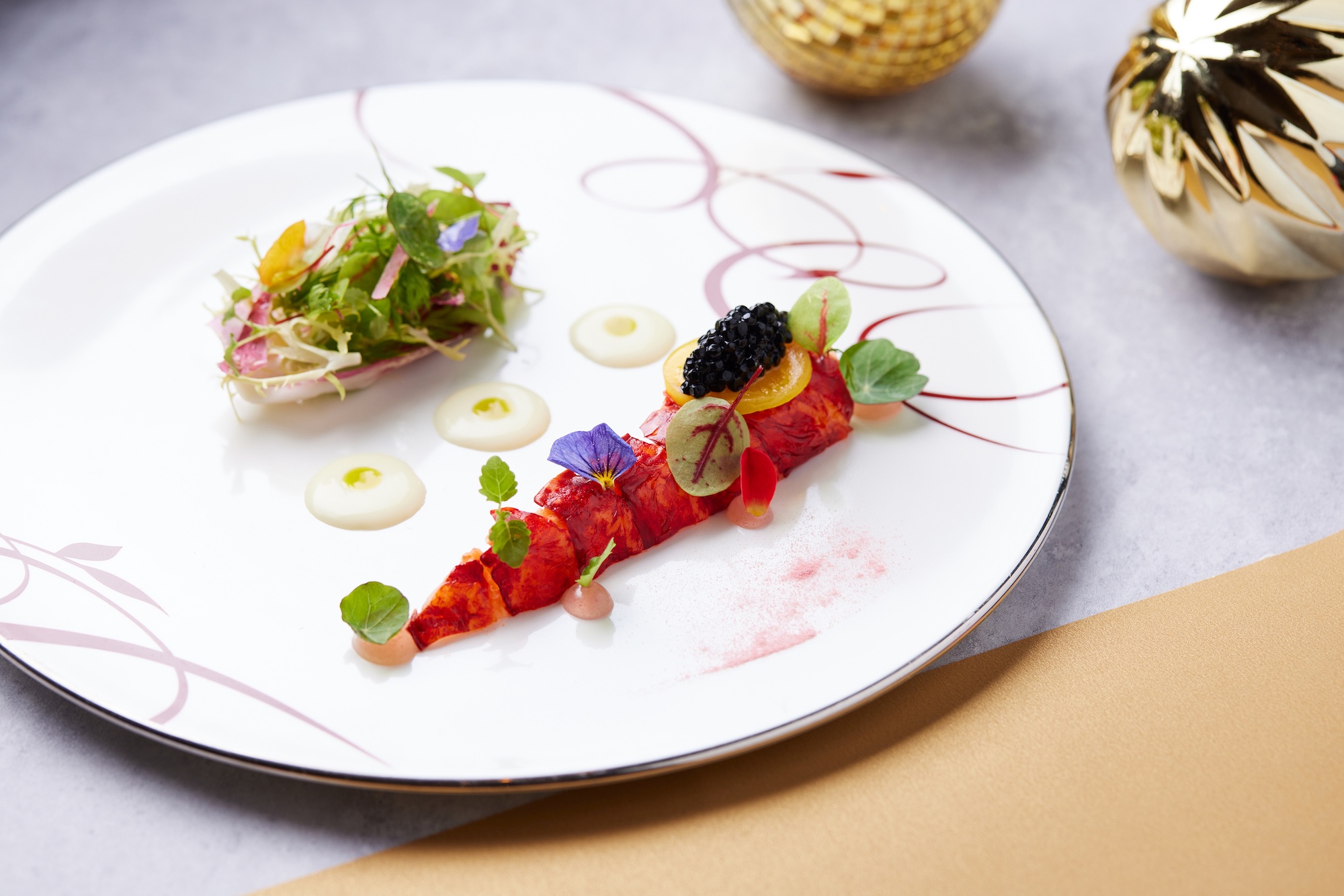 The last meal of the year should be grand and glamorous! That's why Chef Dell'Aquila and his team at The Manor have gone above and beyond to create an unforgettable six-course countdown dinner.
A Brittany lobster with caviar and sakura gel opens the feast with briney, fresh and floral notes, before you're transported to Italy with a rich Parmesan truffle gnocchi with 40-months-aged pata negra (Ibérico ham). 
Then comes a Mediterranean red mullet with Hokkaido sea urchin, a spiced amadai (a kind of Japanese tilefish) and snow-aged Wagyu – a technique used to preserve and age produce naturally in the snowy regions of Japan – with handmade ravioli. Ensuring your last bite is one to remember, Dell'Aquila has crafted a dazzling dessert featuring Valrhona dark chocolate and homemade persimmon ice cream topped with Japanese gold flakes to symbolise prosperity in the new year. 
When: 31 December
Price: Six-course dinner, MOP 1,288+ per person; Dinner with wine pairing, MOP 1,788+ per person
Buena Vista Social Club Countdown Party at The St. Regis Bar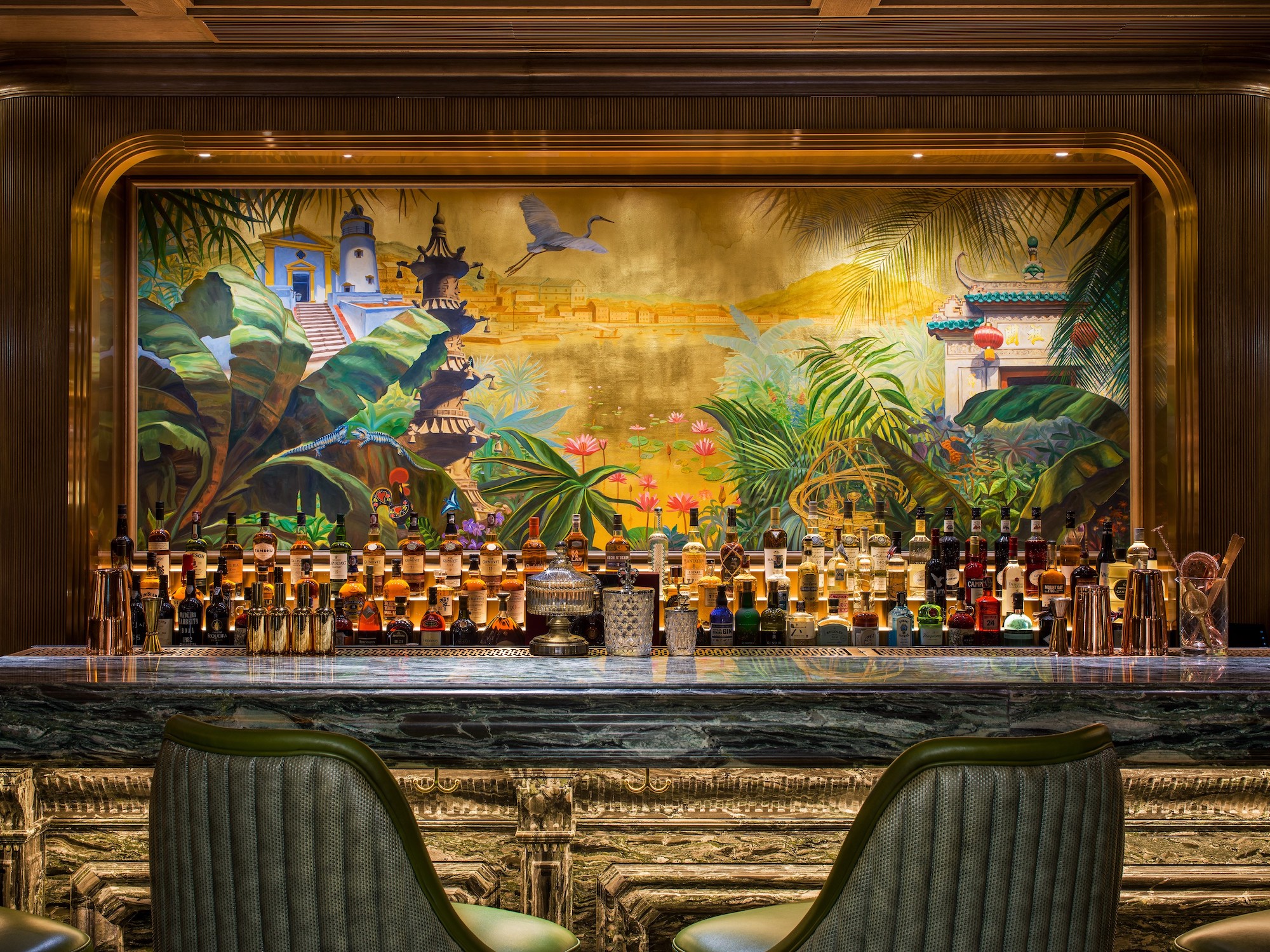 Need an escape this New Year's but not quite ready to travel overseas? Head to The St. Regis Bar to immerse yourself in vibrant Caribbean vibes at the Buena Vista Social Club Countdown party. 
While the night's still young, dig into a four-course gourmet dinner that's infused with Caribbean culture, colour and New Year's traditions. For example, the first dish, "Notes to the Sea" alludes to the tradition of writing wishes on a piece of paper and throwing them into the ocean with Alaskan king crab, caviar, avocado and Bloody Mary sorbet.  
After a flute of Moët & Chandon Champagne, check out the special New Year's Eve cocktails, like the "Bright of Brazil" (cachaça, chamomile tea and pineapple gum syrup) and the "Butter Fashioned" (Ron Zacapa 23-year rum, beer hop syrup and cardamom bitter. 
With a creative libation in hand, dance the night away as world-class performers spice up the night with live music inspired by Cuba's Buena Vista golden age. 
When: 31 December
Price: Four-course dinner, MOP 888+ per person (includes glass of Moët & Chandon Champagne); Premium table packages and private rooms available for booking (price on request).
Note: The St. Regis Bar is temporarily closed until 30 December
For bookings please call (853) 8113 1300 or e-mail: diningreservations.macao@stregis.com.
This article has been last updated on 23 December