Macao's skateboarding experts share their top spots in central Macao
Macao's skateboarding experts share their top spots in central Macao

Link copied
As skateboarding makes its debut at the Tokyo Olympics, we cruise in and around Macao's UNESCO historic centre to uncover a few of the best places to practice your kickflips.
You're probably familiar with the usual suspects in Macao's UNESCO historic centre: Portuguese architecture, century-old restaurants, cobbled streets, Chinese temples… But did you know that it's also home to several skateboarding hotspots?
From the Praça da Amizade to the Macau Tower, the city's top skateboarders have long frequented the neighbourhood to practice their skills, meet like-minded athletes and form a sense of community. While some still associate the sport with rebellious Converse-clad teenagers, that's far from reality in Macao. For many, skateboarding is a healthy hobby that can lead to greater physical and emotional wellbeing, not to mention cool tricks. 
"When people think about skateboarding, they always think of an image of a young kid kicking high," says Jolian Chan, who opened Macao's first skateboard shop, EXIT, in 2019. "In fact, people of all ages can skateboard. Of course, when you get older, you will find it difficult to do some tricks, but you can still enjoy yourself just rolling along." 
This year, the sport has sped into the limelight, making its debut as one of five new sports at the Tokyo Olympics 2020. In honour of the games, we cruise back in time to hear how Macao skating culture got started and where to hop on a board today.  
Skateboarding culture gains momentum 
According to Chan, Macao skateboarding culture revolves around Praça da Amizade. Opposite Hotel Sintra, the flat, open square was home to Portuguese public school Liceu High School in the 1980s, then later transformed into a plaza in 1996. 
At 16 years old, Macao-born Jolian Chan had just moved back to his hometown after spending several years in Portugal and Hong Kong. A year earlier, he had swapped his Coca-Cola cap collection for his first skateboard and was keen to hit the streets.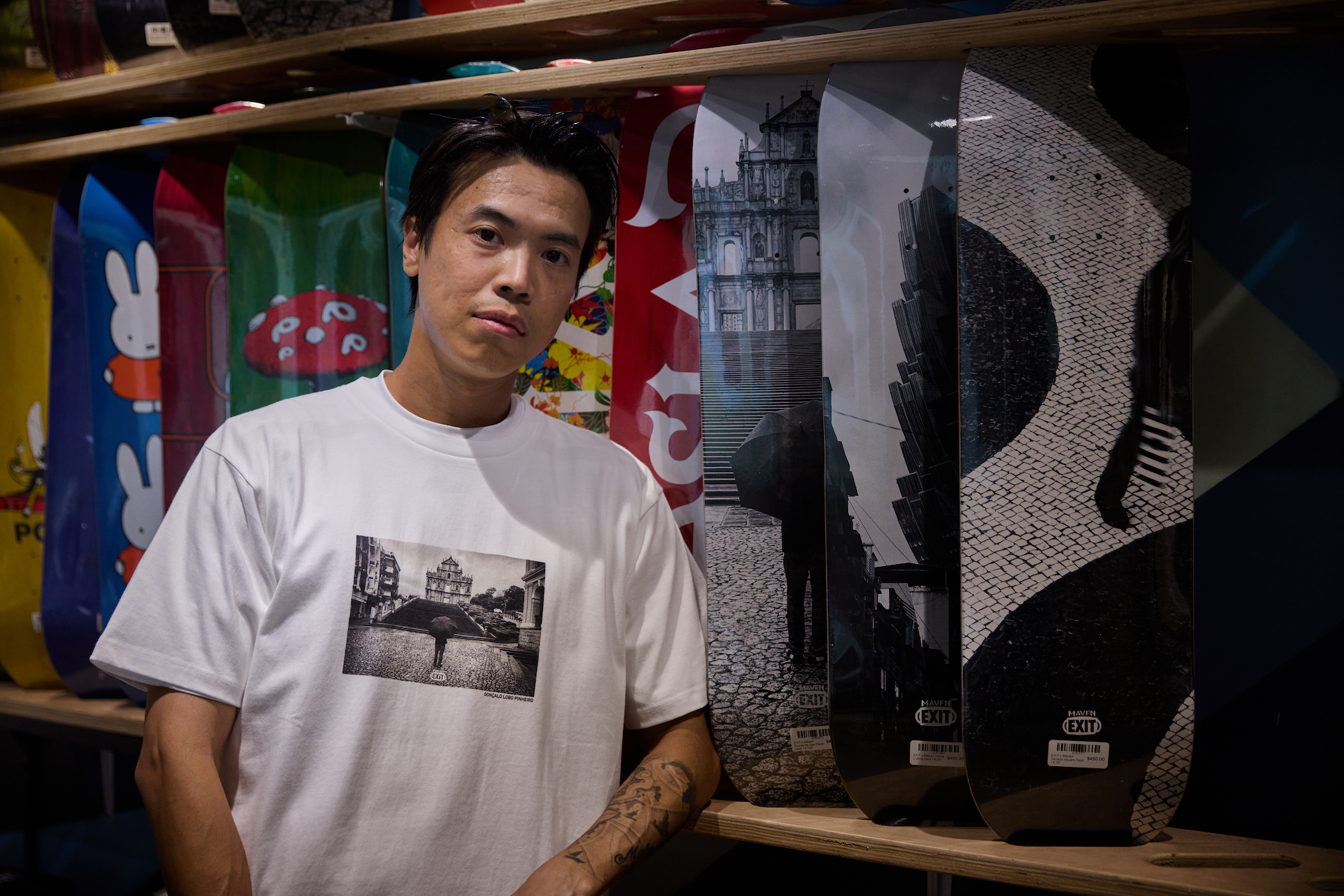 When he rolled up to the plaza, Chan encountered just five or six other skaters. "Back then, some kids did BMX and breakdancing there, too. The atmosphere was always skateboarding, BMX and breakdance blended into one," recalls Chan, now 32. "I once saw a kid my age do an ollie [a maneuver where the rider jumps with the board], and then a 50-50 [an ollie on an obstacle]. It blew me away. How could he jump so high? I found it fascinating."  
Back then there was no social media, so skateboarders typically taught themselves, learned from others, or picked up ideas from skateboarding video games, like "Tony Hawk's Pro Skater" series. Once armed with skills, or at least inspiration, they sought out stairs and slopes to practice. 
"At the plaza, there are a lot of flat, hard surfaces. It's good to practise ollies and all kinds of advanced skills, like kickflips and 360 flips," he says. "We once took on the slope in front of St Paul's Ruins. Since the ground was bumpy, we found some wooden boards in a bin and lined the ground first. We also challenged ourselves to jump over some stairs nearby – first five stairs, then 10, then 12." 
The sport eventually led Chan to start a successful career. About five years ago, Chan returned to the plaza to brush up on his skills, having grown rusty during his university years. Even then, skating culture was still nascent. "The social world of skateboarders was so small, once you know a few skateboarders, you know everyone," he recalls. 
Keen to introduce skating to more people in Macao, Chan opened EXIT – a shop selling skateboards, skiing equipment and street fashion – three years later. He also collaborates with artists, including Konstantin Bessmertny and photojournalist Gonçalo Lobo Pinheiro. For example, he turned three of Lobo Pinheiro's Macao photos into limited-edition skateboards and T-shirts, that he introduced alongside a skateboarding video guide to Macao. 
"When we opened the shop, we started to see interest from people who wanted to try skateboarding – quite a few of them were teenagers," recalls Chan. "So in the beginning, we ran some free Sunday trials where they could try tricks on the slope in my shop."
Those Sunday sessions are no longer running, but Chan says they helped kickstart momentum. And now, his shop sees many customers across backgrounds and ages, from 13 to 40 years old.   
Skateboarding around Macao's historic centre and beyond
Today, Chan estimates there are 150 skateboarders in Macao. Among them is Cheaxel Torres, a 31-year-old Filipino woman who came to find work in Macao in 2016. Having been skateboarding since 13, Torres says the sport has helped her come out of her shell and make new friends. 
"Some people say it is dangerous and trashy, but it's a commitment," says Torres. You learn to trust yourself. When you first stand on a board, you fall and get hurt, but it encourages you to stand up again."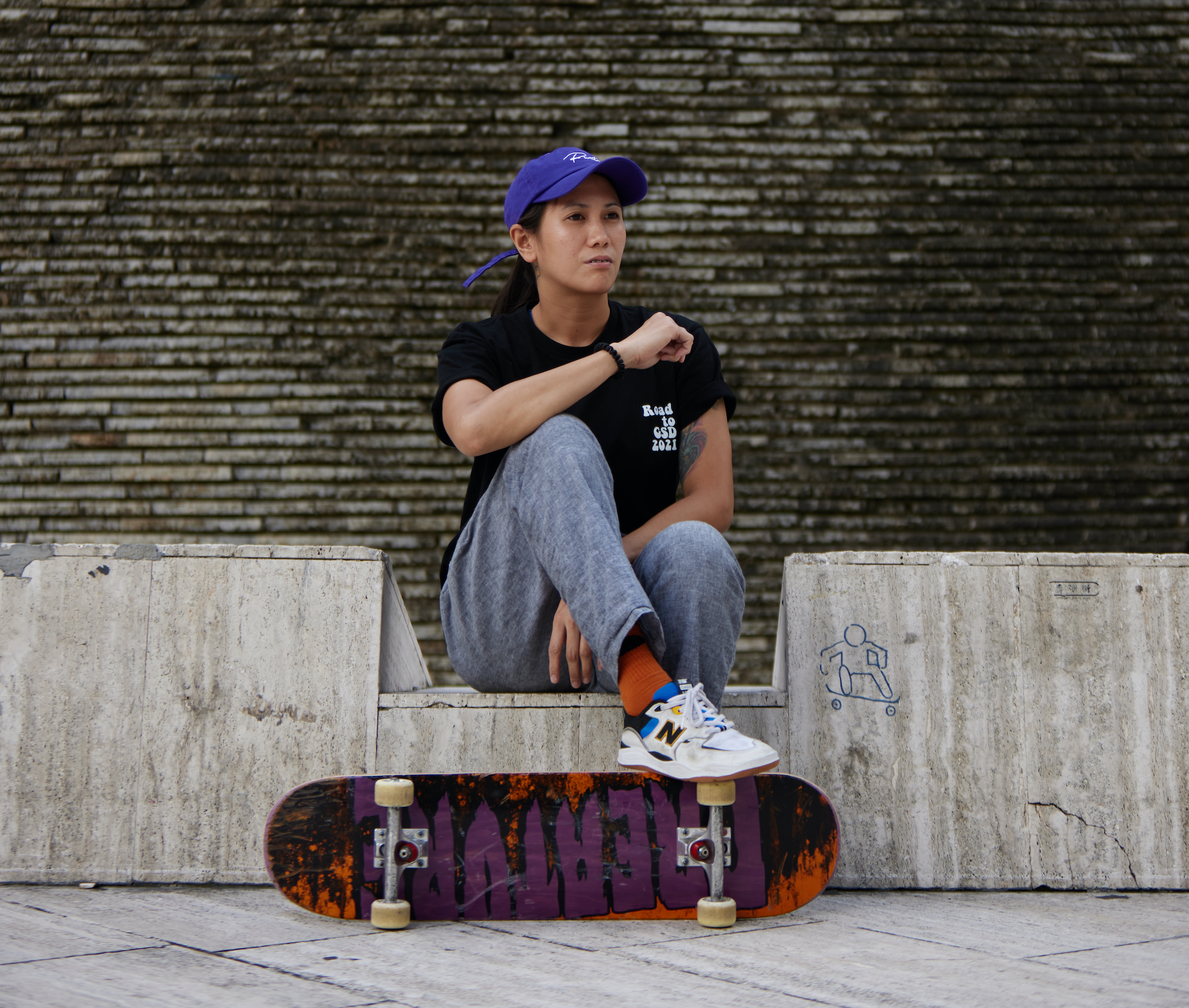 Like Chan, Torres also has an affinity for Praça da Amizade, because it's the first place she skated when she came to Macao. And while not technically inside the historic centre, the Plaza is a must-visit destination when it comes to skating culture.  
"The Plaza is perfect for skateboarding – its smooth pavement is great for learning and practicing tricks," says Torres. "People there are nice; I've seen their progress and everyone is teaching each other."
Elsewhere in the historic centre, Torres recommends the Macau Tower rotunda, where she has seen professional international skateboarders practising complicated maneuvers, owing to the plaza's many ledges and stairs. "On the bank near the tower, you can find some concrete ledges of different heights – they are great for practicing grinding and sliding. I brushed up on some skills, such as varial heelflips, there."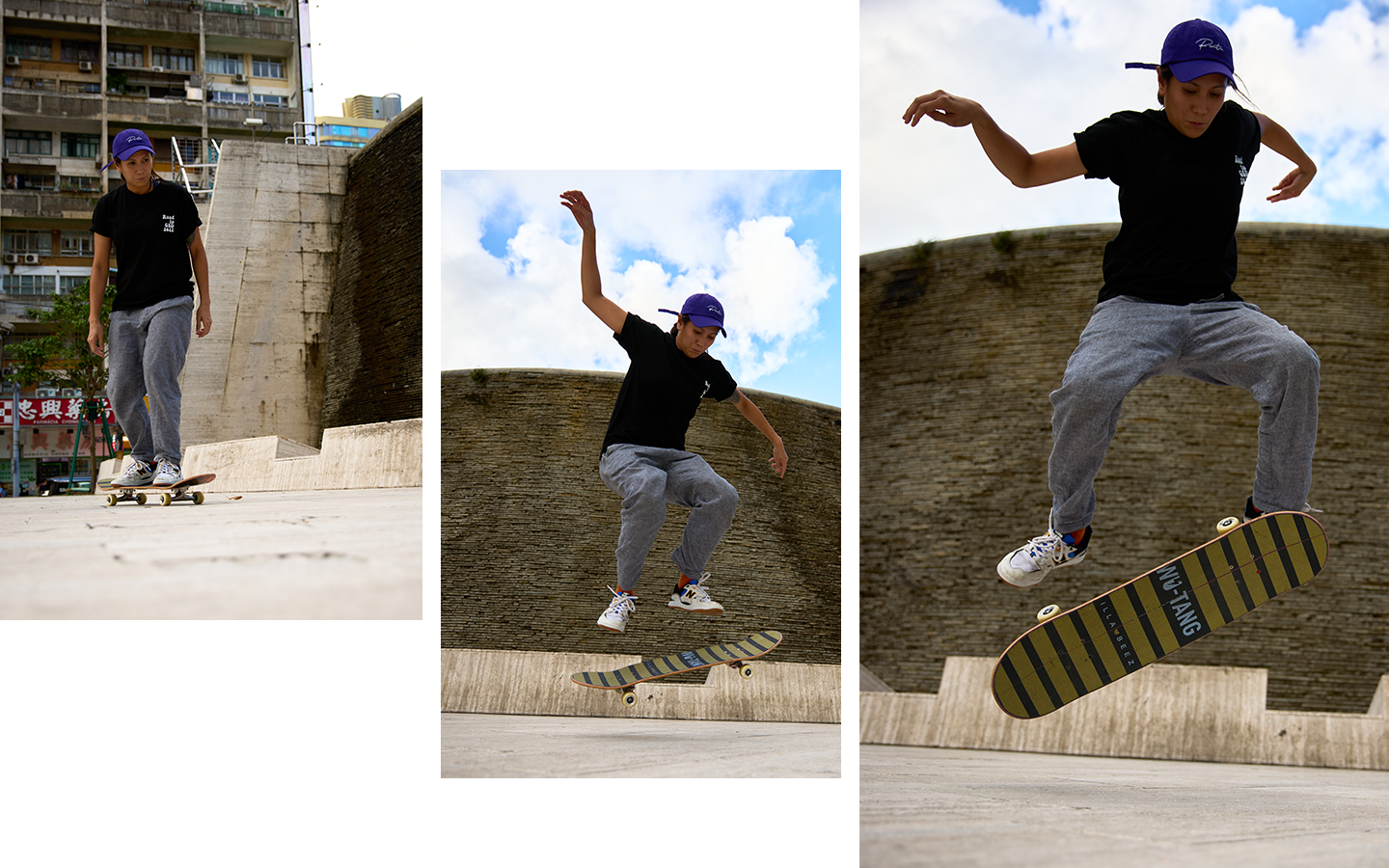 Generally speaking, Torres says skateboarders usually look for smooth surfaces, plus structures with varied heights to practice tricks. As for Chan, another go-to spot is the Art Plaza at the Macao Cultural Centre, where he can practice various tricks thanks to the diverse terrain. Elsewhere in Macao, both skateboarders frequent Lotus Square, the area by the A-Ma statue at the Coloane Peak, and the stairs by Praça de Ponte e Horta. 
And this August, Chan plans to open Ride 2 EXIT, an indoor skateboarding ring, located in an industrial building in the area of Avenida do Almirante Lacerda. With so many different plazas, stairs, benches and handrails across the territory, Macao skateboarders may finally find their footing. 
---
Are you a fan of skateboarding? On your next visit to Macao, don't miss a chance to check out these popular spots to test your mettle, meet new people, and learn more about the skateboarding community.