Bites of heritage: How do Macao's egg tarts differ from Portuguese pastéis de nata?
Bites of heritage: How do Macao's egg tarts differ from Portuguese pastéis de nata?

Link copied
Egg tarts play a delicious role in Macao's cultural heritage, but how well do you know them? Read on as we chew over the differences between local and Portuguese varieties.
If you've ever visited Macao, you'll know that egg tarts are a big deal here. So much so that the city added the making of delectable custard tarts to its inventory list of protected Intangible Cultural Heritage elements, and the confection has become a de facto symbol of Macao's culinary culture. 
With their flaky shells and luscious custard fillings, these gone-in-two-bites morsels are certainly delicious. But you might have noticed that the city's egg tarts vary subtly as you eat your way across town. The former-Portuguese territory is home to three common types: the Macao egg tart, the traditional Portuguese egg tart (pastel de nata) and the local dim sum dan tat (also known as Hong Kong egg tarts). 
Over time, the lines dividing the three have become blurred, especially the oft-conflated Macao egg tart and pastel de nata. To clear up the differences, we spoke to two people who know them inside out: Eileen Stow, chief executive of renowned bakery Lord Stow's, and Chef Pedro Almeida, executive chef at Portuguese Restaurants and Retail Concepts (PRRC) group, who has developed the Portuguese egg tart recipe used by several establishments in the city.
Macao's first wave of egg tarts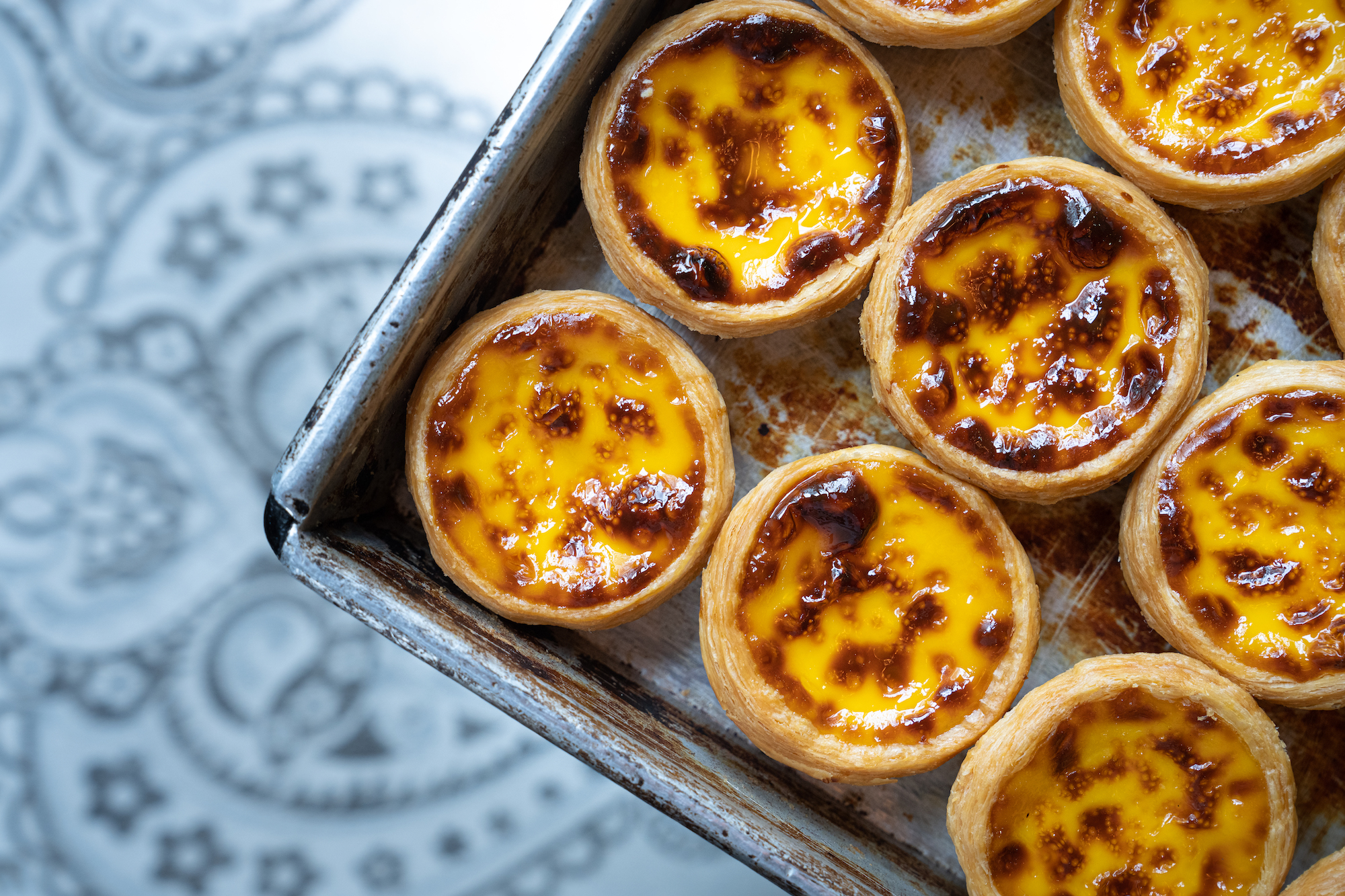 A dim sum staple or sweet treat to enjoy any time of the day, dan tat (aka Hong Kong-style egg tarts) puts a local spin on Britain's well-loved custard tarts. According to culinary experts, the British first introduced their custard tarts in the major international port city of Canton (now Guangzhou) in the 1920s.
In preparing the confection, Cantonese chefs gradually adapted the recipe to include ingredients they had on hand and applied their dim-sum-making skills. Unfamiliar with shortcrust pastry, local chefs used flaky pastry to make the shell instead, while swapping butter for lard. They also did not use custard powder, as it was an expensive imported ingredient, filling the shells with a simple mixture of eggs, sugar and milk. They then baked the Hong Kong egg tart in flower-shaped moulds for 10 minutes – just long enough to ensure it's baked yet not caramelised. The result is a relatively firm, sweet custard with a shiny, yellow top and a rich, crispy shell. 
In the mid-1940s, after World War II, a wave of prosperous Cantonese families settled in Hong Kong, introducing egg tarts to the city, which was still under British rule at the time. The sweet quickly became a staple in bakeries and dim sum restaurants across the city, reaching the neighbouring territory of Macao in no time. 
The baking of an icon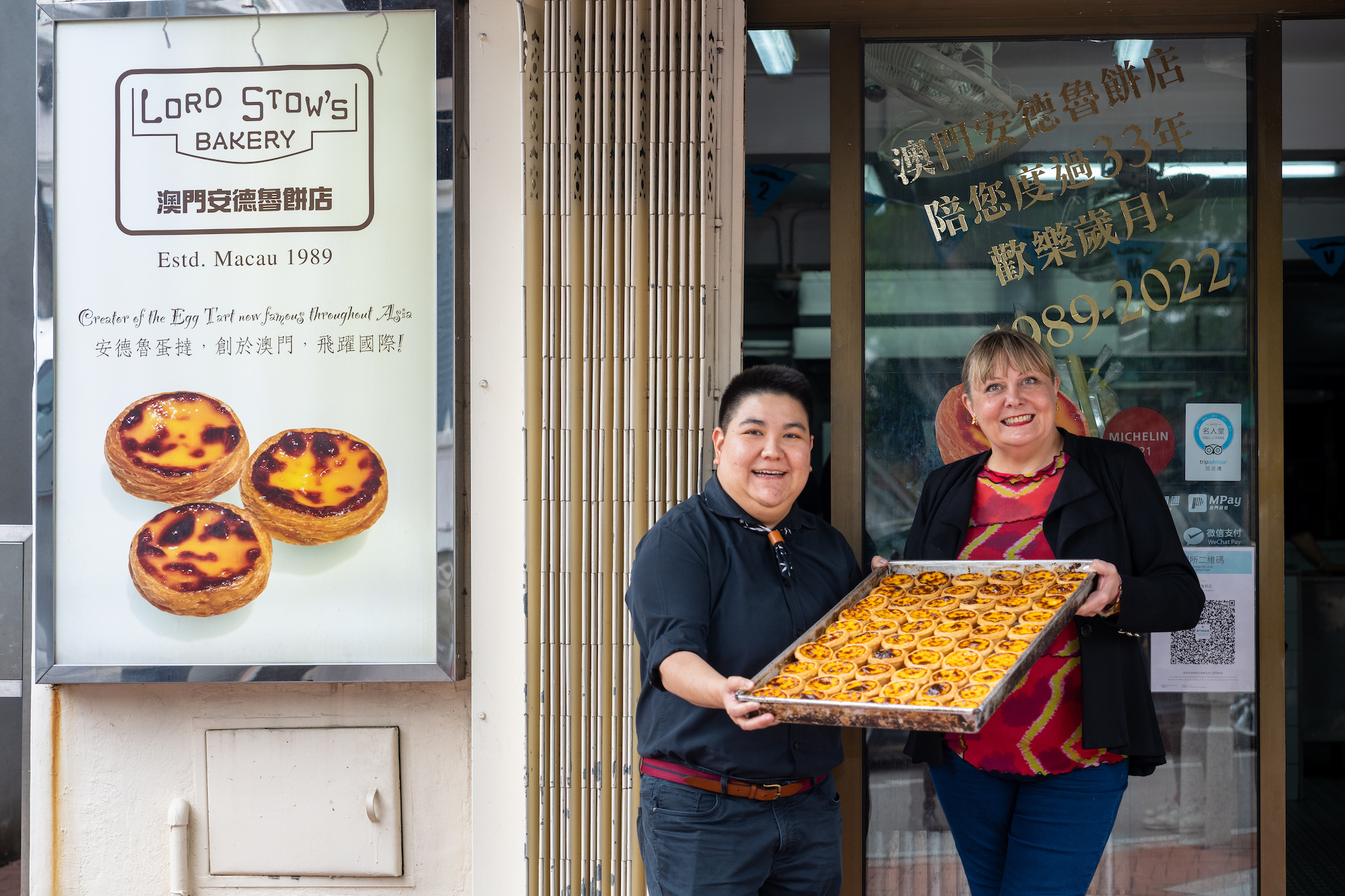 In a 1998 article published by Portuguese-language magazine Revista Macau, writer and Macanese gastronomy expert Cecília Jorge reported that "Portuguese egg tarts" had found fame in Macao in the 1990s, thanks to the late Andrew Stow. The Macao-based British pharmacist opened an unassuming roadside bakery in the quaint Coloane Village in 1989, which quickly drew visitors in droves. 
Before Stow, Portuguese chefs Elias da Silva and Afonso Pereira had already introduced authentic Portuguese pastel de nata in the city at the former Hotel Hyatt (now the Regency Art Hotel). Andrew's sister and Lord Stow's chief executive, Eileen, says her late brother's egg tarts were indeed based on the Portuguese pastel de nata, with some tweaks.
"Andrew had been to Lisbon and Sintra on honeymoon and observed the Portuguese tradition of taking an espresso with a pastel de nata in the morning. He wondered: 'How come there's not something like this in Macao?'" she says of his inspiration, adding that he hoped to give Portuguese residents a taste of home.
However, Stow never referred to his creation as a "Portuguese" egg tart. Instead, he called them "Andrew's egg tarts", as does Eileen to this day. So how did Lord Stow's legendary pastries come to be known as Portuguese egg tarts, rather than Macao-style egg tarts?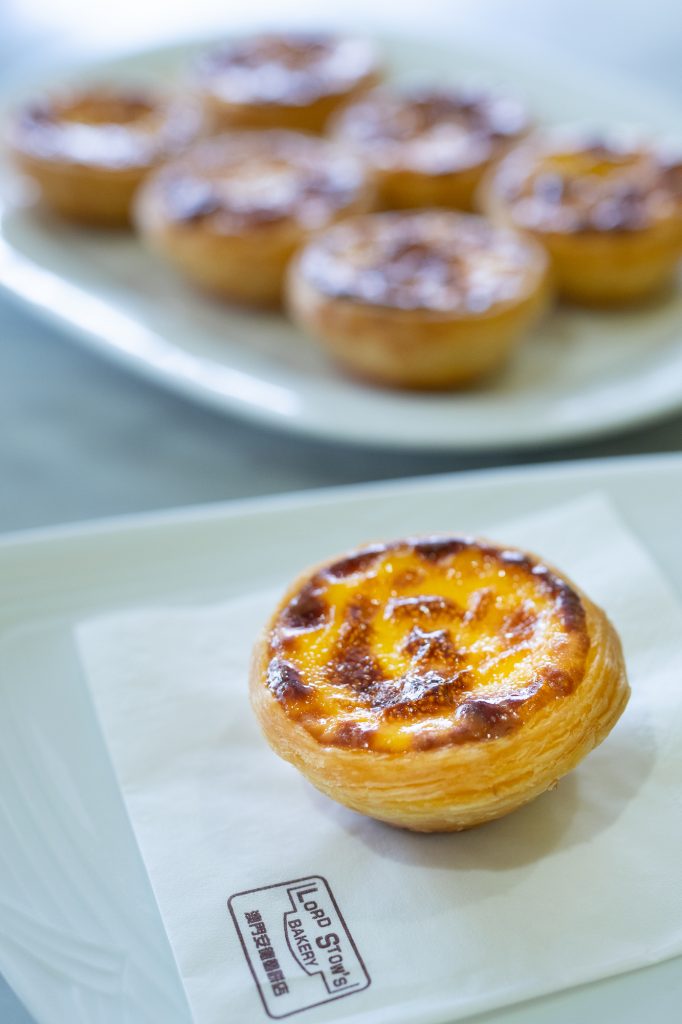 Locals called them p'ou tát, which translates as "Portuguese egg tart" in Cantonese, to differentiate them from Chinese dan tat dim sum pastries. The phrase stuck, and to this day, Stow's mouth-watering creations are still called "Portuguese egg tarts" by locals and visitors alike. But would a Portuguese native see them as such? 
Almeida, who's behind beloved eateries like Albergue 1601, Portucau, and A Loja dos Pastéis de Chaves, certainly would not. When it comes to Macao's egg tart varieties, the chef hopes to clear up misconceptions via his authentic bakeries and educational events. 
At A Loja dos Pastéis de Chaves, for instance, the young chef makes the authentic pastry just like he learned from bakers back home in the city of Chaves, near the northern Portuguese border with Spain. He has also held egg tart blind-tasting events among the Portuguese community to help people learn to spot the differences.
Carefully chosen ingredients
So what are the main differences between Macao egg tarts (like those at Lord Stow's) and authentic Portuguese egg tarts? Let's start by pointing out what the two confections have in common: both feature puff pastry shells and a perfectly caramelised top. 
And now for the differences: First, there's the shell. At A Loja dos Pastéis de Chaves, bakers make puff pastry by hand, following traditional French techniques. They combine water, salt, and wheat flour to form a dough, then roll it out, layer on butter, fold the dough, and roll it out again. They must repeat this lamination process many times – the more, the better, since an authentic pastel de nata features countless layers for an extra buttery taste. 
At Lord Stow's, the process starts the same. But the bakers swap out one ingredient: butter. Instead, they use margarine, which results in a less buttery yet crispier puff pastry. Thanks to the use of margarine, the tarts have a delightful crunch – a testament to high-quality pastry.
Baked to perfection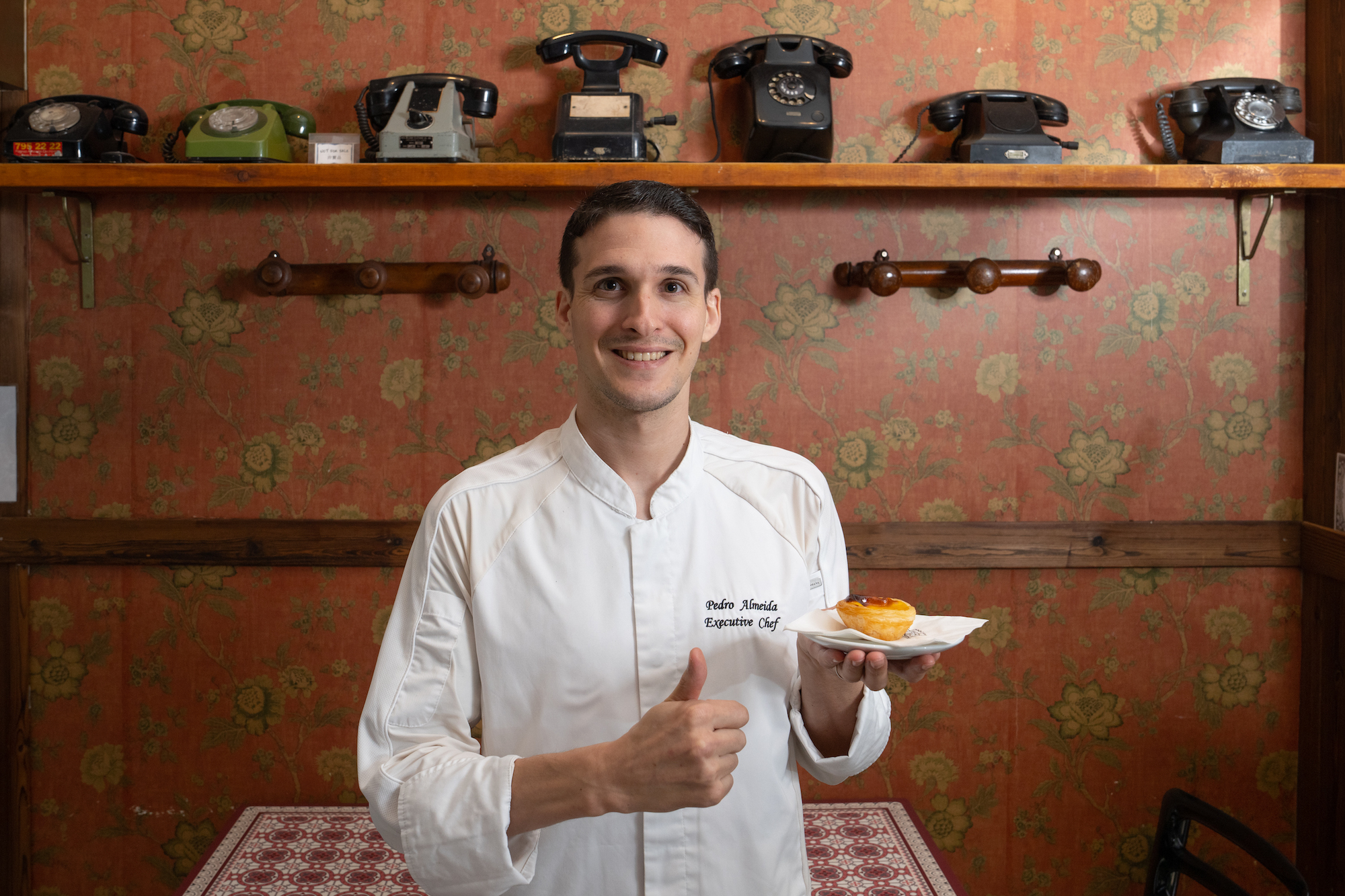 Another significant difference lies in how pastel de nata and Macao egg tarts are baked. At Lord Stow's, bakers fill the raw pastry shells with a custard mixture – made of eggs, milk, cream and sugar – which also remains raw until bake time. To achieve its trademark texture, a heavenly contrast between the silky-soft filling and its crunchy shell, Lord Stow's bakers pop each batch in the oven for 30 minutes. While baking, the "marriage between the crispy shell and wibbly wobbly filling", as Eileen fittingly describes, develops. 
Rather differently, when authentic pastéis de nata go into the oven, their creamy filling has already been partially cooked on the stove. Bakers prepare the custard by stirring a mixture of milk and wheat flour until it thickens, says Almeida. Once it's reached the right consistency, they remove the custard filling from the stove to add egg yolks and a sugar-based syrup. 
After just eight minutes in the oven, A Loja dos Pastéis de Chaves' Portuguese egg tarts are ready to be enjoyed. The short baking time is key to achieving a perfect filling. "The centre of the filling is so creamy it sometimes drips to your chin once you bite into the egg tart, as it should," Almeida says. 
Traditional flavour infusions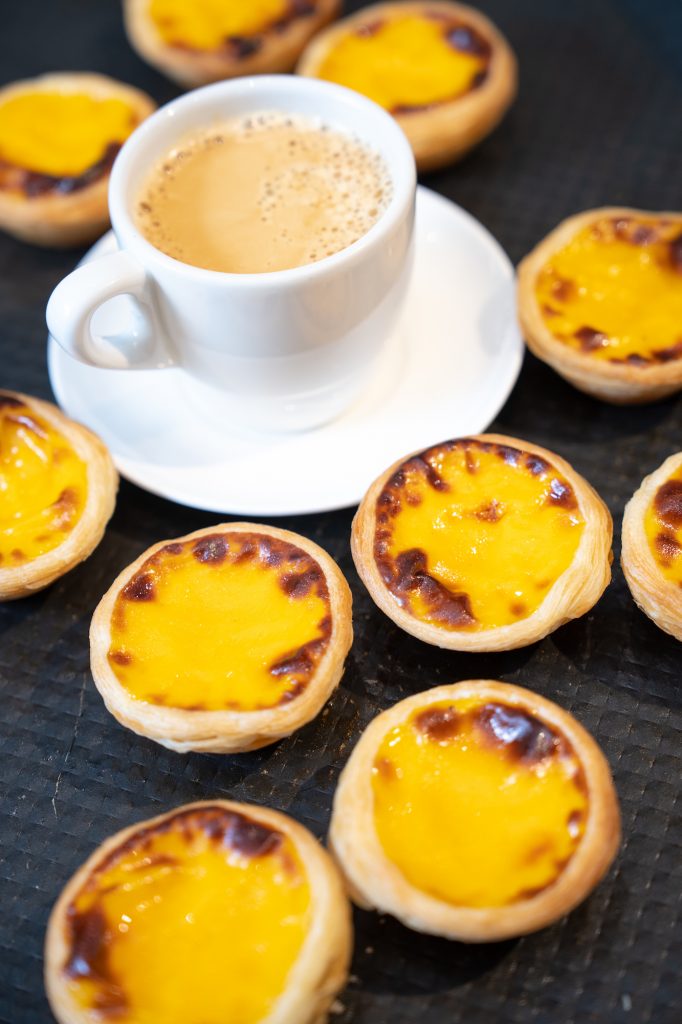 When it comes to flavour enhancements, Almeida says the syrup enables bakers to infuse the pastel de nata filling with cinnamon sticks and lemon rinds. While this infusion is common in preparing the Portuguese confection, the Macao egg tart has no trace of cinnamon nor lemon.
Before biting into a Portuguese-style tart, Almeida recommends sprinkling a bit of powdered cinnamon or confectioners' sugar, to keep with traditions. Order an espresso to go with and you're all set. 
Only in a vibrant melting pot of different cultures and flavours such as Macao could these egg tart variations happily coexist for decades. But which is better? That is a matter of taste, and as Eileen says, "taste is not a matter of dispute." 
Now that you know the differences between Macao's famous pastries, it's up to you to decide which style pleases your palate most. Luckily, there are more than enough egg tarts to enjoy while making up your mind. 
---
3 egg tart keepsakes
If you grew attached to Macao's quintessential pastries on your visit, consider taking a tart-inspired souvenir home with you. 
1. Socks
Who says socks have to be boring? Take home these egg tart socks by Loving Macau to infuse your wardrobe with sweet memories.
2. Candle
Perfect for a relaxing night in, these egg tart candles by MOP Design look almost good enough to eat! 
3. Magnet
Stick this sweet memento on your fridge to remember your culinary escapes in Macao.
---
Get your fill of Macao egg tarts at one of the three Lord Stow's bakeries across town, savour traditional pastéis de nata at A Loja dos Pastéis de Chaves, or try dan tat at Estabelecimento de Comidas Chion Chau (滄洲咖啡小食).