Bird enthusiasts explore the Macao Fortress
Bird enthusiasts explore the Macao Fortress

Link copied
If you're into birdwatching, you'll be happy as a lark at Mount Fortress! This former military barracks-turned-city park and museum is a haven for birds of all flocks and feathers. Here's what you might spot on your next trip there.
A short walk from the Ruins of St. Paul, Mount Fortress is an oasis inside the urban Macao Peninsula, and one that has watched over the city from its perch on Mount Hill for centuries.
Built between 1617 and 1626, with help from the Jesuits, the structure embodies the fortification of Macao under the Portuguese, and once served as a necessary bulwark to defend the city from foreign invaders. On 23 June 1622, Dutch forces launched a full-scale attack on the Portuguese colony, in what would later become known as the Battle of Macao. As Dutch soldiers advanced towards the city centre, an Italian Jesuit priest fired a cannon-shot from the still-incomplete Mount Fortress, miraculously wiping out most of the troops' ammunition, while causing many casualties. Despite being outnumbered, Macao was able to defend herself, and the city's residents, thanks to this surprising stronghold.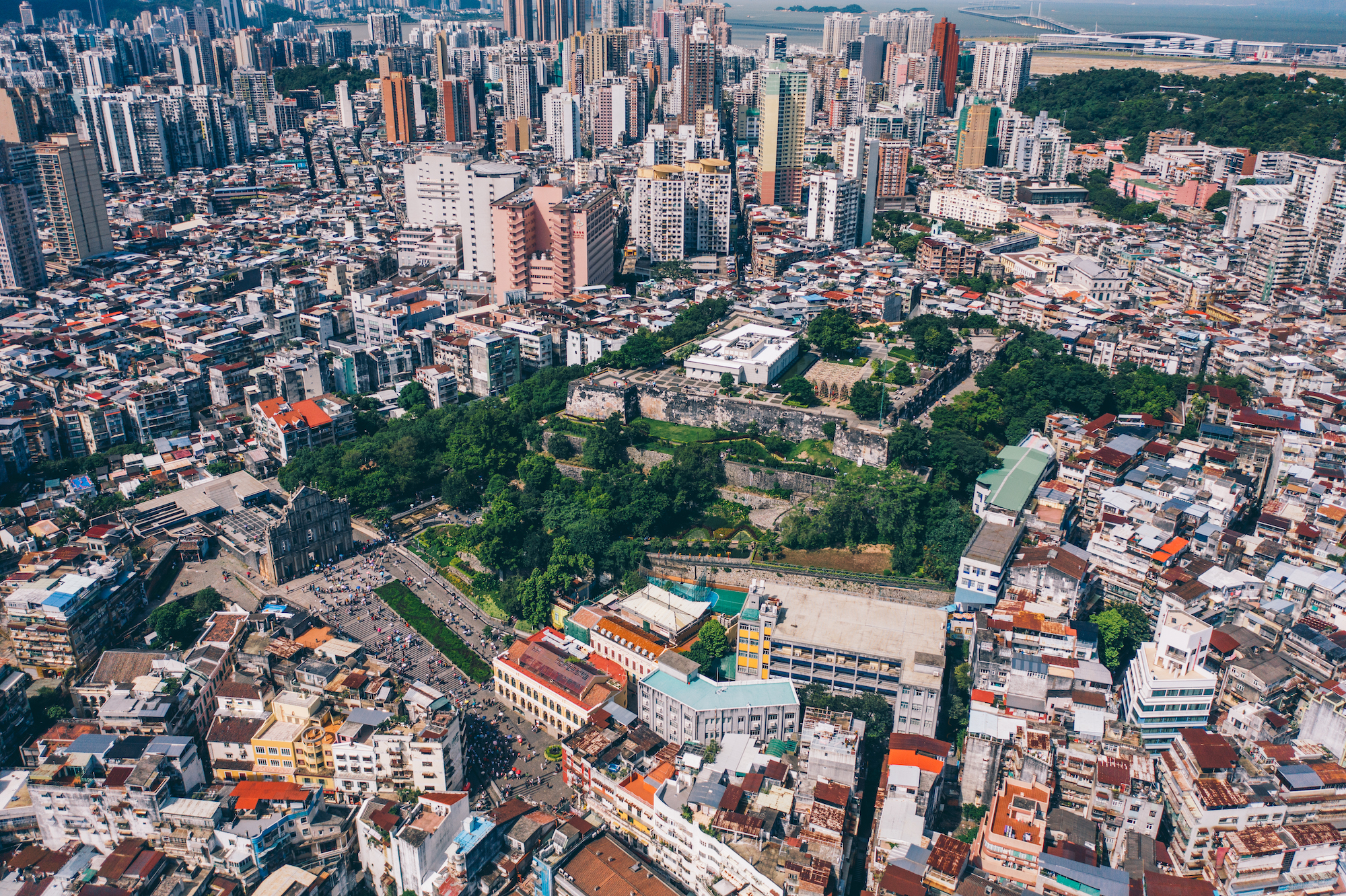 Today, Mount Fortress is more a place of leisure than a defensive parapet. It features a rooftop garden, jogging tracks, panoramic views of the city, and the Macao Museum (since 1998), not to mention ample trees and plants. Covering a total area of 10,000 square metres, the park attracts tourists, locals and birds – lots and lots of birds.
Thanks to its ample natural resources, this former military structure has become a popular habitat for all sorts of feathered friends. Migratory birds enjoy stopping off for a mid-voyage break in spring and wintertime, while non-migratory birds have made it their home year-round.
On occasion, exotic birds that are kept as pets in the community may also turn up in the park. As a result, Macao's birdwatchers are treated to a changing roster of species in the park, which can vary greatly from week to week. This explains why Mount Fortress has become a great spot for birdwatching and wildlife photography on the Macao Peninsula. To learn more about this outdoors pastime, we talked to local bird enthusiasts and conservationists about what to expect when birdwatching at Mount Fortress.
João Monteiro: the pursuit of the perfect shot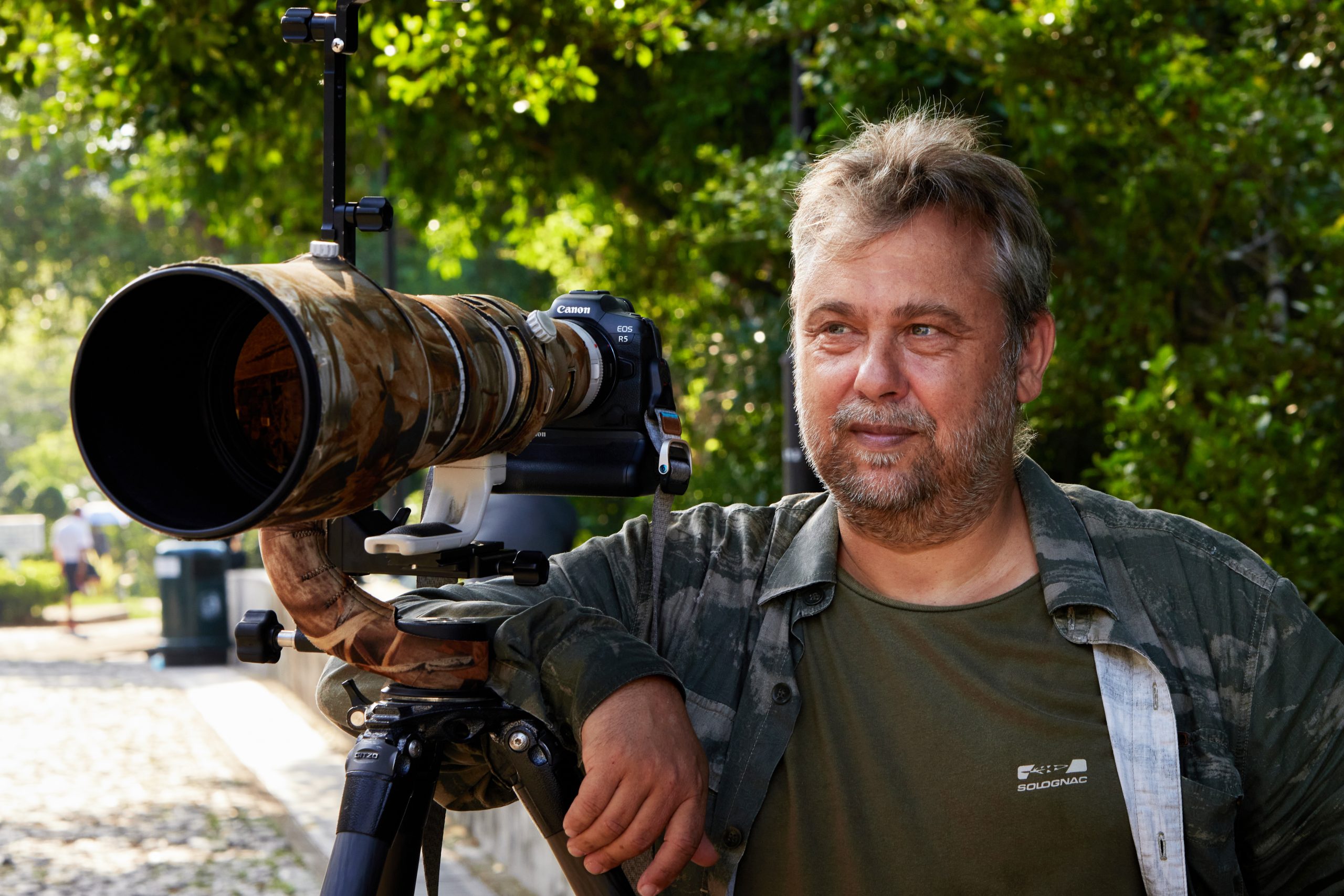 João Monteiro, 55, has been birdwatching for eight years. For over two decades, his hobby has been photographing the city, focusing primarily on urban scenes like architecture, streets and people. He says that he felt inspired by the coordinated and graceful movement of birds that he spotted one day, while he was in the Carmo area of Taipa, and has remained interested in capturing them on film ever since. "I saw a flock of birds flying over the lagoon [the wetland in front of Taipa Houses-Museum]."
Monteiro usually takes photos of birds in Taipa, where he lives and works as a senior coordinator of criminal investigation for the Judiciary Police of Macao. But he says that Mount Fortress is one of his rare spots off the island, where he can find a wide variety of birds. "Some birds, such as the red-billed blue magpie and common hill myna are particularly attracted to that area because of its trees."
There are different kinds of migratory behaviour for birds, which broadly include residential, migratory and visiting. You can observe bird species that fit into all categories at Mount Fortress, according to Monteiro – another reason why it's a top choice for him. Residential birds remain throughout the year, migratory birds stay from four to seven months, while visiting birds stop off anywhere from a day or two to a couple of weeks.
Some of the park's most common residential birds that can be seen all year round include the black kite, black-collared starling, blue whistling thrush, common tailorbird, crested myna, long-tailed shrike, light-vented bulbul and yellow-bellied prinia.
For anyone trying to catch sight of a rarer species, migratory birds that visit during their seasonal relocations include the white-shouldered starling, barn swallow, black drongo, red-flanked bluetail and house swift. A lucky few might even spot visiting species like the black-naped monarch, blue flycatcher, Chinese grosbeak or Asian emerald cuckoo.
In fact, it was the Asian emerald cuckoo, a jewel-toned rare specimen of a bird, that Monteiro lists as his most exciting spot. After a fellow birder caught sight of this elusive species last year, word spread quickly, and as many as 50 wildlife photographers turned up at Mount Fortress, along with Monteiro, in search of the perfect snap. In the end, he says, a female one stayed in the park for dozens of days.
Armed with his camera, long lens, and a pair of binoculars, Monteiro will drape himself in a large piece of lightweight water-repellent material which acts as a camouflage, as he waits in the field for hours.
"I stand or sit [motionlessly], and try to look like a bush," he laughs. "Of course birds are clever, so they may still be able to tell."
Aegon Chang: appreciation through careful observation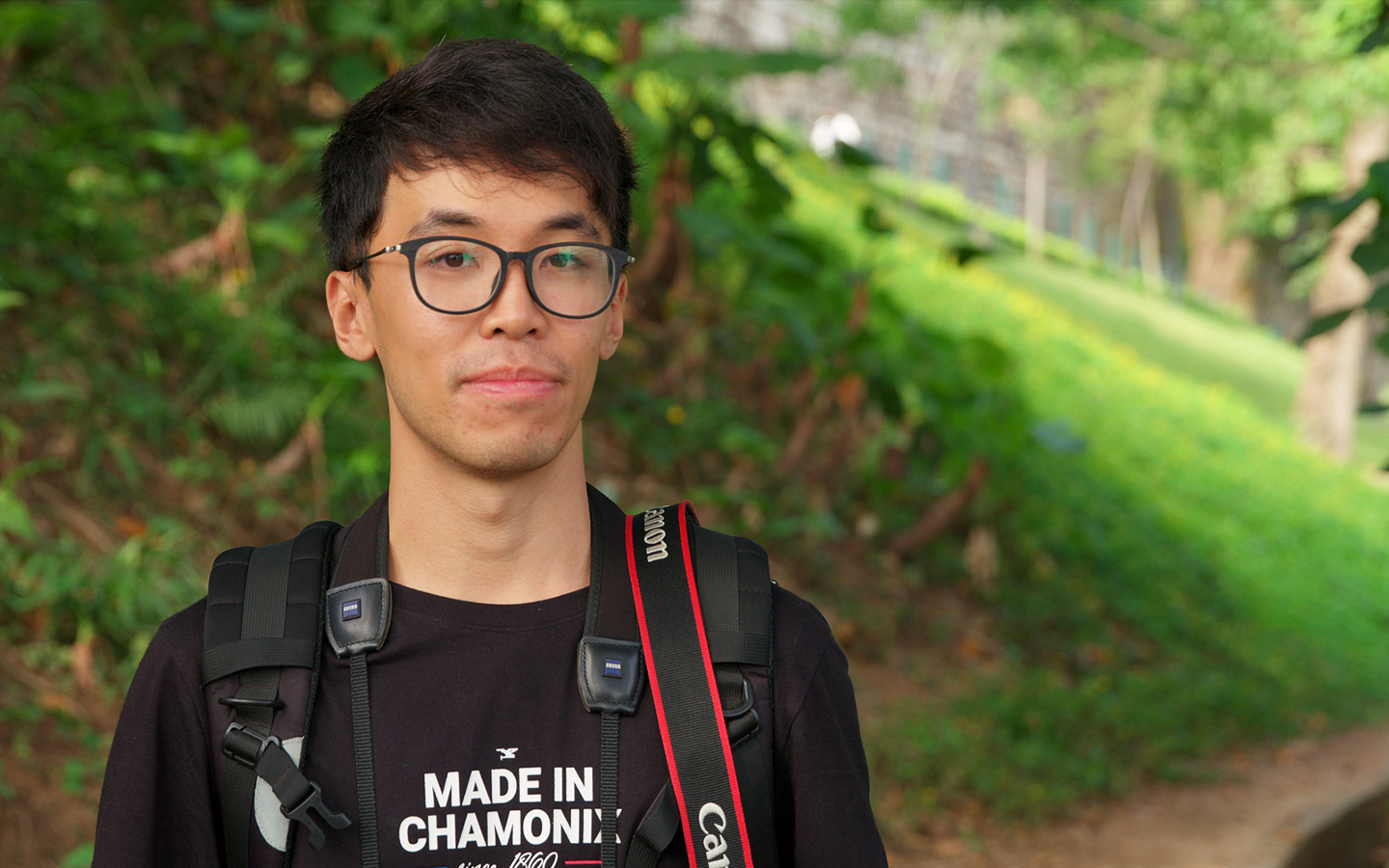 On a crisp April morning, Aegon Chang, 27, makes the climb up to Mount Fortress, while taking note of a melodic twittering floating through the air. "That's the plaintive cuckoo. It's a summer migratory bird with eight unique musical notes."
A dedicated birdwatcher, Chang studies birdsong through birdwatching apps to help him catch sight of and identify them. He regularly visits various local sites in Taipa, Coloane, Guia and Mount Fortress, as well as abandoned sites and the seaside, and receives daily updates about birds spotted around Macao.
Chang has been birdwatching since he was 20, and says that most birds that call Mount Fortress home tend to be urban species, comfortable in cities. Some of these urban-dwellers include the Chinese bulbul, spotted dove, red-whiskered bulbul, Japanese white-eye, red-billed blue magpie, pigeons and Eurasian tree sparrow.
One of his favourite birds to spot at Mount Fortress is the narcissus flycatcher, a migratory bird that appears in Macao during spring. "You can only see them in March and April, not any other time. It's a special event, and that's why I like to see them."
Chang says the local flora found at Mount Fortress is a huge boon for Macao's birdwatching community. "The area hasn't been revamped, and its native trees are at least fifty years old. The banyan trees, for example, provide a perfect shelter for birds flying through to rest as they migrate, and offer protection from predators like the crested goshawk."
Compared to Taipa or Coloane, Mount Fortress may have fewer species to see, says Chang, but a greater number of birds at any given time. This makes it the perfect spot to start birdwatching. Why does the park attract so many birds? Worms are attracted to light, and are drawn to the fortress' vibrant night lamps – easy prey for hungry birds.
Chang cautions that while worms and other food may attract birds, it's important to maintain a respectful distance, and abstain from feeding them under any circumstance. "Feeding birds will destroy their ability to feed themselves and survive, and that's bad for everyone."
Aspiring for environmental conservation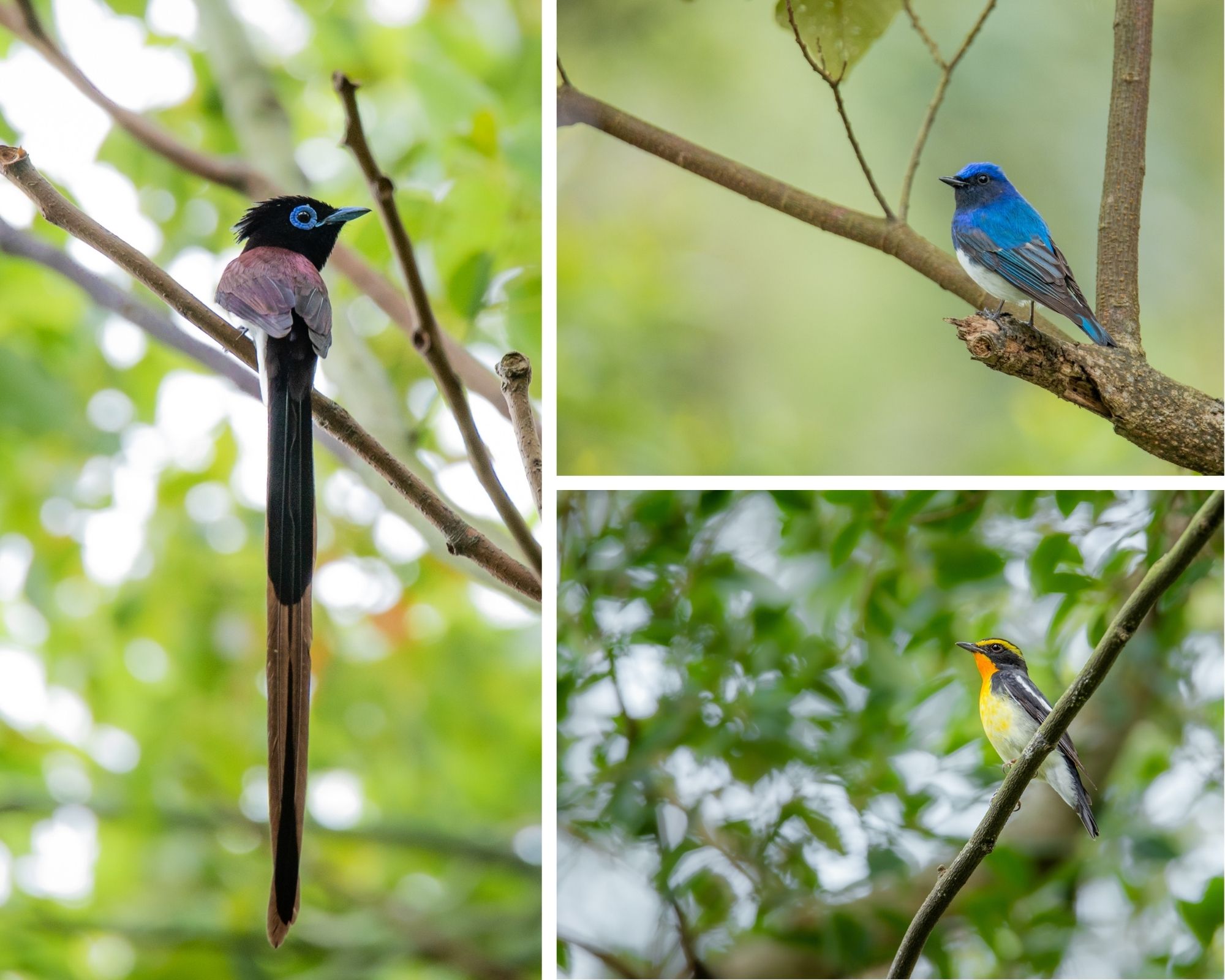 The minds behind the popular Facebook page "Wildlife Diary of Macau" – an environmental conservation effort promoting Macao's biodiversity – are friends Eric Kwan and Ken Kwan who started the group in 2020, as a way to meet like-minded nature lovers. While they've been able to meet fellow wildlife enthusiasts, the pair say that respect, for both the birds and the locals, is key to being a responsible birdwatcher.
"When too many people arrive in the park at once and set up their tripods, it creates a blockage," they say, adding that they have also observed people luring birds with food to get a good photo.
The friends say that they have spotted a few exotic species in Mount Fortress, such as the yellow-fronted canary and pale blue flycatcher, which aren't indigenous to the region. For that reason, they suspect these birds are actually pets of Macao residents, who either escaped or have flown too far from home.
Much like Chang, the group's organisers are especially fond of the migratory bird, the narcissus flycatcher. "It's tiny and adorable, with black and yellow feathers that are quite eye-catching, especially when the landscape is green during the spring when it arrives."
They also enjoy spotting blue-and-white flycatchers, which they describe as looking like "sapphires in the bush," and Japanese paradise flycatchers, whose feathers grow longer during their reproductive phase.