1 restaurant, 3 experiences: The Conservatory reopens with flavour-packed menus for every craving
1 restaurant, 3 experiences: The Conservatory reopens with flavour-packed menus for every craving

Link copied
Tempt your taste buds with classic British dishes, traditional Chinese flavours and sweet treats at The Conservatory restaurant at Sheraton Grand Macao, which reopened on 20 September.
Ready for a new dining adventure in Macao? After a brief hiatus due to the Delta scare this summer, The Conservatory reopened at Sheraton Grand Macao on 20 September. Once again, you'll find three distinct gourmet experiences under one roof, plus a host of new dishes.
Tuck into contemporary British cuisine at Three Bottles, indulge in Chinese flavours at Chaan or treat yourself to decadent desserts at The Sweet Shop. Whether you are enjoying a date night or catching up with family, this winning combination aims to please a range of palates. 
Heading up the kitchen is Guangdong-born Chef Ben Hu, who believes that the mix-and-match menu is ideal for an international destination like Macao where people love to relax and connect over food. 
"Macao is an international city – a table can seat customers from all corners of the world. Here at The Conservatory, diners from different backgrounds can sit together and enjoy different flavours," says the 33-year-old chef.
Chef Hu's crowd-pleasing concept 
Hu, who began studying Cantonese cuisine in Guangzhou at the age of 17, worked at various hotels before joining Marriott International in 2011. He worked at The Ritz-Carlton Beijing, The Ritz-Carlton Guangzhou and The St. Regis Macao before heading up The Conservatory kitchen at Sheraton Grand Macao.    
"After years of exploring Eastern and Western cuisines, running The Conservatory is a great opportunity for me to develop more ideas and plan the big picture," says the chef. "It is a very special restaurant because it meets the needs of so many different types of people – we serve corporate visitors coming for a meeting, leisure travellers, office workers, families and locals who come to eat during the week." 
When the restaurant first opened in July 2021, Hu brought to life a grand idea to blend three cuisines in a single restaurant. Upon entering the spacious eatery, diners will find three distinct sections with the Tea Room in the middle. No matter whether they sit, guests can order from any menu. 
"Our customers shared great feedback about the novel concept," he says. "People love our fish and chips, fresh crab congee and our dumplings, which are made to order. One time, we had a table of 10 people ordering food from all three sections. That [experience] is our signature."
For the reopening in September, Hu kept the same popular concept but added a few new dishes and made the experience even more flexible. "We used to offer certain dishes at different time slots – breakfast, lunch or dinner. Now we serve all of our dishes, all the time."
A taste of Britain
Among the restaurant's three dining experiences is Three Bottles, a restaurant and bar that transports diners to the streets of old-world London with its black-and-white tiles and vibrant banquette seats. 
The name Three Bottles takes inspiration from an old English anecdote. As the story goes, William Pitt, a British Prime Minister in the 18th century, always carried three liquor bottles in his pocket.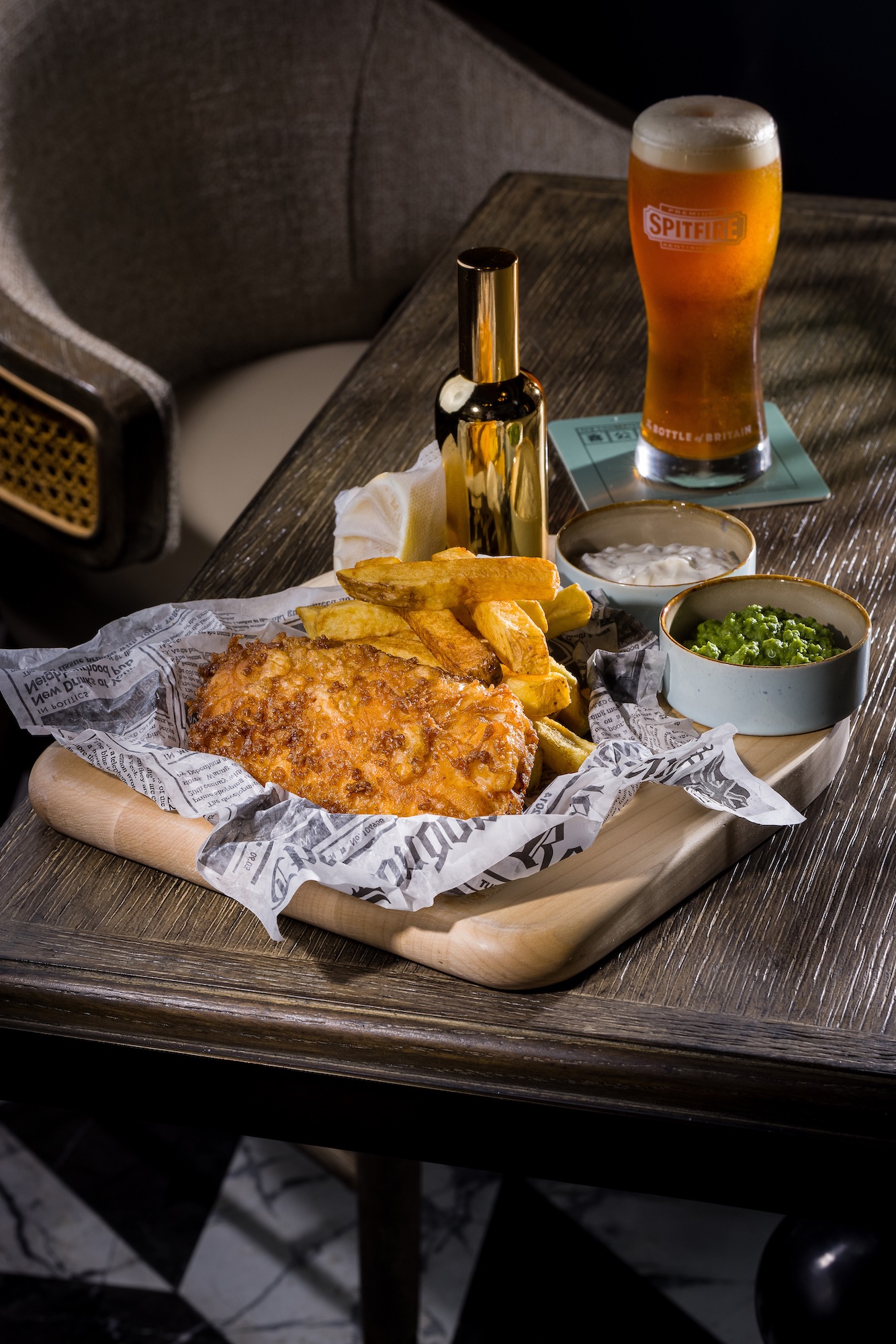 But Three Bottles doesn't get too hung up on tradition. Chef Hu puts a fresh spin on British cuisine with updated classics like a full English breakfast, Cheddar pies, Sunday roast, delectable beer-battered fish and chips. "The secret lies in the recipe for our beer batter. We use vodka instead of water as it evaporates faster, creating larger bubbles with more surface contact with hot oil, thus resulting in a crisp and delicate crust," he explains.
The Conservatory also specialises in shareable dishes, evidenced by savoury beef cheek pies or the whole roast Poussin chicken – perfect for large groups and special occasions. "We hope to create a celebratory atmosphere, where food is the focal point of a social gathering," he says.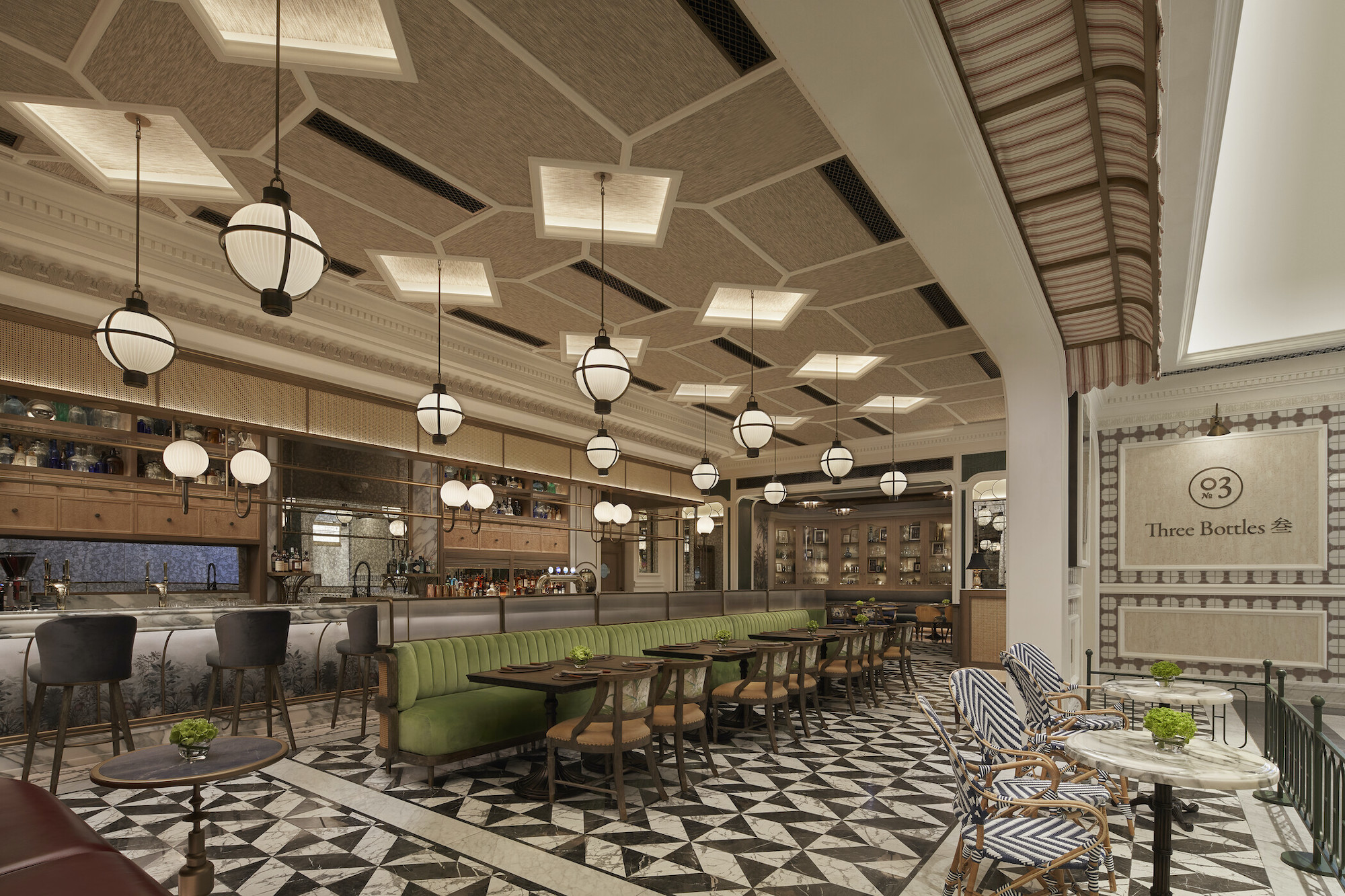 Chinese diner dishes at Chaan

 
Meaning "meals" in Cantonese, Chaan delivers on its promise of traditional Chinese flavours. This restaurant section feels more intimate and informal, thanks to comfortable booths and vintage ceiling fans.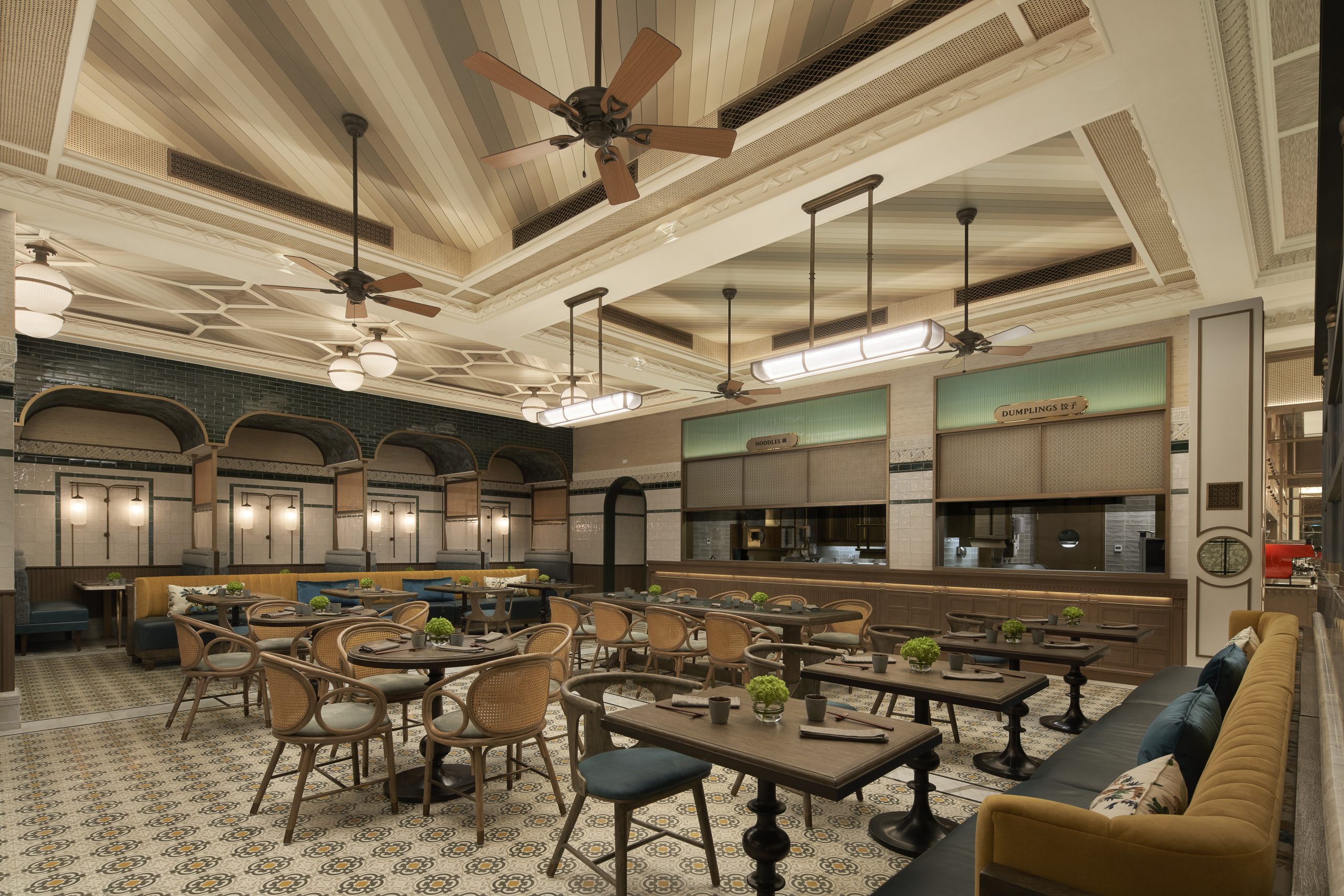 "We provide a range of local Cantonese specialities including braised beef brisket and tendon noodles, wonton noodles and fresh crab congee," says Hu. "The style is like cha chaan teng in Hong Kong and Macao. And since our customers love our hand-crafted noodles so much, we've added more options – such as spinach noodles and sliced noodles – to the updated menu." 
Beyond Cantonese favourites, Hu also incorporates some dishes from across greater China. "We also offer dishes like dan dan noodles and Sichuan-style wontons, which are my speciality," he says. "And we try to update the dishes using modern cooking methods, such as slow cooking and sous vide."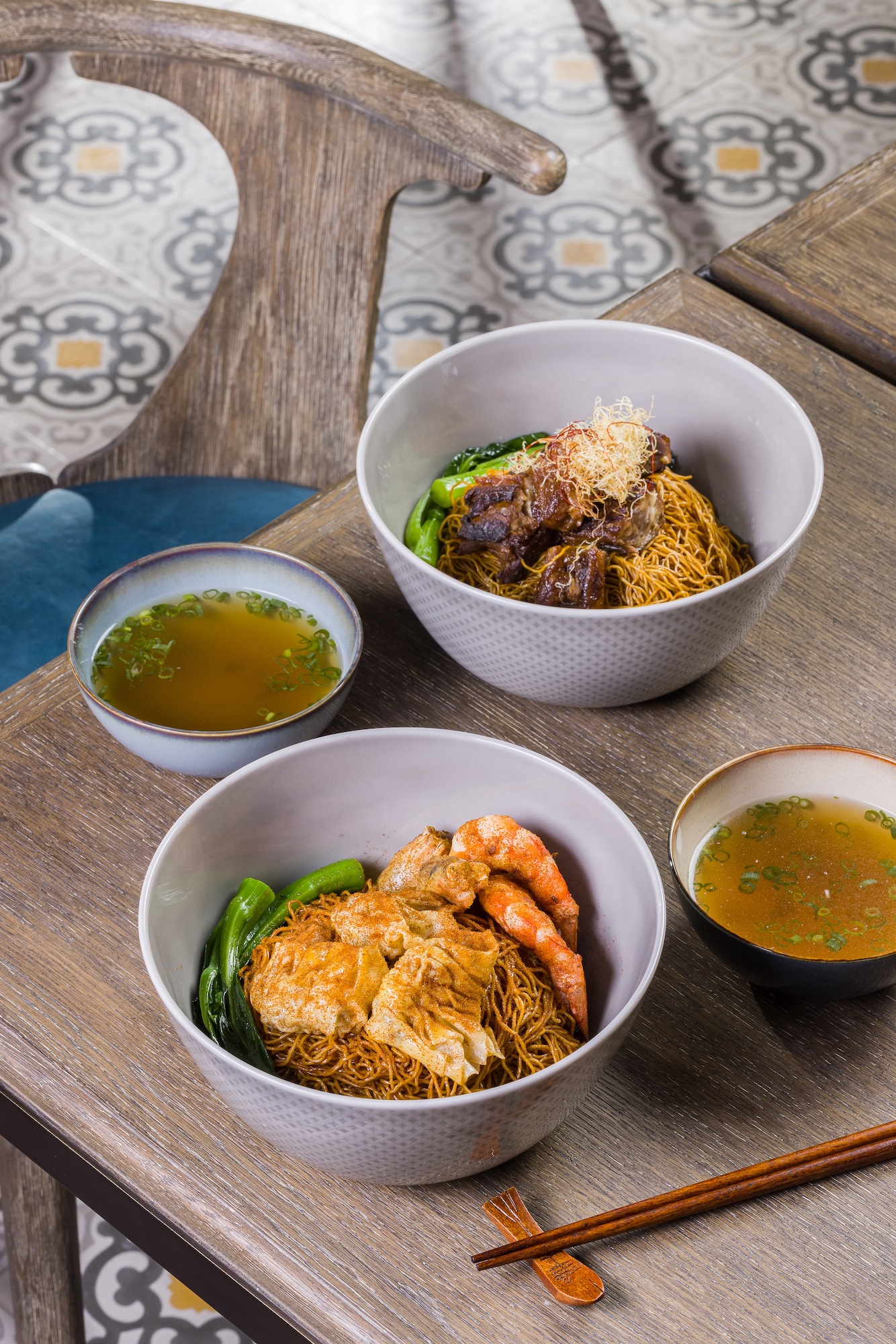 As the chef explains, slow-cooking is all about celebrating each ingredient's textures and flavours. "Generally, slow-cooking makes the food incredibly tender, flavours become much deeper and more infused, he added."
For your sweet tooth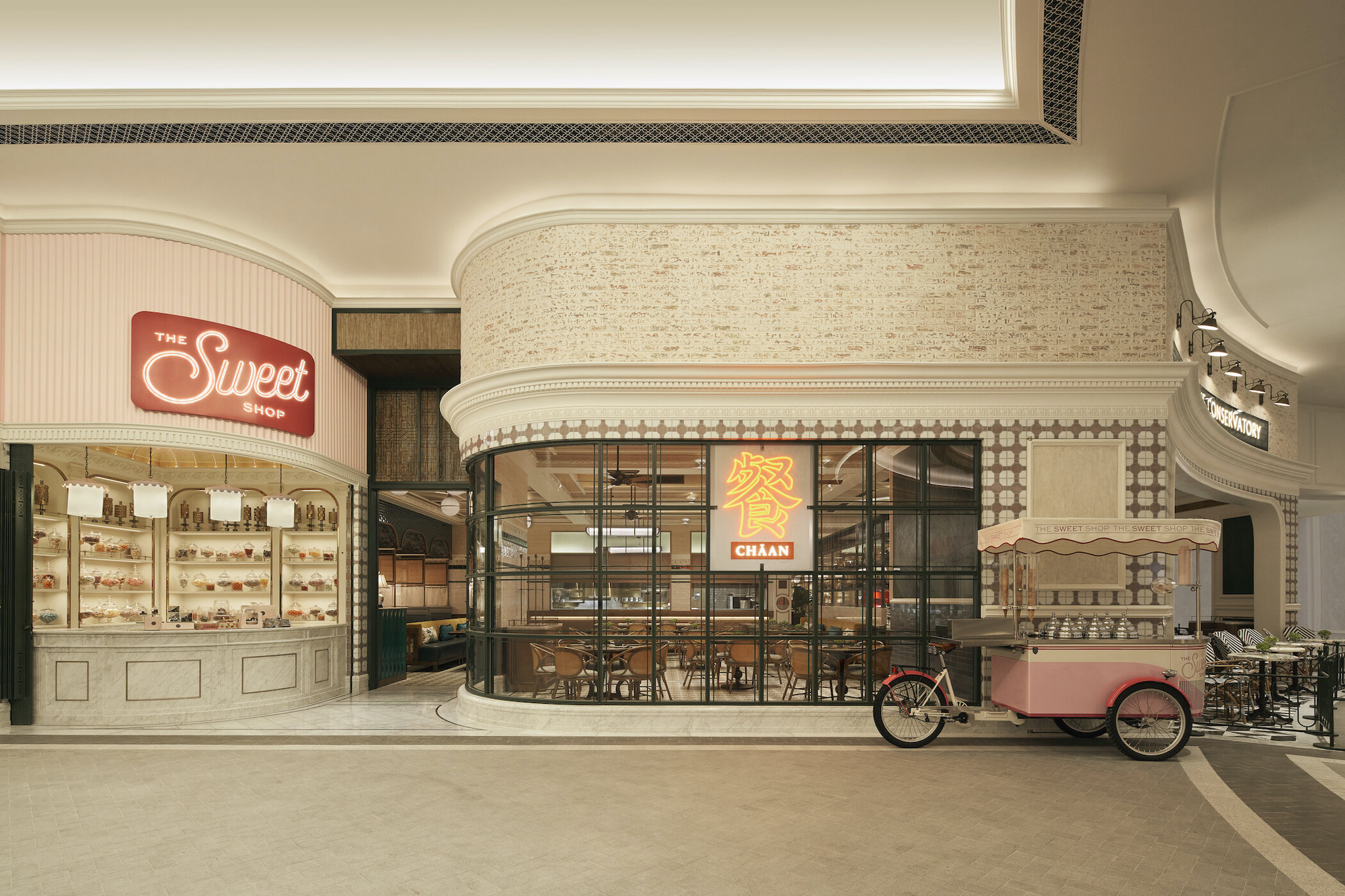 Welcoming guests with a large, ruby-hued plaque that reads "Sweet", The Sweet Shop serves up pretty much what it says on the tin: a variety of handmade candies, ice cream and sweets for takeaway. 
"We offer lollipops and candies like those you'd see on the streets in the UK, which gives customers a taste of a traditional English childhood," says Hu. "We also have a vintage ice-cream cart at the entrance."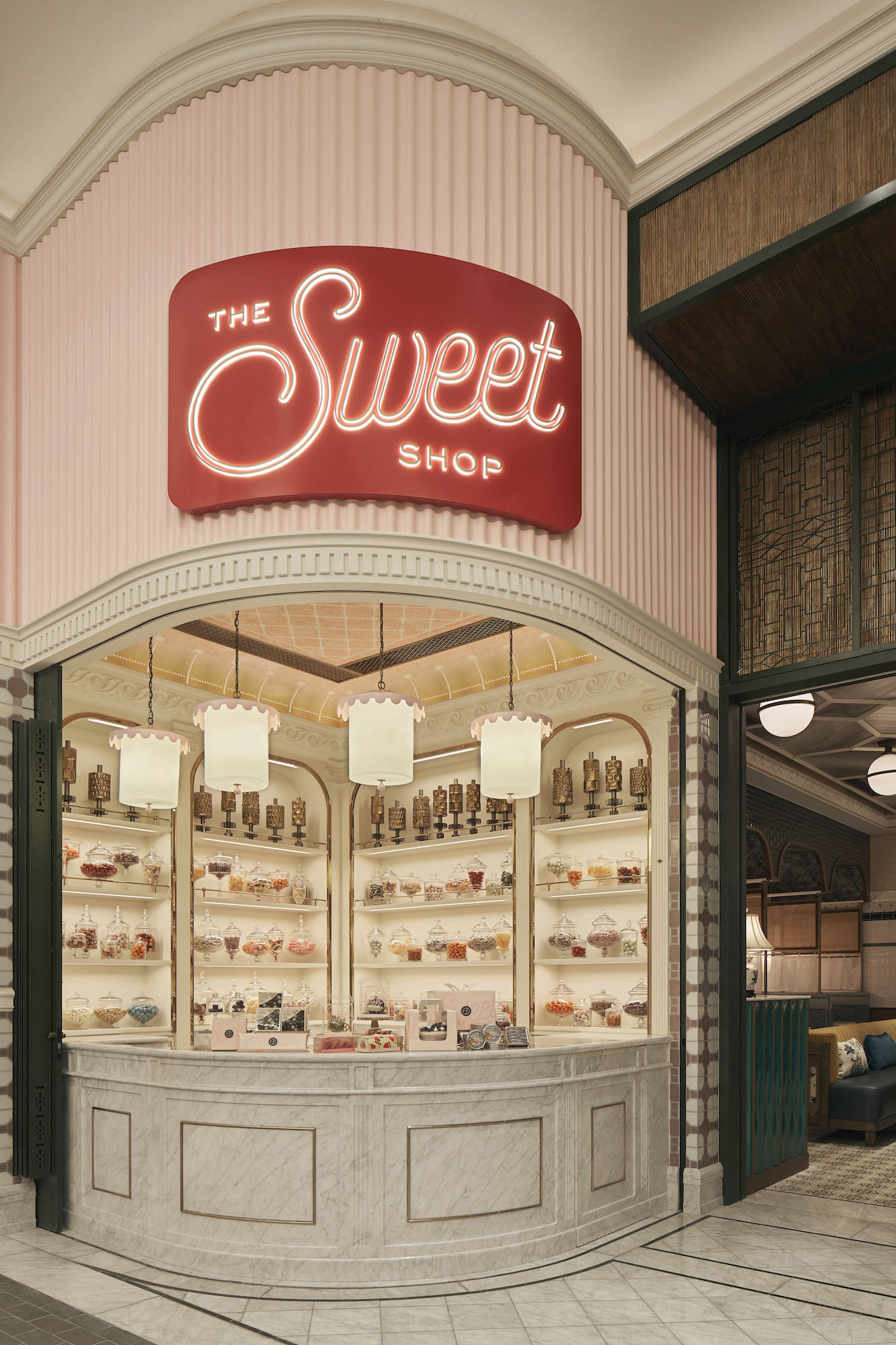 The shop also sells beautiful cakes that are perfect for celebrations – think three-tiered strawberry and vanilla creations, chocolate and caramel tarts or signature T-cup cheesecakes ("T" being a play on "tea"). "We make chocolate cups – the same size as espresso cups – and fill them with cheesecake in different flavours, like Nutella, oreo and matcha."
The Tea Room 
Sitting at the centre of the restaurant, the Tea Room offers a relaxing, calming atmosphere where friends and family can indulge in a leisurely break over both Chinese and Western teas, buns and pastries. 
On the menu, look for the trinity burnt cream doughnuts, fresh madeleines, canelés, a creative "Cheetos" croissant and freshly baked scones, not to mention old-school Chinese buns, such as bolo cha siu bao (pineapple buns with barbecued pork) and spicy sardine buns.
And for tea? Choose from Chinese Pu'er (a style of fermented tea), tieguanyin (a type of oolong), English breakfast and Earl Grey.
With three main concepts and myriad flavours all under one roof, The Conservatory strives to cater to all tastes and styles without compromising quality, authenticity and flavour. 
---
Looking for somewhere to treat your family and friends? Satiate all your cravings and more at The Conservatory this autumn.