Goodbye, plastic: 5 zero-waste stores in Macao where you can find food, beauty and home essentials
Goodbye, plastic: 5 zero-waste stores in Macao where you can find food, beauty and home essentials

Link copied
Stock up on all kinds of unpackaged goods at five of Macao's pioneering zero-waste stores.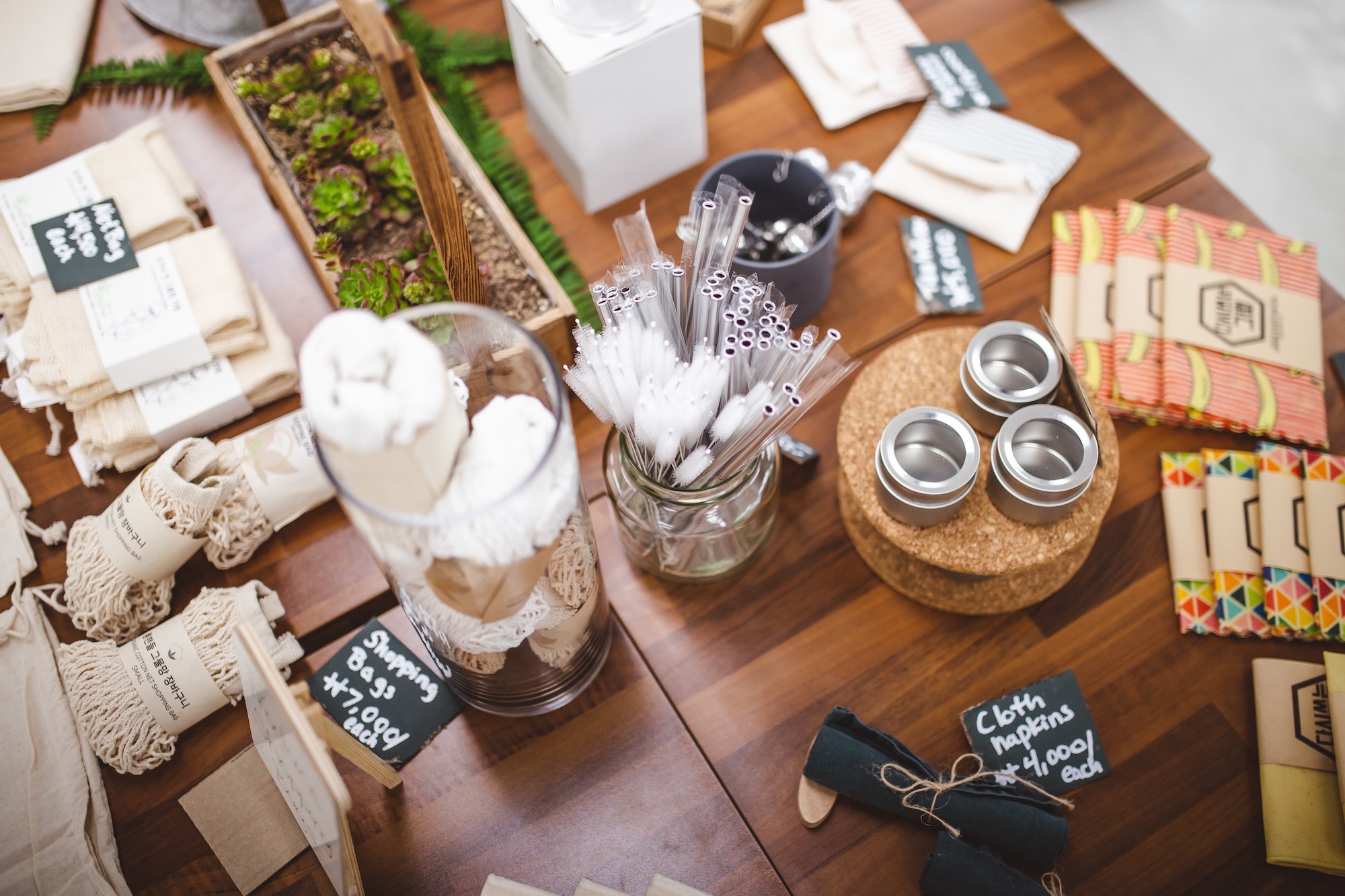 Ready to do your part and protect our environment? Give "zero-waste shopping" a try. The first zero-waste grocery, Unpackaged, opened in London in 2007. Since then, the concept has spread to all corners of the world, including Macao, which has helped to raise awareness about plastic pollution and unnecessary waste. 
How does it work? It's a lot like grocery and convenience stores of the past, where customers brought their own jars or bags to buy soy sauce, rice, candy and more. All you have to do is bring a reusable container (like a box, bag or glass bottle), scoop out the items you want to buy from a bulk bin, weigh your items, and then pay. 
If you forget to bring a container, most shops provide glass containers and paper bags that you can use. Many also sell budget-friendly glass jars and handmade cotton bags for next time. Whether shopping for nutrient-rich snacks or eco-friendly cleaning products, be sure to add these zero-waste stores in Macao to your list. 
1. MaiLon Store (米量雜貨店)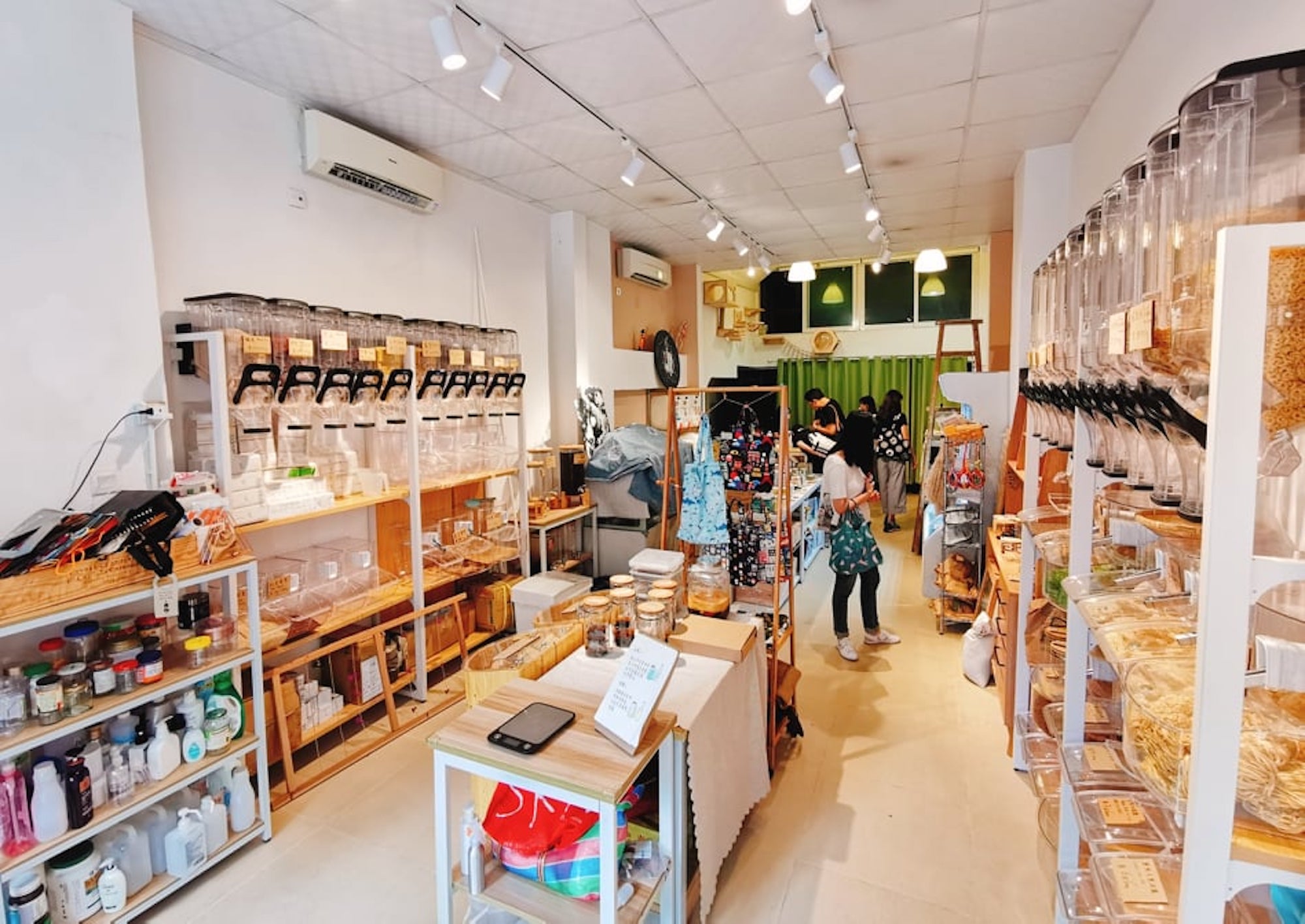 As the first zero-waste store to open in Macao, MaiLon Store, or 米量 (a play on the word "grain" in Chinese), launched in 2019. This wholesale food outlet invites you to scoop beans, noodles and dried fruits out of large "hoppers" – bulk bins – then pay based on weight.
To promote traditional techniques and minimise carbon emissions from international imports, MaiLon also sells lots of locally produced noodles. Among them, look for shrimp roe noodles (蝦子麵) and fish noodles (魚蓉麵) from Hon Kee Noodle, which has operated in Macao for 50 years.  
The offerings extend beyond the pantry, too. If you're keen to make your household chores and beauty routine more eco-friendly, look for a wide range of natural products, from tea seed laundry detergent to enzyme cleaners (which use healthy bacteria to break down stains and odours) mopping liquid and white ginger flower shampoo.
Number: 6226 5000
Location:  Rua da Erva 4, Edf. Wan Tong Kok B, R/C
Opening hours: Sunday and Monday, 2-7:30 pm; Tuesday to Saturday, 11 am-7:30 pm.
2. Less is More
Just as its name suggests, Less is More aims to inspire a minimalist lifestyle that's all about "living freer and lighter". At this two-storey shop, discover a variety of whole foods, alongside plastic-free beauty and bathroom products on the first floor. Meanwhile, the second floor is home to around 30 types of plant-based oils and vinegar, such as hazelnut oil or quince balsamic vinegar, depending on the season, which you can use for cooking, seasoning or making healthy drinks.
Less is More also promotes balanced, natural diets by offering various types of dried fruits (think peach, melon and golden kiwi) and organic ingredients, such as spirulina and acai powder. If you enjoy cooking or simply want to kickstart new dining habits, check out the brand's Facebook page for quick, healthy recipes.  
Number: 6630 3090
Location: Rua Nova à Guia, No 269, Edf. Seng Heng, R/C
Opening hours: Monday to Wednesday, Friday and Sunday: 12-8 pm. Closed on Thursdays and Saturdays.
3. Fillgood (裸得樂)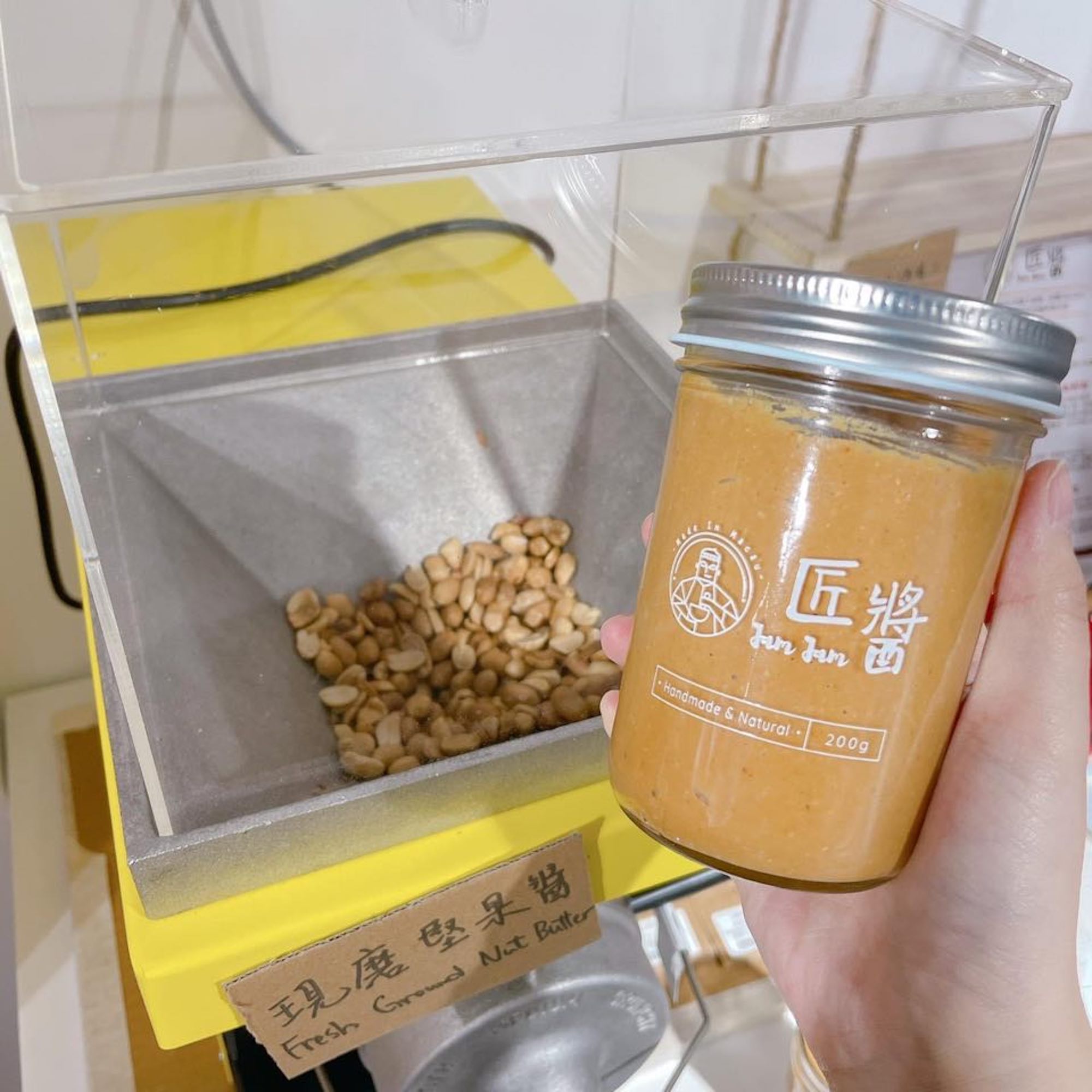 Bakery lovers won't want to miss Fillgood. Not only does the store provide package-free baking ingredients such as matcha, cocoa powder and yeast, but it also offers an array of unpackaged pantry staples, spices, locally made soaps, shampoo and detergent. 
When it comes to wholesome foods, the store is most famous for its homemade nut butter brand, "Jam Jam". Made from cashews, peanuts, walnuts and more, these organic nut butters are the perfect addition to toast, fruit and oatmeal. Better yet, they don't contain any preservatives, salt or sugar. While you're there, try the organic snacks, such as caramel coffee granola and roasted nuts, for a delicious and nutritious treat. 
Phone: 6655 2223
Location: Calçada da Barra No 21-B, Iau Seng Bloco IV A, R/C
Opening hours: Monday to Friday, 2:30-7:30 pm; Saturday and Sunday 12-7:30 pm.
4. Hap Iec Rice Store (合益米舖)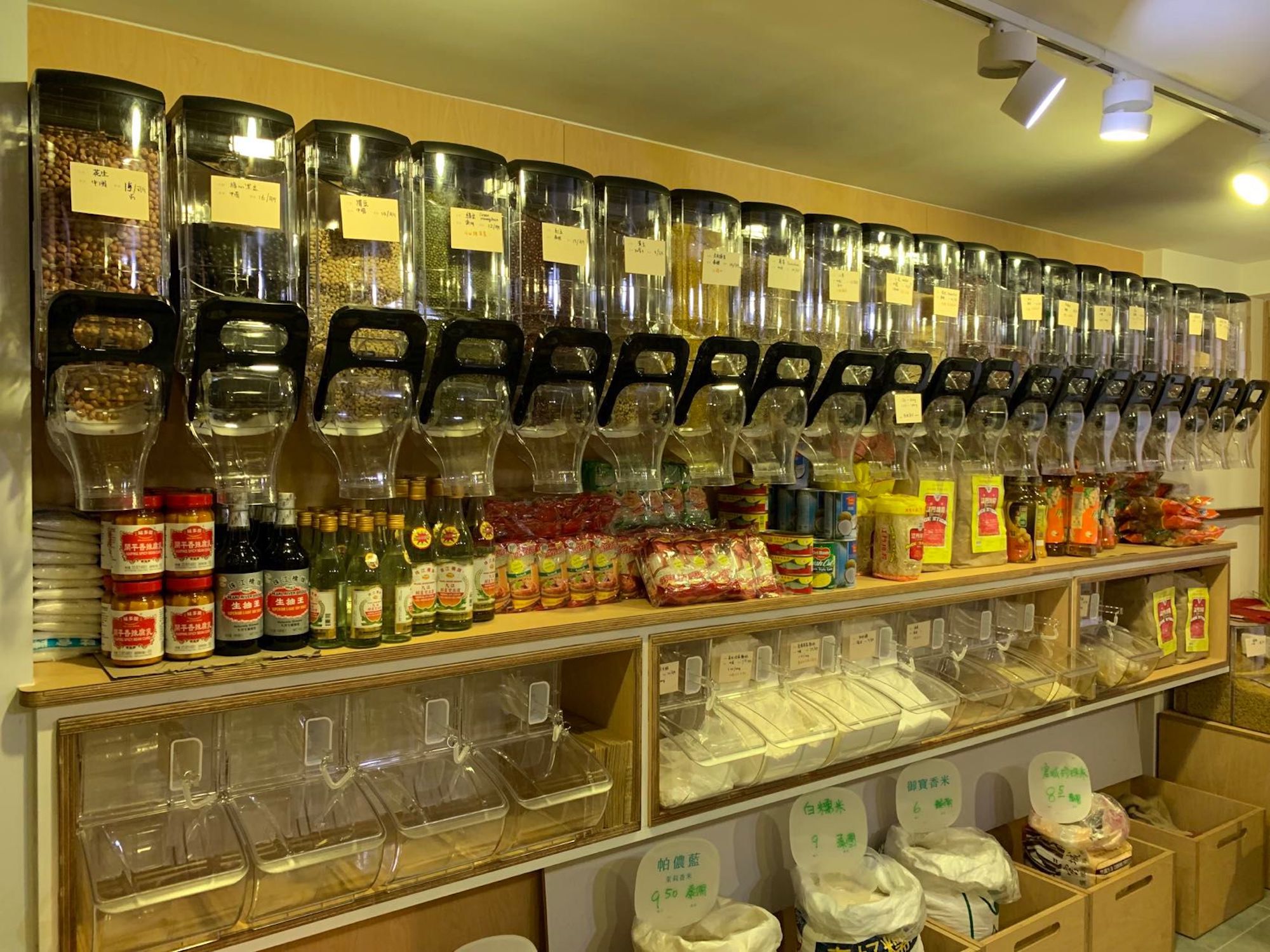 Hap Iec Rice Store is not your average grocery store. Founded in the 1960s, the family-run business originally sold rice and other pantry essentials, such as soy sauce, wheat flour and sugar. Now helmed by the granddaughter of the founder, Hap Iec serves as a hybrid between a traditional rice shop and a zero-waste store. 
Hap Iec's transformation began in 2020, when the current owner grew passionate about sustainability and environmental protection. While piles of pearl and jasmine rice in bags occupy the left side of the cosy shop, the right side features several hoppers full of bulk beans, nuts and seasonings. 
At Hap Iec Mai Hong, you'll also find healthy cooking ingredients like organic coconut oil and eco-friendly home products, such as laundry sheets that are free of fluorescent brightener (which can irritate skin and pose a threat to marine life) and phosphorus (which can cause algae to grow faster than ecosystems can handle).  
Phone: 2837 0135
Location: Rua Marginal do Canal das Hortas, No 134, Moradias Económicas Bloco de Realojamento A, R/C
Opening hours: Daily, 12-8 pm 
5. Mofy Zero Waste Store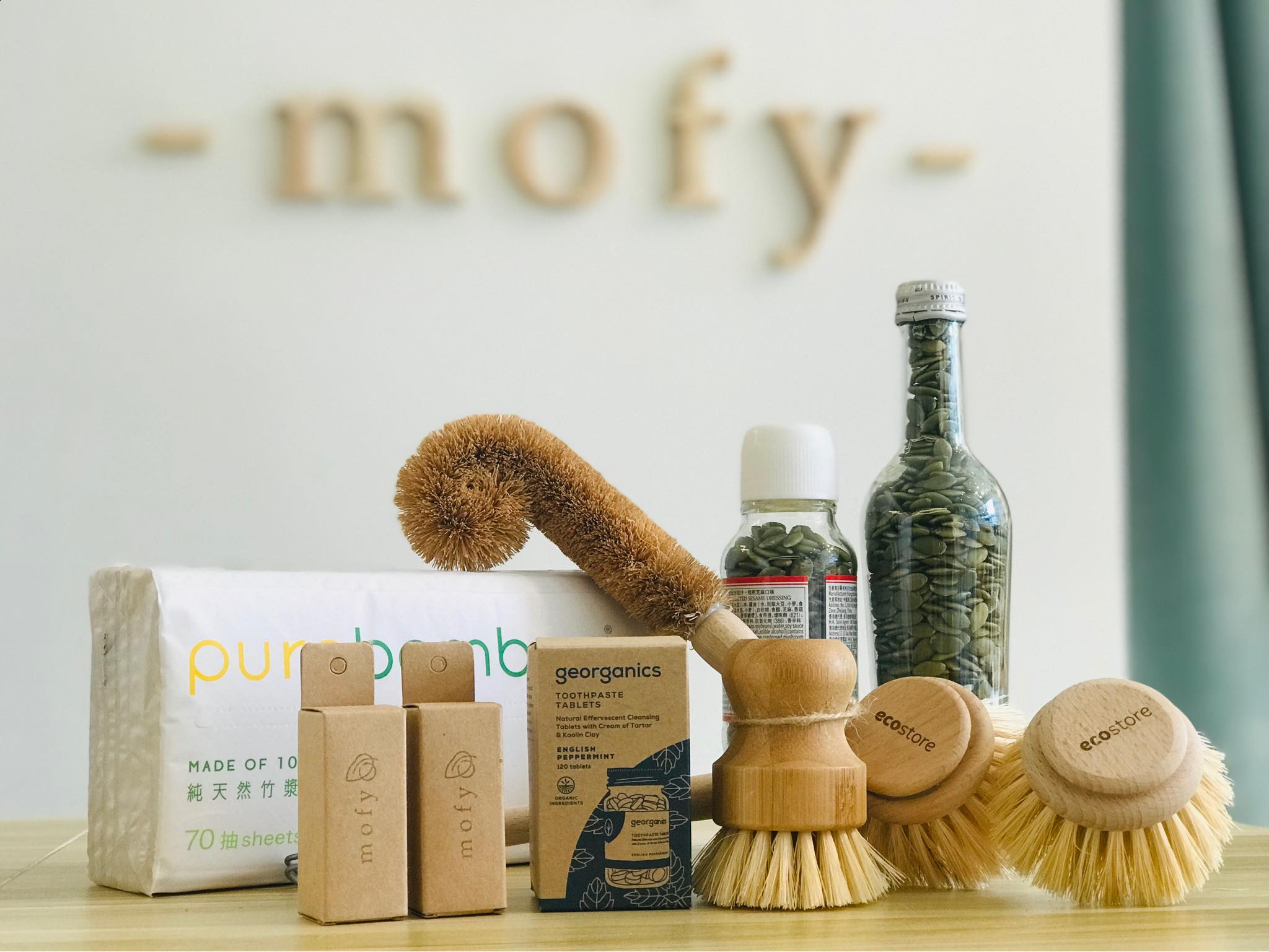 If you're keen to ditch plastic completely, try out the biodegradable products offered at Mofy Zero Waste Store. From toothbrushes to tableware to towels, these daily essentials are made with bamboo or coconut fibre. They're not only beautifully designed but also better for the environment than conventional alternatives.
The store also sells a range of natural skin care products such as shampoo body wash that are safe for babies and mothers-to-be. You can also pick up package-free laundry detergent, hand soap and cleansing liquid made of natural ingredients to complete your chores in an eco-friendly way.
Email: mofyzerowastestore@gmail.com
Location: G/F, 67 Patio da Papaia, Sao Lourenco
Opening hours: Tuesday, Wednesday, Friday and Saturday, 1-5 pm 
---
Online Zero Waste Stores
Looking to do some eco-conscious shopping online? Browse Enough Macao or Stuffbox Natural Friendly Store to do your errands without leaving home. Enough Macao offers an array of environmentally friendly alternatives for day-to-day items, such as bamboo toothbrushes, food shopping bags and reusable sanitary pads. 
Meanwhile, Stuffbox sells natural beauty products, such as tea tree bar soap and unscented shampoo, as well as a range of organic food products like tea, oats and coconut milk. Just a few clicks and you can purchase environmental-friendly products without plastic and oversized packaging. 
---
Ready to get started? First things first: Collect a few reusable containers to do your bulk shopping. For glass jars, look for those with wide enough brims that allow you to scoop beans and nuts without spilling. We'd recommend peanut butter, honey or jam jars – the glass ones are particularly durable. You can also keep take-away boxes from restaurants – they are perfect for carrying bulk snacks, such as dried fruit or granola.