Portuguese motorcycle rider dies in crash at Guia circuit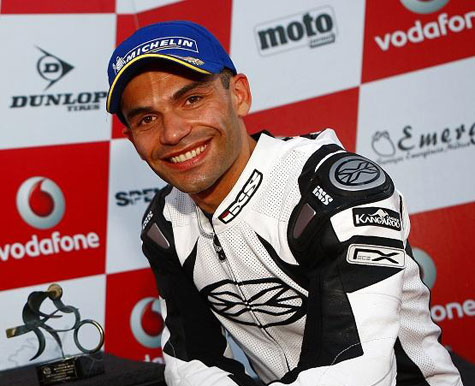 Portuguese motorcycle rider Luis Filipe de Sousa Carreira died Thursday after a crash at the Guia circuit during qualifying for the 46th Macau Motorcycle Grand Prix, racing officials said.
The 35-year-old Carreira from Lisbon crashed yesterday afternoon at Fisherman's Bend. No other riders were involved in the accident.
Organisers said two doctors went to the rider's aid and Carreira was then rushed to the public Conde de Sao Januario Hospital Centre, where he was declared dead about 20 minutes after arriving.
A statement from the Macau Grand Prix Organising Committee cited by The Macau Post Daily said, "We regret to announce that Luis Filipe de Sousa Carreira … has succumbed to injuries sustained in a racing accident during the qualifying session" yesterday afternoon.
The statement said the accident happened at 3:58 p.m.
"The medical services, a fast intervention vehicle, fully equipped and an ambulance with two doctors in attendance, which were fortuitously parked right at the site of the accident immediately went to the rider's aid and as a result of the doctors' diagnosis, Mr. Carreira was immediately evacuated by ambulance to the [Conde de Sao Januario] Hospital [Centre], where he was admitted at 4:08 p.m.", the statement said.
The statement added that continuous CPR was performed, however he succumbed to his injuries at 4:28 p.m.".
According to the statement, the qualifying session was abandoned at 4:30 p.m.
The committee said in the statement that it had contacted the bereaved family and team members. It expressed its "sincere condolences."
The qualifying session was stopped after the crash and later cancelled.
Carreira raced for the Benimoto Raider-Cetelem team.
It was the rider's seventh visit to Macau since 2004.(macaunews)