North Korea´s Kim Mi-Gyong wins women´s Macau marathon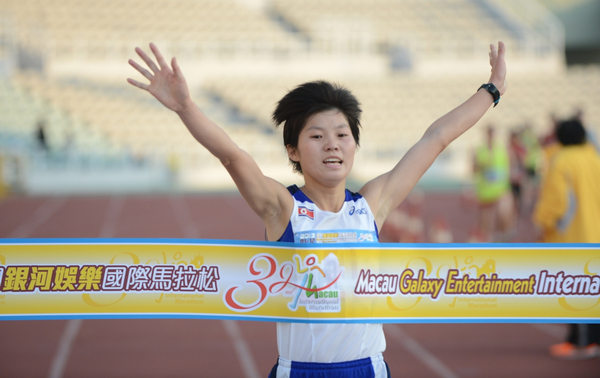 North Korea's Kim Mi-Gyong won the 32nd Women's Macau International Marathon Sunday, clocking up 2:36:32 hours and winning US$20,000.
The 22-year-old made her international marathon debut in Macau in 2011, finishing tenth with a time of 2:38:36 hours.
Kenyan runners Purity Kangogo Kimetto and Matebo Ruth Chemisto finished in second and third place, coming in 2:37:20 and 2:38:42 hours respectively.
Kenya's Julius Kiplimo Maisei won the men's marathon in a record time of 2:12:45 hours. Apart from winning the top prize of US$20,000, Maisei also won record and bonus prizes worth US$15,000.
Fellow Kenyans Julius Kiprono Mutai and Elijah Mwaniki Mgogo finished in second and third place with times of 2:14:10 and 2:14:56 hours respectively.
Chan Chong Ip was the best male runner from Macau, finishing in 2:39:37 hours. He finished 28th overall. Hoi Long was the city's best female runner with a new local record time of 3:02:21 hours. She finished 7th overall.
Some 6,000 runners from 47 countries and regions competed in the event title-sponsored by Galaxy Entertainment Group (GEG). The marathon started at 5 a.m.
The event also included a half-marathon and mini-marathon.The event is held annually by the government
's Macau Sports Development Board (IDM) and Macau Athletics Association.(macaunews)