Meet the historian collecting red packets to celebrate Macao's past
Meet the historian collecting red packets to celebrate Macao's past

Link copied
Author, historian and enthusiastic collector Ho Tai On sees lai see as more than festive ephemera. Having collected them for over 50 years, he believes each one captures a slice of Macao's heritage.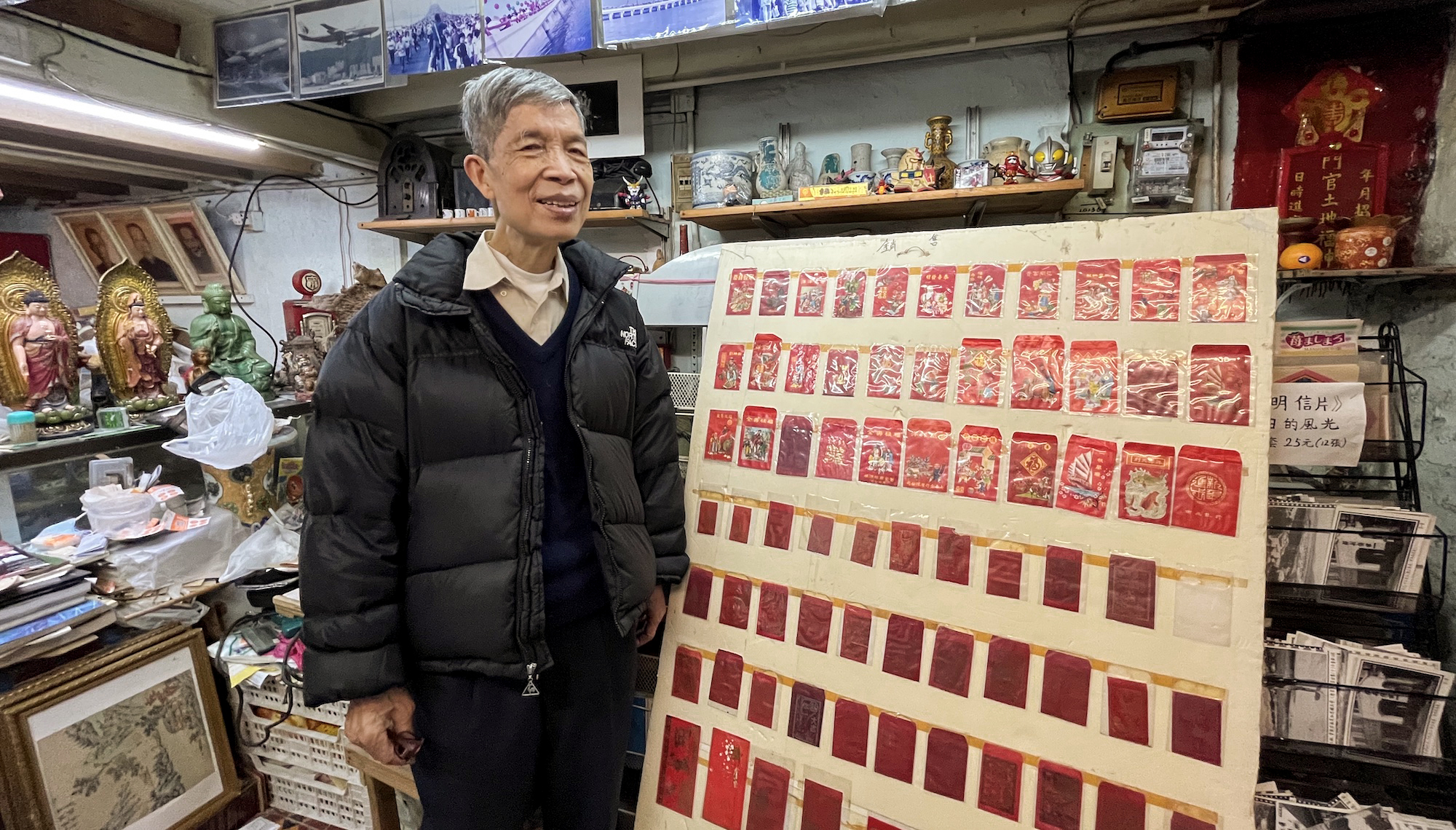 Would it even be Chinese New Year without customary lai see, or red packets, stuffed with money and luck? Dating back millennia, this tradition has evolved over the centuries. It started as a coin given to ward off evil spirits and evolved into a set of coins tied together with a red string. Eventually, in the Tang Dynasty (618-907 AD), lai see began to resemble their modern form: red paper envelopes containing an auspicious quantity of paper bills.
Most people value the meaning and generous gifts that lai see contains, but the paper packet itself often ends up in the bin, especially if it's printed with a Zodiac animal that can't be reused for another 12 years. But for the retired publisher, historian and author Ho Tai On, every packet is a treasure to preserve. 
The 73-year-old has been collecting red packets for over five decades and appreciates the sense of history their changing designs convey. In addition to collecting lai see, Ho also celebrates Macao's history by collecting historical items and making postcards, and he has written a book on the Inner Harbour's evolution. Ahead of Chinese New Year, he invited Macao News into his shop to talk us through his comprehensive red packet collection.
The interview has been edited for length and clarity.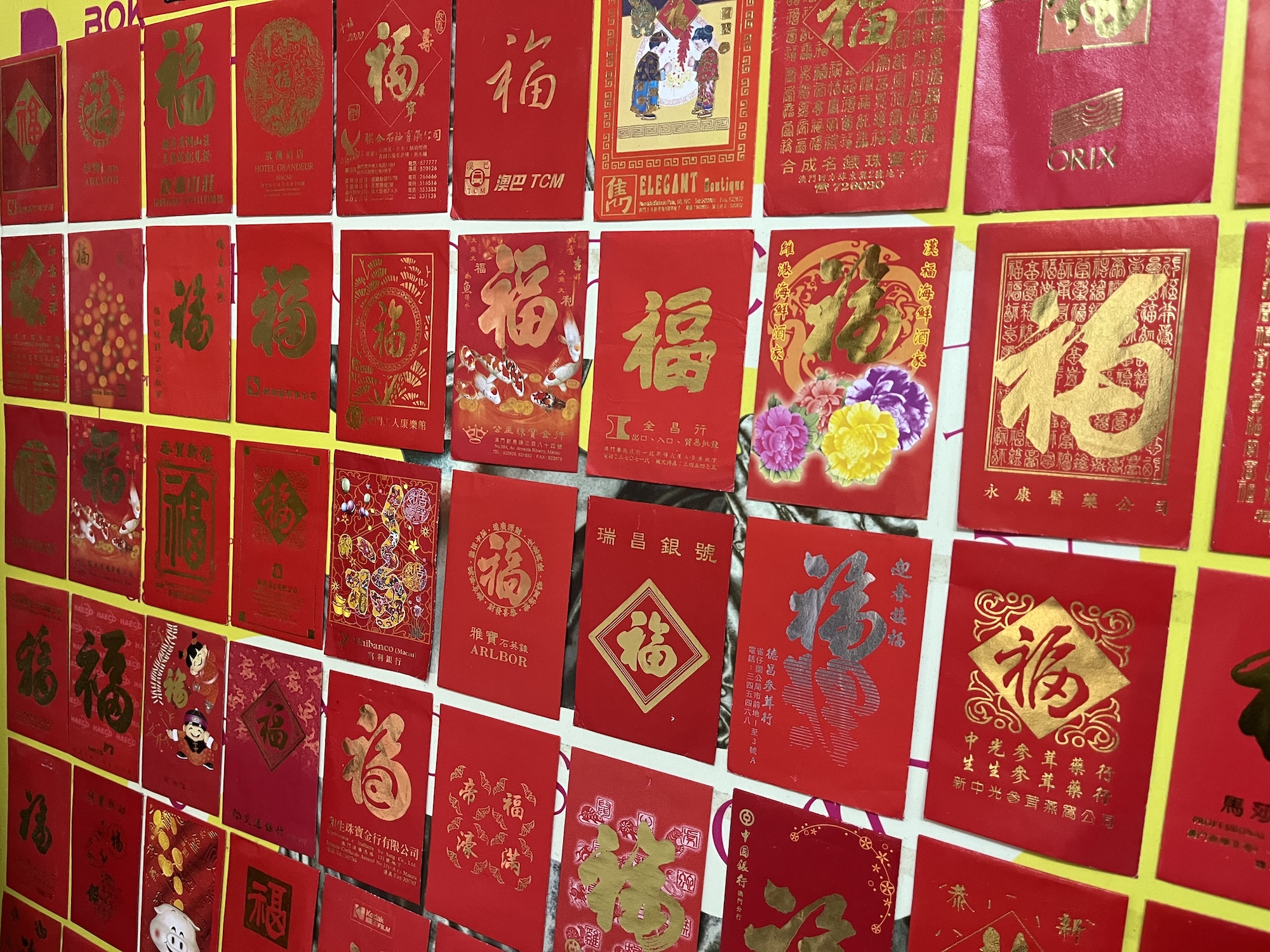 Macao News: What inspired you to start collecting red packets? 
Ho Tai On: I started collecting red packets and other cultural items in the 1970s after coming across a joss paper store [which sells stationary, red packets, paper money and incense products] that was closing down. I noticed the owners clearing away the old stock and realised there were so many items, including older red packets, that we don't often see. These things have value because they tell Macao's story.
So my red packet collection started back then and has lasted around 50 years until today. I stopped for a while in 2003 when Avian Influenza [or bird flu] became prominent in Asia, and people feared infection. 
On top of that, I also have limited storage capacity at my shop [on Beco dos Faitiões street, near the Ruins of St Paul's]. Now, I don't collect as many as before and tend to focus on the special ones, such as those that feature the 12 Zodiac animals or banks' anniversary red packets. 
Macao News: How extensive is your collection?
HTO: There are around 10,000 red packets in my shop right now. Over the years, I've thrown out some of the more common ones. My oldest red packet is more than 100 years old – I found that one at the joss paper store in the '70s.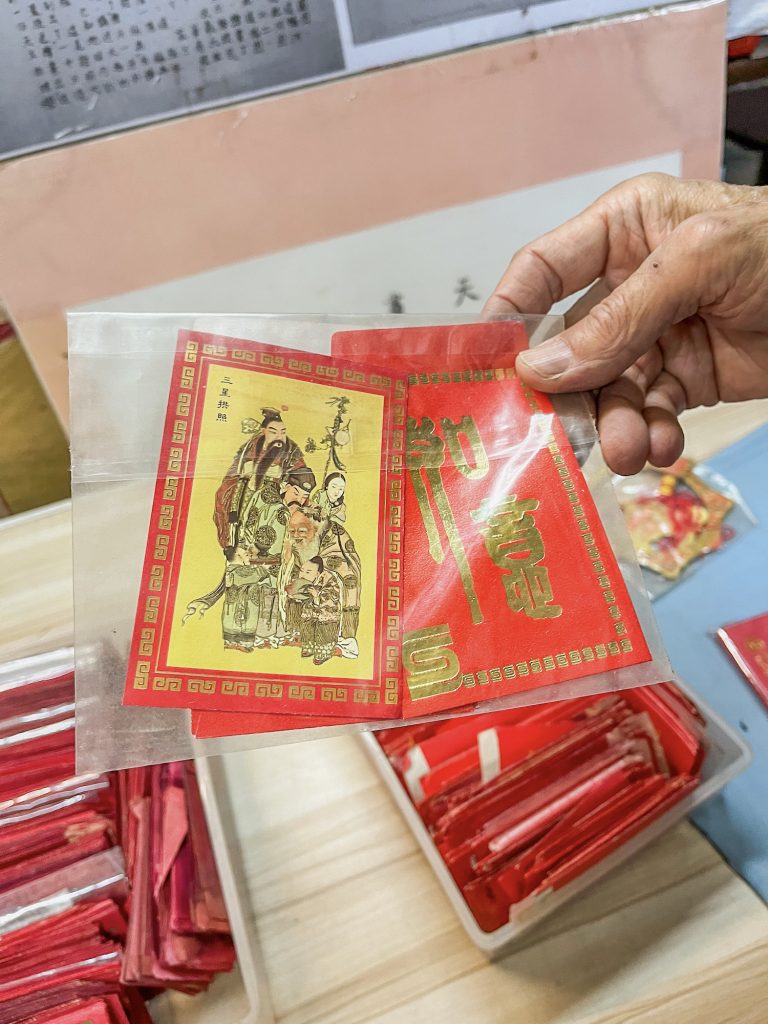 Macao News: What does your collection mean to you?
HTO: It is about a sense of history – Macao's history, China's history. By seeing how red packets have changed over the years, you can understand the development and evolution of society. For example, the red packets from my childhood were made from a single piece of cheap red paper, purchased from a stationery store.
Back in those days, people considered red packets luxuries, so they bought their own red paper, cut it into squares, and then wrapped up a dou ling (a 5-cent coin) to give to others. At the time, people called them 'hong zi jai', meaning 'little red paper'. The value of dou ling was high then, and you could buy many things with it.
To give you an idea, one year of school tuition was only around 25 dollars back then, so you can imagine the value of 5 cents. These older red packets from my childhood, in the 1950s and '60s, are challenging to find, even at exhibitions. They are very rare.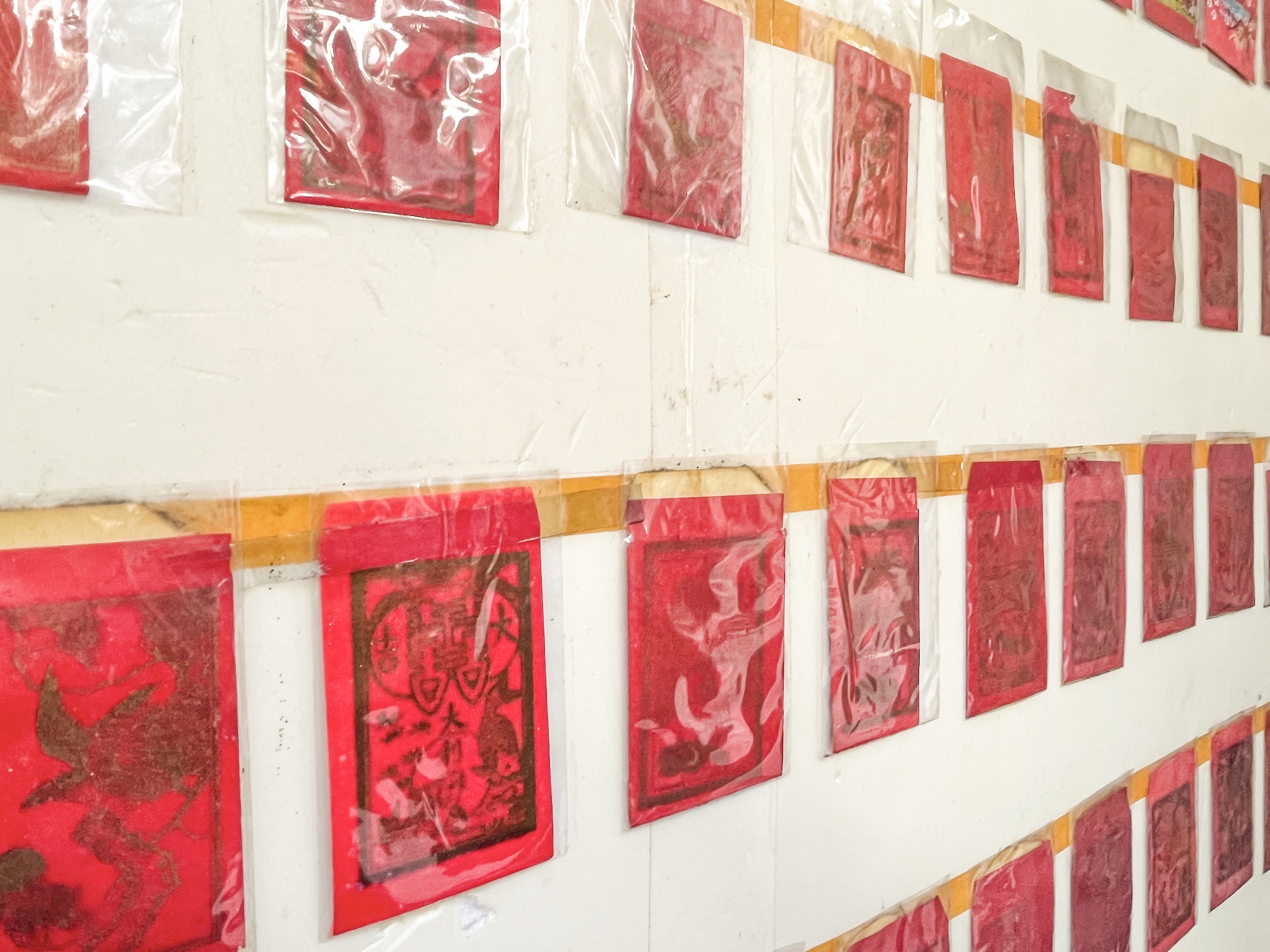 Macao News: How have red packets evolved since your childhood?
HTO: Later, gold dust was applied to the red paper, and then red packets were printed with gold foil, so you see the development. For example, the changing styles show the improvement in people's living standards and the world economy because materials once considered luxuries in the past have become so common nowadays. 
What used to be handmade crafts have been replaced by machinery and factory production. Prices have therefore dropped due to lower production costs, so red packets are affordable for most households now. It reflects the process of industrialisation and society's progression, evolution and development. 
Macao News: How diverse are the red packets in your collection? 
HTO: There are different styles, different sizes… I have such a wide range that I could publish a whole book on them. Each represents specific periods and cultural interests, which I find fascinating. For example, this McDonald's one – an older packet featuring a rabbit – makes me feel like 12 years have passed in the blink of an eye, as we're entering the Year of the Rabbit again now. 
I also have red packets that feature iconic McDonald's characters, like Ronald McDonald, Hamburglar, Grimace, and Birdie the Early Bird. And many produced by banks, including some from Pacific Bank (太平洋銀行) that are decades old.
In addition, I like to collect sets that feature the 12 Zodiac animals. I have one complete set in my collection from the Bank of China, which gives me a feeling of accomplishment. 
Macao New: Do you have a favourite red packet in your collection? 
HTO: There's one type of lai see that is especially difficult to collect: anniversary red packets from banks. Unlike red packets featuring Zodiac animals, you don't know when anniversary packets will be produced, so it's easy to miss them and, thus, difficult to possess. 
I find this challenge interesting and appreciate how the packets reflect the bank's history. For example, through my collection, you can understand that the Bank of China was once called Nam Tung Bank (南通銀行). 
Macao News: How do you preserve your red packets?
HTO: It's not that complicated. The most important things are to ensure proper ventilation and avoid exposing the paper to direct sunlight. Sealing them with a layer of plastic on the outside is best. Some of the older red packets in my possession are in such good condition that they still retain their shiny outer surface.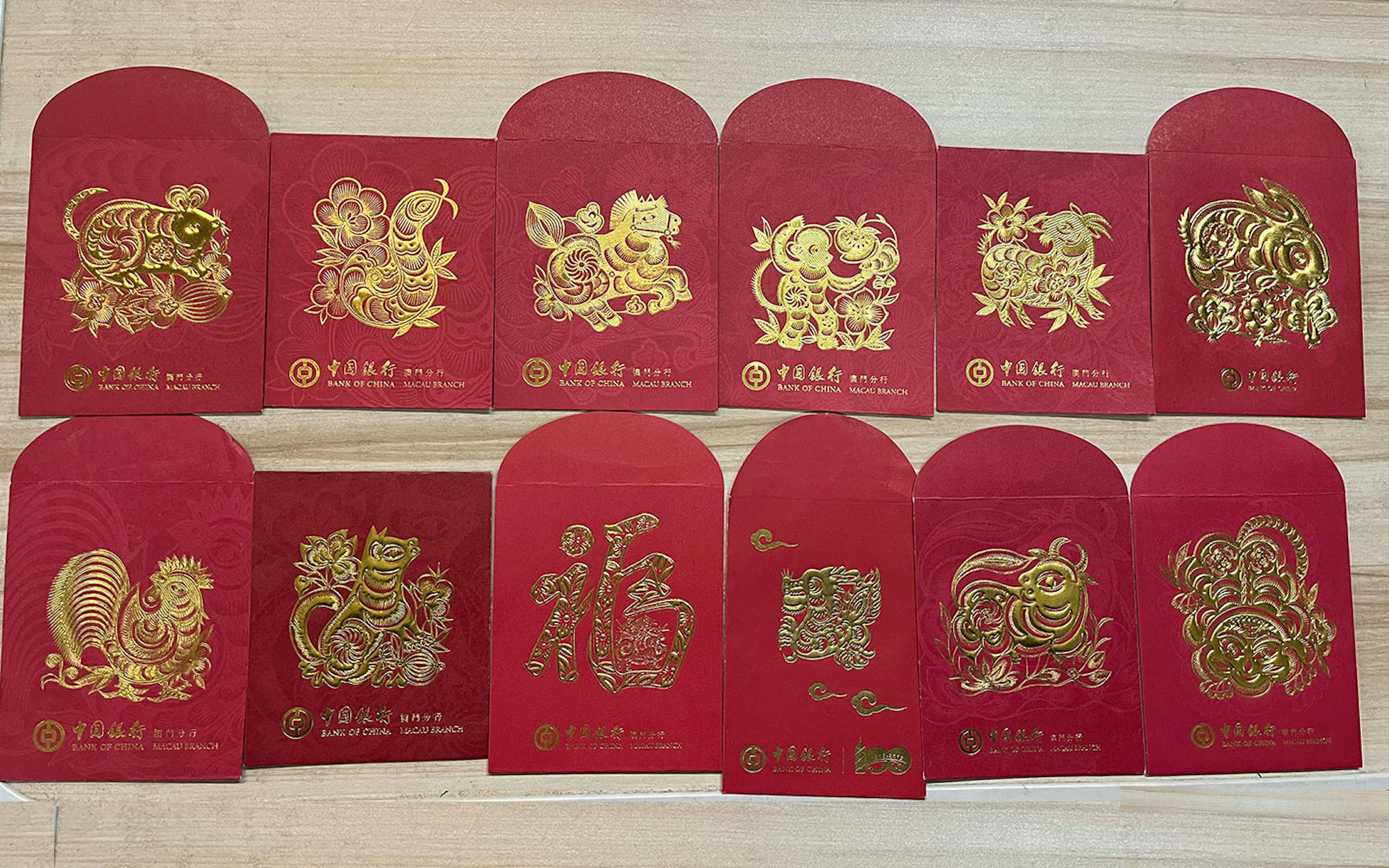 Macao News: Do you earn any money from the collection? 
HTO: No, not really. I don't care much about earnings at this point in my life. I have some savings, and on top of that, the Macao government provides social insurance for retired people like me. Collecting red packets takes massive effort, but I hope I can contribute to preserving a part of Macao's history. 
In fact, I don't think anyone else in Macao could have as large of a collection as I do because collecting takes time and effort, and you also need a lot of storage space. I enjoy the process, so that's the reason I still do it.
Macao News: Do you collect anything other than red packets?  
HTO: Yes, I am fond of collecting historical items in general. In 2005, I realised it wouldn't be possible to preserve history if I didn't get started. That was when many important buildings were being taken down, and casinos built in replacement.  
I used to collect historical photos and make postcards to showcase a place's evolution over time. I would compile a set of pictures of a location over many years and organise them chronologically.
I have produced 38 sets with 12 postcards in every set so far. My interest in history led me to publish a book in 2007 called, The Past and Present of Inner Harbour (《內港今昔》). It is a travel guide, but I introduced a few tidbits of Macao's history.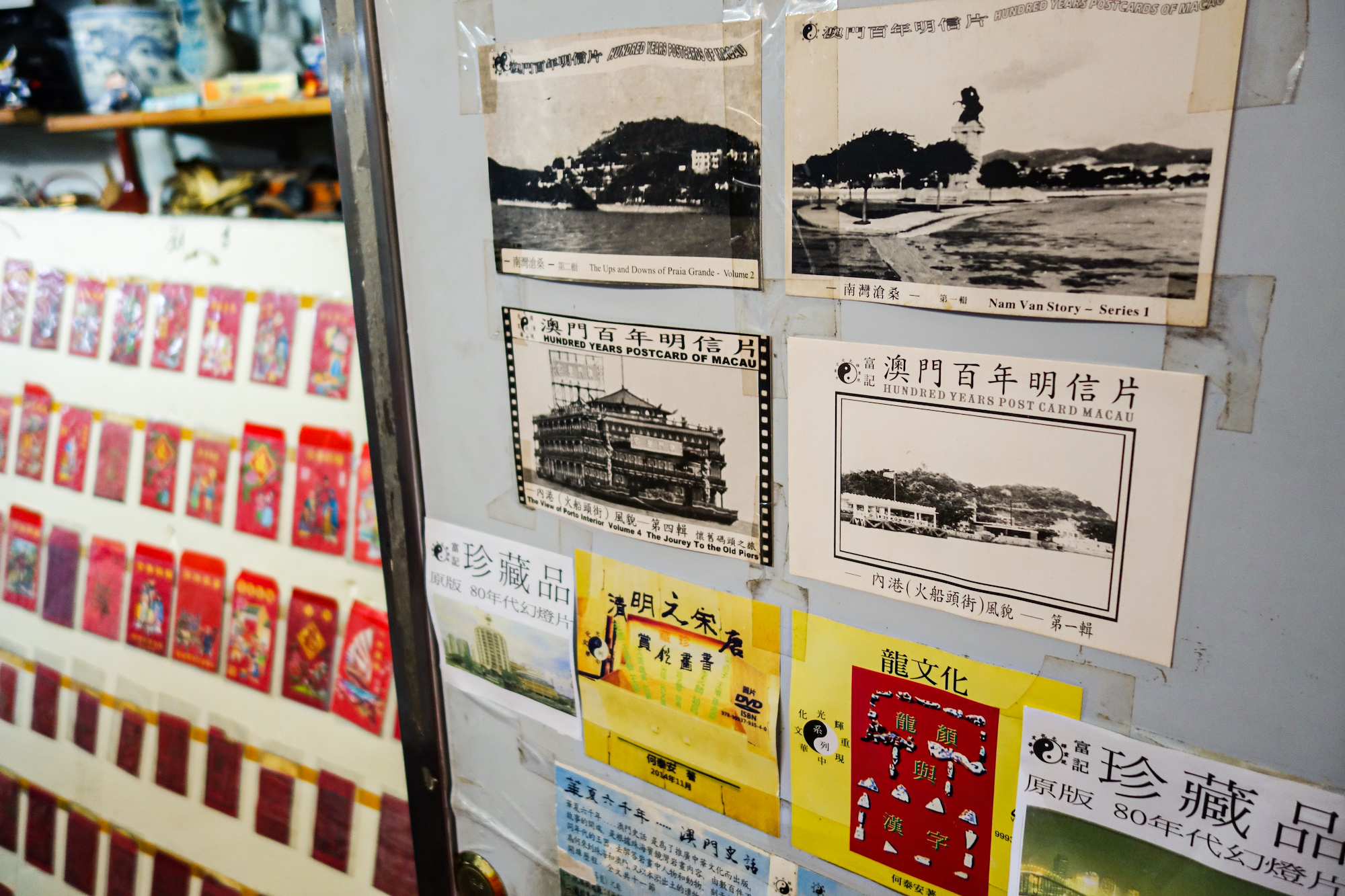 Macao News: What does Chinese New Year mean to you? 
HTO: During Chinese New Year, of course, in my family, we all gather at home for this long-awaited reunion. I live with my wife and children. When we meet the children of relatives or friends, we elders will give them lai see filled with new year's money. 
In addition to being part of traditional Chinese culture, red packets also bring happiness during Chinese New Year. I give red packets to your children, and you give red packets to my children; they get excited, and everyone's happy in the end! 
We'll visit families and friends to send out New Year greetings, though not on the 'red mouth' day [the third day of the lunar calendar, said to be the day where people quarrel easily]. We will simply follow the traditional Chinese customs, as always. We value the concept of 'reunion' a lot. For us, Chinese New Year is an opportunity to gather and reunite. Everyone has been busy working throughout the year, and we finally get to be together.