Macao jewellery brand strives to craft 'timeless' designs inspired by art and architecture
Macao jewellery brand strives to craft 'timeless' designs inspired by art and architecture

Link copied
Local jewellery brand founders Ryan Ho and Kay Shang hope to make Macao sparkle with their artistic designs at Preti Jewelry.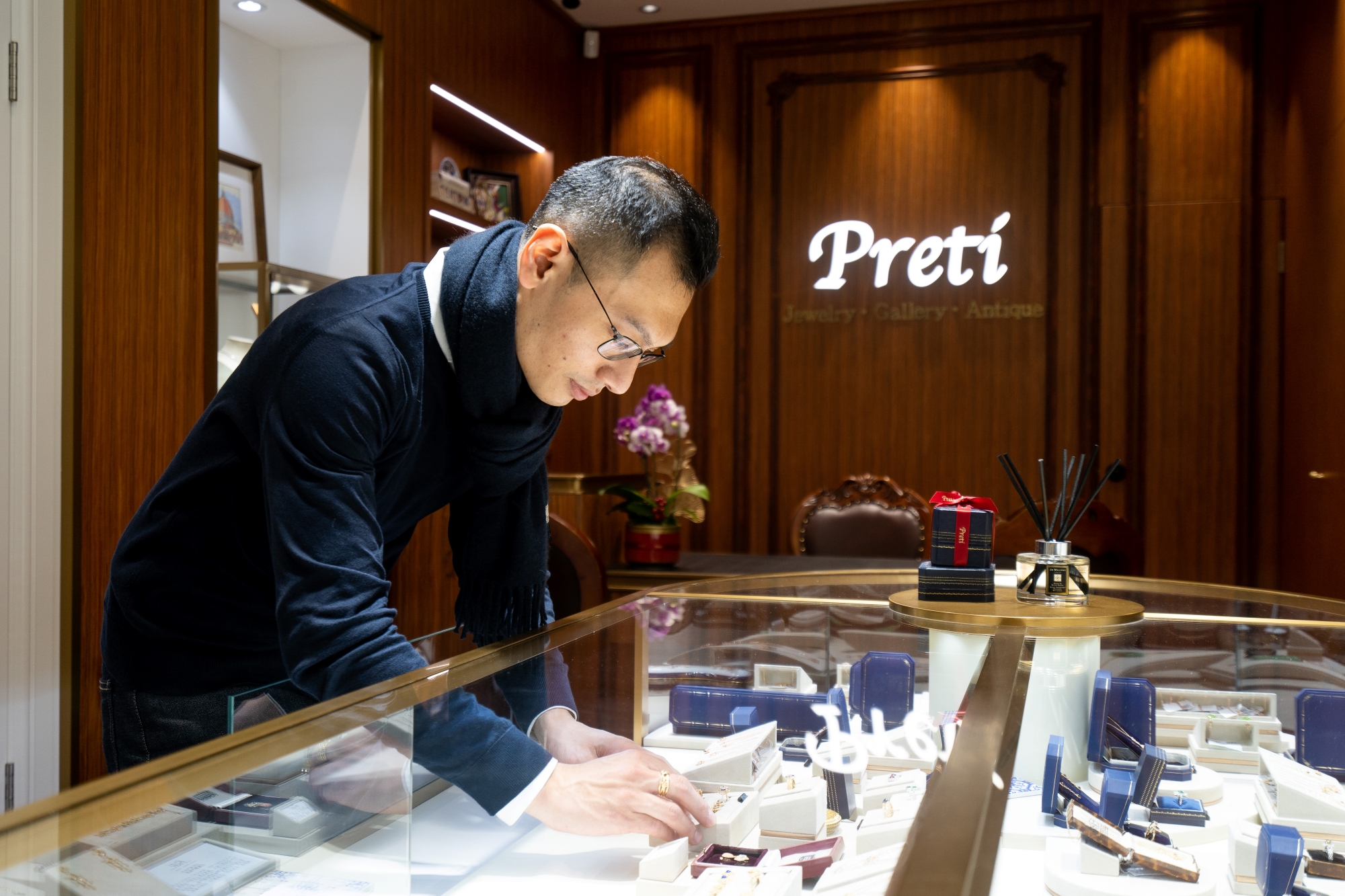 Down the hill from Macao's Cathedral of the Nativity of Our Lady in the Sé parish, a vivid blue storefront catches the eye. Inside, wood-clad interiors and glass display cases house a kaleidoscope of glittering stones – rubies, emeralds, sapphires, diamonds, onyx and more.
Owned by Ryan Ho and Kay Shang, a married couple in their 30s, Preti Jewelry opened its doors in 2018. Inspired by the founders' travels through Europe, the handcrafted works reference different eras of art, from glamorous art deco to ornate rococo.
"A luxury brand to us is one that offers uniqueness and creativity," says Ho. "We're very proud to be Macao people [offering] the quality and standards we've built over the years."
Honing their craft
Ho and Shang worked in luxury retail for a combined total of nearly 20 years before embarking on their joint venture. Both have experience managing fashion boutiques and working for international names like Chopard, while Shang also studied fashion design and art history at an art school in Fujian, in mainland China.
In 2018, while working full-time jobs, they started designing, crafting and selling their own jewellery pieces online. After exploring museums and historic landmarks in Europe, they came up with the concept for their debut collection, Floris, which channels Rembrandt's 1634 painting of the same name.
They also tapped European art history for their jewellery company's name, which refers to 17th-century Italian Baroque painter Mattia Preti. Best known for his Caravaggio-style frescoes, Preti's work can be found across southern Italy, especially the island of Malta. As for why they chose jewellery, Ho says its enduring nature of the art form attracted them. "It can never be outdated, old fashioned and lasts lifetimes," Ho says. "At the end of the day, jewellery is a timeless industry."
With momentum building, they both quit their full-time jobs, invested over MOP 10 million, and opened their first location on Rua do Almirante Costa Cabral in 2019. Their second location on Travessa do Bispo followed a year later, in 2020.
"We had to be brave facing this big challenge," says Shang. "We had to do everything from zero, and it was very different from our previous stability."
A 'timeless' art
When it comes to operations, Shang handles most of the design work, with some input from Ho. Meanwhile, Ho, a graduate of the Macao Institute for Tourism Studies, manages the company's public relations and business. 
Each Preti Jewelry piece is done by hand in a dedicated studio inside their original boutique by the couple. While every piece is unique, the collections all channel various art and architectural styles, referencing details, motifs and characteristics from that era. For instance, The Duomo di Milano's stained glass windows influenced the namesake collection, which features onyx and diamonds.
Another collection, "Byzantine", celebrates the abstract motifs and embellishment commonly seen in Byzantine art. Likewise, the "La Fenêtre" collection – which is studded with peridots, pearls, rubies and sapphires – draws inspiration from France's Cathédrale Saint-Gatien de Tours' stained-glass windows.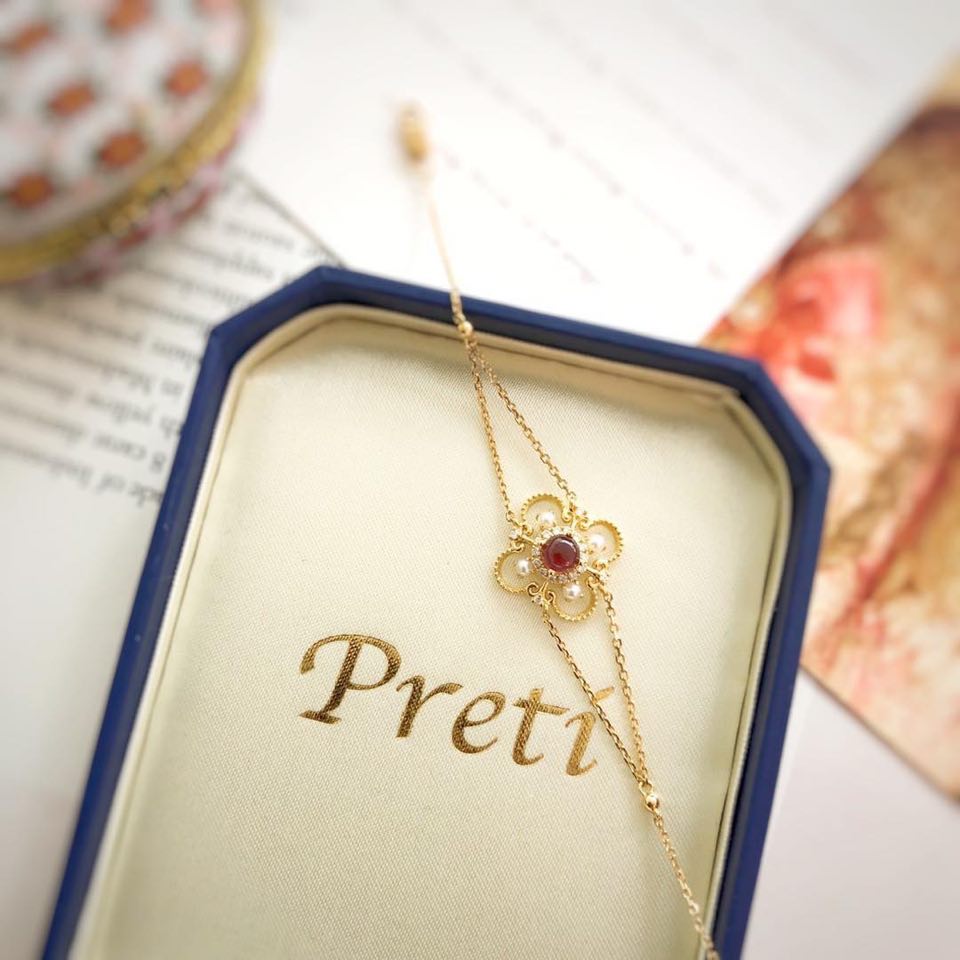 Where other luxury boutiques often favour white gold, rose gold and platinum, Preti primarily uses 18-carat yellow gold to craft its delicate designs, because the material embodies the "vintage look best," says Ho. 
To extend the life of stones, Preti also refashions broken or tired jewellery into new necklaces, bracelets and rings as an exclusive service for regular customers – a process that can take up to three months and requires a budget of MOP 5,000 or more. Typically, the jewellery makers discuss the design with the client, sketches an idea, then creates a digital rendering of the piece for review. "Usually, clients are satisfied by our design and there aren't many changes we need to do," says Ho. "Once they approve it, we start producing the piece."
Due to the pandemic, the couple hasn't travelled outside of Macao since 2020 and has instead looked for inspiration in their own backyard. They took the opportunity to rediscover the city and borrow ideas from local historical architecture, infusing motifs and symbols into a recent collection. For instance, the decorative colours and patterns of the city's azulejos (Portuguese ceramic tiles) served as inspiration for their Ideia de Macau collection, which launched in 2020.
Meaning "Macao idea" in English, the collection aims to capture the city's beauty and encourage people to appreciate its East-meets-West heritage. To create the 18K yellow gold collection, they used a mix of stones like sapphires, rubies, onyx and diamonds, as well as rubies and pearls. "We don't really have usual stones for our pieces," says Ho. "Instead, we will find the stone that best suits the design based on the piece's characteristics, from colours, features and history."
With Preti Jewelry and the "Ideia de Macau" collection, the founders feel they have accomplished something to be proud of. "It gives us confidence that what we do brings a positive message and image to Macao," says Ho. "We want to elevate Macao through our luxury brand and represent Macao as locals."